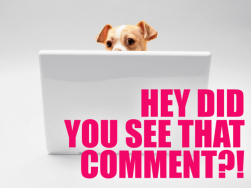 Hi, muppets! I know this week has been hard, but I'm so very glad we have each other. Did I ever tell you that my dog does trust falls backwards on my bed so that I'll rub his tummy? There is so much good in the world, every day. Also, there is ice cream.
This week we met Autostraddle's new fashion and beauty editor, Nora!
Cami wrote about how Twitter is the new black church.
Carolyn picked up The Toast's mantle for this journey into the world of stock BDSM photography.
Valerie Anne wrote a recap of the best Supergirl episode ever, and then Chyler Leigh quote tweeted it!!! What a day, what a day.
Molly danced for the resistance. Dance forever, all of you.
Erin's a playwright now.
And then there were your comments!
---
On Enjoy This 10 Second Play About Lesbians:
The 2 Fast 2 Furious Award to Sally:

On Anonymous Sex Toy Review: The Bück Dich:
The Three's Company Award to amidola:

On "Below Her Mouthwp_postsPredicts Six More Weeks of Shane:
The Below Her Beak Award to dufrau:
On No Filter: Samira Wiley Remains An Adorable Life Ruiner:
The 4H Award to Chloe:

On Satellite of Love: Queer Horoscopes for May 2017:
The April Flowers Award to LiamTheChampion: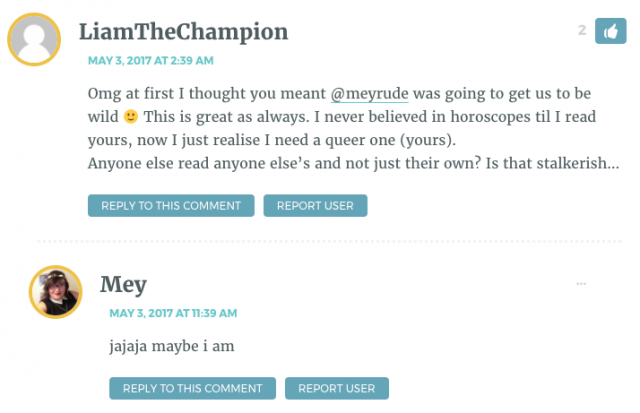 On 55 Lesbians Having A Bad Time In BDSM Stock Photos:
The Osteopath's Next Top Model Award to Chandra:
On "Supergirlwp_postsEpisode 219 Recap: Hope Floats:
The Captain Underpants Award to emmapet:
The Double Entendre Award to Heather D:

---
See a funny or amazing comment that needs to be here? E-mail me at queergirlblogs [at] gmail [dot] com!