One thing is clear about Below Her Mouth, the new lesbian indie drama released Friday in some US theaters: its creators were committed to pulling off a realistic portrayal of what sex between two women can really look like for a mainstream audience. And they did! They did it so much. I'm talking a lot. To the point where I spent most of the movie going Whuuuuuuuuut and being grateful I didn't actually decide to watch parts of it in public.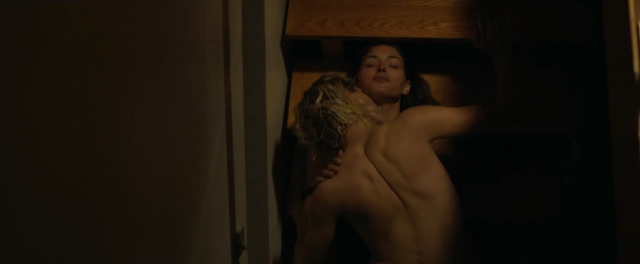 Remember that time Heather Hogan watched Carol on an airplane and the man sitting next to her complained to the attendant that she was watching "homosexual pornography" because of the movie's understated sex scene that lasts for all of 20 seconds? Well, that man would really not like this movie if I was watching it while sitting next to him on a plane. Rather than call the attendant he would probably pull the emergency exit door en route and allow his body to be sucked into the sky with how much and what kind of sex between two women there is in this movie.
In fact, cataloguing where a sexual encounter takes place in this movie could read like a Dr. Suess poem.
Say!
Against a fridge / on a kitchen island / in a bed / on a staircase / almost in a truck / again in a bed / in a bath solo / in a bath together / in a strip club booth?
Would they, could they, against the fridge / on a kitchen island / in a bed / on a staircase / almost in a truck / again in a bed / in a bath solo / in a bath together / in a strip club booth?
They would and could against a fridge / on a kitchen island / in a bed / on a staircase / almost in a truck / again in a bed / in a bath solo / in a bath together / in a strip club booth!
They could do it here and there
They could do it anywhere.
Which I assume for a lot of people will be worth the price of admission. Do y'all's thing! Go watch this unfold in a room full of people on a Friday night, no one's here to judge. Anyway, it would have to be why you're there, because all of the focus on sex seemed to be at the expense of an actual attempt at a new take on an old premise.
The recycled story isn't the problem. Engaged straight girl becomes intrigued by mysterious lesbian is a fine enough story and one I assume will be the foundation of many movies to come – that is if heterosexuality is still an agreed upon phenomenon in the future. It's the recycled dialogue and characters in this movie that haven't been updated to reflect a change in the tides that have absolutely no business being in a movie in the great year of our lord, 2017.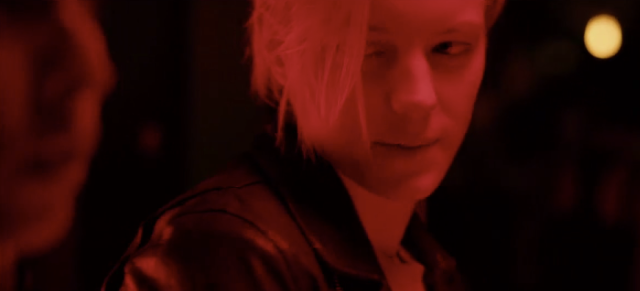 It's true that the dialogue sounds like it was created by using a Love Triangle Mad Libs template, but my real beef is with our protagonist: Dallas, the white, androgynous, woman-child who never expects to be held accountable for her actions and gets away with saying things like "I've got no emotional stamina for intimacy" without someone's eyes rolling completely out of their head onto the floor of her converted loft.
This should be a familiar tune to us all. It's such an overdone character that Dallas's whole deal was established within the first minute of this film when she has detached sex with her live in girlfriend and refuses to be communicative afterwards. A minute in and the filmmakers were already done! Except they continue to have her repeat out loud the same sentiment, things like "I'm bad for you," and, "No one will ever catch me," which is a curious cementing of this persona for the audience considering this movie's all-female, likely queerish crew. (Who did they think was seeing this character for the first time that they needed to tell not show over and over?)
As if every part of the movie is dedicated to driving this particular theme home, there's even a lyric in a song that plays in one scene's background that coos, "Fall down, standing up is boring." No, you asshole, laying down is boring. Do something. Which is the thing that's always confused me about this character that gets called upon for almost every piece of media that involves queer women – it's not even an interesting one! As if being vacant and leaning into the idea that you're someone "no one gets" is cool or revolutionary or something you should want to admit to freely!
This is not to say these queer women don't exist in real life. I know they exist. I meet them all the time and they're the world's worst conversationalists. But it's because of portrayals like this one in Below Her Mouth that they continue to be born.
It's the reason I have a hard time watching most lesbian movies. What's usually mirrored are one-dimensional tropes soon to be parroted back into a real life scene, and I'd rather not be a witness to that kind of darkness! It's a vicious cycle that becomes a nightmare of our own making – life reflecting art reflecting life until no one knows what started where.
And this movie seems to wish upon the world a new generation of Shanes. But I'm urging you to let her rest. She's been gone for nearly eight years.