by riese & heather
---
Yesterday Season Two of Cameron Esposito and Rhea Butcher's beloved queer comedy Take My Wife fell from the heavens and landed on iTunes. It was quite a surprise! Riese promised we would give up on life altogether if the show didn't find a home after Seso shuttered seven months ago, and to be honest it felt like maybe that's what we were going to have to do. No news ever came of a pickup. Then, like a unicorn on a dark night when you're lost in a haunted forest, it just arrived. And then rocketed to the top of the charts on iTunes.
Season Two featured an all-female writers room and sought out queer people and people of color to handle all aspects of production, both behind and in front of the camera, including Autostraddle's own Brittani Nichols and familiar faces like Jen Richards and Gaby Dunn.
And it shows! Riese and I both marathoned the entire second season yesterday and — surprise! — we both loved the heck out of it. Below we discuss what makes this show so special, what stood out about the new cast and storylines, and all the reasons why it feels so real to us.
There are very many spoilers below. If you'd rather watch before you read, you can download both seasons of Take My Wife on iTunes or wait until it's available to stream on Starz.
---
Heather: Riese! The butches are back in town! When you wrote your State of the TV Union at the end of last year, you noted that one of the things that made it a pretty decent year of representation was butches on both I Love Dick and One Mississippi — but next thing we knew, both of those were being cancelled and we were left with nothing. Then, on Friday afternoon, like surprise sunshine the stormy seas, Rhea told us Take My Wife's second season was coming to iTunes in just a few days and Starz a little later than that. How did you feel?
Riese: VERY EXCITED! Also; is Starz run by a butch lesbian now or something? They're killing it lately — Vida, The Girlfriend Experience, Counterpart, American Gods, and previously Survivor's Remorse, Black Sails and the stud lesbian on Power who has since died. Anyhow, I felt stoked. It felt like Butch Christmas. This season particularly really explored the specific experience of being a masculine-of-center woman in a way we rarely see on television — we've had glimpses, like the "Thanksgiving" episode of Master of None, Big Boo's flashback episode in Orange is the New Black and Episode 105 of I Love Dick. But this time we got a whole season! Episode 205 of Take My Wife especially, in which we see three female comedians — two masculine-of-center queers of color and one transgender woman — navigate their respective worlds prior to their set at Best Bet that night, was a g-ddamn revelation.
Heather: I absolutely agree. I was stunned watching that episode. I had intended to marathon straight through yesterday, but I took a breather and a walk after that to really juxtapose it mentally with other stories we've seen about gender non-conforming women and there was nothing to even compare it to really. (Rhea's character in Take My Wife is labeled female, in real life they have begun identifying as non-binary and using they/them pronouns as well as other pronouns and also continues to identify politically with women and as a lesbian.) At most stories about GNC women are just a GNC woman actor and that's it (and as we've said, even that is rarer than a unicorn). Certainly we've never seen an exploration of the internal and external pressures of moving through the world that way.
Riese: It was also evidence of how crucial it is to have people in the writers' room who can speak to the experiences they're writing about. (I keep wanting to edit that sentence because it feels so obvious, like I'm saying "It's crucial for people who are thirsty to drink liquids," but uh, here we are.) There were details in there that clearly came from the writers' own lives. Take My Wife 205 will definitely be on our list of the Best TV Episodes of 2018.
Heather: Yes! And this is something I've been thinking about a lot with Cameron and Rhea's work in the last — well, since Trump's election. So much of Cameron's comedy felt to me, for so long, about explaining lesbianism to straight people. And it was definitely funny and there was plenty to engage with as a lesbian watching her work, but in the last few years it feels like that comedy has shifted to talking to other queer people about being queer. This season, especially, you could hear and see that variety of queer experiences in both the writing and the casting.
Riese: I'm curious how this'll be read by other critics — this incredibly apparent commitment to racial and gender diversity beyond anything we saw on mainstream shows that were gently chided for similar efforts, like Faking it and Glee.
Heather: I'm also curious about it. I'm always curious about how mostly straight, mostly white TV critics are going to respond to something that was made by our people for our people. You mentioned in our Everything Sucks! Review how crucial those opinions are, even if we don't want them to be, because that's how a lot of people decide what to watch and how networks decide what to renew. What's special about this, though, is that it kinda doesn't matter what other critics think? The way the show has been distributed is unique, it doesn't fit the regular model, and so I'm not sure what bearing mainstream criticism will have on its future.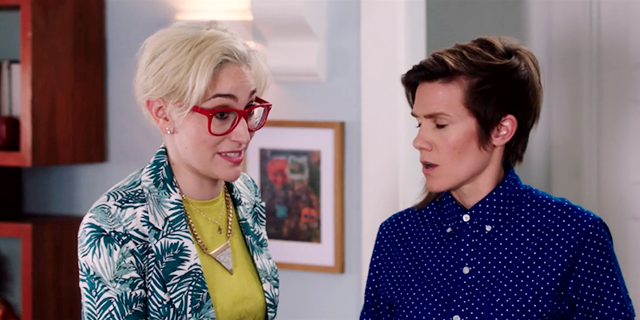 Riese: I really feel like AFAB masculinity is very hard sell to the mainstream, despite its prominence in IRL queer communities. It's so rare to see even one butch lesbian on a TV show, let alone two dating each other, and it's hard to imagine a typical heterosexual cisgender man or woman becoming passionate fans of a show that centers two masculine-of-center afab people in a relationship. There's an incredible taboo around "butch-on-butch" love, so to speak, and we really only see it in mainstream media if it's being played for laughs. Those pairings are also often the target of anti-lesbian propaganda coming out of the alt-right. It was so heartening to see Take My Wife to land on a platform like SeeSo, so disheartening to have it withdrawn, and I'm hopeful it'll thrive on Starz, which already has a masculine-of-center lesbian on Counterpart and will have one on Vida.
Heather: I've said this a million times before but I really want to reiterate how much I loved the first season of this show. It's shocking after doing this job for so long when you really just relax into a show and feel it like a little kid watching Saturday morning cartoons, but Take My Wife took me back to that innocent place.
Riese: Me too! And I think Season Two definitely had a different feel — there was that increased commitment to showcasing other voices and stories that we don't see in the mainstream that sort of reminded me of the best things about Master of None (and its Season Two bottle episode) — but the relationship at the show's center evolved as well. In Season One, Rhea and Cameron definitely had some disagreements and conflicts but they were more sitcommy (which isn't a bad thing). Like Cameron is the goof and Rhea was the straight man but lol they make it work! This season their problems felt more authentic and fleshed out, which wasn't always as funny, but definitely I had a lot more "wow I can relate to thiswp_postsmoments than I had in Season One. I loved the closet-cleaning situation because like Rhea, I keep everything (in chronologically labeled boxes, no less) and my girlfriend keeps nothing!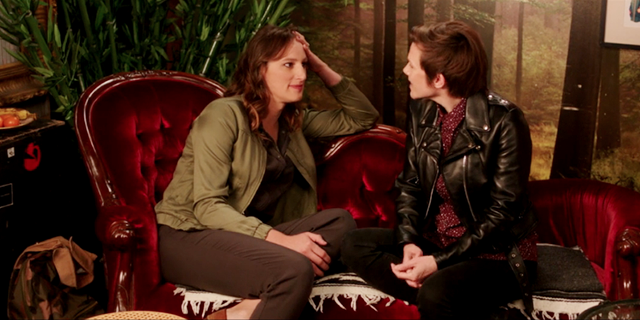 Heather: Yes, yes, yes. First of all, just seeing two women in a relationship dealing with the everyday things about being in a relationship is revolutionary. Usually on TV the story between two women is: a main character comes out, finds love with a guest character, the guest character gets written off (by a life-ending stray bullet or reassignment to another spaceship or someone wants kids and the other doesn't blah blah). That tired pattern makes the specific things we get to see about queer relationships on Take My Wife feel extra authentic. I related a lot to Cameron and Rhea's first season conflict about two artists being in a relationship where one makes a very nice salary and one is juuuust scootin' by. This season I related to almost all of it. We never get to see lesbians wrestling their careers (their struggle is usually being a lesbian), and it was just so dang refreshing to see two career-driven women navigating their personal ambitions and successes, and also the way those things affect their partner.
Riese: Right, we saw it with Bette and Tina and that's kinda it? But even then, there was a kid involved. Although lesbians stereotypically are serial baby-havers, there are specific and fascinating interpersonal dynamics at play between women who are at the age at which most hetero women are married to men with kids, but are not married to men and don't have kids and are not actively pursuing either. A lot of what was exciting about The L Word was seeing these different styles of social and romantic relationships. The same-sex thing really changes everything — it's hard to imagine a straight couple letting somebody's ex crash on their couch post-breakup, like Cameron and Rhea were sort of pushed into doing here.
Heather: I also really loved this thing we never, ever, ever get to see on TV, which is watching two lesbians fight without worrying that they're going to break up. Like how straight married people fight in comedies. The only gay couple I can think of that actually argue on a sitcom are Cam and Mitchell on Modern Family but they actually kinda seem like they hate each other?
Riese: I could rant about Cam and Mitchell on Modern Family all day! They! Hate! Each! Other! It's bananas and frustrating and not the gay representation I would like to see in the world but also I mean, Take My Wife is written by the kinds of people that the show is about. When you're intimately familiar with the material, there's so much more you can do.
Heather: It just felt really good to watch two women find laughter and healing after disappointing each other and making hard decisions for themselves that hurt the other person and being insecure about things in their life without being insecure about the other person's love for them. That's real couple stuff, and it warmed my heart to watch Cameron Esposito dry-heaving about it.
Riese: Yes! I feel like this lack of representation is part of what makes queer relationships feel like so much anarchy sometimes. Is this normal? Is this okay? Is this the part where we break up or the part where we make up or the part where we make out? Watching relationship struggles on television that I can relate to really highlights how infrequently I watch relationship struggles on television that I can relate to.
Do you want to talk about how all of our friends and associates were in Season Two of Take My Wife?
Heather: Oh, I sure do. From almost the beginning of episode one until almost the end of episode ten it's just a parade of real-life queer and trans people we know and love. I told you yesterday when we spied Brittani Nichols playing poker in episode one that I'd screenshot every notable guest but I had to stop because it was like every 15 seconds I was pausing to screenshot. It's fun to see people we interact with regularly on TV just because it is, but it's also just — it's the queer economy! Cameron and Rhea recruiting their very talented queer and trans friends to write and star in their show, which is good for the show and good for the audience and good for their friends! Cameron called it "grassroots television" on Twitter today, and I was like, "Yep, that's totally it." Who were some of your favorite guests?
Riese: Gaby Dunn was great, I totally forgave her for having to leave A-Camp for a day to shoot more scenes of this show. She's a really incredible comedic actor! I knew that Brittani and Jen Richards and Gaby and Laura Zak had spots but I was not prepared for that little Clea Duvall moment. Gaby's inadequate girlfriend was played by the same girl who played Jasika's inadequate girlfriend in Suicide Kale, which I also didn't know was gonna happen. Also though? I hate to say this because her character is straight and cis, but Frances is like maybe my fave?? I liked her last season but this season she was toned down a bit and that turned out even better.
Heather: I love Frances. Frances was even more perfect this season, I agree. I don't mind that she's straight and cis because usually that type of character on a gay show is meant to be an entry point for straight people, but she's not that. She feels just as much like family as all of Cameron and Rhea's queer friends and I like that. Gaby Dunn was so good. She made me legitimately laugh out loud several times. That whole role is just so her.
Riese: I was curious about Cameron's family w/r/t the wedding, which was never really touched on, although they had limited time so. There was a lot of build-up around the wedding and Rhea's Dad not responding to the invitation. I was really preparing myself for a weepy scene with Cameron's family coming to the wedding and embracing Rhea as their own but alas that particular sentimental queer trope was not played out.
Heather: But Tegan & Sara were there. That was quite a get!
Riese: I guess Tegan & Sara are our true chosen family in the end anyhow. Tegan and Sara raised us all.