Welcome to the fourth recap of the third season of Orange Is the New Black, a docu-drama about the last, bloody effort of men to thwart the inevitable genesis of an earth-saving matriarchal society.
---
It was faint at first, the rumbling. The sound of a thousand bootcut jeans and thick-soled boots being dragged across the floor of a wood shop. The distant tinkling of power tools and twin engines and buzzing clippers against faux-hawked scalps. But I knew its call, even from so far away. By the time the leather and studs and powerful forearms had arrived, I had already ascertained its meaning. There was a butch given a fair appearance in the media somewhere, a butch powerful in the gay force. And I would find that butch, and I would consume that media, and I would talk about it.
Yes, I've been ousted from Internet retirement by the sweet harkening of a fellow bulldyke on TV. And truly, I was not disappointed.
The episode opens with Suzanne's night terrors. She's still obsessed with Vee and who could blame her? Woman was a hurricane who tore this prison open like a goddamned tampon wrapper in the final hour.
Red misses Nicky. I also miss Nicky, and am really upset that I have to go through a season without her smudgy eyeliner and her sandpaper voice cracking lesbian jokes. Man, who else is going to talk about U-Hauls and finger blastin' and dykealikes? Am I going to have to endure all my knowing homo in-jokes from Piper or some other glass of skim milk? Christ, what a dark world. What a Hunger Games-esque reality. Nicky's gone and we might as well be fighting each other over scraps for the entertainment of a bourgeoisie.
Big Boo and Penn are great friends now, which I've decided is the best thing to happen to this show. Big Boo needs toothpaste, but Penn doesn't need toothpaste because her new teeth are porcelain, and thus should not be cleaned with toothpaste. I know some of you are judging, but like, look, do any of us really floss? My girlfriend keeps leaving floss around in obvious places, like in the bathroom and on my pillow and tucked into my socks, but I'm just not getting the hint, I guess. I've only recently discovered you have to brush your tongue or something – let me take my dental revelations in digestible doses, right?
Penn gets fan letters from fundamental Christians who admire her for murdering the employee of an abortion clinic. Like, I'm not a Jesus expert per say, although me and the Dude have hung out in the past, but I feel like Jesus would find this shit pretty reprehensible. Just a guess. Big Boo is interested in this particular detail of Penn's life because these fans also send Penn money, and as far as Boo can see, that's easy cash. It's not that easy for Penn anymore, though, because she knows inside that she didn't murder that lady for any particular holy reason, and that makes it feel a little wrong to keep taking money from these people. Boo understands the value of a Jesus dollar and says to keep taking the Jesus dollars.
Christ, these flashbacks. Fucking hell, these flashbacks. Stab me in the heart with a pickaxe and set me on fire so these feelings can be released. Actually, don't do any of the shit I just said, because people will send you Jesus dollars in prison when you are eventually incarcerated for my murder.
Big Boo is a baby butch. Her name is Carrie, and she is fighting with her mom about wearing a dress to picture day. Her mother doesn't understand why she makes it so hard for herself – and you know what, raise your hand if someone in your life, parent or otherwise, has said that to you about your presentation. Hands to the ceiling, y'all. Her father explains to Carrie that sometimes we all have to do things like put on dresses to make other people happy, because they're just a simple fix. But the thing is, and it's a thing that baby Carrie will be learning in short time, is that it isn't a simple fix for people like us. Luckily, her dad seems to be a pretty cool dude (for now), and says he'll make it up to her with a root beer.
Piper and Alex are doing something, I don't know. Can I be honest and say that I fast forward through these scenes? Adulthood has really changed me. Life is short. We are all in the rat race, existence is exhausting. Do we honestly have time to watch two unappealing characters touch each other's faces? I don't think we do, no. Granted my opinion towards Alex changes drastically at the end of the season, but for now it's like, hey, I'd rather churn butter with my nipples than keep up with their story.
But since I'm being paid to watch this: They talk about whether or not they have been experiencing lesbian bed death. Did I not tell you that your obligatory lesbian cultural references would now be delivered by this watery bowl of cultured yogurt?
Caputo – who would probably be a good guy if he didn't think of himself as a really good guy – wants to impress the corporate prison company, MCC, with this tour of Litchfield. They seem like corporate stiffs except for one little fella in the back who wore sneakers and wants to make sure his outfit doesn't upset the prisoners. Huh. We'll come back to this human version of a Weeble Wobble.
Suzanne is becoming very unpopular as a result of keeping everyone up at night. She's also still defensive of Vee, and Poussey loses it, reminding Suzanne of exactly how Vee died, sending Suzanne into a fit. Taystee has to be the mediator, as usual. It's tough to see people who have been broken and manipulated left divided even after the problem itself is long gone, and it's a sad reminder that I can't recap about 25% of this show in a funny way because so much of it is serious hard stuff that doesn't really jive with jokes about nail length
​Morello speaks for us all. Or rather weeps openly for us all, a sentiment I think we're all feeling. I know there are a lot of people on this show who lean our way but man, who else was a living breathing Effing Dykes post? Who else could quote you The L Word and make some reference to a sex act that only lesbians know about and then insult Piper in some sideways lesbionic way? Goddamn Nicky, the sky has turned to ash. The buildings are all on fire. Why must they take away my characters and replace them with roly poly men who upset me and remind me of all the shit I have to do at my corporate-ass job? I am trying to escape over here, y'all.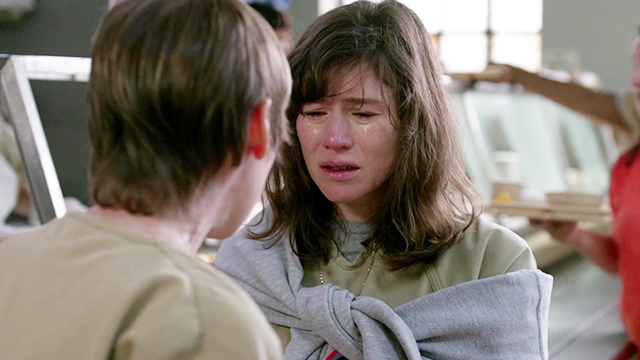 This is just a cafeteria of tears and feelings this episode. Daya's also feeling feelings because Bennett flew the coop. I mean…we all saw that coming, right? We really didn't buy the happily ever after here, correct? She wasn't actually going to raise this family with her manchild husband while she lives outside of the prison walls and he attends kindergarten or whatever.
Boo is doing a favor for Ingalls so that Ingalls can help her with her bible know-how. Boo can talk the talk, but she probably can't walk the walk at this point. For one thing, she's elbow deep in recyclable materials. That is some unrepentant butch shit right there.
Yet another absolutely stomach-punching flashback. Big Boo is on the prowl at a lesbian bar. Oof, the bandana. Everyone trying to look like they're a biker gang who showed up at Lilith Fair. Add a wallet on a chain and some widespread radical feminism and the 90s were a dark time for our people. Side note: I am lovin' the background dancers onstage who have 2014 haircuts and were for sure friends with the crew, or hot queers picked up from Juicy LA. Took me out of the moment, but I was like kudos, my people are in the house.
Boo is walking around this bar like she owns the place. And hey, in that moment, maybe she does. She seems to be some kind of bookie, reminding the bartenders how much they owe her, and then sidling up to a really cute girl at the bar. You want to know something? I thought this flashback would be Boo being rejected, because it wouldn't be the first time a large and in-charge butch was used as a punchline, but she was not rejected. Boo got the cute girl! Boo got the cute girl and it wasn't a novelty, it was written and directed as a thing that is common for Boo. I did a fist pump in the air, I shit you not. They are treating her sexuality as a 100% valid and kickass thing. Boo is hot, she is being treated as hot in this moment, and I am on board. Christ, I am so on board, I am like at the front of the train and I have got my Amtrak snack box in my lap and I am kicking the conductor's backseat telling him to hurry it up and get this train moving, we are all board.
Of course, all good things must come to an end. Or at least all ugly heads must be reared. Outside the bar, some little shit calls them "fucking dykes" – technically not yet, little shit, depending on your definition of fucking – and Boo flips out. In that moment, I remember thinking that I really wished that I had been capable of doing that in the past. The girl Boo was bringing home is horrified by Boo attacking the kid and screaming at him, and she says that she doesn't know why Boo is surprised when she's walking around looking like that. Like she asked for it or something. And Boo gets angry at the girl now, too.
Here's what I kind of love about this episode and what we learn about the character: Boo is angry. She is a Big Angry Lesbian, but it's complicated. When she's mad, she's mad because she's responding to legitimate shit – homophobia and oppression and people who hate what she is – but she's mad in a way that resorts to misogyny and vitriol and physical intimidation. Like, you feel for her, but you're also a little bit afraid of that anger. It's aggressive and physical and she says point blank that she doesn't have some sob story to justify it all, although I would argue that years of repression and feeling disrespected and unseen in yourself could tip a person of that disposition off one scale or another. What we think we knew about this character, and what we've previously seen in her, are turned up a thousand degrees in this moment, and at the same time we're sympathetic to this heat. Lea's super physical performance is fantastic here, but I also love the writing. So many of these characters have sad stories and tragic stories and upsetting stories, but I kind of love that Big Boo's story wants to refuse you the right to pity her. It's just as angry and complicated as she is.
Speaking of people who are angry and complicated, Soso is meeting an old friend during visiting hours, but she can't believe how out of touch this bitch is, right? Thinking that Soso is getting cred for being in prison, that it's so awesome and she's really living or something. But Soso's miserable, and prison is miserable, and she's realizing that she'll never be able to connect with her friends on the other side anymore. Life was all kombucha and Burning Man and hanging around girls who are professional hoopers, but apparently that shit doesn't translate in prison. Which is fine with me, I'm already 99% confused by professional hooping as is. Feel free to fill the comments with your anger at my disrespect of the professional hooping community.
Gloria had heard from her younger son that Bennie has been up to no good, so she's trying to mother as best she can. Man, I love when you can see the genuine fear in that kid's eyes as his mother lays down the law. Ain't nothin' like a mom to make you taste your own shit in the back of your throat, that is for damn sure.
Healy and Red are in the garden, gardening or something. It's more like they are giving me weird romantic vibes, and I have the worst possible feeling about this. I can't tell at this point if Red is genuinely into this giant sack of hemorrhoids, or if she's accidentally leading him on. Or, or, if she is ensnaring and using this loser for her own purpose. Just a brief reminder that while his backstory is presented in the most pitiful goddamned way, he has done some horrific shit. Red is a beast who needs a goddamned beast, too, not this lukewarm diarrhea.
The MCC tour is going pretty horribly for Caputo, as you do, with a highlight of Suzanne talking animatedly to her mop.
Boo gets her makeover, aka Sophia gives her a Mom wig and Boo tears up when she sees herself. Honestly? I also teared up at this scene. Because you knew that moment wasn't about Boo seeing herself as the Jesus people were going to see her. Boo was seeing some parallel version of herself that her mom would have loved. A version that did what pleased others, and not herself. But maybe she would have been happier, because people have always told her that it would be easier to be the person she sees in the mirror, the person her mother wanted, the person that fits in and looks 'normal' and might have made her family more comfortable. That maybe is what makes her cry a little, I think. She looks like her mother, but her mother will never appreciate this moment with her, and she knows that.
​
Okay, so this flashback. Ladies, we need to talk. A strap-on scene with full nudity and a fat butch who is not being passed off for a punchline? Y'all, we have arrived. I mean, we haven't, the world is still a terrible place, but I will gladly take my buttercup in the field of weeds. This is a buttercup. A big lesbian buttercup that doesn't want to talk emotions. Goddamn, I am so glad I get to see a sex scene that isn't Piper and Alex. Christ, this is the best feeling.
Boo's extremely goddamned hot girlfriend wants to talk to Boo about why she won't go see her ailing mother. Boo pushes away from the conversation, because we're learning that this is what Boo does. She's angry under there. She's seething, even, and maybe the one thing she can't get angry enough at is this personal deep-seeded stuff about her family. Part of me was like well, that makes sense, I feel this, and part of me was like LISTEN TO THIS BEAUTIFUL WOMAN, BOO, LOOK HOW BEAUTIFUL SHE IS, YOU JUST SHARED A BEAUTIFUL SCENE WITH HER, HEED HER ADVICE.
Meanwhile in the present is this fucking scene. It's Piper's birthday which is basically a snore already, but now we need to watch her entertain her family. Her brother and sister-in-law are luckily hilarious as ever – BLT flavored ice cream? We laugh but you know some mustached bastard who moved to Redhook because upstate is a real escape for his mind already makes BLT ice cream in his fucking renovated barn. Christ, I don't miss America. Anyway, this scene is ridiculous, Piper literally pulls the most childish shit, and I got up and made a sandwich.
But fine, because I am paid to watch this show: Piper tells her family that she has a girlfriend, and she's productive in prison, and maybe prison is the best thing ever. Then she fakes an orgasm? I just…I look forward to your comments insisting that I am hugely mistaken and that this scene was totally great. Whatever, dweebs.
More with this Healy and Red stuff? Nay, I refuse. I didn't sign up for it, I didn't send in my membership fees, I certainly didn't receive my free mini football, and I'm not going to continue supporting something that I have taken no part in, okay? Get this off my television.
Taystee, who has started to function as Suzanne's keeper, takes Suzanne out of the target of the MCC tour and back to the bunks, where they finally break down about losing Vee. Vee meant something to the both of them, and it's incredibly touching to see two people who were united by something ugly coming together against over something like love.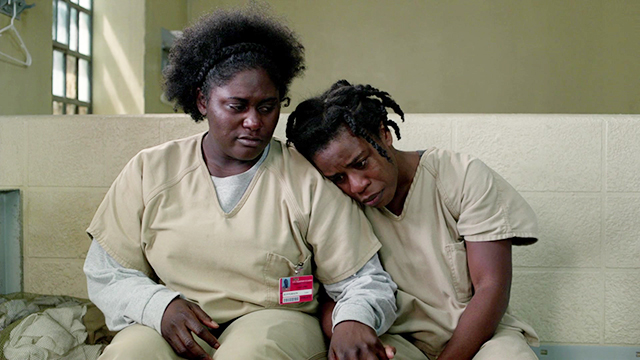 Piper talks to Alex, I used the toilet, etc.
But because they paid me to watch this show: Alex has made a mixtape for Piper, and then they kiss about it. Hoppy burpday Poper.
I can't even talk about this scene because I can't. Maybe some of you reading this felt similarly. When her father talks about how everyone wears a costume, and couldn't she have just done this the one time, for her mother? Fucking hell.
You want to know something? I get along really well with my family. It wasn't always like this, but I'm really honest with them about stuff now, and I live my life, and they live theirs, and it's all cool. It's the best it's ever been, I think. But I still put on a blouse when I Skype with them. Sometimes I push up my hair so it's less of a men's cut. I tell them I get it cut at a salon, not a barber. I remind myself to wear my floral shirt when I send pictures – it's a men's shirt, but it's got flowers on it. I am achingly exhaustingly aware of everything I give to them when it comes to my presentation. I know it's more comfortable for them if I am still a little feminine. I know it probably feels safer and better for them that way, and I'm happy to give that to them. It's easier than the alternative. I don't see it as a bad thing. I don't really see it as compromising myself. I do it because I love them, and because maybe I see some of what homophobic people have seen in me. Maybe I'm not really Boo. Maybe I'm one of the self-hating gays she seems to hate even more than her family. I don't know. We've all got our reasons, I think.
When Boo walks away from that hospital room, I think she does it to protect her mother. I know most people saw that as an act of her being true to herself and not compromising, but I didn't see it that way. I think it is her final gesture of love to someone she feels she has to protect from herself. I think it's sadder that way, but it's truer, too. She knows who she is, and she's confident in that, but she knows walking in that door as her true self will upset her mother, so she leaves. Not because she doesn't want to be the receiver of hate, but because she doesn't want to be the dispenser of hurt.
Which is maybe why the next scene is so damn good. Boo is being visited by one of the Jesus dollar dispensers, and he's throwing out some choice words that only we can say ironically and in certain contexts and definitely not when you're drunk and trying to hit on me, fuckhead. He tells Boo that she was right to repent from her wicked ways, and she'll be trotted out as an example of that. He also mentions that she'll have to cover her Butch tattoo, and this is a step too far. Boo isn't going to hide herself anymore. She doesn't need to protect anyone right now, so she can flip the fuck out whenever she wants. She's going to teach this homophobe a lesson.
Penn tells Boo that she's brave. I die. You know why I die? Because nobody has been in Penn's corner for a while, and Boo's got a lot of righteous anger she could use for good on behalf of someone else. I'm glad to know they've got each other.
In other concluding news: Caputo's hijink-filled tour has paid off, because MCC is buying the prison and saving it from being shut down. Daya and Gloria share a necessary moment. And Suzanne climbs into bed to cuddle Taystee, because she is still not 100% on personal boundaries. As you do.