I won't start this article by assuming that we've all watched porn. That's just not the way to engage with our community — through assumptions, not porn, because porn is an excellent way to engage and that's what we're about to do. For those of us that watch porn, there are a couple things that you've probably already noticed. One, there's rarely an actual story aside from "That random person is hot. Let's have sex now.wp_postsAlso, there are actually very few people of color in porn outside of queer poc, sex-positive spaces or porn that's made to exploit massive stereotypes and the bodies of POC.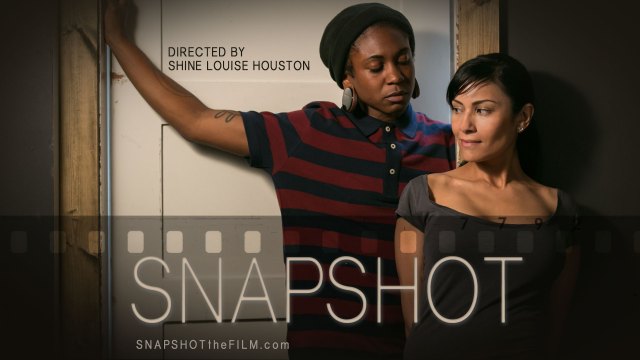 Award-winning director, Shine Louise Houston, is looking to change those things by independently producing her new queer erotic film SNAPSHOT. Shine made her mark in the LGBTQ porn industry directing films in The Crash Pad Series such a Rope Burn, The Revolving Door, and The Wild Search. While Crash Pad did a good job of creating films that more authentically represented different identities within the queer community, Shine wanted to further that goal in ways that are specific to Queer Women of Color. She says:
In my films, I work to create an alternate vision of what's sexy, one that is more reflective of the queer communities and communities of color that I identify with.
SNAPSHOT is a queer coming out story but it is a different type of coming out story. It's not about simply coming out of the closet to your family or friends, it's about coming out to yourself. It's about opening up about sexuality, expressing yourself, your desires and breaking down walls. The story revolves around a murder mystery involving a young lesbian named Charlie and an older butch named Danny. Through the course of the mystery the two women develop an intense relationship and it's actually the older woman, Danny, who opens up and changes as a result of the relationship.
The narrative didn't begin as a coming out story. Shine recalls how she started simply wanting to tell a QWOC story and that the "coming outwp_postsaspect developed alongside the characters. Unlike traditional porn were the sex drives the story, the narrative in this story does truly drive the sex scenes. However, the sex is still very important to the plot. Shine also says that although there is a set story, she wanted to maintain the intense sexual experience. Another difference in the production is that the sex is not choreographed. We have all seen movies like "Boogie Nightswp_postsand witnessed their behind-the-scenes extras where the sex acts are staged by the director. In SNAPSHOT the sex is all negotiated by the actors. The director is simply there to capture the experience the actors are still in control of their bodies and their experience.
Shine has done trailblazing work through the Crash Pad series, featuring actors of different body types and being the first to feature QPOC butch-on-butch sex scenes. Producing SNAPSHOT as an all QWOC cast will present a different set of challenges. It's these challenges that drive the film and also why Shine feels this is an important story to tell.
In most porn, people of color are used almost like props. We are the ghetto, dominating fetish of a white character. We are rarely the ones receiving the pleasure or having our own fantasies highlighted. The director recounted a story in which a British fan asked her why she wanted to perpetuate stereotypes of black women being men. Because often, black lesbians in porn films and in positions of power are stigmatized in that way; their behavior is viewed as mannish and they're portrayed as being "the man." Shine didn't even realize that particular stereotype of black lesbians existed for certain audiences, but acknowledge how that interaction served to drive the desire to make a film where black lesbians can be seen in many different capacities.
Creating the film will serve as a way to break those stereotypes and tropes that we are trapped in. Shine wants to create a narrative that mirrors her own experience and that of other QWOC. She says:
There is power in creating images, and for a woman of color and a queer to take that power… I don't find it exploitative; I think it's necessary.
Currently Shine and her team from Pink & White films are crowdfunding through IndieGoGo for the funds to produce SNAPSHOT. They've been able to secure seed money but there are still significant costs to independently producing a quality film. They would like to be able to fairly compensate their actors and crew. After talking to Shine about the tremendous work she is setting out to do, my number one questions was how we as a community can help make sure this film is made!
The first way would of course to donate to the SNAPSHOT campaign! They have really cool perks including attending their VIP Party this August in San Francisco as well as DVD packs of previous films.
The next way would be to help get the word out! You can do this by:
Tweet about the film. (@ShineLouise, @PinkWhite, and #SNAPSHOTtheFILM)
Share the campaign on Facebook.
Send a Snapchat about SNAPSHOT. (Snap that three times fast…)
Do you have a newsletter? Include a spotlight of the campaign!
Bloggers! Write about SNAPSHOT. Embed the video and photos.
Interview Shine, especially if you write for LGBTQ and POC websites.
Let them know if your company wants to co-produce the film.
It's easy to use IndieGoGo's share buttons, or copy/paste on your own.
Are you in the Bay Area? Come to our SNAPSHOT Party on Friday, August 7th!
Supporting projects such as SNAPSHOT is important because it adds to the type of stories that we hear from QTPOC people. It's important to see us in various capacities to capture the complexities of our existence. It's also important so that we are not just seen sexually through the lens of tropes and stereotypes. We can be the sensual intense love interest. We can be submissive and not just a dom carrying out the fantasy of a white protagonist. We are just as sexy and desirable as anyone else in our community. I hope that you are ready for this shift in our narrative as well and that you get an opportunity to contribute to this amazing film!