Learning to feed yourself can be one of the most terrifying things. Am I about to give myself food poisoning? If I eat this too often will I end up with scurvy? How can I get the most nutritional bang for my buck? Why does this still taste like ass?
With Ode to My Pantry, learn to navigate a grocery store without having a meltdown in aisle three. Give a man a fish and feed him for a day, teach a queer to cook and stave off malnutrition for another semester.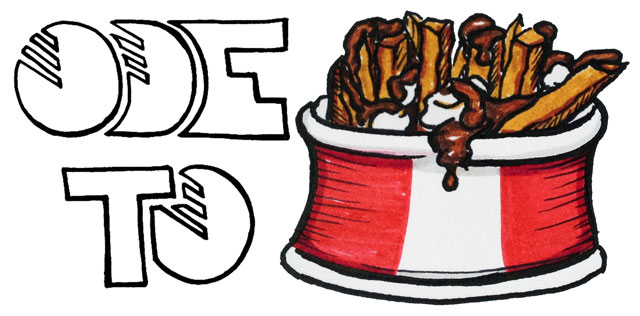 What is the Canadianest thing possible. Beavers? Hockey? Maple syrup? Socialized healthcare? We've already started to share some of that with our southern neighbours, so aside from ketchup chips, poutine has to be one of the last things still attributed to Canucks. For the poutine-philic, the dish exemplifies a perfect balancing act, juxtaposing contrasting textures, flavours and temperatures into a portable dish. For the drunk, poutine is an ideal vector for starch, fat and salt to counteract all of those Caesars. For the uninitiated, poutine is an unholy mess.
But that last thought's spot on because it
is
a mess,
une maudite poutine
if you will. Poutine's history (both the word and the dish) are about as clear as reading through gravy-smeared glasses. I partially say this because my girlfriend
lent out her poutine book
so I'm relying on internet hearsay, but also because there are lot of claims made when it comes to Quebec's apple pie. Did the name poutine come about as a
take on the English pudding
? Or a Southern French word for hodgepodge? Was it
created by a kitchen in Warwick
?
Or Drummondville or Victoriaville
? Or that diner in Trois-Rivières my friend grew up with? Or was it really just a universal good idea, because who
doesn't
get a bit glassy eyed working at a deep fryer and think,
I could put cheese on that.
Even though it's a working class food and
every mom n' pop diner has their own take on fries and curds
, foodies have latched onto the idea. Who doesn't love fried things topped topped with squeaky things smothered in goop?
Poutine festivals
are popping up all
over Canada
asking top restauranteurs to elevate my Shove This Into Your Drunk Piehole While You're Hiding in A Jungle Gym meal into haute cuisine. But fuckit, life isn't Iron Chef where you can just throw lobster or truffles onto everything! Before you start getting fancy with your fixin's, remember that like all things, you gotta start with a good base. Fries. Gravy. Curds. This is all you need. Even though you can play
somewhat
loose and easy with fries and sauce, you have to show respect to the most important part.
Repeat after me:
Mozzarella is not a cheese curd
Grated cheddar is not a cheese curd
Parmesan is not a cheese curd
Orange cheese curds are cheese curds but stick to the white ones anyways.
Cheese curds are magical blobs of proto-cheese unlike your market's other offerings. On the road from milk to market, cheese curds take a bit of a detour from cheddar and then a second detour into my mouth. Sure, the milk's still
collected, warmed and curdled with rennet
. And yup, the curdled milk is separated and formed into a block to let the proteins knit together. Then the cheese block
is
cut up again to get some of the whey out of the way and mixed with salt.
The ideal curd should be wet, mild, briny and squeaky. If you never heard your cheese talk before, it's because cheddars have their whey pressed out whereas curds have
a high water content
. But leave curds long enough and they'll dry out and become mute as well. Quiet meals sound like a good thing, but they're not. Since they're only preserved by salt, curds tend to
go downhill quite quickly
. Be aware of any soapy or ammonia-y scents that develop. No one wants to have Windex-y fries!
While anything besides a squeaky cheese is sacrilege, you can let your creativity get the best of the rest of your poutine. Top your fries with a healthy dose of curds before smothering it in a basic brown gravy.
Chicken and veal-based veloutés are traditional,
but you can bet your boots it doesn't stop there. Pour on a Bolognese for a poutine italienne. Or a Hollandaise for a breakfast poutine. Or a green peppercorn-speckled beer-based sauce like my favourite taproom. Poutine also gets along great with friends as long as they are small and stab-able. Raw onions are weird, but sauteed mushrooms, peas and onions are always a good choice. If you want a heartier caloric load, add some bacon, sausage, smoked meat or sliced corndogs. Or you know, throw duck confit or a lobster at it. But if all of those choices seem like too much work, you can just do it the Harto way.
https://www.youtube.com/watch?v=UxYlQlIlmZ0