Hi crush monsters, this is Straddler On The Street, a feature where I celebrate all of you incredible Autostraddle readers by hunting you down, demanding you chat with me, and then writing about you on the Internet so we can all crush on you. Get excited, because butterflies in your stomach 24/7 is a fantastic way to live.
Header by Rory Midhani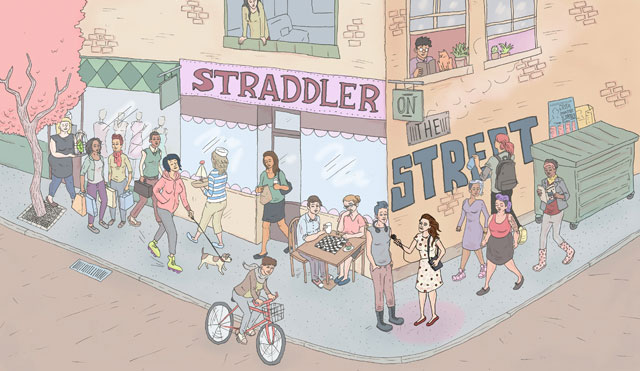 ---
Straddler On The Street: Emily, 26
I met Emily at A-Camp this past May and I can say with complete certainty that she is a total badass. She's smart, thoughtful, and funny, not to mention that her dancing skills leave me entirely in the dust (not that it takes much to out-dance me, but still).
Emily is a Canadian Straddler currently living in Vancouver, so we should all say a very Happy Canada Day to her on this fine July 1, and you should also read on to learn more about her because I think you're gonna wanna hear her thoughts on being biracial, getting into roller derby, and having a cat named Barbra Streisand.
Let's start with the basics. What are you currently doing with your life?
Currently I work two very lame jobs, am starting to play roller derby and spend a lot of time on the internet.
Tell me about derby! What team do you play for and how did you get involved?
I don't play for a team yet… but I started training last fall. The league here is called Terminal City Rollergirls, so I will hopefully make their Fresh Meat squad next year. Some of the local players put together a group about three years ago called 'Raw Meat,' basically to give beginner skaters and skaters who want more practice time a chance to get together and do just that. That's what I've been doing so far.
That is so cool. I have a huge obsession with roller derby that was mostly fueled by Whip It, which I'm sure is blasphemous to say but I can't help it.
No, it's not. Not to me anyway. The whole 'be your own hero' motto from that movie is part of what got me to actually start doing it myself. I was a pretty serious athlete all through high school in track, but that ended with an injury, so after about three years of doing not a lot, I was looking for a new athletic hobby. I was also in the process of coming out to myself at the time and roller derby is such an awesome women-centric, queer friendly sport, it just seemed like a no-brainer. Plus it's super badass.
It is super badass. So you also spend a lot of time on the internet. Aside from Autostraddle (duh), what do you read on the internet? Any suggestions?
Autostraddle takes up a fair bit of my internet time these days… but let's see, some of my other favorite blogs are Black Girl Dangerous and Sociological Images. The rest of my time is spent watching re-runs of Law and Order SVU or listening to podcasts like Professor Blastoff.
Thank you! I am curious about your anthropology degree. Is that a thing you would like to pursue further, or was it just something that interested you in college? Or maybe a mixture?
Well I had an amazing time doing my degree. I did a lot of research on gender and racial performance, mixed-race identities and female masculinity. I once wrote a paper on female action heroes! I wish people found more value in that sort of knowledge because I'm not sure I'm cut out for a career in Academia. I would ultimately like to be able to apply that kind of thinking in a more practical sense.
Yes, I get that. You mentioned in your Straddler submission that you spent a lot of time thinking about being biracial. Can you talk a little bit about those thoughts?
I grew up in a very 'white' town. When I was young, I never thought of myself as a person of color but I learned to internalize the racial expectations of others, which were often based on stereotypes. My white classmates would often turn to me to explain blackness to them, not realizing that I'd grown up in the same atmosphere that they did. But I also never feel/felt quite comfortable around black people either, as I am aware that they are often trying to determine just how black I am… It took me a lot of years to become comfortable living in the 'inbetween' space of being biracial. When people ask me, "Where are you from?" or, "What are you?" I have no problem giving them a non-answer now.
How do your race and your queer identity intersect, if you feel like they do?
I think it took me a lot longer to come out to myself because I was dealing with a lot of identity issues already. I think subconsciously I was like, "You know you're also gay, right?" But I wasn't able to face it for a long time. However, I do also feel like being biracial, and having those life experiences, makes things like gender queerness maybe a little easier for me to understand because I've already done a lot of the practice with race.
That's just my experience of it anyway… I've gotten to the point where both my race and my gender feel comfortably fluid (most of the time).
Thank you for sharing all those thoughts with me.
I'm more than happy to, because I wish I had had someone like me to tell me things when I was still so confused. I would love it if there was someone out there lurking on the website who could take something positive from my experiences.
I hope that they do! Are there any specific pieces of advice or inspiration you would give to a young baby biracial queer?
Don't feel like you are obligated to explain your existence to anybody. If someone is confused by your appearance or your hair or how you choose to express your gender. let them be confused. Feel free to identify one way in one moment and as something completely different in another. Also read Black Berry, Sweet Juice by Lawrence Hill, especially if you are a biracial Canadian. That book changed my life. I even gave my sister a copy for Christmas.
Thank you. I am gonna add that book to my own list even though I'm not biracial (but I am Canadian!).
I would love it if non-biracial people read it too actually because it would do a lot of explaining for me.
Fair enough. I'm on it! On a totally different emotional note, can we talk about your cat Barbra Streisand? How did she end up with such a divalicious name?
Ha ha… I have a habit of becoming totally obsessed with different famous women. So, at the time, I was in my full-on Streisand obsession mode and a coworker of mine had some stray cats living on his porch that had just had kittens. I adopted [my cat] and named her Barbra Streisand because I love animals with human names and cats are divas. Can I tell you a funny story about my cat?
Yes please!
So, I was about to paint my apartment and I didn't want her messing around in wet paint, so I had some friends cat-sit her at their apartment. She was shy and stayed hidden for most of the day. At some point in the afternoon my friend updates his Facebook status "BARBRA STREISAND JUST CAME OUT OF THE CLOSET!" and people lost their shit. It was worth giving her that name just for that story.
Awwwwww. I wish Babs was gay. Who are some other female celebrities with whom you've become obsessed?
Madonna. Cher. Lady Gaga. Angelina Jolie. Mariska Hargitay. Sigourney Weaver. I love a strong woman.
Do you have any celeb crushes I should know about besides those women?
Basically all of the above. Oh, and Miley Cyrus. And Brittney Griner.
Do you have any "must have" articles of clothing or style mantras?
I'd say my must-haves are all the queerest things I own. Like wedge heel Nike dunks, or my top that's also a cape. I also like mixing things that "shouldn't go together" like flashy jewelry with a t-shirt.
FYI I'm obsessed with the cape shirt. What are some of your favorite bars or restaurants in Vancouver?
Since there aren't any lesbian-centric bars or clubs left in Vancouver (apart from a couple designated nights) I'd say check out the Man Up! or Hustla nights at The Cobalt. It's a dive bar that hosts a ton of queer events. Man Up! is a drag king night and Hustla is all about queer hip-hop. I also want to say, during the day go get tacos at La Taqueria because they are amazing… but is it too obvious to recommend tacos to a bunch of queers?
NO I SUPPORT IT. How did you discover Autostraddle?
After I came out, I was like "Okay, now what?" Which led to me on the internet doing 'research' because I'm a nerd and I eventually stumbled upon Autostraddle!
I am so glad you did. Do you have anything else you would like to share with the Autostraddle community?
Just that I'm so glad to be a part of this community and I hope that someday the rest of the world catches up with all you awesome humans!
---
If you would like to be featured as a future Straddler on the Street, please email vanessa [at] autostraddle [dot] com. Include a few photos, 3-5 sentences about yourself and put "Straddler Submission" in your subject line. Approximately a million people have submitted so far, so please be patient as Vanessa goes through her inbox — you're all sexy with really smart brains, and don't you forget it!