Sometimes, SOMETIMES you can't cover your face with smokin' hot lesbians. When this happens why not cover your walls with them instead!? That's where the 2014 Autostraddle calendar comes in!
---
Drea is Miss July
I'm a hybrid of the mid-west and west coast, with my parents and relatives being from the south. Most of my family is back in Tennessee, Indiana, and North Carolina and I've been in Los Angeles since pre-school. I consider both California and back east my home.
I have two loves in my life and always have. Those are creative writing and music. With a sprinkle of techy / geek. There's nowhere to even begin with the style / genre / topic of things I write. Musically – what one person describes as "sex music" another describes as "musical madness."
When I started to come out I felt there was so much momentum in the way my life was changing; about to graduate college, making friends who 'know' me, going to A-Camp!, coming out to my mom and immediate family, graduating, getting my first 'career' job, going to A-Camp again!, moving in with my awesome roommates who'll be here forever – right?, and then realizing the momentum was slowing down.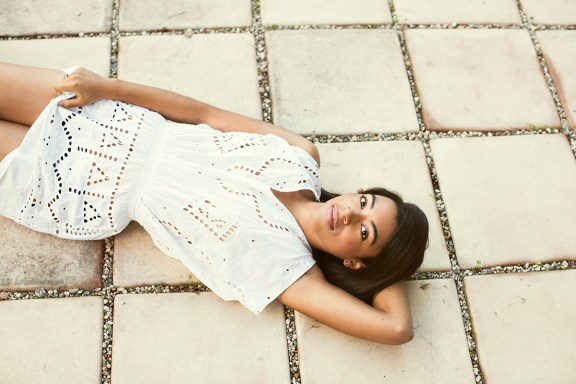 I'm not out to the rest of family, not out to the people who I spent most my college time with, not out to my dad, not out to that guy who said 'I thought u was gay' who lived down the hall from me, not out to my ex-boyfriend Marine. Not out to a good friend of mine that I've since lost – because I had been too afraid to come out. Wouldn't it be hilar if I wasn't out to the people I met at camp? Lmao!
About my creative writing; sometimes poetry, sometimes humorous. Sometimes creative humorous poetry. I made up a genre called Spotify poetry – basically making a playlist that can be read like a poem.
I was writing my diary in haikus at the time I applied for this calendar (lasted 18 days). Here's the one I wrote when I found out I'd be a part of this:
Damn I got that call
An email to be precise
My photos online
My favorite poets are Dr. Seuss and Tupac. Sometimes I pretend I'm various people and write poems as if I were them. Sometimes I wonder if Alex Vega will ever get Tinkerbelle tatted on her ass. I aspire to one day have an advice column written from the perspectives of fictional characters.
The humor is pretty much a way for me to divert from my more introvert, truly sensitive side. I'm the toughest most fragile chick I know.
More fun stuff >> Miss July '14 Preliminary App
---
Artist's Statement from Robin Roemer:
I want to start off by saying I wish I had a few weeks to photograph each of our 130 applicants, because they were all beautiful and inspiring! We are honored so many of you wanted to participate and we hope, at some point, we can work with each one of you. I mean that most sincerely.

This year we went through our applicants based on the survey first, the photos sent in to me had little to do with who our final picks were. We chose based on answers to a variety of questions. We wanted people who really had a sense of what the project was all about, were readers of Autostraddle, and were involved in their communities at home. We wanted women bursting with energy and love. Second, we wanted to represent our incredibly diverse our community: beauties of all different shapes and styles and backgrounds and gender expressions. Finally we found ourselves with 13 models — its 2013 now so twelve just wouldn't do — who we feel represent some of the most brilliant our readership has to offer. I hope each of you, especially those of you who applied and were not chosen this year, enjoy this year's calendar.
Crew:
Co-created by Robin Roemer and Sara Medd
Photographed by Robin Roemer
Wardrobe styling by Sara Medd
Hair by Taylor Stevenson
Make-up by Marla Verdugo
Line Production, Location Scouting and Catering: Sarah Croce
Design, Location Scouting, Production assistant: Alex Vega
Lighting Assistant: Kamila Baker
Production Assistant: Christina Bly
Puppy Wrangler: Mollie Thomas
Special Note: As of December 2010, we request that the comments on Calendar Girls posts, unlike every other post on this site, be exclusively positive and remain on-topic. These posts exist to celebrate women, so any  criticisms of the model, her appearance or the appearance of the Calendar Girls as a whole will be deleted. Furthermore, any direct questions/concerns about the project in general can be directed to robin at autostraddle dot com!