Hi crush monsters, this is Straddler On The Street, a feature where I celebrate all of you incredible Autostraddle readers by hunting you down, demanding you chat with me, and then writing about you on the Internet so we can all crush on you. Get excited, because butterflies in your stomach 24/7 is a fantastic way to live.
Header by Rory Midhani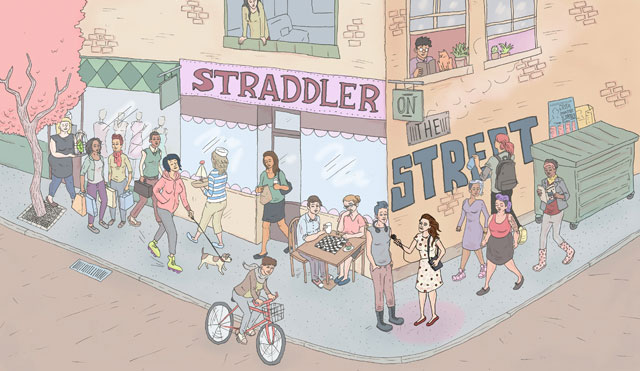 ---
Straddler On The Street: Jessica, 21
Jessica is a 21 year old student studying English Literature at Cambridge University. She was born in London and now bounces between London and Cambridge, and she says in her free time she enjoys drinking tea, reading and writing poetry, baking rainbow cakes, arguing about feminism, and dragging her stuffed toy dinosaur out clubbing with her. Not to be dramatic, but I think I have fallen in love.
When Jessica emailed me she said she wanted to be featured in this column because "Autostraddle is the reason I started to feel okay about being gay, and was a part of the reason that I started to see myself as more than a collection disadvantages – as complete human being with her own story to live,wp_postsand she said she wanted to speak about being "a gay woman of color and a state school kid,wp_postsand about the stressful environment at Cambridge and the effects it has on the student population. We ended up talking about all that, plus a lot more including crushes, children's books, and intersectionality. Meet Jessica!
Have you always lived in the UK?
Yes, and I've always lived in one city, London, which seems pretty astonishing to some people! I've often had to do the whole, "But where were you born? Oh, right. But where were your parents from? Oh… but, where were they born? All in London? But… what?"
That's so aggravating. I was actually also born in London, but my family moved almost immediately. How did you discover Autostraddle?
I came across Autostraddle in the worst possible way. I was a terrified baby gay, googling the word "dyke" to see if that could possibly apply to me, when I came across an article by a writer called Effing Dykes, who wrote an infamous article for you… the one about safer sex? The one with the nails and the tearing and the horrifying urban legend about spontaneous orgasms caused by maggots in the comments section?
OH MY GOD. WHAT A HORRIFYING BEGINNING.
Yeah, that was how I was introduced to both Autostraddle and the concept of girl on girl sex. I swore I'd just be celibate. Just gave up. But hey, I'm glad I kept asking questions, and Autostraddle has had a lot of the answers, so thank you!
Haha well I am so sorry that was your introduction to this glorious world, but that is also hilarious. As a reader from the UK, do you notice a lot of cultural differences between the American queer scene and the one you have at home?
Well, I only know about the very cozy Cambridge queer scene because I came out when I went to uni, [so] it's hard to say. Having said that, I always smile wistfully when you talk about bars in America for queer women – bars, plural. In London, there was only one, the Candy Bar, and it's closing down!
Ugh, that is a bummer. Speaking of the cozy Cambridge queer scene, can you talk about what that is like?
I was pleasantly surprised to find that there is a queer community in Cambridge. It's a mixture between events run by the central student body and student reps at individual colleges, and friendship groups. It's tiny, though, it seems like everyone knows each other in the not-so-Biblical sense!
Now seems like a good time to talk about your blog! You said you started writing Queer FAQ for the school newspaper in response to some of the "bizarre questions" you received as a QWOC on campus. I loved how you described it in your submission email: "I was embarrassed by how bitchy some of my answers were, but to my surprise it made people laugh, and I had queer folk high-fiving me for being openly angry about the things that hurt us." What are some of your favorite posts? And are you still writing?
Two of my favorite posts are Why Do You Want To Get Married Anyway? and Not Attracted To You. I only wrote my blog for a term. I wanted to continue, but I stopped doing any kind of creative writing when I got ill last spring.
In your email submission you said another thing intrigued me: "Many students, including myself, suffer from mental and physical health problems caused or exacerbated by the pressure." Would you mind talking about some of your health struggles?
I'd be happy to. Lots of people at Cambridge suffer from mental health issues, as there would be at any uni, but there's a lot of concern in the student body that this is something which is worsened [here] by the extreme pace and workload. There's an attitude that some supervisors take that if you haven't had a break down yet you probably aren't doing it right. On top of this, although we do have a uni wide counselling service, support varies wildly across the individual colleges. I was very lucky, and my college really rallied around me when I was diagnosed with depression and had to leave residence, but I know that many others were not so well supported.
That's pretty scary that some people have the "if you're not sick you're not doing it right" attitude. Are there any campus-wide groups working to combat that?
I think it's more of a "if you aren't pushing yourself to the extreme edges of your capabilities, all the time, you aren't doing it right" ethos. But there are many students and supervisors who are working together to increase awareness and support. Shout out to the awesome people at Link Line, the Cambridge Mental Wealth Group, %Tim Squirrel (a student writer – he's basically a campaign on his own!), and all of the nurses, porters, tutors and directors of study who have gone out of their way to support their students. Change is happening. For example, leaving residence for a year and coming back used to be a process called "Degrading" – nice name right? – but it's now called "Intermitting,wp_postsand students and staff are working together to make the process clear, simple and as compassionate as possible. I'm not surprised we move slowly here; the uni's like eight centuries old.
Well it's good to hear that change is happening, however slowly! Going back to the bizarre questions you received as a QWOC at Cambridge. Can you talk about those?
My favorite questions: "So, do YOU have an ASBO, Jessica?" "You don't really think racism exists do you? Not in London? Not from your teachers? No. I don't believe it." "People aren't really homophobic, are they? Being gay is trendy now!"
WHAT.
I think it just comes from a complete obviousness about the life beyond the "bubble."
Also wait what is a "ASBO"?
An "antisocial behavior order," a punishment for minor antisocial crimes.
Wait I'm sorry, I feel very American right now. Is it a university thing? A legal thing?
It's a legal/government thing. [It was] Tony Blair's idea. It's an injunction to tell a person to stop behaving in a particular antisocial way or face further punishment or arrest. I don't know how effective they actually are.
Huh. Sorry to be so ignorant about that! I have never heard of it before.
That's fine.  Many of the people here will not have experienced systematic prejudice and some are just not willing to believe it exists, [or believe] that the UK is actually very unequal and that many people suffer from the arrangement that benefited them. I'm at the intersection of a lot of those systems, although I am very privileged in many ways, and I often feel like a living reminder of those systems.
That makes a lot of sense. Can you speak more about being at the intersection of a lot of those systems and what that is like?
I think the most powerful phrase in my childhood that my parents taught me to fight against was "people like us can't…".

Being a black kid in London, I was often regarded with suspicion and then happy astonishment by my teachers, who took a glance at me and expected "trouble." Lots of the kids picked up on this – children do – and it became a self-fulfilling prophecy.

Of course, that intersects with class. I was lucky, my mother was a primary school teacher and she fought to make sure that I was tutored at home and was able to take the way out of hardship that education offered me. No one else in my school had that advantage They rightly guessed that "people like us" don't generally go on to further education, let alone Oxbridge. And then, when I was older, I saw that there was a whole layer of things that I'd been taught that "people like me can't" do – get married, have children, be loved, not get my head kicked in – and my world fell apart.

Some of those layers were economic realities, some of them were cultural prejudices, but they were all true. In combination they left me feeling that I had no space to grow or hope or love, at all. Like being erased slowly.

So, my parents sorted out the economic realities and the educational disadvantages for me, bless 'em! The cultural ones are different. They're not so much about bank balances and qualifications. They are about me changing my ideas about myself, and then perhaps changing the ideas of those around me.
That is a lot to deal with. Thank you for sharing so openly what it has felt like for you to live at the intersection of all those spaces. I think a lot of our readers who have similar experiences will really appreciate your candid response. I have a few lighthearted questions, if you are ready for those!
Bring it on!
What are some of your favorite books?
My favorite books are The Voyage of the Arctic Tern by Hugh Montgomery and Exodus by Julie Bertagna, both children's books. The first one was my first introduction to poetry. It's a story about pirates and magic and treasure, and ghost ship that arrives once a year, all told in rhyme! It's beautifully illustrated and never patronizing. Exodus is about a girl called Mara who leads her village away from an island which is about to be swallowed by the sea, out into an unknown world that they've never seen. Such a great role model!
Those both sound so great! I love children's books that take kids seriously.
I think both of those books get to the heart of what storytelling is actually about. I love my degree but I get tired of literary critics regurgitating ideas that are so divorced from reality, like a consensual human centipede, and forgetting all about "Once upon a time…" Stories are these beautifully crafted tools that help us reach beyond and within ourselves, and reach out to others. Stories are everything!
What a beautiful thing to say. I love that. Do you plan to start doing any creative writing or blogging again?
I'm writing poetry again… I hope that as I get better I'll start writing prose, I do miss it. But I'm so proud of how far I've come. I've decided that I am going to be the future that little Jess was holding out for, writing my own story and all that mushy stuff.
That is incredible. I'm so happy for you.
It's true. When people do the things they love and fight for the things they care about, they're beautiful; it lights you up like a lantern. And who knows, maybe you'll be a light for someone else? That's usually how it works. You make the biggest difference to the world by being here, and being your best and truest self. No more mushy stuff, I promise!
No, I love mushy stuff. Thank you, seriously. Now for my favorite question, do you have any celeb crushes? Gosh, why do I like asking people that so much?!
Well, you are the crush monster! I think my celeb crush is either Kate from Autostraddle or Mary Lambert – both adorable writers.
Oh, Mary Lambert. Be still my heart.
Dimples! Sigh. And it's so good to see another femme queer woman being all visible and awesome!
Seriously. Last question: Do you have anything else you'd like to share with the Autostraddle community?
Thank you writers, moderators and interns for creating such varied and interesting content. And thank you everyone else for being, collectively, the best damn comment section in the whole world wide web. Fact. And thank you for picking me! I've always really looked up to the "Straddlers on the Street" – I can't really believe I am one!
---
If you would like to be featured as a future Straddler on the Street, please email vanessa [at] autostraddle [dot] com. Include a few photos, 3-5 sentences about yourself and put "Straddler Submission" in your subject line. Approximately a million people have submitted so far, so please be patient as Vanessa goes through her inbox — you're all sexy with really smart brains, and don't you forget it!