People really dig talking to me about fucking.
Once they find out that writing about sex and relationships is a big piece of my work, conversations often turn to it. I love it, and I especially enjoy talking to Black and brown queer folks about it. Pretty much everything under the topic comes up; kinks, fantasies, positions, and of course sex toys. Folks will ask me to suggest a toy for them and I've yet to get tired of that, I like that they trust my instincts enough to in some kinda way — put their pleasure in my hands. Introducing QTBIPOC to things that can help them connect more to themselves sexually is a large part of why I write about sex and share my own experiences.
Last year, I talked about how I learned more about my body and what made me feel good — and a lot of what helped was data. It helped me with masturbation, enhanced my partnered play, and helped me with my communication when it came to all things sex. The Lioness was the first smart vibrator that I was introduced to that blended data and pleasure in the ways that I'd already been doing, and since then, I've been trying any and every toy that has some form of tech connected to it.
In the past 2 years, more companies have been jumping on the train to blend sex toys and tech. Creating toys that use technology to enhance the user's experience. From Bluetooth toys that sync to whatever playlist you're fucking to, to apps that connect to your vibrator so that someone 4,718 miles away can make you come — it's incredible.
I wanted to bring all of this together, and make the conversations I have with QTBIPOC folks at parties and picnics tangible. So I'll be chatting with a new homie here every time, suggesting techy toys for us both to try, and then coming together to chat about our varied experiences with them. This is deeper than just a review, my hope is that our conversations will help folks find new ways to invest in their pleasure and I think technology can help do that. Not every toy will be a hit and not everyone will hop on my "Data-Driven Vibes" train and use smart vibrators, but I am gonna try to get at least a few homies on board.
First up is Data Bae! We got our toys and took some time to explore. Afterward, we linked up to chat about what we liked, loved, and didn't dig about these smart vibrators.
---
Data Bae
"I'm not a big masturbator. Sure, I do it most nights – it helps me fall asleep. But I'm not an enthusiast. There are a lot of reasons for this: I have a pretty low sex drive, generally. I'm trans, which means that the vast majority of sex toys are not made for me – and the ones that are made for people with penises are frequently kind of gross and weird. Dysphoria is also an issue – most of the time, I try not to think about my penis, but that's hard to do when you've got your hand wrapped around it. I've long wished there were better anal toys for me to try for that reason – but generally, I've struck out.
So when I had the opportunity to try some "smart" vibrators, I jumped at it. Maybe some of these new-fangled, high-tech devices could help get me into the elaborate masturbation routine that I deserve? Unfortunately, my results varied. The apps and remotes were too complex or cumbersome and required too much thought when I really just wanted to get out of my head. The cool features of the bendable vibrators were lost on my anatomy. But the anal toy was incredible, and my partner, who has a vagina, really liked the vibrators intended for her body (and we had a good time using them for partnered play). I think the industry still has a long way to go when it comes to helping people with penises and especially trans women have good masturbation sessions, but these toys at least show that innovation is happening, which is a good thing!"
---
The Smart Vibrators Tried & Where to Get 'em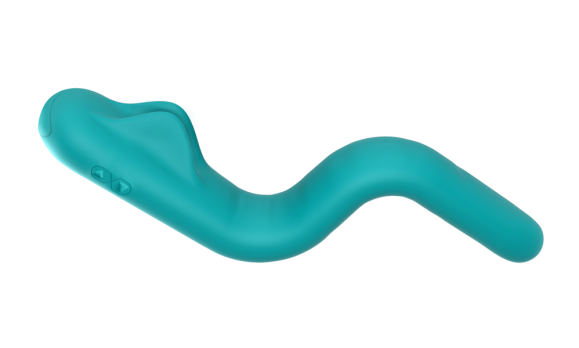 Described as an infinite amount of sex toys in one, this one is from the company MysteryVibe. It's designed to bend pretty much every which way and has vibes from top to bottom. It's also meant to mimic fingers and has 16 vibrating intensities. Waterproof and made from body-safe silicone, it totes a design that's meant to hit all our erogenous zones. The Crescendo can be controlled via the MysteryVibe App, remote, and of course right from the toy itself.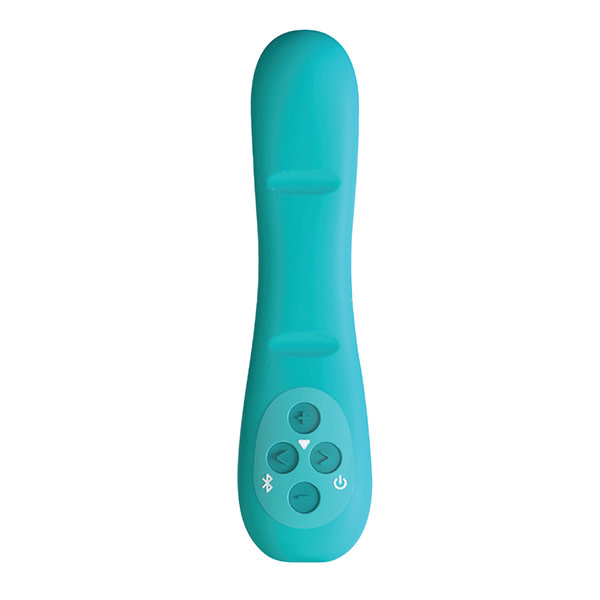 Another one from the crew at MysteryVibe, The Poco can be viewed as the compact cousin of The Crescendo. It has the same 16-vibration intensity, waterproof play, and body-safe silicone as its bigger cousin, The Poco can be used to pinpoint erogenous zones such as nipples and the clitoris during play. It can be controlled manually, via the MysteryVibe App, and by using the remote.
This remote can be used to control an array of MysteryVibe products if you prefer to opt out of using the app! It's larger than many Bluetooth remotes on the market that control your techy sex toys, but not overwhelmingly so. The larger frame and buttons increase the remote's accessibility and can make playtime less fumbly and more fun.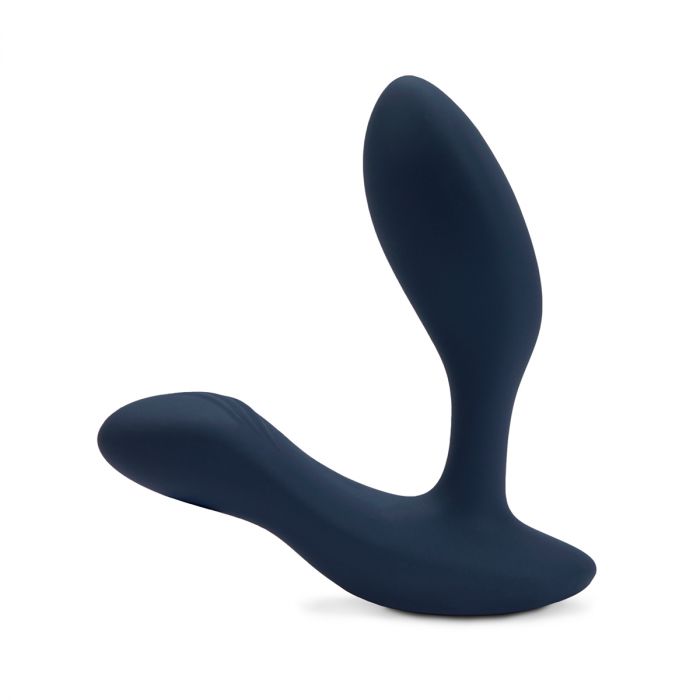 An anal smart vibrator from the folks over at We-Vibe. A quiet, waterproof vibe made from body-safe silicone that focuses on sending vibrations directly to the prostate and perineum. With 6 vibration patterns, this toy can be controlled manually, via the included remote, or by using the We-Connect from We-Vibe.
---
Smart Vibrators or Nahhhh?
Shelli: So — Are you as into data & technology making its way into sex in the way of toys as I am?
Data Bae: No! lol
Shelli: Ahhhhh Why?!!
Data Bae: It's just too confusing. It's too much to think about. I masturbate to get out of my own head. I am way too cerebral and overthink too much about everything. I don't want to be fiddling with apps and remote controls and etc. when I'm having sex or masturbating. I don't want to think.
I don't even like different "patterns" of vibration, though nearly every vibe has them. I just want soft, medium, hard. That being said, some of the less-tech "tech" of these vibrators was very cool. They had so many cool features and functions that I did NOT take advantage of.
They seemed so high-tech, but I am a low-tech lover TBH. I would love to hear why you are so into tech and sex though! Maybe I could be converted.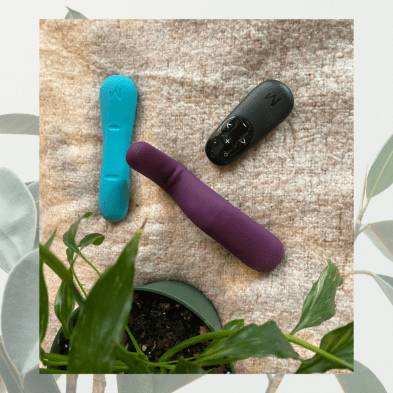 Shelli: I am just perpetually into new ways to enhance my pleasure when I am masturbating. One of the reasons why is because, for a while, I thought it was bad that my favorite way to come when masturbating was with vibrators. I used to read stuff that said "Don't become dependent on them because you'll never be able to come any other way." But I was always like "WHERE IS THE DATA BEHIND THAT STATEMENT!"
When I found out that was BS, I was just like not only am I gonna use whatever toys I want, I am gonna find so many cool ways to play with them and have a fucking blast!
Data Bae: Oooh I was thinking, what if the apocalypse happens and there's no more electricity? But then again I'm kind of an alarmist and always thinking about the end of the world. But I dunno. People have been rubbing up on stuff for thousands of years. There are ancient dildos made of stone that archeologists keep finding. We'll be fine without electricity, and like, take advantage of it while it's here!
Shelli: See if the apocalypse comes soon I'm gonna be so pressed because the way I need to be coerced into going manual these days….
Data Bae: Lol I bet you'd get used to it if you had to, though. But like right now, why would you?
Shelli: To your point earlier about using masturbation to get out your own head, it makes sense to not be a super fan of tech complicating or prolonging the ability to do that. When I am masturbating I actually wanna be in my head. I wanna explore, I wanna know everything that's going on, feel it and then analyze it all at the same time.
Data Bae: Whoa that's wild, so different from my experience. I am so in my head all the time and also — I work in tech. I am on Zoom and checking stuff on my phone for work all day. So if I want a release/escape, I try to get away from tech and out of my head.
What Passed the Vibe Check
Shelli: That's hella valid. So with feeling that way, did you (or your partner if you used them during your play) catch any vibes with these techy toys?
Data Bae: So, I liked the low-tech features. My partner loved the bendability of The Crescendo. She could have one end inside her and the other bent around to tickle her clit. Or, we could straighten it out and with partnered play, I could use it to penetrate her deeply. It was very versatile and I've never seen a vibrator with that flexibility (pun sort of intended). The waterproof-ness was cool! I didn't use either of them in the bath and my partner tried but just wasn't into bath play. I like that they're easy to wash though and if I did want to use them in the bath, I could. The little "wireless" charge pad thing was cool, too!
I really didn't use like, the app though. Did you use the app to analyze your session afterward?
Shelli: These toys actually don't give you data after playing BUT if you check out my original piece on data-driven vibes, I let the world know that I manually keep track of my own. I've been doing it for a while and its helped me learn my body so much — I LOVE DATA hahaha!!
Data Bae: Whoa! OKayyyy
Shelli: But, I'll get to the techy stuff in a minute. My favorite out of the two had to be The Crescendo! The creators say it's like having infinity toys in one and for me, that was def the case. I used it solo and I agree that I have NEVER seen a vibe with that much flexibility. I dig deep penetration and usually can't get it when masturbating because the angle is off, but because of the flexibility, this one allowed me to get deep. When I came with it, it felt harder than it usually does when I come from penetration when masturbating and that was probably because I was able to get deeper. I can usually only come that hard with penetration when someone is strapping me down.
The Poco one is fun, but felt like it would better be used for partnered play as a tease or appetizer. That's what I used it for when I was masturbating with it, focusing the vibes on my nipples, neck, and inner thighs to get me turned on before ultimately switching to The Crescendo to come. It wasn't for lack of trying but it just wasn't going to do the job to make me come — not using penetration or its vibes on my clit. On the techy side, I got to add in vibes for both that I had set and created on my own using the app!
Data Bae: Like you created your own custom vibe pattern?
Shelli: Yes I did! You can use a lot of the toys from MysteryVibe with their app. Switching to control different ones is quick and easy. It was fun to be like "Okay — now let's use this one!" and it was not some long and awkward gap.
I didn't create the patterns WHILE playing because it was a bit hard to understand how to make them. I fucked around with creating them while I was watching The Circle lol. I just made them based on my pleasure muscle memory — feeling the vibes in my hand and creating patterns I thought I'd like and saving them
I did like the remote, It connects to a bunch of their toys including The Poco and The Crescendo. It's cool that I can use it with more than one toy, it encourages me to stick with the brand because it feels like I have a stake in it already by having the remote.
Data Bae: I feel like during play doesn't make sense. Wouldn't you have like, lube and/or bodily fluids on your hands potentially? Don't wanna be playing around with your phone. But that could be what their remote control was for. That being said, I couldn't see how the remotes could be more convenient than pressing the button on the side of the actual vibrator.
My partner said that, at a certain angle and amount of bending, The Crescendo would stay inside her without her holding it there — which means the remote could work! Also…I didn't get a chance to try it yet but I definitely feel like I could use the remote that came with The Vector because that toy actually stays in place!
Shelli: Sometimes my phone didn't sense the touch due to wetness but I didn't let it stop me and that's where the remote came in as a perfect fix. It's sort of like tech is there but not so heavily present because you wouldn't really be using the phone.
So happy you bought up The Vector, that's the toy our friends over at Babeland sent your way! It's another toy from a different company (We-Vibe) but has similar techy qualities including a remote right? How did you like it!?
Data Bae: Yes! It does have a remote but I didn't get a chance to use it yet. It's also waterproof! OK So, I have to say that I'm not super experienced with anal vibrators. I have one other lil' one that is essentially a bullet vibe that fits into a little butt plug. I don't use it often because, TBH, I don't even masturbate that much. I have a penis so it's like, too much cleanup, and especially for anal play, it means putting a towel down, etc.
…But this is the best vibrator I have ever used.
Shelli: The best?! WHY?! Tell me more!!! I love this for you!
Alexa – Play "Best I Ever Had" by Drake
Data Bae: It feels so high quality, it seems genuinely made for like, prostate stimulation. I don't know how to describe it but the first time I used it I was like "whoa!" I came before I was even like … hard?
My partner and I have tried in the past, and failed, to do prostate stimulation. We have also failed to like, truly "find" her g-spot, so maybe we're just not very good at that kind of thing lol. She thinks she has a "crooked" vaginal canal or something and that's why?
Which, sidebar, is part of why she liked The Crescendo. She could really bend it around and like, get into all kinds of places where usually only my fingers can get and some that my fingers can't even get to!
Anyway though, The Vector — I don't know if it hits my prostate. What I've read is like, "you'll know." But how do you KNOW? But anyway. I had some really good orgasms with this.
Shelli:  I again – LOVE THIS FOR YOU! It seems like the similar feeling I had when I used The Lioness for the first time, it was lowkey over before it even started.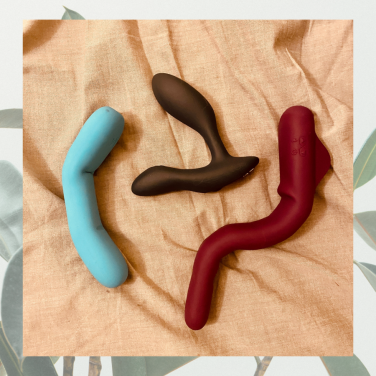 Data Bae: We, unfortunately, didn't get a chance to use it for partnered play, though I could easily imagine me having it in while I'm on top or behind her, and it being like, really powerful. She could have The Crescendo inside her anally and me inside her vaginally. So we're both all filled up! But we didn't get a chance to do that yet. Honestly, I'm sweating thinking about it.
So that's new for me too. Having a toy and being really excited to try it out and use it in different situations and trying it for different things. That is not an experience I've ever had.
Shelli: The Vector being a toy that's TRULY made for prostate stimulation makes me so happy, because many toys tout that but have ultimately failed when it comes down to it. I hate being let down by toys and love being excited when folks find one that makes them excited and that does what it says it will.
Data Bae: Most of the time we'd rather just fuck each other and leave the toys out of it. And when she does solo play she uses her Hitachi Magic Wand, not an internal toy. But these were fun and we're excited to try them in more, new, ways.
What Failed the Vibe Check
Data Bae: To be honest, I was really disappointed because The Crescendo and The Poco played like they could be used by men and other people with penises but the suggestions they gave… were silly.
Like, you could bend it into a circle and then rub that up and down your shaft? I don't know. Maybe if you're huge? Like coke can girth. That did nothing for me! And of course, you're not going to use a non-flared toy in your bum. Not a good idea. At least not for me.
Shelli: That's my biggest drawback with then MysteryVibe toys were a lot of the imagery and suggestions were very cishet centered. Some of the suggestions on their playing cards I was like, "This – does not sound like it will work at all". I am very over seeing seemingly straight couples and cishet language when it comes to my sex toys.
Data Bae: Yeah. I had kind of given up on prostate stimulation! I don't know if this worked for that but it definitely worked to feel good in my booty while I was doing my otherwise normal masturbation routine. And I could see it really taking my partnered play to the next level.
Shelli: Next level partnered play ala Vector for you and def next level solo play ala The Crescendo for me – look at us – out here winning.
Data Bae: Yooo
Shelli: Yoooooooo!!!!
Data Bae: It sounds like [the toys] missed an opportunity to collect data. Since that's something you're into. Do you feel like since they've got an app and everything anyway, that it would have taken it to the next level for you?
Shelli: It would have and it didn't even need to be in-depth. Something as simple as tracking how long the session play was, and having me fill out little bubbles after like "Was this a solo or partnered session? Was orgasm achieved? Were you fucking to music?"  that kinda stuff would have been dope. I wasn't expecting it to be as scientific as The Lioness data was but a little something more than just creating a vibe pattern. I saw that with the We-Connect App for The Vector you can basically Facetime in the app and use the toys at the same time which is pretty fly.
But, I'll take what I can get for now with MysteryVibe and keep writing things in my lil sex data journal.
Data Bae: Hmmm yeah I think that might be interesting! Like maybe just a "notes " section even.
Shelli: YES! Something simple.
Data Bae: The Poco and Crescendo weren't made for me, and predictably I didn't have a good time with them. I gave them to my partner and she liked The Crescendo and we plan to continue experimenting with it for partnered play. The Vector, on the other hand, was wonderful and I am VERY excited to continue using it for solo and partnered play!
I am not super into data, apps, or remotes but I think they are cool. I will try to use the remotes and maybe I'll even try a custom vibe pattern on the app. I am usually overwhelmed with patterns but maybe I can find one that really works for me! I did think the other non-app tech features like waterproofing and bendability were cool and appreciated though!
Shelli: I'm happy you and your partner could find something in the batch of data-driven vibes that you could fuck with! Thanks for chatting with me!
---
Data Bae isn't a total convert to the Data-Driven Vibes crew but is down to keep giving it a try, so I say that's a win!
Until next time babes — keep vibin'.