Hello and welcome to the second recap of the third season of The Real L Word, a half-hour teen sitcom starring a teenage girl who sports eye-scorching brightly-colored multi-layered outfits and speaks directly to the camera regarding a plethora of Serious Topics such as her first training bra, her annoying little brother, school, boys, and pimples.
Well, now that we've sold our first-born child to Contempo Casuals and strapped on our leggings and high-tops, it's time to get down to business!
First things first: Autostraddle's Season Two parody video, edited by the incredibly physically attractive Real L Word extra Sarah Croce and starring famous actors like Autostraddle Design Director Alex Vega and pregnant Season One cast member Jill Goldstein-Weiss, is finally here, and if you've yet to bear witness to its excellency, you should either kill yourself or go watch it right now.
Okay, now that we've gotten that taken care of — one last tangent before I attempt(/fail) to turn 52 comatose minutes of "television" into something mildly entertaining — the time/space continuum on this show is totally fucked!  I mean, duh, but also, as I realized last week and consequently shared with you in the comments of last week's recap, last week's episode contained footage from five different months, and consequently so does this week's episode and probably so will all the rest of the episodes.
Last week, Hunter Valentine was prepping for South by Southwest, which happened in March 2012, so the Hunter Valentine scenes are all from March 2012.
Romi & Jay were attending a Halloween Party for the LGBT Center, which happened in October 2011, and the photos Kelsey's looking at on Romi's facebook are from December 2011, but also, Romi and Kelsey were back together by January 2012 at the latest (they have since broken up and Romi has a new boyfriend named Dusty at present), so the Romi/Jay scenes are all from October/November 2011 and the Kelsey scene is from January 2012.
Cori got pregnant in August 2011, and they said she was four months in last week, so the Cori/Kacy scenes were from December 2011.
The launch party for Lyon Jewelry happened in February 2012, so Lauren's scenes were shot in February 2012 — but, although Lauren spends that scene interviewing about eagerly anticipating Amanda's arrival, Amanda was there already, she was at the launch party, so both the Lauren scenes and the Amanda scenes must be from very late January or February 2012.
In conclusion, THIS SHOW IS A LIE. Sorry!

We open in a sunny sidewalk cafè, where Whitney has summoned her sister Alexis to discuss her upcoming Proposal to Sarahara.
Whitney's been having some weird subliminal Moby Dick shit going on:
Whitney: "I've had two dreams/nightmares about it in the past two days. Last night, I had a dream that a big giant whale came and it smushed me and I pushed it away to try to save it and to prevent myself from being scrunched, and as I pushed it, it got slit open and it deflated. What does that mean?"
Pretty sure it means y'all should film an episode at Sea World, like when The Brady Bunch went to King's Island.
Whitney: "So basically, Sara thinks pretty much that I'm 100% anti-marriage. So I feel like in order to really get that zing in, I have to make that proposal completely over the top. So of course I came up with the hardest most complicated plan that is probably unnecessary."
Girlfriend, getting the zing in is no small task. I salute you.
The ever-s0-clever Whitney's smushed together a plan wherein her true intentions (proposal) will be disguised by a "Spiritual Healing Party" she's throwing. Apparently Sarahara "is really into new age things," which's a side effect of living in Los Angeles and being a girl who likes having sex with other girls. If you stay there long enough, your heart will turn into a geode.
Whitney spends most of the episode in awe of her own proposal-planning skills. She could've just had her server at The Olive Garden bring out the ring on top of a hunk of birthday cake, filmed a lip-dub with 80 of their closest friends or put the ring in a hot air balloon and then had the hot air balloon land on Sarahara's head, but that wouldn't be the cowboy way.

Smear on over to New York Diddy, where Kiyomi and her not-girlfriend Ali, in preparation for Hunter Valentine's Incredible Amazing Vadgetastic Spectacular Lifetime Monster World Tour, are poking each other in the face. Metaphorically. They're poking each other in the face with words.
It seems that while Kiyomi was hidden away in the bathroom practicing sexy facial expressions in the mirror, Ali hit up the BBB and returned with three additional closets. Or else they've been there all this time and there's just nothing else to talk about so we're gonna talk about it right now:
Kiyomi: "I don't think you need one – two -three – four closets. Just a thought."
Ali: "Well, that's just towels and blankets and stuff."
Kiyomi: "You're just one person in here. How many towels and blankets do you need?"
Ali: "I have a lot of guests."
Kiyomi: "Trying to make me jealous? That's a good idea before I go on tour."
Ali: "That's not funny."
Kiyomi: "Neither was your joke."
Well, I'm glad we can all agree on something.
Kiyomi interviews that due to the "200 days of the year" she's away from home playing in her rock 'n roll band, she can't commit to Ali.
But Ali's conflicted between the part of her that cares about Kiyomi and the part of her that is pretending to care about Kiyomi's career.
Ali: "I want her to be you know, playing as many different shows as possible and getting all different fans from all different states, but I worry. I can't imagine what's going on. Sometimes I don't want to imagine what's going on."
I do! Okay, my first guess is that it's probably like this:
But then I thought nooooo, it's gotta be way more like this:
Hold the phone, it's this:
But by "this" I mean actually THIS:
JK, it's this.

We zoom over to another street, where hey, hey, the band's all here! Laura interviews their itinerary, which'll first take them to Phase One in D.C., then to The Milestone in Charlotte, "where even Nirvana played." (RIP)
While Laura packs the van, Somer and Donna say goodbyes and Somer interviews about the perilous future. See, apparently, Somer is a Unicorn who greets the daily dawn by prepping piping hot coffee for her lady-love, dressing her, getting her out the door, and occasionally even packing lunch! Now that she's off On Tour, Donna will be forced to subsist on Lunchables and Capri Suns or overpriced salads at Pax!
But seriously, they're gonna be gone for what? A week? 10 days? And this throws "a huge curveball" into their marriage? We're only at Episode Two and already this is what we're being served up as "conflict." Where's Claire?

Cut to Rainy Los Angeles, where Lauren the Glamazonian Princess Warrior is driving to the airport to retrieve Amanda, her best friend with benefits/eyeliner.
Lauren's not obligated to maintain the fourth wall because of how pretty she is. She just drives & talks to the camera, like a walk & talk for ladies.
Lauren: "The last time she visited, we did hook up… but it's like, it's not a big deal to us. We're not starting a relationship, we're not you know, anything, it's just casual hooking up, you know, I'm positive nobody's gonna have any feelings involved. That's what I'm excited about, having someone around all the time where you can kinda do everything together and not have it be a relationship, it's just having like your best friend."
So, basically a relationship, but the kind where if one partner hurts or in some way betrays the other, any constructive communication about said upsetting incident is met with, "it's not like we're in a relationship or anything!", therefore ensuring maximum passive-aggressive behavior between both partners and lots of drunk screaming. Bring it on!
Amanda says she's got 800 bags. Bitch was lying, she's got her entire life stored on a computer chip over her left ear:
The ladies are ecstatic about their mutual geography:
Lauren: "Lamanda."
Amanda: "Lamanda's here. Oh my gosh I'm so excited."
Amanda interviews that she left a lady behind in New York City, which was like, one of those things where you're like, "should I be doing this or should I not be doing this?" but then like, for her, it was that she's not gonna stay in a city because of a person. You know? Totally.
Amanda's got eight billion outfits in her eight billion bags and will have to use Lauren's closet. A lot of closet-talk this episode. I'm adding "somebody says 'closet'" to the drinking game. Tour!

Elsewhere in Los Angeles during some other day, week, year or plague, Whitney's making shit up about some spiritual healer she knocked boots with at the 2012 Positive Affirmational New Age Convention who can fly, see through walls, and host spiritual healing parties, or something.
Whitney tells Sarahara that the Spiritual Healer does creative visualization and can also cleanse bad energies, like the bad energies whirling about within their gaggle of gal-pals, and therefore Whitney's planning an event in which they can get this shit taken care of.
Whitney: "Basically, the Academy Award goes to this guy, right here. Sara has zero clue that I'm proposing, and especially not at this random spiritual event."

Several years earlier in the Los Angeles Metro area, Romi Flinger's meeting up with Rose Garcia, a Season One cast member who doesn't like me. No really, she doesn't. Here's the thing about Rose: 1. She's smokin' hot, 2. She reminds me of dudes I dated in college who I never want to see again. Anyhow, speaking of dudes, Romi Flinger's got one to talk about:
Romi Flinger is telling Rose and anyone else in a 50-foot radius (damn these girls talk loud!) that she'd always considered herself a lesbian until she met Jay, and now she's dealing with all these new feelings! Except that she first dated Jay in 2009, but maybe everyone got glamoured and I missed it.
Romi interviews:
Romi: "I would never have said that I was a bisexual honestly. I always considered myself a lesbian but now it's a weird thing to say because I'm not used to saying it at all and I'm not comfortable with it but I guess I have to say… that I would be… bisexual."
Rose is down:
Rose: "Dude, I don't care, all I care about is the fact that you're happy. Whether it's a penis injecting in you or whether your mouth is on a vagina, whatever's going on, I mean obviously for me I couldn't be physical with a guy but I could imagine falling in love with a guy. Love is love, you don't care —"
I feel pretty much the opposite of that, but anyhow: I wonder if there's a correlation between how many male friends a lesbian has and how she reacts to a bisexual woman dating a guy. Like maybe lesbros are more likely to "get it" because hanging out with dudes is the way that they live anyhow. You know?
Rose: "You know what I mean, and when it comes to the physical aspects of it –"
Romi: "You are a man."
Rose: "Me and Jay are on the same team, you're not on our team. He's all about the three things that I'm about; WPP. Work Party and Pussy."
They actually go on to discuss blow jobs and balls, but let's just pretend like that never happened.


Somewhere between here and forevermore, Laura's eating broccoli which's stinking up the Hunter Valentine van which's en route to their Big Gig at Phase One.
Laura: "Touring with anybody is intense. And you get to know each other very quickly. It's an intense situation and personal space is something that you lose."
Vero: "Kiyomi you're moving around so much, like a little kid! Why don't you sit in the back?"
Kiyomi: "Shut the fuck up."
Vero: "You shut the fuck up! Don't tell me to fucking shut up!"
Somer [to Kiyomi]: "I want you to shut the fuck up too."
After "driving all day," the ladies arrive in DC where they play some rock n'roll music for a sea of alternative lifestyle haircuts and subsquently commence drinking copious amounts of alcohol from shot glasses and the bottle. Activities include Laura's vagina in somebody's face, Vero dancing like a boss and Kiyomi sucking a girl's brain out of her body via mouth-hole.
So, here's the deal: they've got hos in different area codes.
Kiyomi: "Laura and have developed a system that we call 'regional reps,' and that basically means that you know, when you go to said city, you have a girl that you see in that city every time and that becomes your regional rep for that area. I think we're doing pretty well with the system, and the band is gonna continue to work hard to find reps in all areas of the country."
Here's Washington D.C.'s Regional Rep:
Kiyomi, mistress of tact, stops her cuddle session short with an "I gotta call my girlfriend," skulking outside for another adult conversation with her not-girlfriend. Luckily for all of us, a camera crew happens to be at Ali's pad circa this phone call.
Kiyomi: "What's been going on with you?"
Ali: "Nothing really."
Kiyomi: "How are you feeling about me being away?"
Ali: "I just miss you and I wanna see you."
Kiyomi: "I miss you too. Have you been good?"
Ali: "I'm always good."
Speaking of balls, Kiyomi interviews that she can't trust Ali 'cause last time she went On Tour, Ali was "kinda angry" and slept with one of Kiyomi's friends.
Kiyomi: "And I'm glad, that's good. I'm trying to trust you."
Ali: "How do I trust you?"
Kiyomi: [silence] "Hmmm. Well…"
Ali: "I just don't, right?"
Kiyomi: "Okay, I gotta go. I'll talk to you later."
I hope we're all proud of ourselves for this.

We smear on back to dusty Los Angeles, where Lauren's throwing a little party for Amanda's arrival. But this party isn't just anybody's party. This is a special party. Who's at the door?
It's SARAH CROCE!
Sarah Croce: fitness enthusiast, vegan, Unicorn Plan-It co-star, producer/video editor, actress, Whitney Mixter body double, Hot 100 Superstar and Miss April.
SARAH CROCE WHY ARE YOU ON THIS SHOW

— riese (@autowin) July 20, 2012
@smcroce i'm gonna recap the hell out of that 25 seconds

— riese (@autowin) July 20, 2012
@autowin @smcroce who's going to play croce in the season 3 parody?

— stef (@silenziosa) July 20, 2012
@silenziosa @smcroce ziggy marley

— riese (@autowin) July 20, 2012
This is actually Croce's second appearance on this fine program, but this season she got a line!
Amanda: "What is that? That looks like a massive dildo."
Sarah Croce: "That is wine that's already in glasses."
The roommate-warming party's guest count is fairly low and includes Croce, somebody else, somebody else, and a girl named Britenelle, which is not even a real name. Britenelle is a Real Lesbian you may recognize from the first terrible lesbian reality TV show set in Los Angeles, Gimme Sugar, and who Amanda recognizes from her vagina last time she was in Los Angeles. Britenelle was dating Gimme Sugar cast member Bathilda (which is also not even a real name) when the show taped back in 2007 (or 2008?). Here's that couple, then:
Amanda interviews:
Amanda: "Is Lauren a good kisser? Uh, yeah, I'd say so. She has some large lips. On her mouth. We've maybe slept together sometimes."
Amanda informs the group that Lauren's trying to trick her into a sleepover by leaving Amanda's mattress outside in the rain all week, but Amanda's not gonna fall for that shit. In fact, she's gonna dip outside right now with Britenelle and make babies and get STIs on that mattress. Or um, smoke and whisper:
When Lauren heads back for a smoke and a "you haven't eaten today," Amanda gets a bit snippy and Britenelle gets a bit Britnelley and I don't care! Lauren interviews that she doesn't wanna talk smack about Britenelle but she's "heard a lot of things about her being too intense with girls." (Or maybe she saw it on Logo?)

Smear to the Casa A La Hija Por Vida, where Jay's eating noodles while Romi tries to fuck him with her eyeballs. Get a load of this:
Romi: "I think I'm gonna take all my strap-ons and strap them to the wall so that when I walk by, I can just fuck myself, because you're not around a lot. What's a girl to do?"
Apparently Romi's relocated to Long Beach, home of Queen Latifah's not-coming-out concert, Tasha from The L Word, and a significant lezzer population. Unfortunately, Jay lives in Hollywood, like Madonna, leaving Romi alone to hump the wall and re-apply her eyebrows.
In case you're wondering whether or not human beings enjoy heterosexual sex (it's such a vexing, eternally unanswered question!), good news: they do.
Romi: "We have great sex. We just have really good chemistry and I enjoy having sex with him, I'm not thinking about it, I'm not overanalyzing it. It's just fun, and I love him, and it feels good. And it's different. It's different to be with a man, it's different to be with a woman. Both are good. They're just different."
Nice save.

Cut to an L-Shaped couch in Shifty Los Angeles, California, occupied by Whitney and our third dredlocked lady of the episode, Ruby. Whitney's talking about her plan, again, like how she's not sure if there'll be room at "the energy thing" for tea lights or candles.
Whitney interviews that Sarahara's constantly "checking in" with her, making it difficult for Whitney to plan giant energy parties in peace! Whitney says more things about how complicated and weird her plan is, like how she made this amazing flyer:
It's just that Whitney wants everything to be special:
So, that's neat!

Several months later in Washington D.C., Somer chats with her Brooklynite lady-love while Kiyomi wrestles herself out of a still-drunken stupor into a Productive Human Stumble and Laura tries and fails to get all their shit into the van, which's foreshadowing. You'll see!
Somer interviews that touring has thrown a wrench into her relationship with Donna and Laura interviews that everybody partied too hard, and then a little dog interviews that she hates this show, and then I realize that the little dog isn't real, it's just in my head, like Whitney with the whale.

We slide back on over to Sunny Los Angeles, California, where Amanda's forcing everybody to dress up like condoms and paint the house! Will it be as much fun to watch people paint a house as it is to actually paint a house? Let's see!
These outfits reminded me of a Woody Allen movie that came out like twenty years before my Intern got born called Every Thing You Wanted To Know About Sex* But Were Afraid To Ask. See:
Lauren: "I knew that Amanda was gonna wanna come in and change a bunch of stuff in the house, that's just her personality, but it's just the greatest feeling finally having her in town and getting our lives kinda set up together."
Amanda's hot for Britenelle's jock, Lauren has shiny teeth, and I can't believe Lauren's allowing her bestie-with-benefits, who just moved in and is already porking the milkmaid, to repaint her walls. I'd be nervous about making space for her on the shoe rack at this point, honestly. Howevs, this is one of many Real L Word scenes where we suspect we're missing a giant chunk of context, context that'd make everybody seem like less of a sociopath. This is one of those scenes where anybody could be the Asshole, it's hard to tell, so you can just pick one and then gather and present evidence accordingly.
Amanda: "Lauren hates the fact that this is the first time the two of us have ever, A, lived in a house together, and B been single at the same time, and already I'm getting something, not getting into something, I don't really know, but she doesn't like it."
Amanda interviews regarding brewing "tension" between Britenelle and her BFF-with-benefits who recently kicked her roommates to the curb 'cause Amanda felt like getting a tan. "In a weird way I felt like I'm being fought over," she says, smiling.
Outside, gripping tension ensues:
Amanda: "What is with this door handle, by the way, like if you're going to the house and you're really drunk you just hold on –"
Lauren: "The last people who lived here were old."
Britenelle: "Wow, way to be a downer –"what's up with those plants? my grandma gave them to me before she died."
Amanda: "Okay —"
Lauren: "Just explaining the handle, not being a downer."
Britenelle: "What?"
Lauren: "Not being a downer."
Britenelle: "I'm sorry, what?"
Lauren: "I think your necklace is backwards… or it's not?"
Britenelle: "No, it's not."
Lauren: "For some reason when I saw it earlier, it looked different."
Britenelle: "You got something to say about it?"
[silence]
Britenelle: "On point." [makes a "gotcha" face at Lauren] "Look at that."
Amanda laughs, safe and secure with the knowledge that if SARS tries to infect her head, it won't be able to, because of her SARS mask.


Back in Virginia, five thousand years in the future, Hunter Valentine's running late for their show 'cause Kiyomi got too drunk last night, which delights Somer, 'cause now Kiyomi is the pot and Somer's the kettle.
Kiyomi: "I guess we were like an hour late, which is not normal for us, but um, shit happens."
Due to, perhaps, the impending arrival of an Ilenechaikenmobile, or perhaps to a fledgling fanbase in the Charlotte area, Hunter Valentine's show has about six audience members and I'm pretty sure most of them are somebody's Mom. Or, you know. "Regional reps."
Kiyomi starts off their set with a bang:
Kiyomi: "I'm gonna be really honest with you, we're severely hungover. Can we have some shots of um, Jameson on the stage, is that possible? FOUR."
A few minutes or years into their set, Somer's keyboard situation breaks, and she starts scrambling around the hut looking for an adaptor or a whooziwhatzit, to no avail, while Laura and Kiyomi interview regarding their disgust with Somer for "making it worse" by um, trying to fix her instrument. Instead of, I think, standing there? And pretending to play? Look, the only instrument I ever mastered was the Keymonica, and the only song I ever played on it was "When the Saints Go Marching In." I'm not qualified to recap this bullshit.
Kiyomi handles Somer's situation like a jackass by mugging, "let's give it up for the band!" with a psychotic grimace, followed by, "I have no FUCKING idea what's going on."


Somewhere in the Los Angeles metro area during the 21st century, Romi's glow-bowling with her boyfriend and his friends. It's mega-fun, 'cause there's nary a dyke to be seen or shtupped!
Romi: "The nice thing about going out with straight couples is that not every single person dated or fucked your girlfriend, you actually get to meet people and other couples who haven't been incestual within the community."
Romi loves Jay, wants to marry him and have beautiful kids with him, which's petrifying.
Jay: "Romi's a nester. She definitely wants to like settle down, move in, let's have some kids, like let's get this shit cracking, and I'm like hey, slow down. I'm not a lesbian, I'm a boy."

Somewhere else in Sultry Los Angeles, Whitney and Sara are participating in Haviland Stillwell's favorite hobby – making a vision board.
Whitney: "The funny thing is that Sara's like a wild child, but she's also like obsessed with self-improvement things, if it involves patchouli, Nag Champa, some kind of om sound, she's down with it."
That? Right there. Was the actual Academy-Award winning moment. That's when you see that Whitney loves her. There's a distinct affection in her voice, the kind your girlfriend gets when she talks about the not-cute things you do as being super-cute, 'cause she loves you.
I mean, not to sound like my writing teacher, but DETAILS, Ilene, DETAILS. Details make people exist. Like Sarahara being into new age shit! Not these pointless plots, endless abstractions and ambiguous feelings without anything to really hold on to underneath the veneer.
We're well into Episode Two and I've yet to hear what Amanda does for a living or even as a hobby. I'm still not sure what Cori or Kacy do when they're not talking about babies. I don't know anybody's favorite color. Like the Patron Saintress Marissa once said in reference to Sajdah being so serious so soon with Chanel, but actually describing everybody on this entire show:
Marissa: "Support me? Protect me? I don't even know your favorite color! I don't even know if you like night or day!"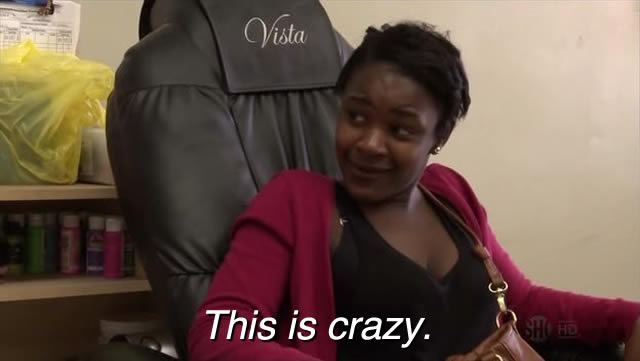 Just saying. Show, don't tell, Ilene.


Back in Charlotte somewhere else along the space/time continuum, Kiyomi and Laura are sitting on some barrels in an alley, lamenting their lackluster performance which they blame mostly on Somer, which's wacky 'cause you know, it wasn't Somer who made you too late for her to find out her shit got broken before the show, BRO.
Kiyomi: "I do wanna get her stuff fixed, but I also feel like, in the middle of a set, if shit is not working, you shouldn't be running, it's just like — it's a distraction — I'm disappointed in me and us. I'm disappointed in us."
Laura: "We really sucked."
Kiyomi: "Everything was terrible… it was the worst show that I've ever played in my life."
Somer's keyboard was in tip-top shape back in the city and yesterday, but now it's completely fucking broken. Laura says Hunter Valentine can't afford to replace it, so everybody's just gonna make mean faces at each other until their heads explode and puppies take over the universe!
Laura: "As much as you don't have money, we really don't have any. We're tapped out."
Somer interviews that they're supposed to be a family here, and she thought that'd be more of a like, band or team type-family and less of like, the kind of family where everyone is related and mean to each other and doesn't want to give anyone else their money.
Somer: "I can't not only not be working, and not be with my wife, and have all the things that I've worked my whole life to buy and pay for and build up to musically, be broken, I can't sacrifice all this for the band and be on tour and come back with nothing."

Back at Lamanda, Britenelle and Amanda head out back to haul in the wet mattress so they can splosh around on it all night. Britenelle says Lauren's gotta help 'cause she's wearing a fur vest, or something.
Britenelle experiences a conflict between this task and her gender identity:
Britenelle: "Grab your end, I'm not gonna carry this like a bulldyke. Lauren, get your fucking ass–"
They accidentally drag the mattress in dogshit and it smells. So, this is a television show. Then Amanda and Britenelle go have sex and Lauren sits down for a chat with the camera people:
Lauren: "Tonight it was just like the two of them hanging out all night, it was just like, what are you doing, you're turning this into a relationship. That's what it seems like to me."
Then Amanda and Britenelle have loud sex. Like extra loud sex. So.

Elsewhere on another level of karma ozone energy healer aura sparklepony wellness is The Healing Energy Party, starring Whitney as a wise wiccan yenta shapeshifter and Sarahahra as a dashing unsuspecting lesbian maiden.
Sara: "I'm really excited about going to this energy healing thing. I feel like we could use this for our own personal growth and it could be really good."
Whitney interviews that Sarahahara has NO IDEA that Whit's only moments away from popping the question on National Television, just like in The Bachelor. Whitney is both nervous and confident.
g-chat [during the show]
me: um, whitney is my favorite character on this show now?
she's like the only person whose head isn't up her ass
Laneia: 10:39 7/19/12
write that down
me: you have to write it down
are you writing it down
Laneia: done
me: "the words 'cold feet' exist for a reason" – whitney
1. to describe temperature
2. to describe the things you walk on
2 reasons
whitney
TWO REASONS
More importantly, Scarlett's there!

Somewhere out there in maybe Long Beach, Romi and Jay are eating and Romi's discussing how Jay works all the time but she sends him naked pictures and also wants to cuddle and also misses him, and he likes her boobs.
Romi: "The thing that really keeps me and Jay together is our sense of humor. You know he makes me laugh harder than anybody but… there's gotta be more."
Romi's lonely and wants to have pretty parties and love and sex and cracker jacks and sunbeams all the time, just fuck fuck fuck and love love love etc etc and Jay can't! He has to WORK, Romi. Jeez. If you want a partner who doesn't work, get back together with Kelsey. HEY-O!!


Back at The Energy Healing Party, Whitney's poor friends are forced to stand in front of the group and read extended fortune cookies — I mean, "affirmations," out loud to each other — and Sahara's eating it up.
So Whitney opens her envelope and reads something about big changes or rocket science or something, and then it's Sahara's turn, but obvs her envelope is a PLANT.
Sara: [reading] "Turn and face the person you hold most dear and open your heart."

Whitney steps forward — gets down on one knee —

Whitney: "Baby I love you a lot and I've known since the first time I saw you. Will you marry me?"
Sara: Is this real?
UM DUH WHERE THE FUCK DO YOU THINK WE ARE. IT'S THE REAL FUCKING L WORD, WOMAN. IT DOESN'T GET MUCH REALER THAN THIS.
THE END!
I cried! I yawned! I wouldn't know if it was better than Cats because I've not seen Cats. Here's Cats:
Here's Whitney and Sara again:
Whitney & Sarahara are already married at this point in the real world, so get your bridesmaids dresses ready!
So, thoughts? Better/worse than Cats?

Pages: 1 2 3 See entire article on one page