Since 2016, this post has only been updated once, in mid-2018, just to indicate which stores are out of business. It will be renovated entirely before the holiday season.
---
We've gotten a bevy of requests this holiday season to put together a list of lesbian-owned businesses who desire your money. Luckily, there's nothing I love more than meeting your needs and desires!
So, I've gathered 73 stores owned or run by lesbian, bisexual and queer women, one owned by a trans guy and staffed by people of different genders including queer women and three owned/run by non-binary humans for you today.
The criteria for inclusion was as follows:
Store must exist independently of etsy (because once etsy gets involved, this list becomes 2,000 miles long)
Store must be an independent entity — as in; not just the merch store for a queer musician or a celebrity or a line of t-shirts for an event/magazine/etc. However, I made two exceptions to the "website merch store" rule for Autostraddle and for Everyone is Gay, because we are very close with EIG like practically married. And because in theory, our stores could exist even if our websites didn't exist.
Store must offer products you can order online and have delivered to your home for you to hold in your hands. Goods, not services.
I mostly focused on stores in the United States, but if I came across a store from a different country in my travels, I popped 'em in.
If your business is on this list and you'd like to inquire about affiliate marketing, advertising or A-Camp sponsorship, hit up sarah [at] autostraddle [dot] com. We offer discounted rates to queer-owned businesses and are working on a dedicated listing page as well.
---
Queer-Owned Businesses / Friends of Autostraddle
The businesses listed in this section have worked with us in various capacities — they've bought advertising, sponsored camperships, given us promo items for A-Camp gift bags, done giveaways or offered us commission on referral sales. The first one is just actually us, though.
The merchandise wing of the best website in the history of the internet features apparel, enamel pins, 'zines and other cool shit featuring illustrations and designs from independent queer artists like Laura Rosenbaum, Nani Albornoz, Yao Xiao and Rory Midhani. All profits come right back here to fund the words we write and the things we do.
---
In  1993, sex-positive lesbian feminists Claire Cavanah and Rachel Venning, disappointed by the lack of female-friendly sex shops in Seattle, decided to launch their own. They succeeded because now Babeland is everybody's favorite including yours. They now have a shop in New York and host a website that sells their products and provides sex education. Plus, they give Autostraddle a 20% commission on every sale we refer!
---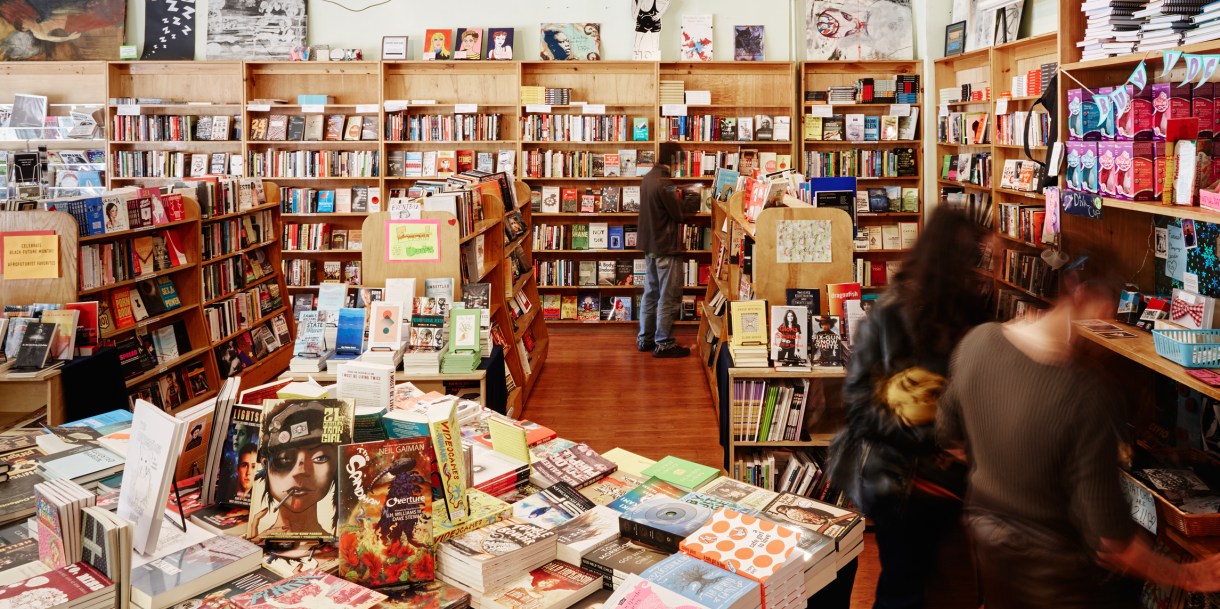 Bluestockings is one of my favorite places in the world, and they've finally got an online store! Books are organized exactly how you'd dream they'd be from a hella queer feminist bookstore: "Intro to Intersectional Feminism" "Gender Studies" "State Repression & Resistance." You get the idea. In its current incarnation, Bluestockings is "a 100% volunteer-powered and collectively-owned radical bookstore, fair trade cafe, and activist center in the Lower East Side of Manhattan."
---
Since 2013, Sharpe Suiting has been helping brave individuals showcase exactly who they are. Hollywood's premiere suiting label, initially launched with the LGBTQ+ community in mind, specializes in bespoke suits — you schedule a consultation, they measure you, you pick your fabrics and buttons and all the details. If you can't make it to a fitting, their Virtual Tailor offers select styles online.
---
Yup, it's true: everybody is gay. Everybody! Even you. There's really no better way to celebrate this fact of life than to buy sweatshirts, hats, tees, pins or CDs from the Everyone is Gay store, with apparel designed by the EIG team and indie musician Allison Weiss. All profits support the fine work being done by EIG.
---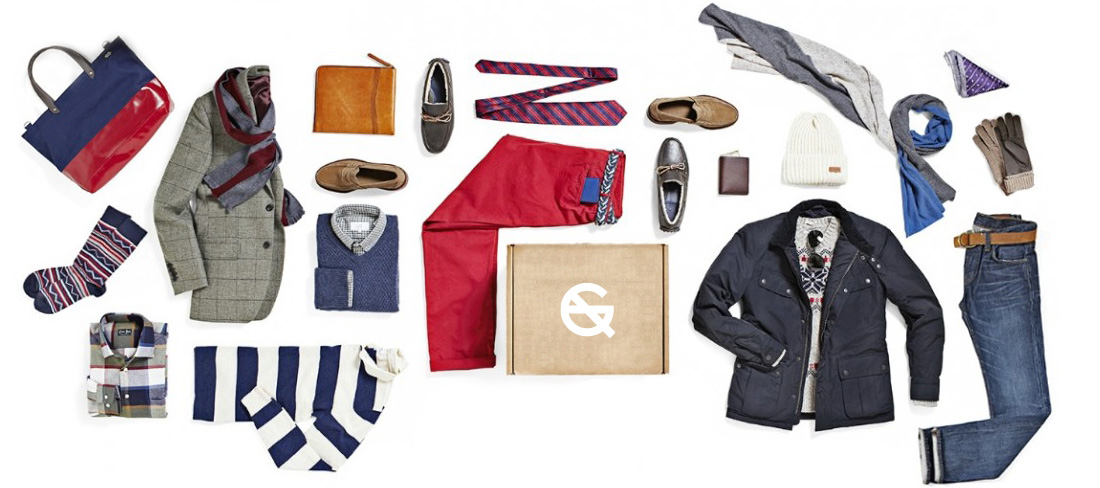 Grayscale Goods aims to bring "gender-neutral personal shopping to those who find that traditional men's/women's departments limit their style." Launched in 2014 by Sara Medd (who was the stylist for the Autostraddle Calendar for four years and also has worked at A-Camp), Grayscale goods offers gift cards for its personal styling services and sells tees, tanks, hats and boxer-briefs.7. Good Vibrations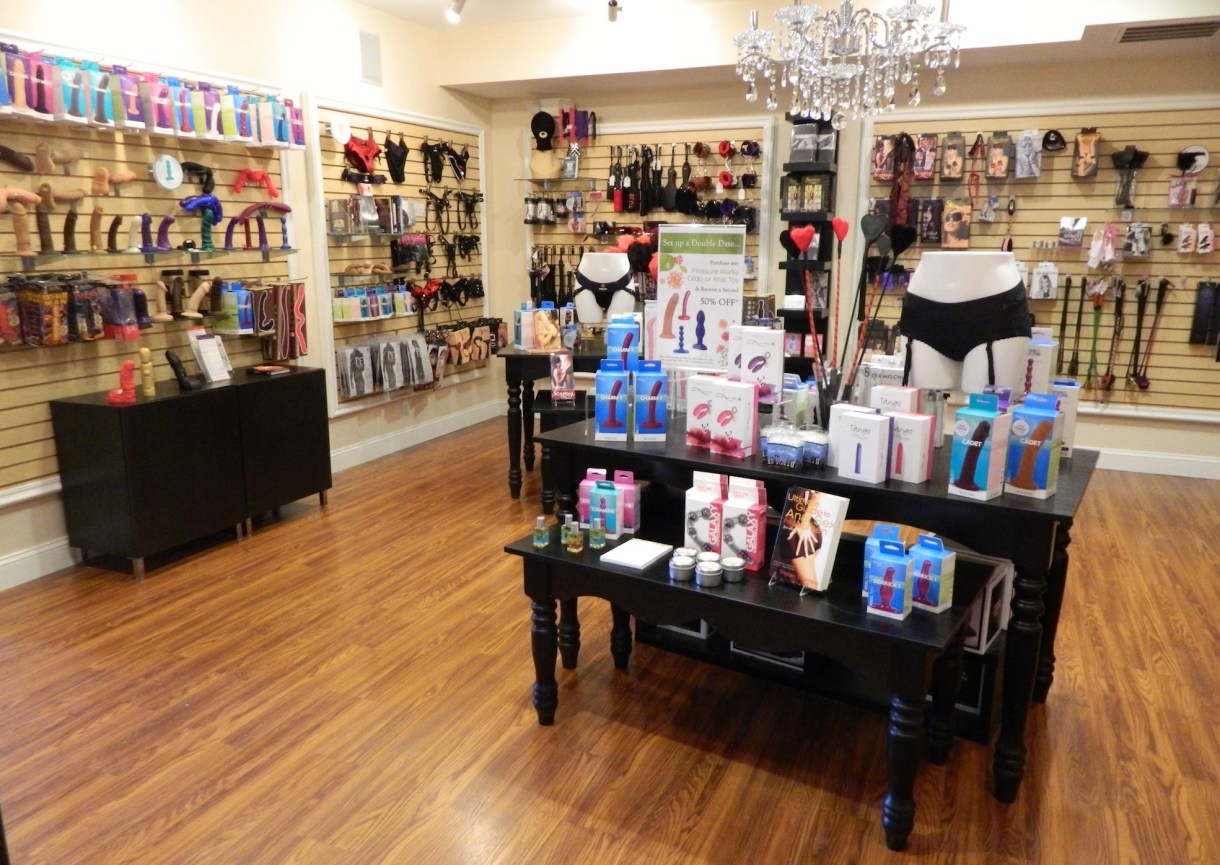 Since the first store opened in San Francisco in 1977, Good Vibrations has been providing "high-quality products, education, and information that promotes sexual health, pleasure and empowerment." They were one of a handful of pioneers building a sex toy store that wasn't hiding — clean, well-lit, sex-positive and easy to browse. Now Good Vibrations has eight stores, a wholesale private label and an innovative online store. Plus, they give Autostraddle 20% back on every purchase you make!
---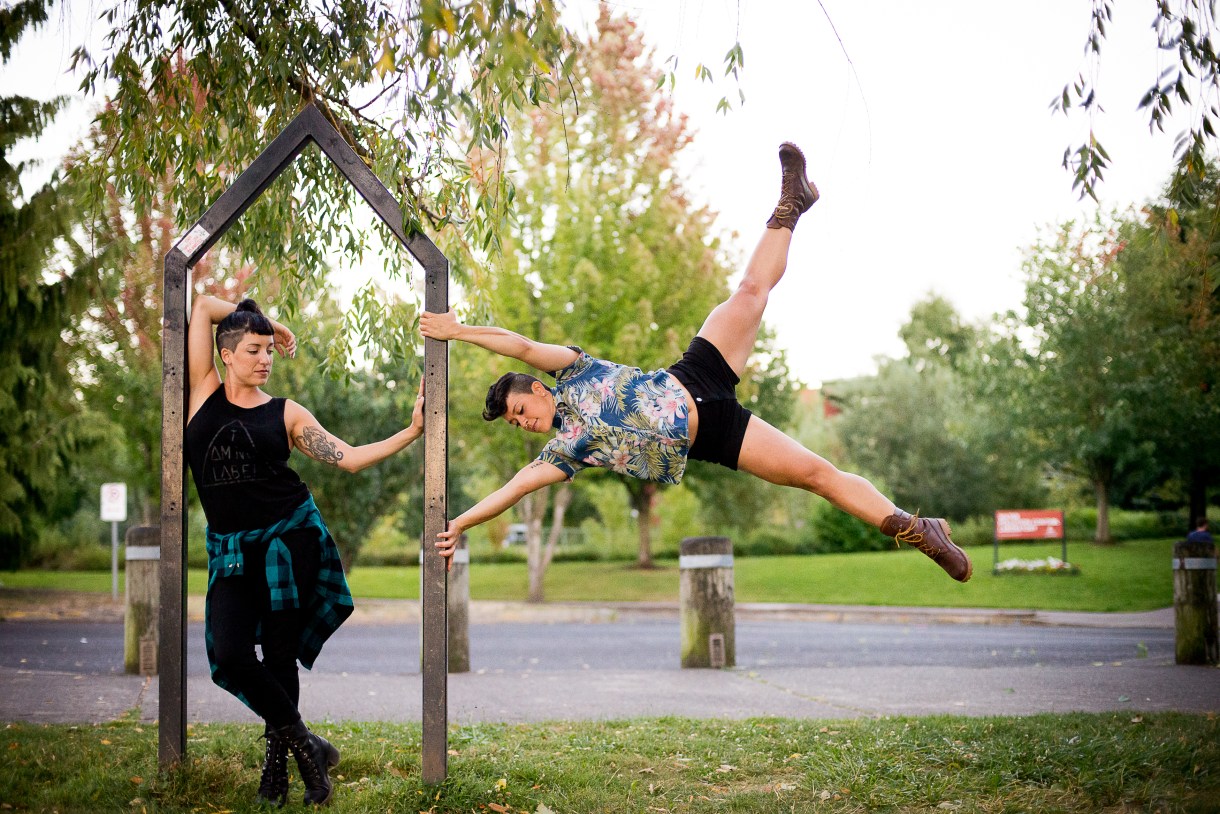 Queer Indie Pop musician Frankie Simone and her partner, dancer/choreographer/leathersmith Che Che, founded I AM NO LABEL as "a queer collective promoting confidence in identity." They sell leather cuff-bracelets, t-shirts, tanks, pins and wallets at their online store.
---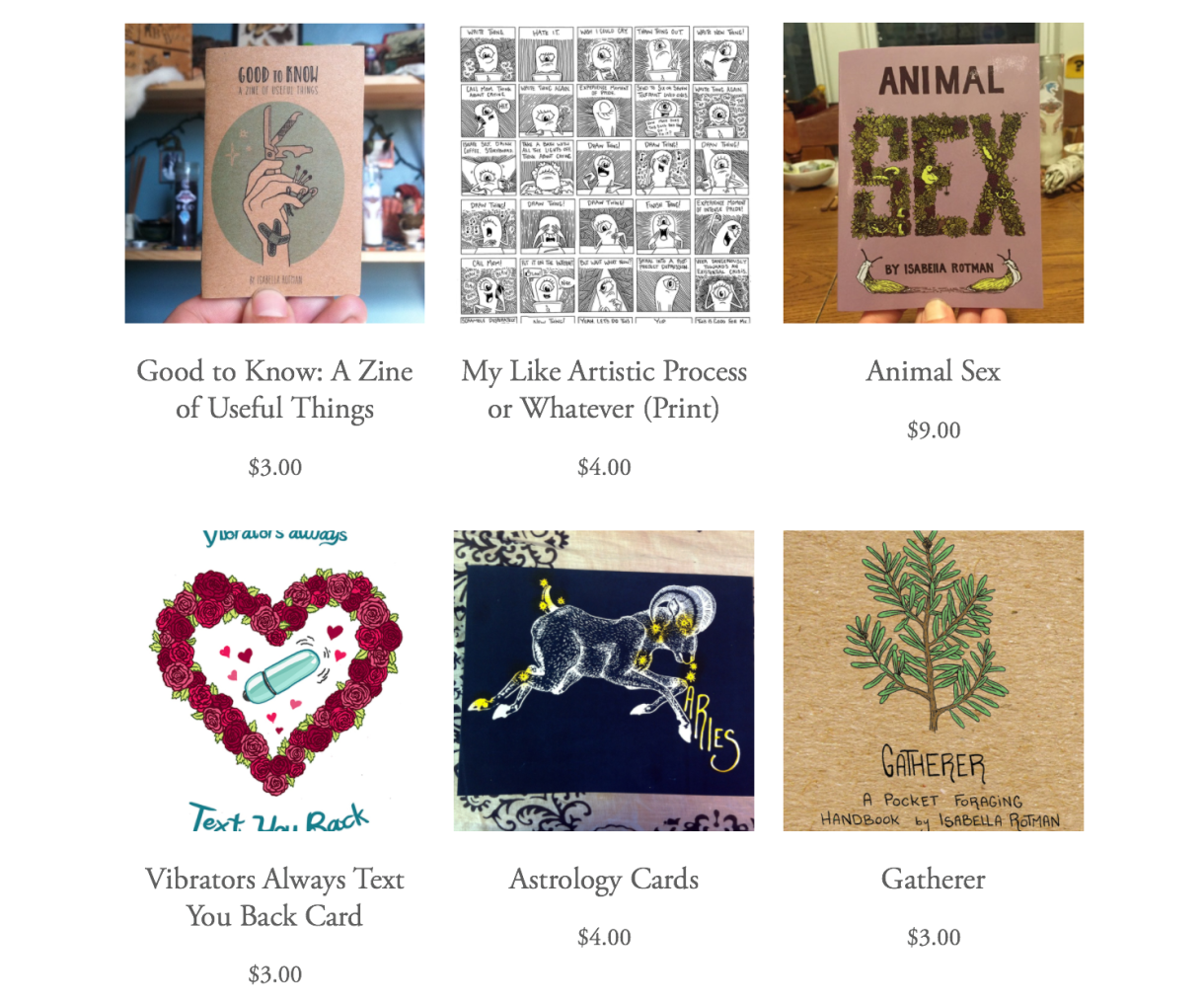 Isabella is an incredible illustrator we've collaborated with on 'zines and A-Camp materials — and her online store is chock-full of cute stuff you didn't know you needed, like cards and prints and temporary tattoos and safe-sex 'zines and Hogwarts house buttons!
---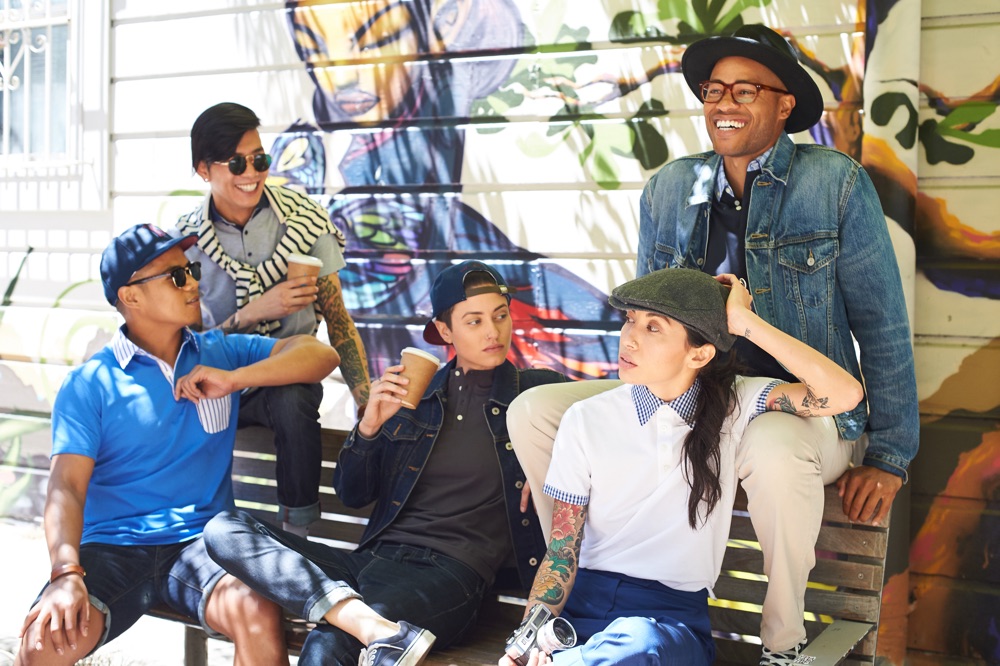 San Francisco-based Kipper Clothiers specializes in custom-tailored suits for all bodies, a process that begins with getting measured in-store. But you can order custom-tailored shirts online as well as items from their full line of apparel and accessories including Varsity sweaters, Henleys, jeans, flower lapel pins, duffel bags and hats.
---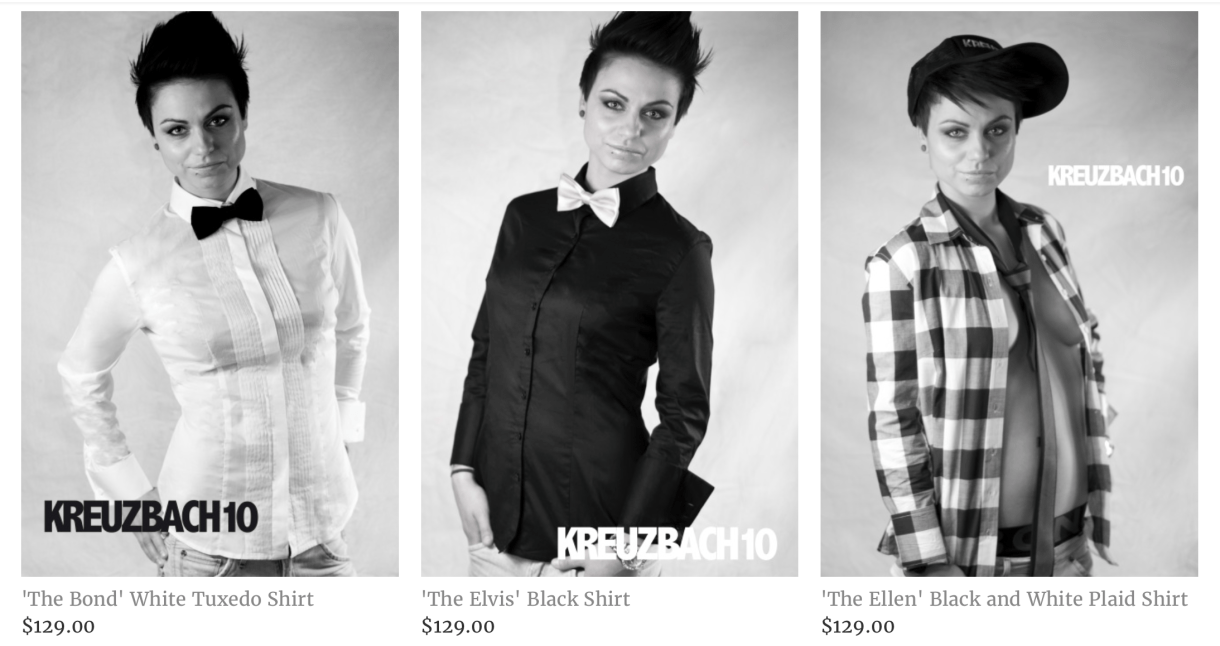 Kreuzbach10 keeps it simple: classic button-down shirts custom-designed to fit your body. As founder Anna describes on their website, "We take the enviable features of menswear; sleek lines, bold geometric prints in primary colours, lengthier body & sleeves, right side buttons and more, and create stylish shirts that fit around the unique features of a 'female'* build."
---

Okay so we said this list was just for products you could purchase and hold in your hands, but because we're best friends with Olivia now and had such an incredible time in Ixtapa with them earlier this month, we're breaking the rules and including them anyhow! What better gift to give a special someone than a Caribbean cruise, a riverboat journey from Switzerland to Amsterdam or an Antarctica Adventure cruise? That probably is actually the best gift you could ever give anyone, so.
---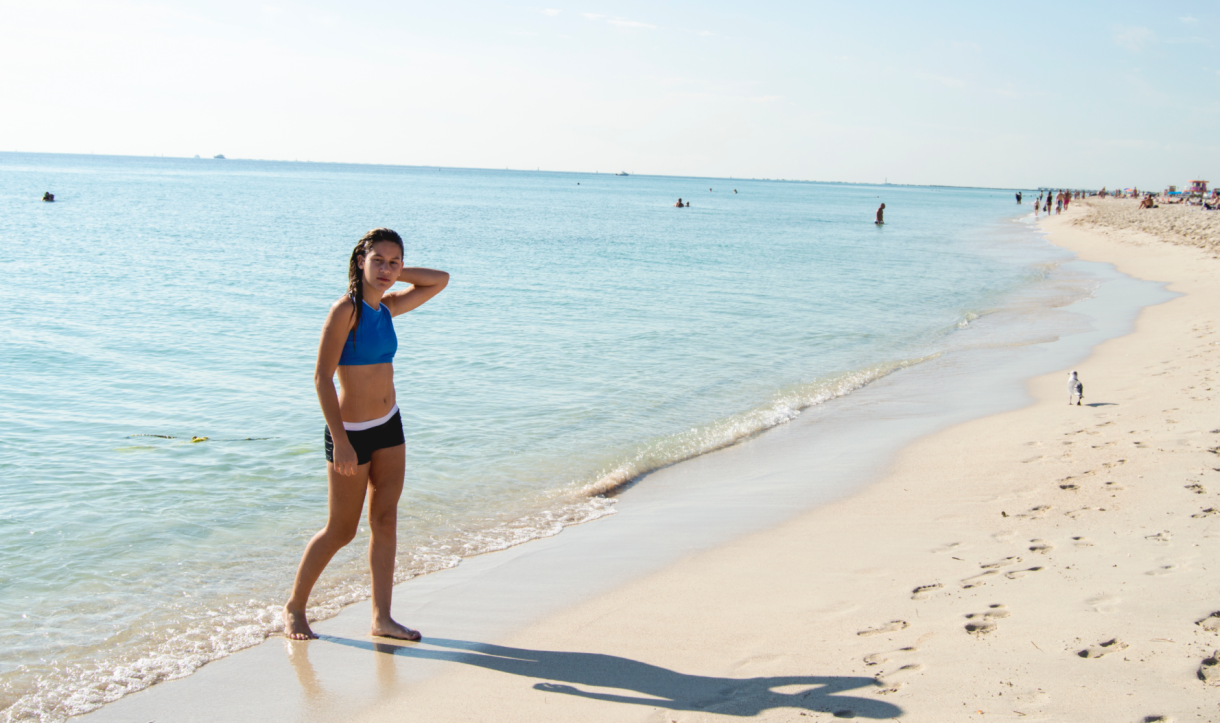 Outplay believes "everyone should be able to feel and look great in what they wear." The company is best known for a line of gender-neutral swimsuits that have already changed many lesbian lives, but they sell corresponding tanks and tees as well. Plus, they give Autostraddle a 15% commission on every sale we refer, which is awesome.
---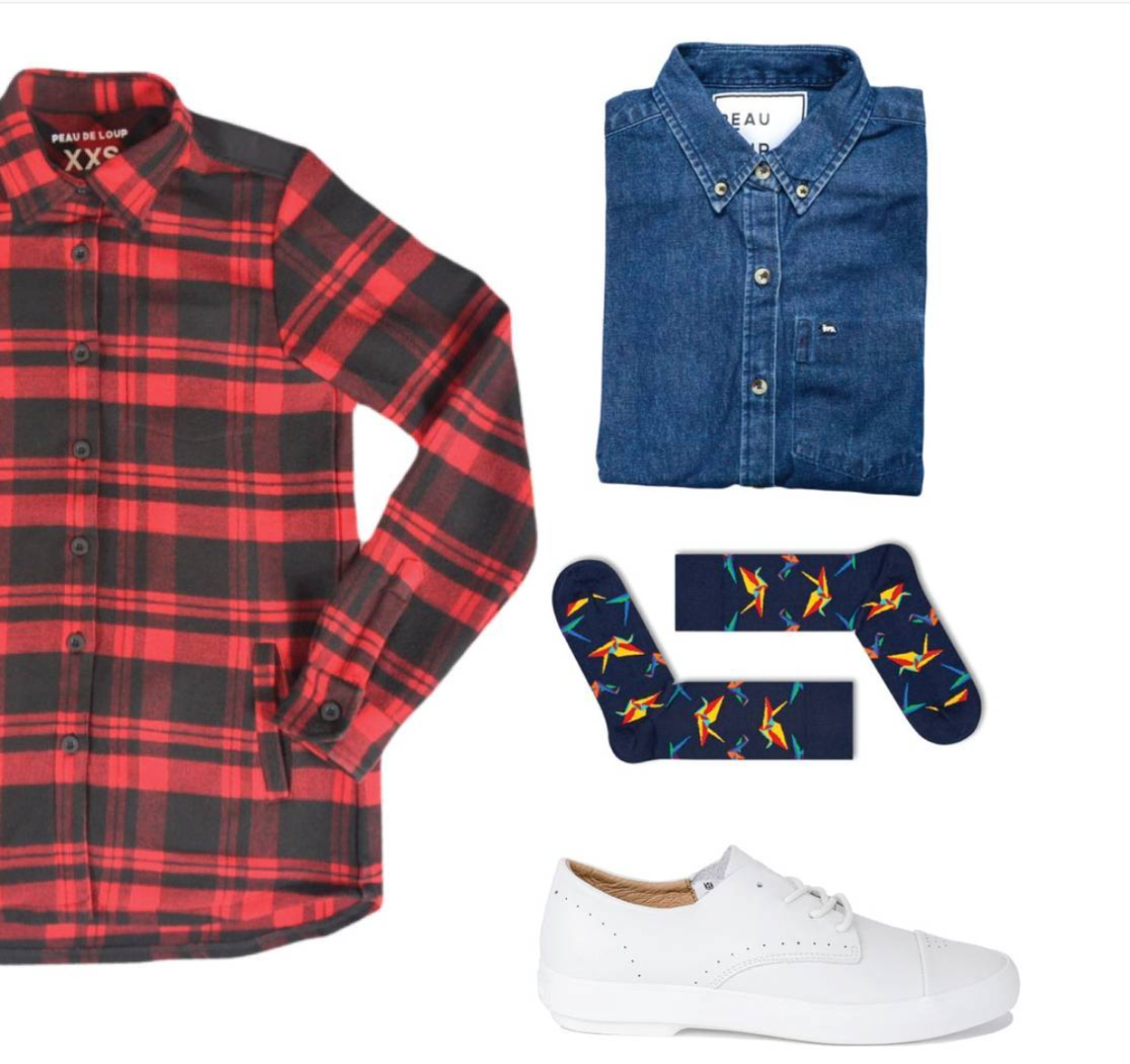 Lifelong tomboys Adelle Renaud and Erin McLeod founded Peau De Loup in Vancouver and set out to "redefine feminine etiquette in womenswear by creating functional,well-made, timeless apparel." You can get their super-cool ethically-sourced-and-produced signature button-ups (so much plaid, y'all!) and accessories online.
---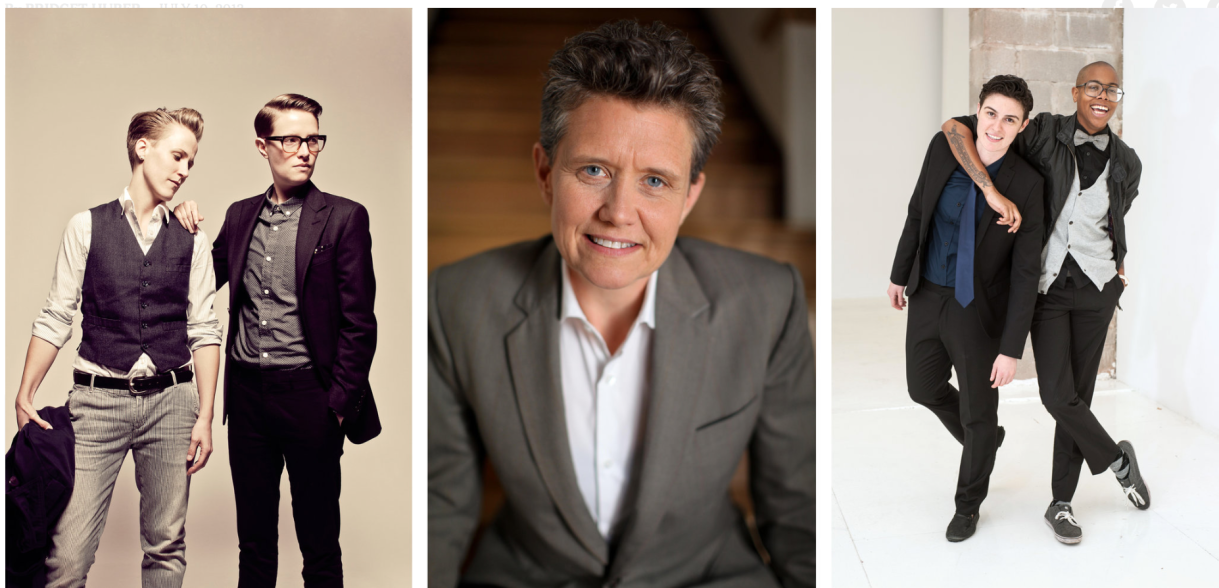 Yup! It's menswear for women's bodies! And non-binary bodies and trans bodies and whatever bodies wanna look very very fancy and dapper out there in the world. Mary Going, 49, launched her store in 2012 following a frustrating experience trying to buy a suit for her own wedding, and it's become one of the best-known of its kind.
---
Smitten Kitten opened in 2003 in Minneapolis, MN, hoping to bring "quality, body-friendly sex toys" to a store they'd enjoy shopping in themselves. Smitten Kitten is always on the city's "Best Of" lists and promotes a sex-positive environment and a curated inventory of non-toxic, ethically produced and marketed products. Not just sex toys, though — they've got lots of cute buttons and little notebooks too! (Which often turn up in A-Camp gift bags.)
---
TomboyX just keeps getting cooler! Their new website is very hip. Speaking of hips, many ladies (especially the gay ones) prefer a men's-style cut to their underwear, but would prefer they were cut to fit different types of bodies. Like women's bodies! That's why Fran and Naomi invented TomboyX.
---

These self-described "modern-day, female Robin Hoods raiding men's closets and maniacally dispensing blazers, cardigans, wingtips and bowlers" launched their dapper-tomboy brand in early 2013. Models and fans include queer icons like Megan Rapinoe, Kate Moennig, Ellen page and Evan Rachel Wood. Founders Julia Parsley and Emma McIlroy cashed in their 401ks to start the company, a "labor of love" that eventually came to earn the team $4.5 million in capital to develop more private-label products and build more stores like the one in Portland. Plus, they give Autostraddle a 15% commission on every sale we refer, which is awesome.
---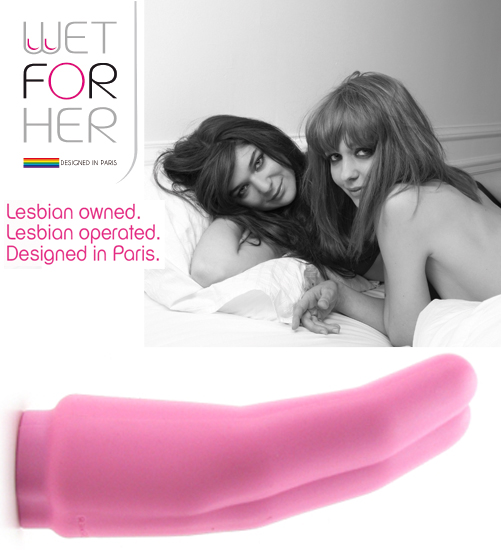 Proudly selling sex toys designed by women for women, Wet For Her not only sells dildos, massage oils and harnesses, but also "finger extenders" for purposes which are probably obvious to you.
---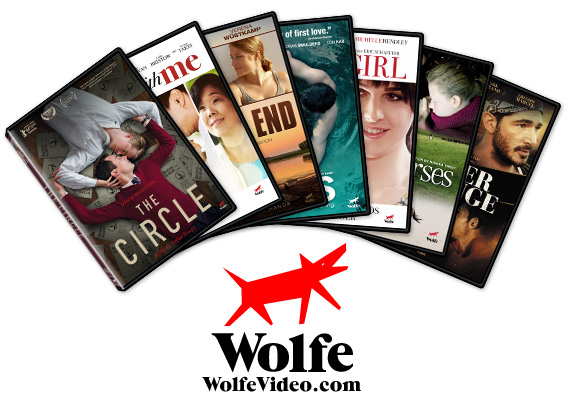 This legend in lesbian movie culture was launched in 1985 by Kathy Wolfe and it is the largest exclusive distributor of LGBT films. They began as a mail order outlet distributing a Lily Tomlin film and are now an active distributor and releaser of pretty much every film with a lesbian in it, ever! Plus they're just damn good people.
---
Other Incredible Lesbian/Queer-Owned Businesses
Launched at World Pride Toronto in June 2014 by genderqueer-identified dog-lover Jack Johnson, all jacked Up makes toques and bowties, including accessories for your pups! You can even get a "trans heroes" bow-tie emblazoned with the names of your hypothetical idols.
---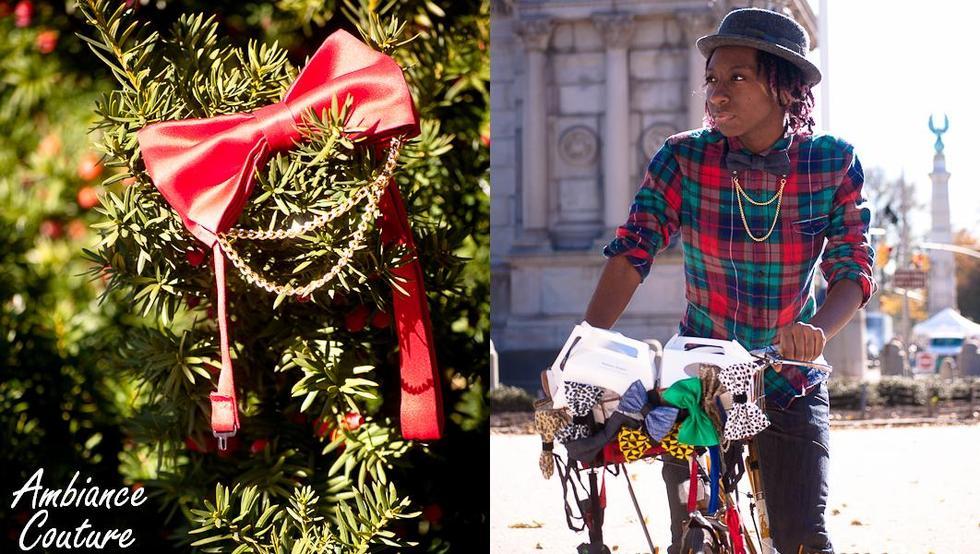 Silki Harris specializes in bow-ties styled in a variety of whimsical and sophisticated patterns. The names of the ties are enticement enough: Thriller, Flamingo, Postage, Wild Thing, Waterproof Mamba, Lovers Rock, Ghost Cheetah Chain!
---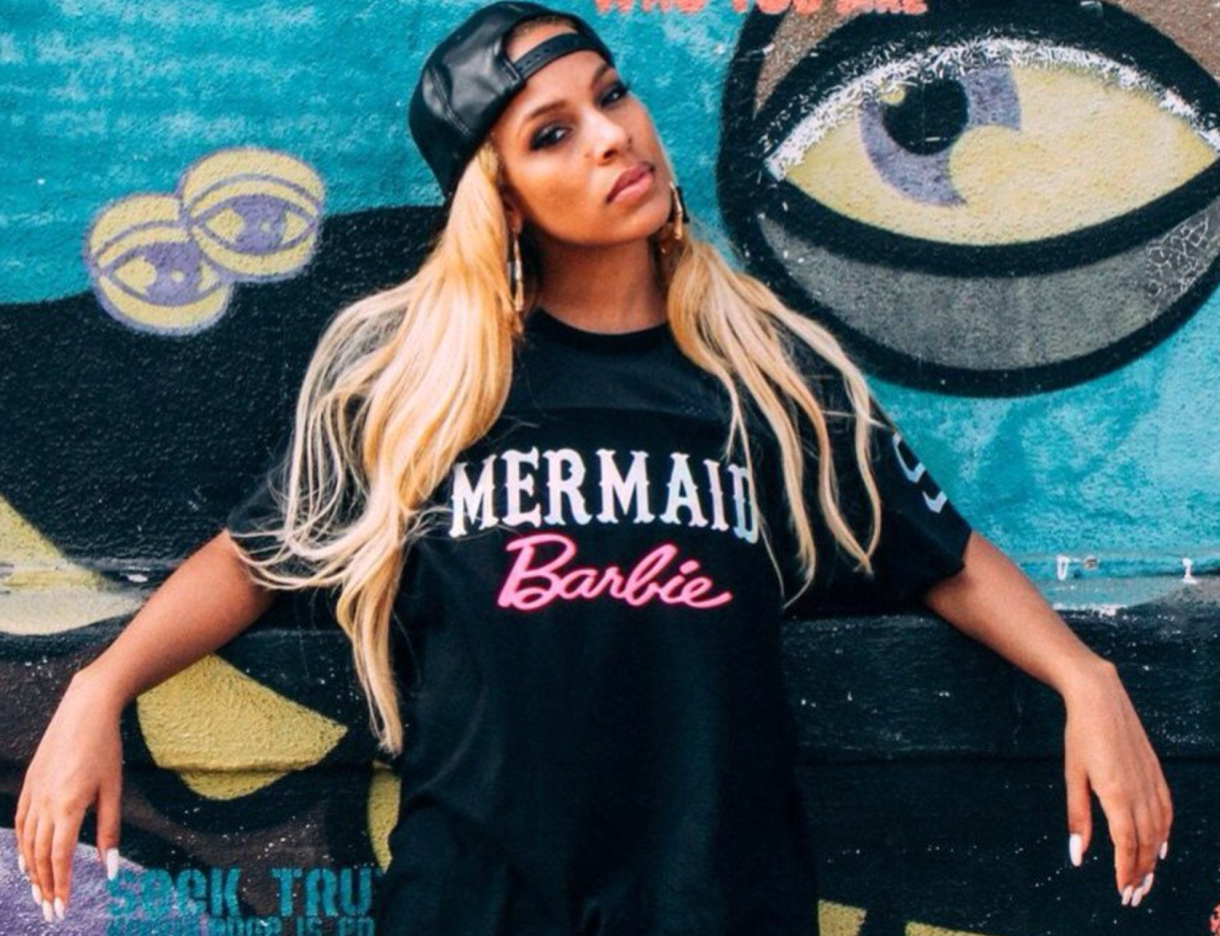 Dapper Q describes LaRayia Gaston's Apule Town line as "a luxury street wear brand that brings it with sexy hard femme steez." Check out their floral Mermaid hats, the Pharoh line, and sweats varying on the Nike slogan with "Art: I Do It."
---
Wendi Magee founded Artifex Detroit in 2012, "inspired by fellow crafters in the Detroit area, the growing Green movement and the American entrepreneurial spirit."
---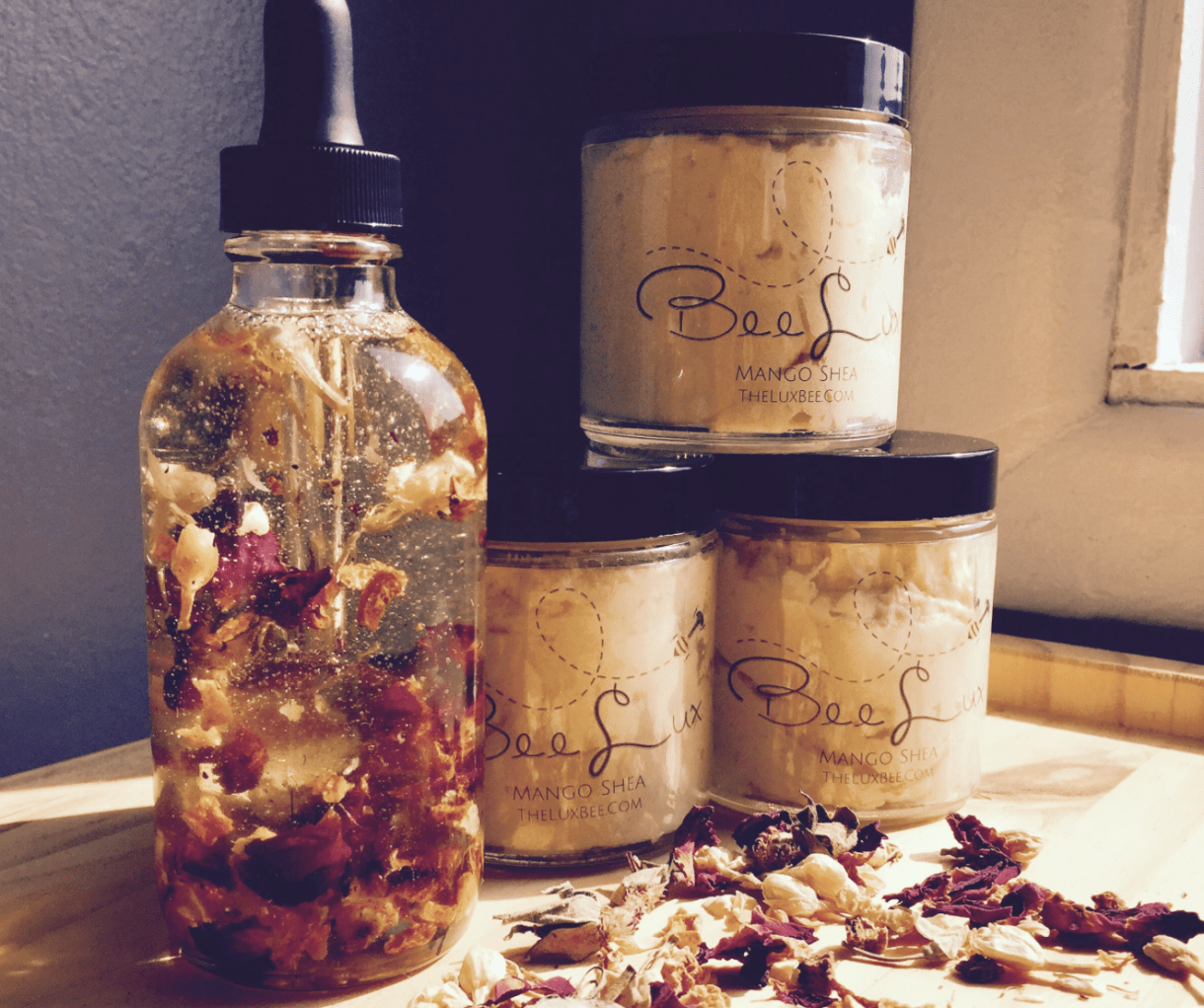 Started by Ashley Patrice in 2009, BeeLux makes healthy and holistic beauty products with all-natural ingredients, many using honey from local Georgia bees. Essence Magazine declared Bee Lux "the place to go for loved ones that love smell-good butters, elixers, fragrances and more."
---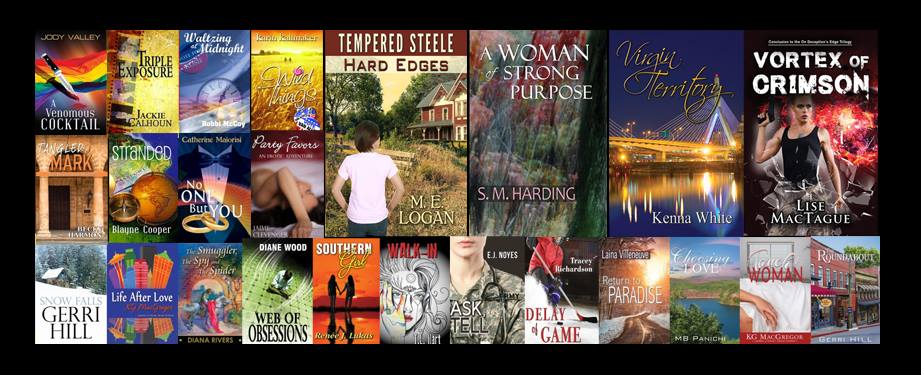 The "premiere publisher of vibrant and irresistible fiction for and about lesbians" offers over 5,000 lesbian books and e-books in their online store, making it the largest website for lesbian readers. Founded in 1999 with the help of Naiad Press owners Barbara Grier and Donna McBride, Linda Hill has been the president of Bella Books since 2005.
---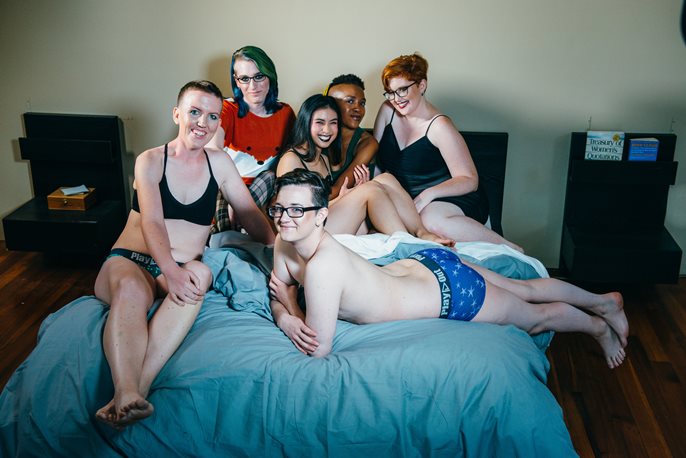 Offering "underthings for everyone," the Bluestockings boutique carries things you can't find just anywhere, like packing briefs, black lace boxers and hipster period undies. All the products, sourced from other indie makers, are ethically produced.
---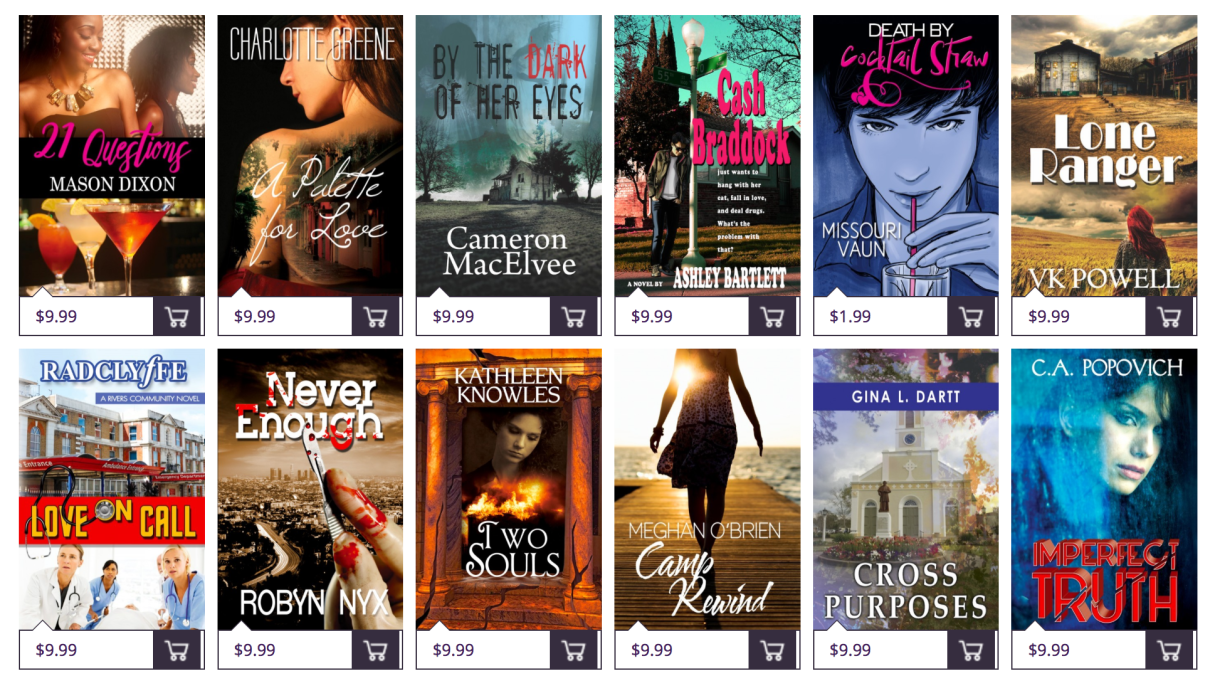 Since 2004, Bold Strokes Books has been devoted to producing a diverse collection of lesbian, gay, bisexual, transgender and queer general and genre fiction. The company is run by Len Barot with Senior Editor Sandy Lowe. Len is perhaps better known by her pen name, Radclyffe, with which she has published some of the most beloved titles in lesbian romance.
---
Started in Charlotte and now located in Los Angeles, these flamboyant one-of-a-kind glamorous accessories are the work of Karen Chatelain. Check out their chokers, chunky rings, and super-fun sunglasses at their online store.
---
Butch Basix "seeks to serve people who, regardless of gender identity, incorporate a masculine aesthetic into their presentation and style as a means to achieving the truest expression of self." Their online store offers "curated goods" including apparel, personal care products and stuff for pets and the home.
---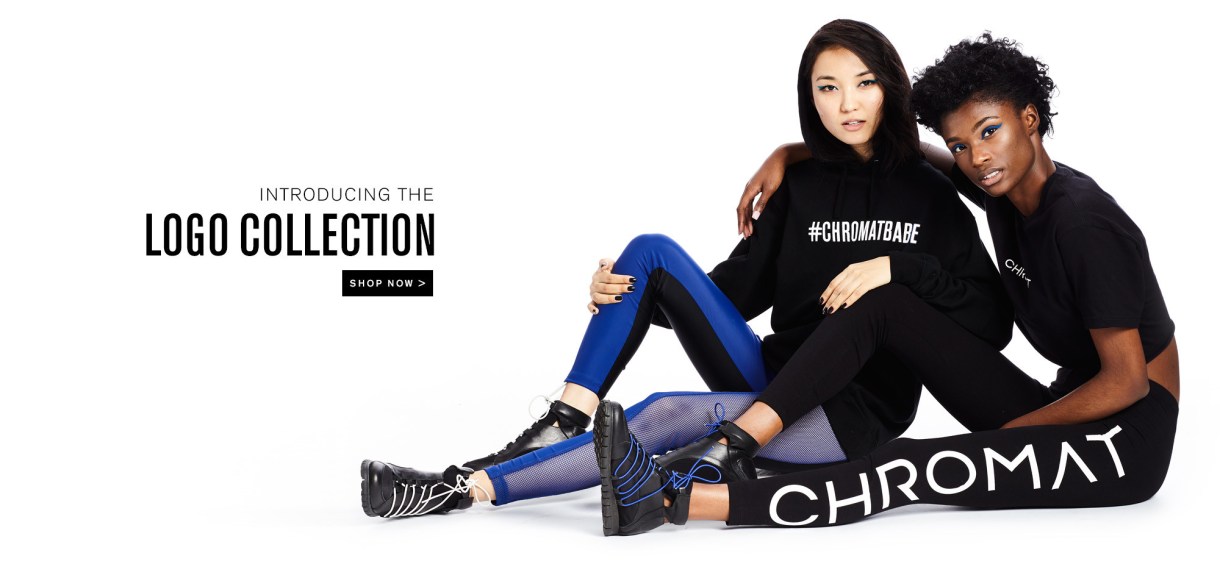 Chromat is high fashion lingerie with a tomboy femme twist. Chromat actually dressed Beyonce's Mrs.Carter Tour, SO. Becca McCharen, the experimental brand's designer, is queer, and the online store has sportswear and swimwear, too.
---
Detroit-area-based co-founders Ang Frank and Jessie Eskildsen started their company screen-printing in a basement and selling tees out of their backpacks. Their business became "official" in May 2014 in hopes of "inspiring others to follow their hearts, to love bravely, and to live honestly."
---
Corianna and Brianna are twin sisters who grew up in Minnesota and always had a passion for fashion. Together they founded Coco & Breezy, a "cutting edge sunglass brand based in New York City that aims to reach new fashion heights and introduce fashion connoisseurs all over the world to their unique sense of style and original accessories." Prince, Lady Gaga, Beyoncé and and Rihanna are fans.
---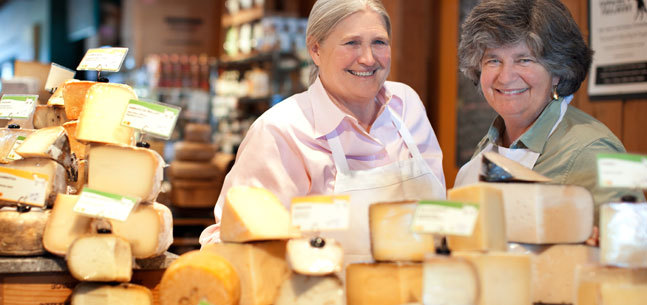 Sue Conley and Peggy Smith, a lesbian couple with a love for organic dairy farming and 20+ years experience working the Bay Area's best restaurants, now preside over the iconic Cowgirl Creamery brand. Online, you can join a Cheese-of-the-Month club, pick up kitchen accessories, buy cheese directly or get a gift card for anybody you know who loves really good cheese. (Because it is REALLY GOOD CHEESE.)
---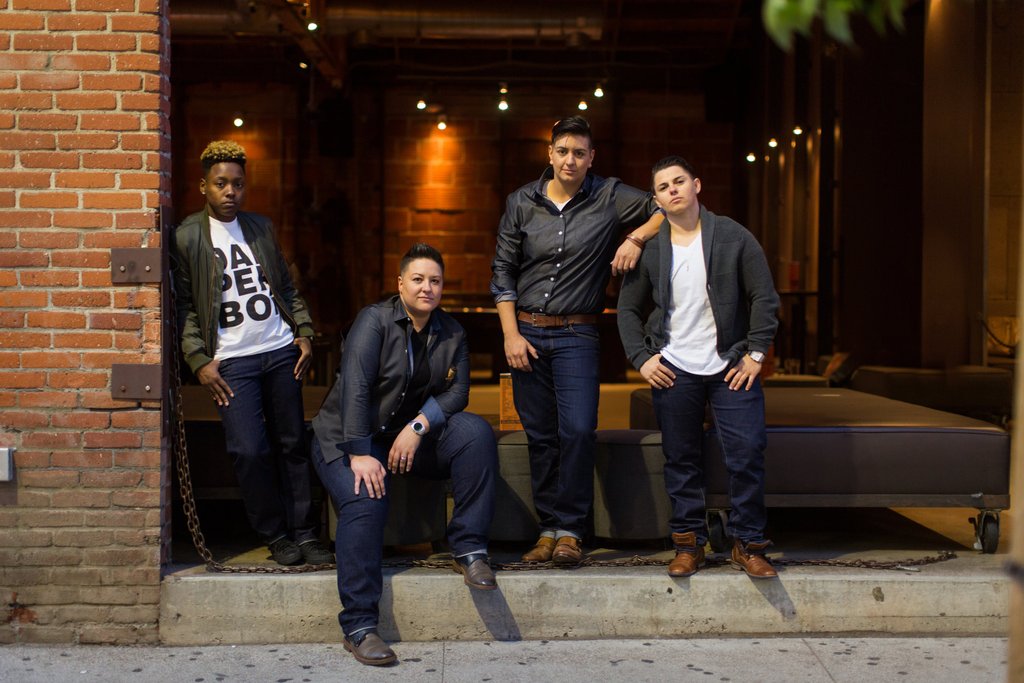 Dapper Boi got its start with a kickstarter to begin manufacturing slim-straight, androgynous jeans. Founded by Vicky and Charisse Pasche, "partners in business / crime / life," Dapper Boi wants to "create an androgynous clothing line that is fashionable, functional, affordable and accessible to all."
---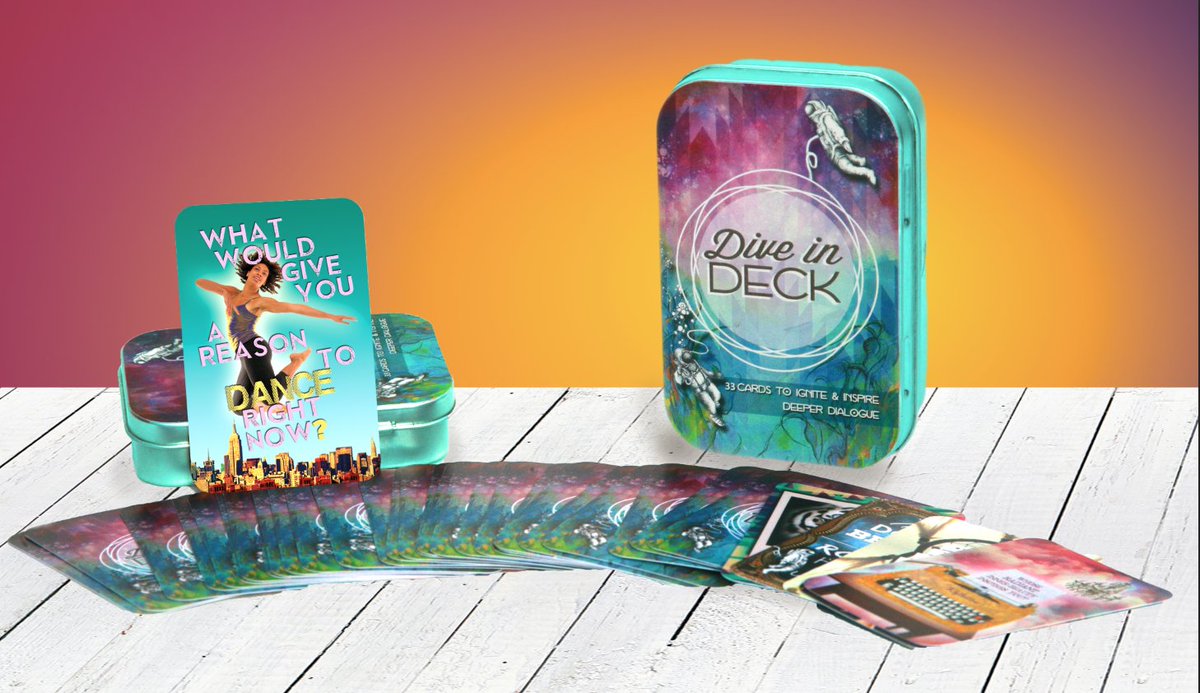 Dive-In Deck is a one-product business selling a stack of cards that founder Heather Weiss describes as "a cosmic permission slip to put down your devices and DIVE IN to deep and meaningful connection with yourSelf and others." The cards contain questions or statements intended to spark conversation and encourage creative expression with the ultimate goal of inspiring a "Connection Revolution."
---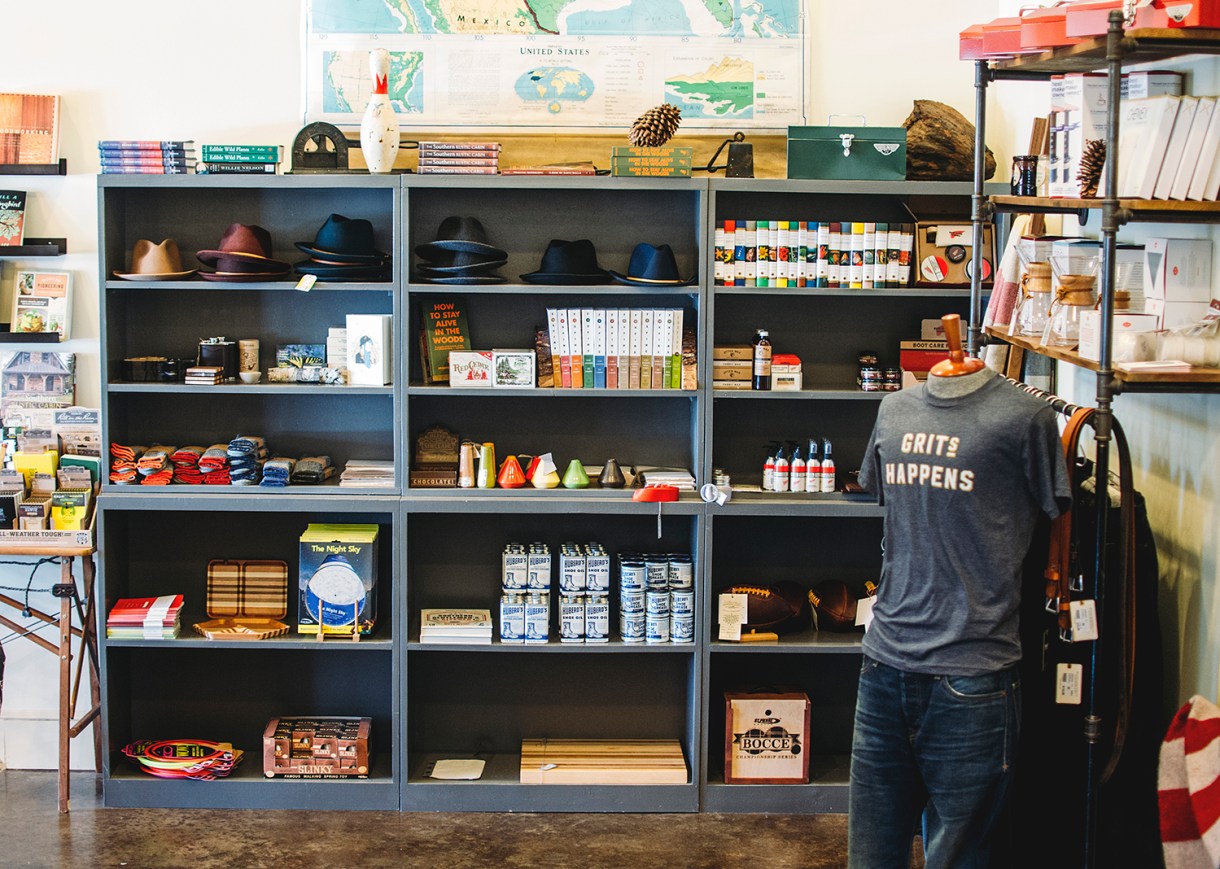 I feel like this is one of those stores you'd have to check out if you passed by, even if you were already running late. Backpack-coolers! Jack Black bath products! An entire book about grits! Canyon Lights! Bacon cookers! Jeans! "We bring to you fine products with attention to quality, function and design," boasts the website for Heather Smith's Arkansas-based botique. "Nothing is added without reason. The objects we curate tell a story and have a history.  They're potential heirlooms, unique in type, simply determined to be the best damn stuff on the market."
---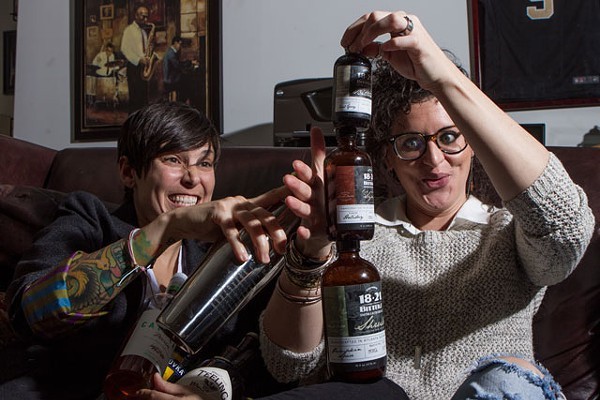 Atlanta-based lesbian couple Missy and Kristin Koefod make "premium cocktail bitters, tinctures, shrubs, syrups, old fashioned tonic, ginger beer, and craft cocktail mix using fresh ingredients and balanced flavor profiles designed to elevate your cocktail!" This year they've got some really cute holiday gift packs depending on your loved one's preferred alcohol.
---
Equal Period empowers the LGBTQ community with clothing for a more diverse group of body types and identities!
---
The first-ever LGBT owned business to be named a "Small Business of the Year" by the U.S Small Business Association, Equator Coffees & Teas was started 21 years ago as a coffee roastery by life partners Brooke McDonnell and Helen Russell. It now has become "one of the few fully integrated coffee companies in the U.S." They have several cafes in California, but you can also buy their fair trade coffee beans and Silk Road teas online, as well as a line of apparel and accessories.
---
Free City has long been a Los Angeles celebrity favorite, but their iconic tees and casualwear really made their mark on lesbian culture by popping up throughout The L Word's six-season run. At the time, Leisha Hailey, who played Alice on the show, was dating Nina Garduno, who founded the company 14 years ago. Her highly-coveted and ridiculously comfortable tees and sweatshirts are sold in their 3,000-square-foot Hollywood superstore alongside items like bikes, almond milk and fragrances. Free City goods are pricy, to be sure, but that's 'cause every item is hand-made in their workshop using the highest quality materials. Also, Autostraddle gets a 15% commission for any sales we refer to Ron Herman, which also stocks lots of Free City merchandise. (Nina used to work there.)
---
This lingerie line calls itself aggressive, functional and suggestive, which feels very accurate. I mean, the tagline is "women are weapons," so.
---
Selling "fierce dapper stud style" and "tomboy-style clothes," Haute Butch features suits, vests, watches, belts, footwear, briefs and so much more at their online store. Karen Roberts, a U.S. Navy veteran, opened her store in April 2012 with a focus on becoming "a clothing, footwear and lifestyle destination for butch women, studs, bois and transmen who prefer 'menswear' inspired finishes."
---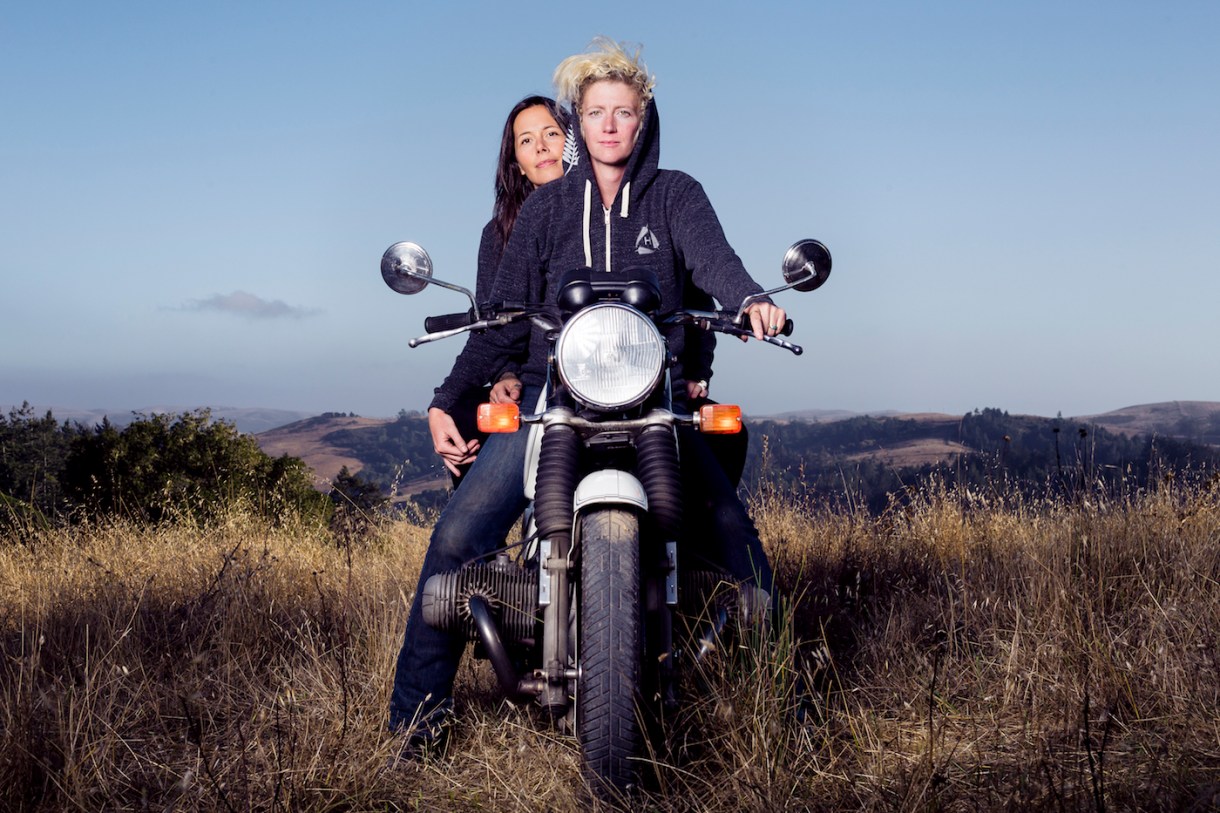 "Seeing a gaping hole in the world of clothing for adventurous, badass human beings, we created Hinterland," reads the home-page of a clothing brand started by lesbian couple Jolene and Trinia, who set out initially "to design empowering, irreverent imagery and print that onto American-made clothing."
---
CEO E. Jaguar Beckford, who is also the founder of Rainbow Fashion Week, became a fashion entrepreneur after many years as an entertainment attorney. She now does both, and her online store sports menswear-inspired clothing for women like suits, bow ties and vests as well as sweatsuits, denim jackets and drop-waist pants.
---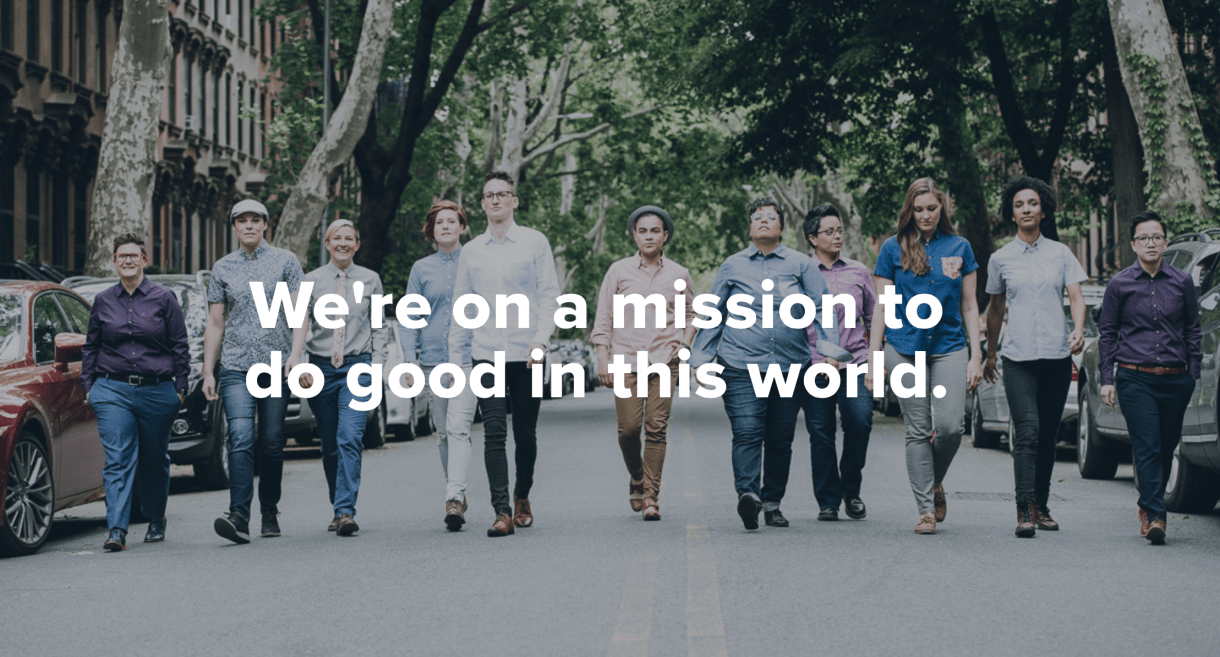 Kirrin Finch, started by Brooklyn-based lesbian couple Kelly and Laura Moffat, sells kickass menswear-inspired shirts, oxfords and bow-ties using sustainable fabrics and practices.
---
In 2001, Luan Stauss decided her neighborhood needed a bookstore that reflected the diversity of her Laurel neighborhood and decided she'd be the one to build it. "When you're here, you're part of the store family," writes Stauss. "We host readings, workshops, fundraisers, and sometimes just a happy hour to sit and chat for a while." In 2014, they moved to a larger location in downtown Oakland and you can find a good selection of their stuff in the online store.
---
This lesbian-owned-and-operated shop makes leather cuffs that turn straight wrists into gay wrists! Plus, belts, keychains, hats, necklaces and so much more!
---
This Baltimore-based store sells a lot of shoes, a lot of socks, and a lot of chocolate. If you're visiting the brick-and-mortor outpost, there's even an adjoining cafe!
---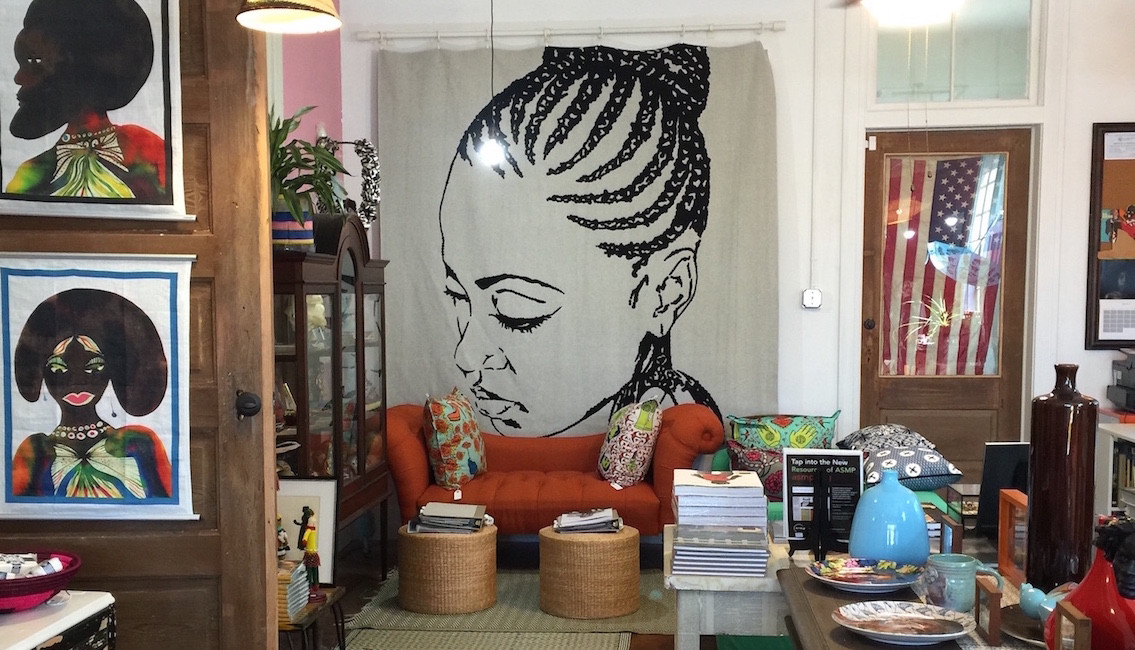 Based in New Orleans' Lower Ninth Ward, Material Life is an Afro-centric gift shop started by lesbian entrepreneur Carla Williams. "Black and gay artists are more important to me because both have been maligned and underrepresented for so long," Williams told GO NOLA. "Material Life is not exclusive, though — I'll represent any work that works with the primary aesthetic of the shop. That's where I rely on my expertise and my eye. I know what I like, and I know my merchandise." You can pick up fine art, postcards, books, "oddities" and other kickass goods at her online store.
---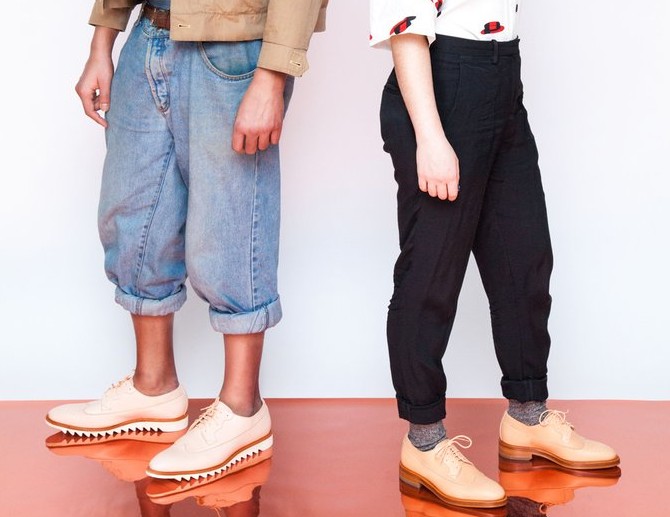 A sister-sister team "united by our love of premium quality products with great design, especially footwear," set out to develop gender-neutral footwear for feet of all sizes, working with tanneries in Portugal to make a world-class product. Also: tees and bags!
---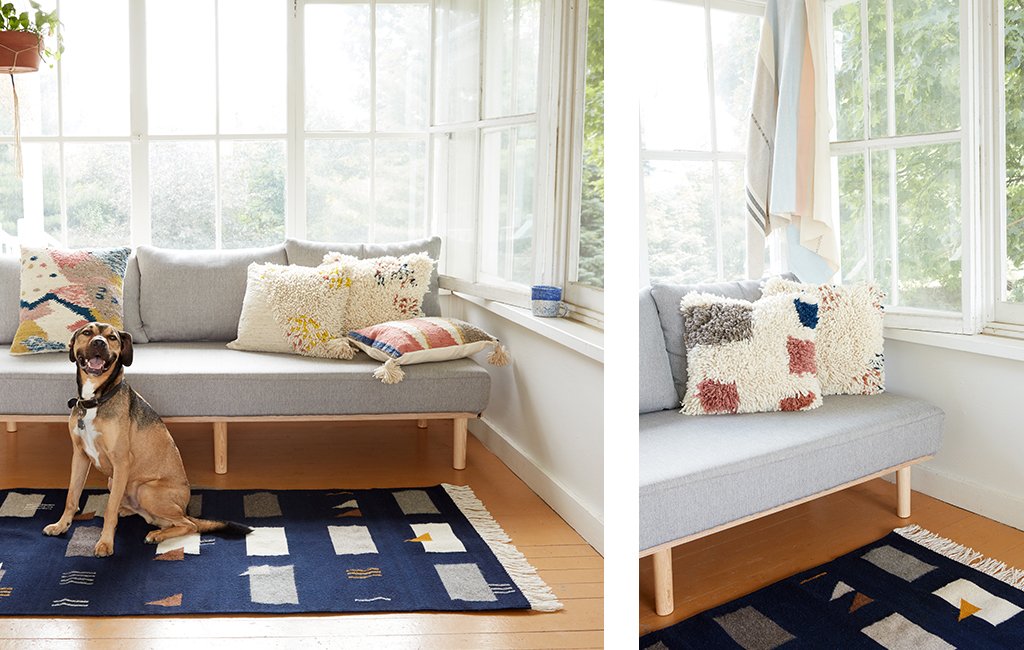 Minna is a textile brand that sells blankets, textiles, rugs, wall hangings and more while striving to "bridge the gap between ethically made goods and contemporary design." Sara Berks launched her company in 2013, when she got tired of doing graphic design and wanted to start making things with her own two hands.
---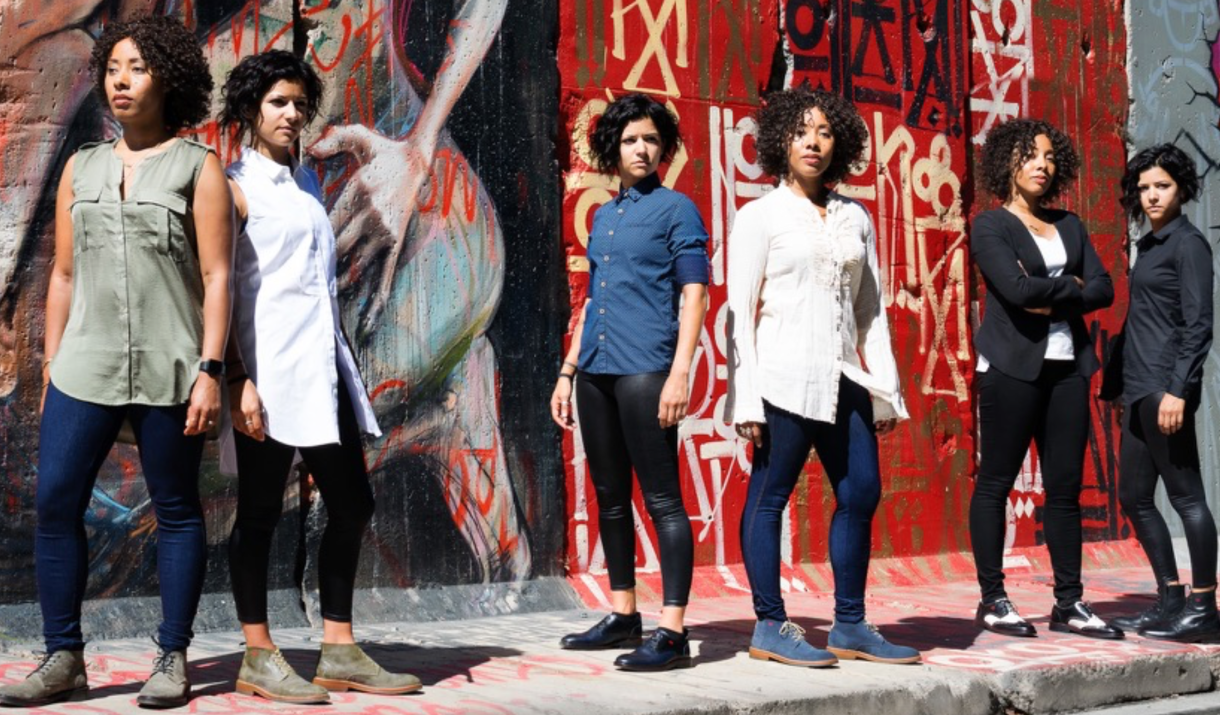 Nik Kacy, who identifies as gender-fluid, couldn't find "masculine-of-center" shoes in their size and that's what inspired them to launch their own line of luxury footwear for people of all gender identities.
---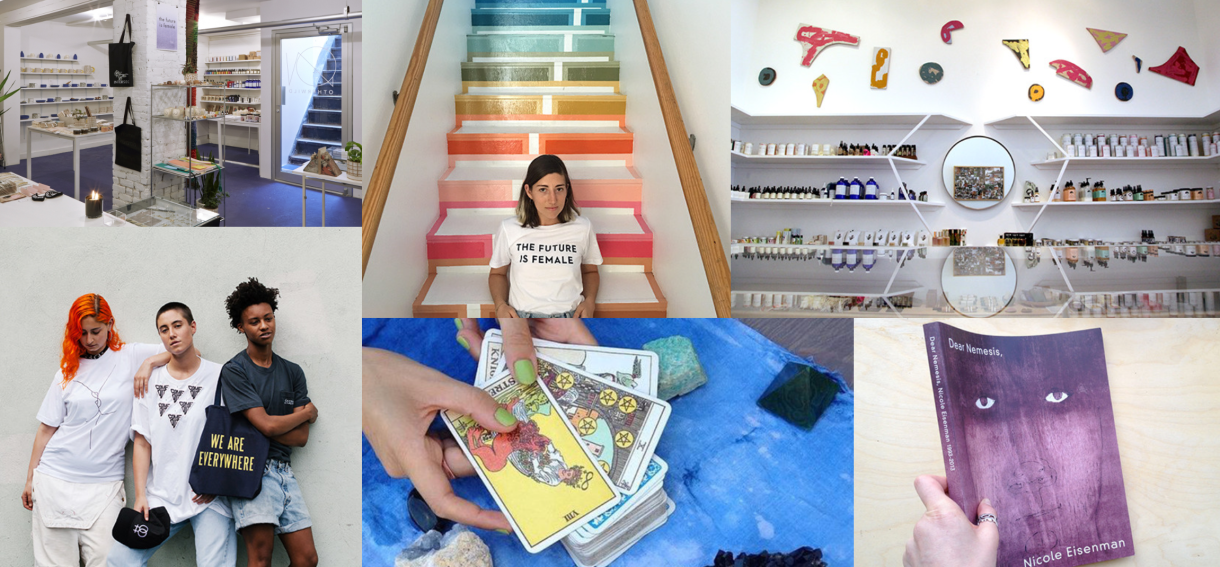 Marisa Suárez-Orozco and Rachel Berk's boutique/graphic design studio got born in Los Angeles in 2012 and opened a second location in New York this past May. Marisa has since left the company but Rachel continues overseeing the brand's expansion, which sells wares from over 100 indie makers in stores and online as well as offering an inclusive space for the LGBTQ community, hosting workshops, readings, and parties. Otherwild recently collaborated with the legendary her/story instagram on a line of relevant apparel. "Otherwild caters to the outsiders, the ones who are out-of-the-box and living life by their own rules," wrote Fusion earlier this year. "It's a place where feminism and LGBTQ pride is celebrated, not side-eyed."
---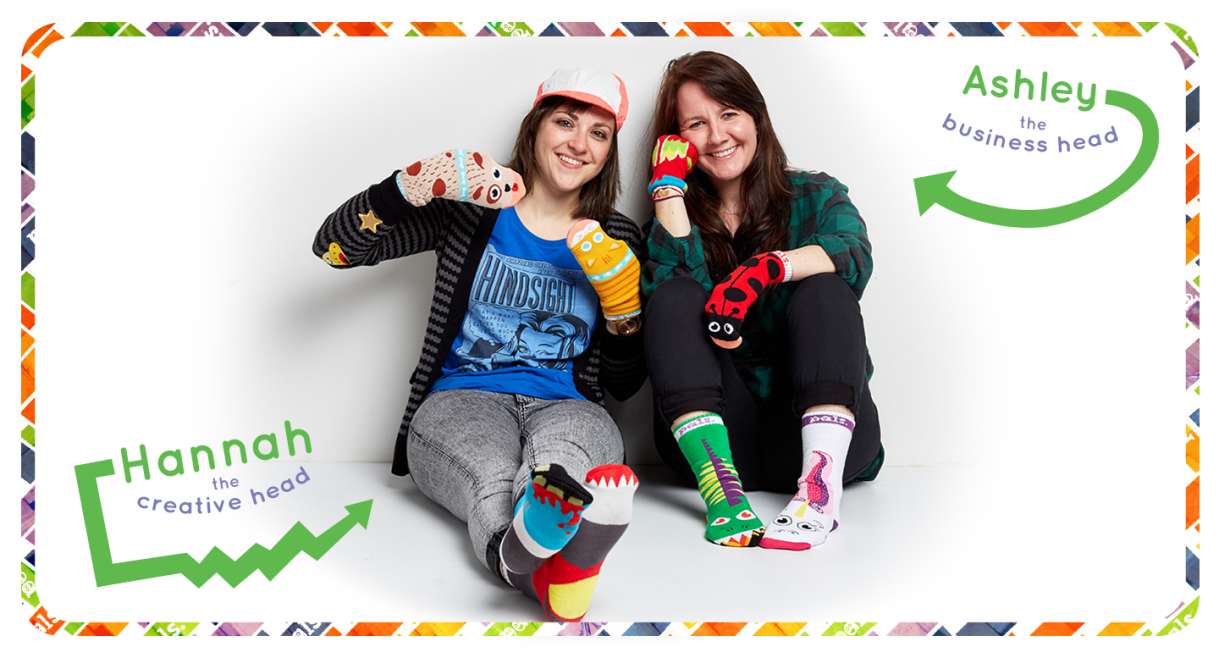 The Pals Socks story begins in 2007, when then-girlfriends Hannah Lavon and Ashley Connors started "Hooray Hoopla," a gift shop that specialized in "kitschy-cool paper products" and got popular selling mismatched animal mittens. The "Vs. Stuff" line put Predators and Prey on a set of hands and let them duke it out. Then they changed focus — "We wanted our products to be an extension of our beliefs — that befriending someone who seems different and classically opposite from you is one of the most rewarding experiences you can have in life. What if we flipped our original idea to stand for 'defeeting the norm' and becoming friends instead of mortal enemies?" Thus, Pals Socks were born, and the mismatched animal buddies have been a hit.
---
Sabine Maxine Lopez, a photographer and art curator, is a long-time vintage collector who decided to turn her passion into a business. She also runs an online boutique to go with her Los Angeles-based pop-up shop, and her website is worth a visit for the photography alone.
---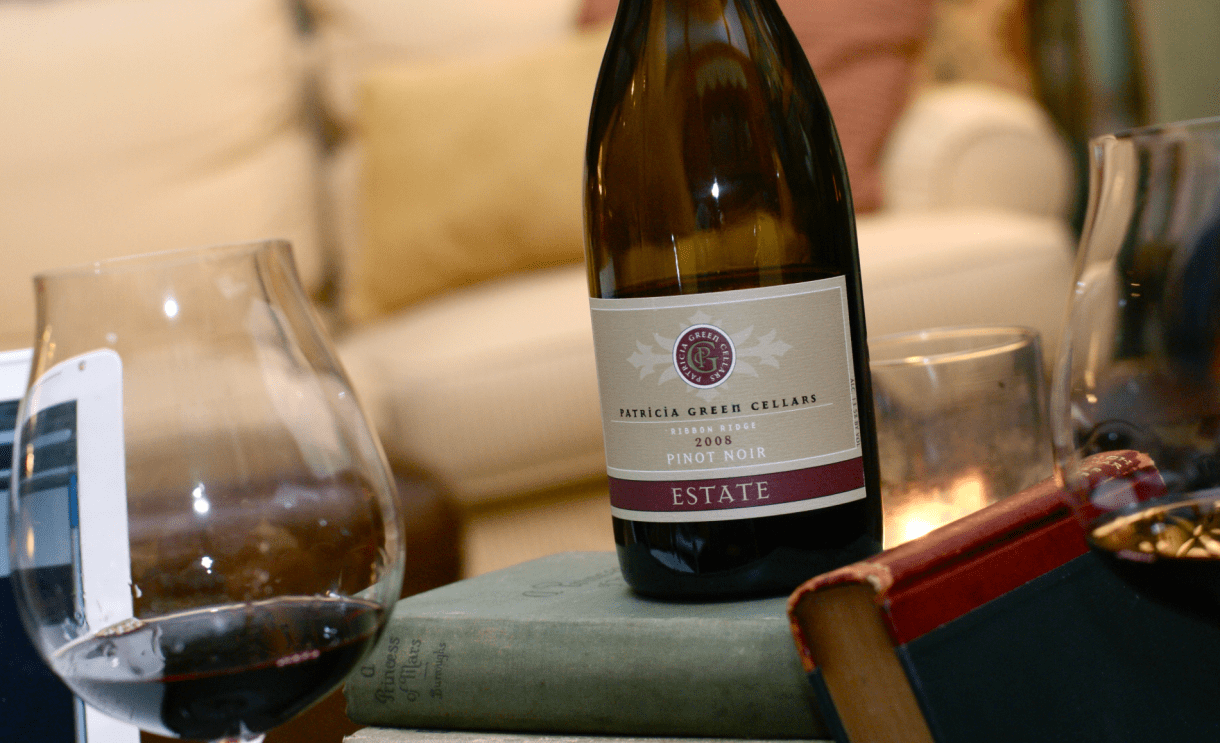 Patricia's vineyard in Oregon is "dedicated fully and solely to displaying the nature of Pinot Noir that is derived from where it is grown."
---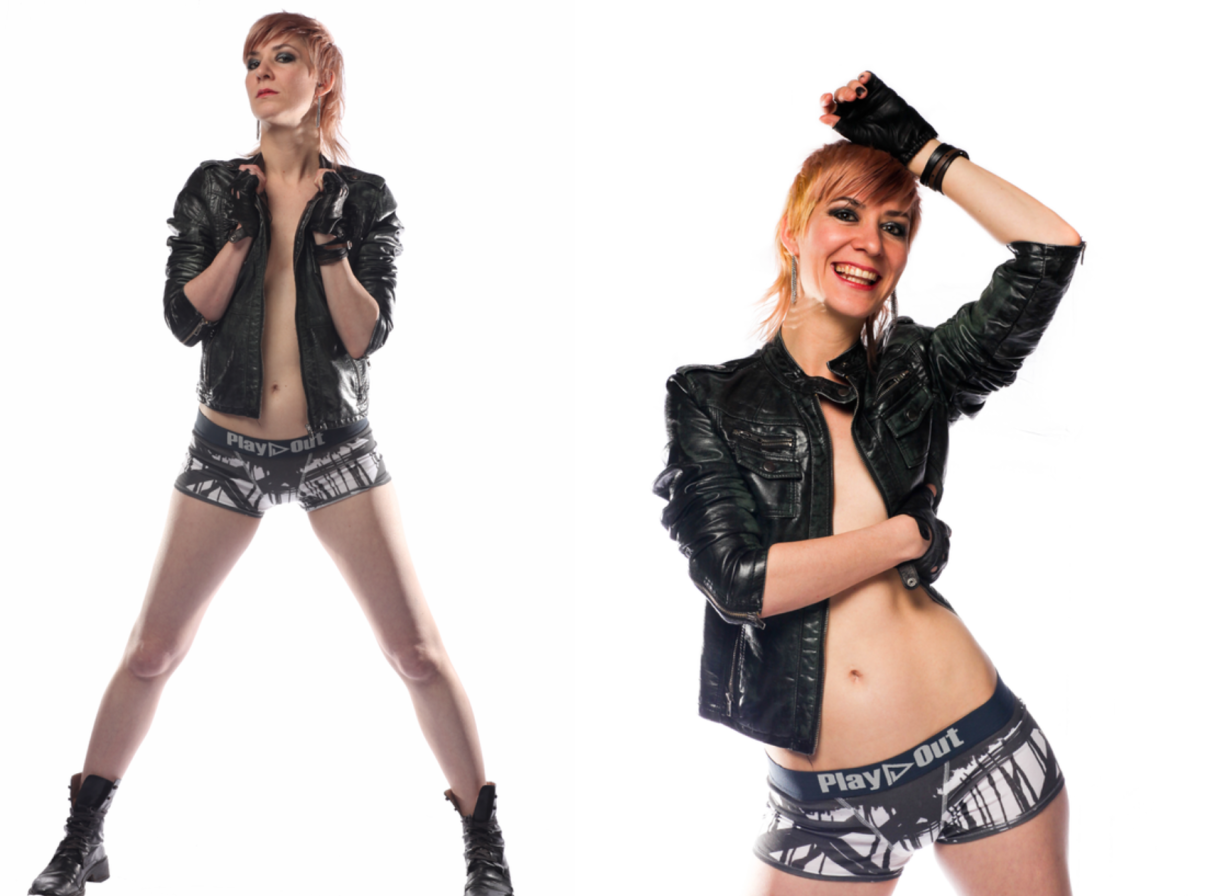 Abby Sugar and Sylvie Lardex launched PlayOut in 2011, offering two styles of underwear — boxer-briefs (the 'boyshort') and the trunk cut — for all genders.
---
Rebirth produces "gender non-conforming wear-ables and accessories for people on the full spectrum of gender, size and ability." All items are designed and hand-made by Sky Cubacub, a genderqueer person of color from Chicago who dreamed up this collection while they were still in high school.
---
This Madison-based bookstore, named after the Virginia Woolf essay, has been a thriving space for the local feminist community since 1975. It offers a variety of books and gifts, with plenty of women's studies and LGBT fiction.
---
Founded by Christine Svedsen in 2010, Sapphire Books is dedicated to promoting and publishing "stories that accurately and respectfully reflect the diverse lives of the lesbian community."
---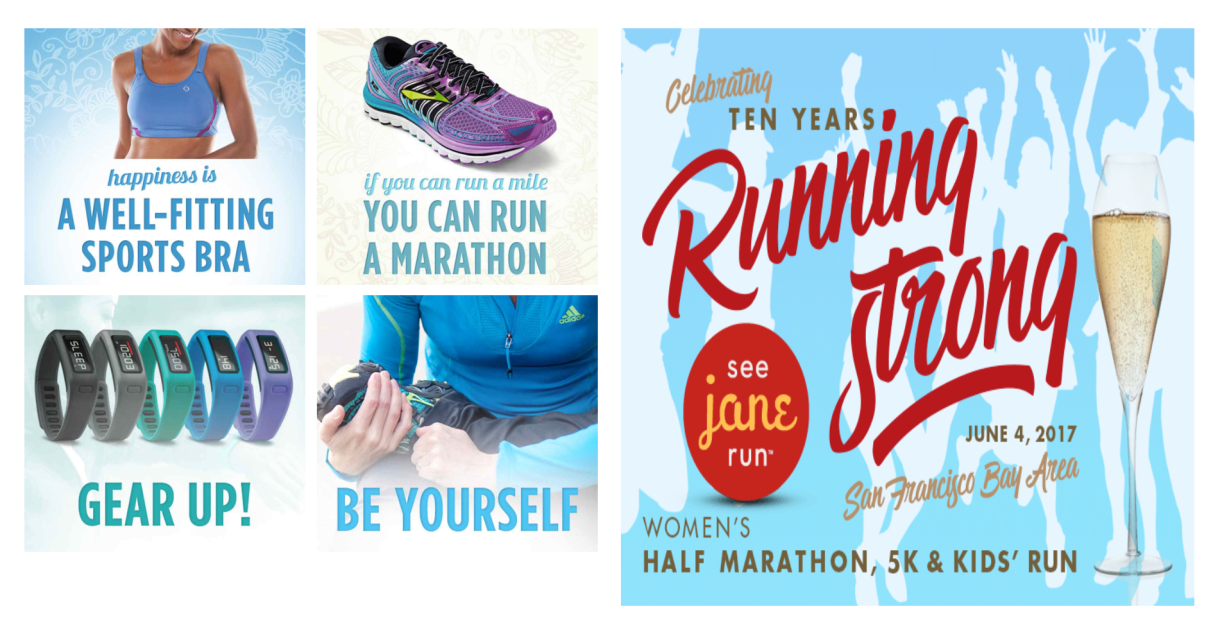 Lori Shannnon founded See Jane Run in April 2000 and has since seen her Oakland-based and online store earn a multitude of accolades and earn a spot on Inc Magazine's list of fastest-growing private companies. Intended to be a running store for women of all shapes, sizes and abilities, See Jane Run sells shoes and gear but also works to motivate, inspire and support their local communities. They have training programs, sponsor races, and contribute a portion of every event sponsorship to a cause they care about.
---
This concept shop, gallery and gathering space in downtown Oakland specializes in sustainable and socially responsible apparel, accessories and gift items. The retail store itself is worth a trip, but if you can't make it there, you can check out a limited selection of goods online, including t-shirts, body salves & cremes, jewelry, candles, prints and yoga mats from a diverse group of makers.
---
Owned by QPOC couple Stoney Michelli and Uzo Ejikeme, DapperQ describes Stuzo as "a line of androgynous, athleisure, and Cali-casual-cool style." For $150, you can get your special somebody a Boi Box, which includes a Boi Grl T-shirt, Boihood Buttondown, Boi Grl Snapback and a Boihood "Dad Hat."
---
This "Tomboi Lifestlye Brand" from designer Toni Branson sells snapbacks, beanies, sweatshirts, tees, wallets, slides and more.
---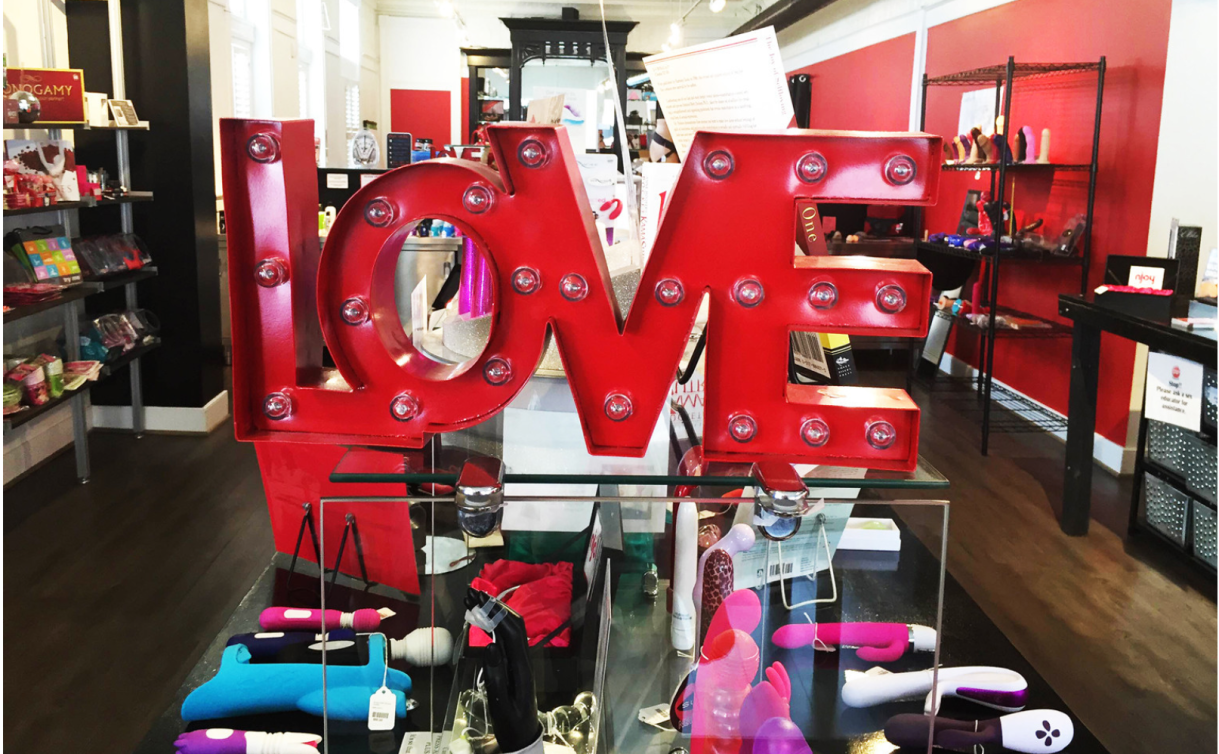 A Baltimore-based sex toy shop founded in 2007. In addition to peddling relevant wares, they host in-store workshops with a queer-positive vibe.
---
As put by Vanessa Wright at Boi Society, "The vibrant colors and patterns that Francesca Nocera creates for her Sun Sun Creative clothing line out of Toronto are a burst of sunshine and a refreshing way to incorporate prints with one another."
---
A percentage of every sale made by trans blogger/activist QuingNorelle's apparel line goes towards Werk Those Pecs, a surgery fund for trans folks.
---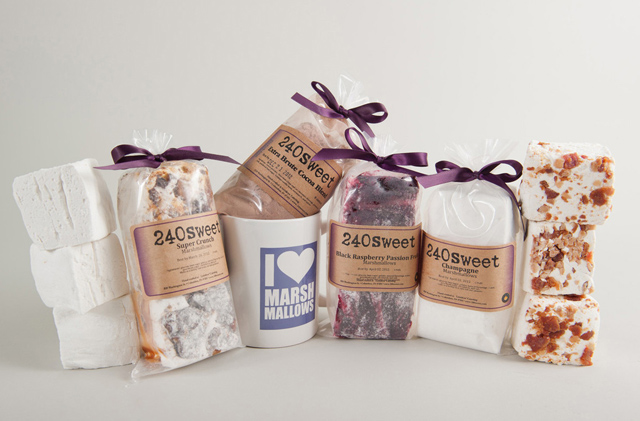 Alexa Lemley and Samantha Aulick, a married lesbian couple, started their gourmet marshmallow store in 2008 outside of Indianapolis. You can pick up variety packs and bundles of these sweet treats at their online store in flavors like Crunchy Cinnamon and Dirty Elf, as well as gifts like the "Deluxe Hot Chocolate Kit."
---
The We'Moon: Gaia Rhythms for Womyn astrological and lunar calendar datebook was founded in 1981 and is published in Oregon by Mother Tongue Ink. You can get the datebook and wall calendar in their online shop, as well as writing anthologies and other related products.
---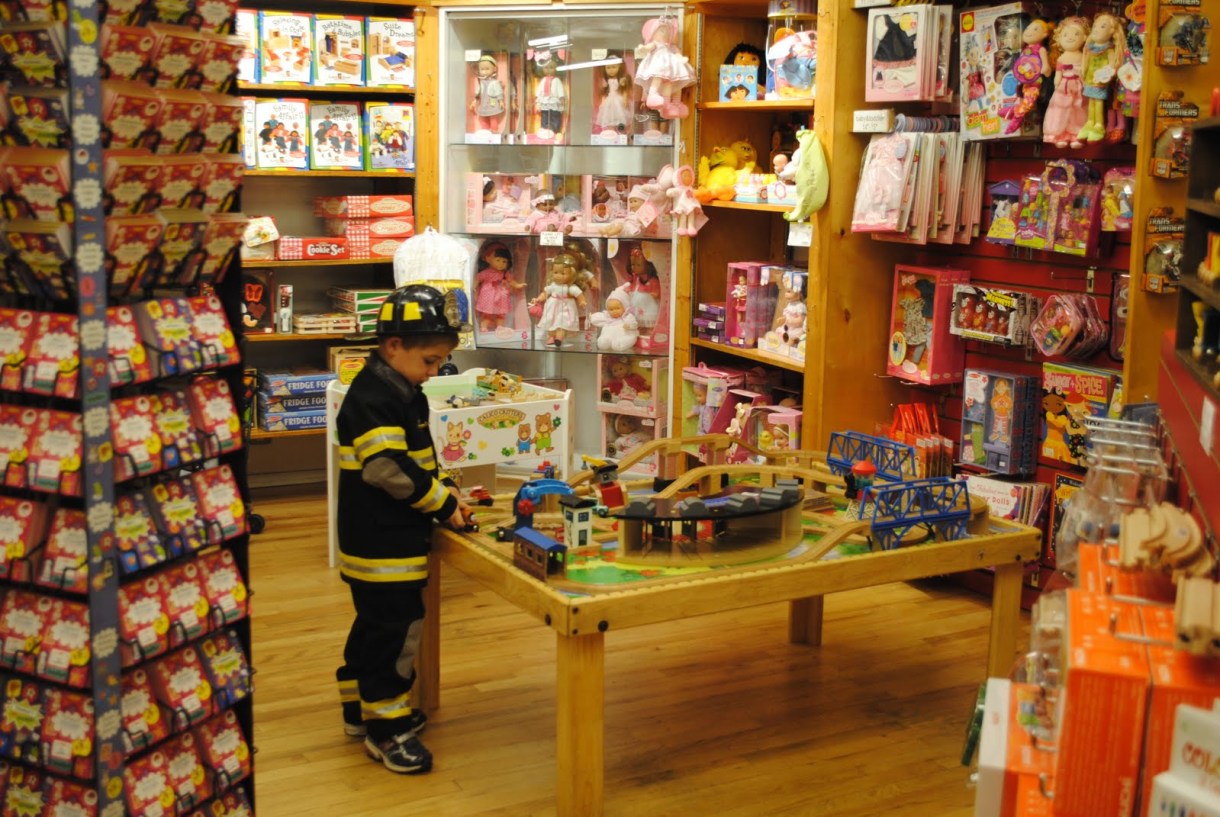 Since 1981, lesbian couple Alice and Jenny Bergman have been running this neighborhood favorite toy shop with a selection that emphasizes diversity, education, and ethically-made products for curious kiddos.
---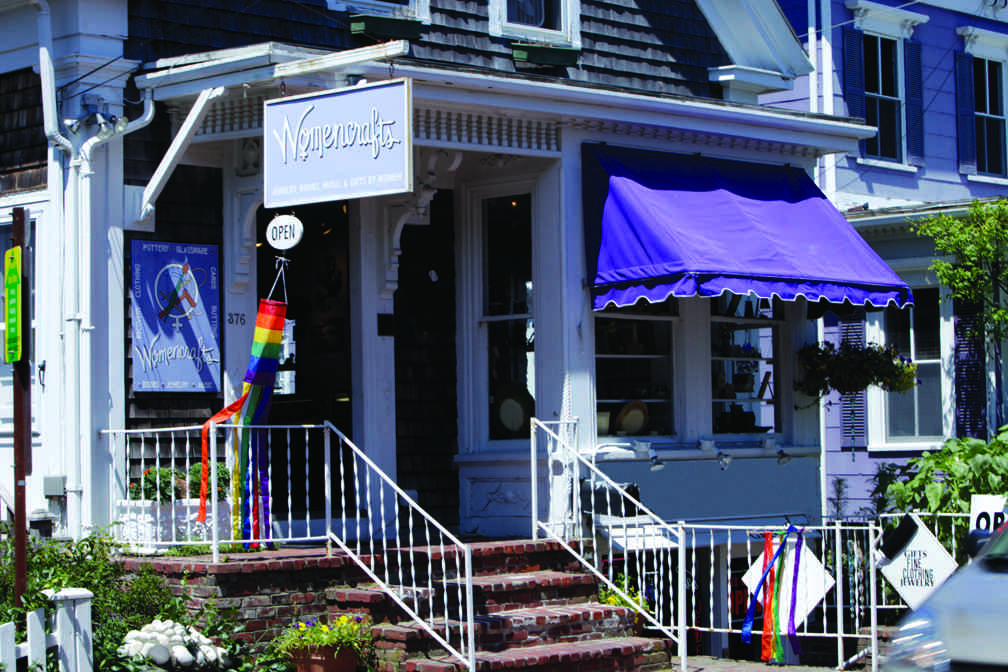 Located at the tip of Cape Cod in Provincetown, Massachusetts, this lesbian owned-and-operated store has been selling jewelry, pottery, lesbian/feminist literature and other gifts for over four decades, representing work from over 100 women artists. You can get lesbian/feminist books, spirit stones and other accessories at their online shop.
---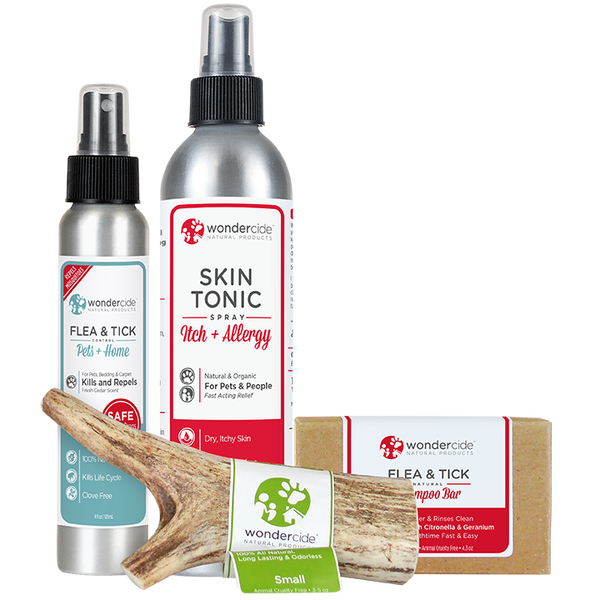 Wondercine offers all-natural products for pet care, pest control and flea & tick control. Founder Stephanie Boone aims to "protect pets, people, and property without harsh chemicals. Today, our full line of natural products protect families around the world."
---
Let us know your favorites in the comments!