Jolene and Trinia are partners in more ways than one. As a couple who also co-run their own clothing brand, the California-based Hinterland Screenprinting, they've learned a thing or two over the years about working together, playing to each others' strengths and, crucially, staying out of each others' way.
In this instalment of Follow Your Arrow, Trinia gives us a behind-the-scenes peek at their business, showing just how much hard work goes into running what looks like an effortlessly hip clothing company. Having started with little but a vision and no business skills to speak of, the pair have hustled and grafted their way through three years to recently reach the point where they could quit their other jobs, a big step for any entrepreneur. This interview also explores how the lines between work and life become blurred when you do what you love for a living, how they manage the business as a duo, and the marketing value in staying true to who you are.
---
Jolene and Trinia, co-founders and owners, Hinterland
Age: both 34, Occidental, CA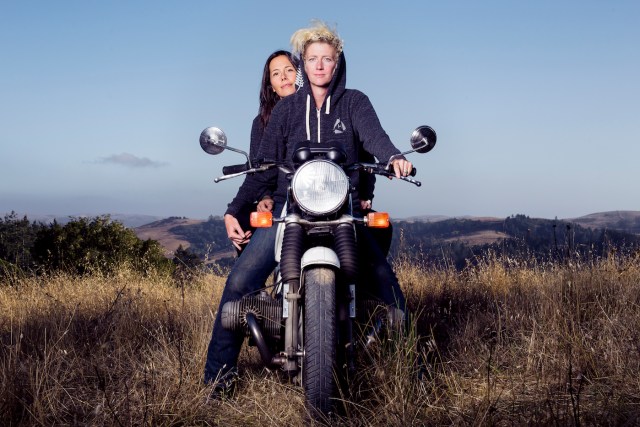 Hi guys! Can you introduce your business? What's your mission? Who do you serve?
We are a clothing brand for people who would rather be naked.
Hinterland is three years old. We are co-owners, we started the business together and we both hustle. In terms of specific roles, Jolene does the printing and book keeping, and I (Trinia) do the designing, website work, and the social media.
How would you describe your approach to business? What personal qualities inform your approach?
We started carefully with both of us working extra jobs, and slowly as the brand grew we were able to focus solely on our company. Our approach was cautious until we were certain there was a group of adventurous weirdos that would be receptive to our ideas. Turns out our irreverent designs resonated with a lot of people, and that response allowed us to quit our side gigs and focus solely on Hinterland. When we created the brand we thought: let's have the demand dictate our growth. By approaching our business in this way our growth has felt natural, and been steady.
What does a typical day look like for you? What is your workspace like?
We are lucky to wake up at home, in our live/work space – which happens to be a 150-year-old creamery building.  Mornings consist of copious amounts of coffee and a short meeting to bring one another up to date with each others schedule for the day/week.  From there we part ways and interact only when necessary, which cuts on the desire to throttle one another, which you can acquire when you're working and living with your partner.  Jolene gets busy in the screen printing studio (located in the old loading dock of the creamery) and Trinia focuses on design and marketing in our office (aka living room, porch, kitchen table). Taskmaster Charlie oversees all and ensures high levels of productivity.
Our work day is long (10-16 hour days) but we try to make time to get outside by hopping on the motorcycle or going for a hike. We're walking distance from two creeks and an old growth redwood grove, and a short drive to the Russian River or Pacific Coast.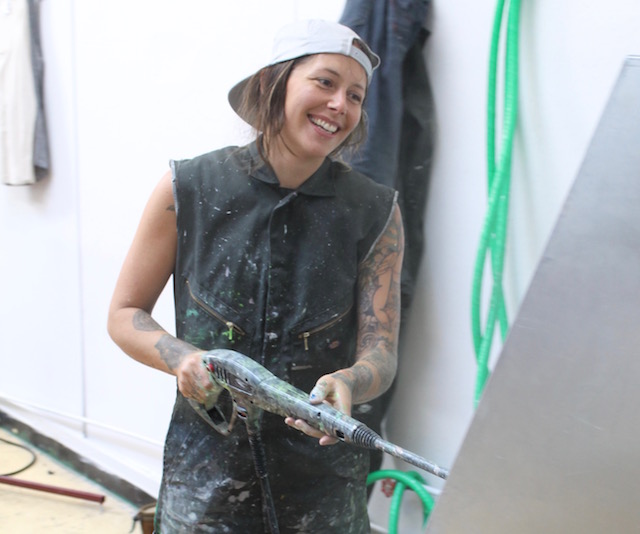 How do you navigate the challenges of being business partners as well as life partners? Do you compartmentalise or switch hats, and do you have strategies for dealing with conflicts? 
We tried to do everything together initially, which was a disaster, so then we implemented the "divide and conquer" approach which was much more sustainable. There's a lot of checking in with one another but as long as we keep the dialogue respectful everything runs smooth(ish)ly. Working together is stressful but we both respect and value the roles we both play in the company, and that is huge.
The idea was mine (Trinia). I wanted to create a way for us to hang out together and still make a living. Neither one of us come from money and we live in an expensive part of the world so we knew whatever we were doing we would be working a lot. So I decided to create a way for us to spend more time together. I also have a patchwork of graphic design, art, and a writing/editing background that I wanted to utilize and this business allows that.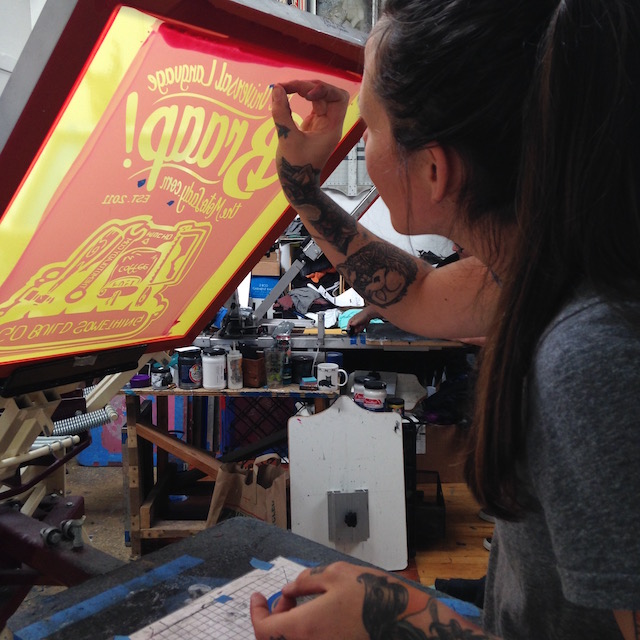 When did you know that this was what you wanted to do? And what were your early goals, your first steps?
Hinterland was created from the desire to be artistic, but in a way that was sustainable. The early goal was to design empowering, irreverent imagery and print that onto American-made clothing.
Once we had our idea, the first steps were pretty simple. We saved a bit of money, bought a press and had an experienced friend give us a crash course in screen printing.
It took us a year and half before committing to Hinterland full time, and still we were supplementing our own brand by printing for other companies. About three months ago we recognized that Hinterland was doing well enough that we could phase out commercial jobs completely.
Why do you do this? What makes you spring out of bed in the morning?
Our motivation to spring out of bed is the realization that if we're not doing it – it's not getting done.
We have come to regard our business as a living creature, one that demands love and attention in order to thrive. It is for this reason that we have a fluctuating mix of pride, adoration and fear of the monster we have created – our own personal Frankenstein.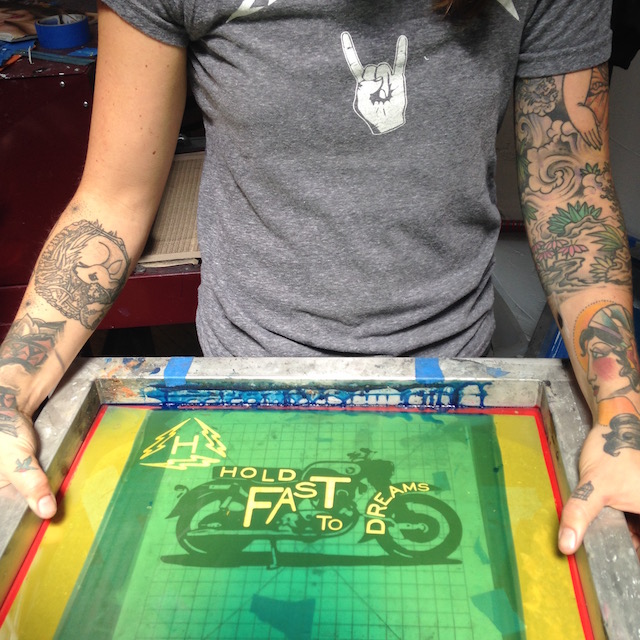 What are the key challenges you face in your work? What are your tactics for overcoming these?
One key challenge is that neither of us have a background in business.  This means every time we encounter business hurdles/jargon/paperwork, it's usually the first time either one of us has had to deal with such issues. In the beginning it was like learning a new language. The learning curve was steep, but it's starting to level off now, because we didn't allow it to dissuade us and we continuted to slowly grind through the obstacles.
We have never deviated from our made-in-US philosophy, which has it's own set of challenges.  Higher base cost and less garment suppliers are two major points, but we manage to hold fast to our commitment.  US-made goods reduces negative global environmental and humanitarian impacts, and creates American jobs, something we are keenly aware of as company involved in the fashion industry.
How do you approach time management and work-life balance?
It's really about being okay with where you're at at the end of the day, no matter where that actually is. If you're overwhelmed, sit and make some lists, get a good night's sleep and get back to it early in the morning. There's never enough time to do everything.
The line between work and life is definitely blurred.  Work events become social events, chance meetings become networking and because we are always wearing Hinterland gear and up to no good, there's always an opportunity for a photo shoot!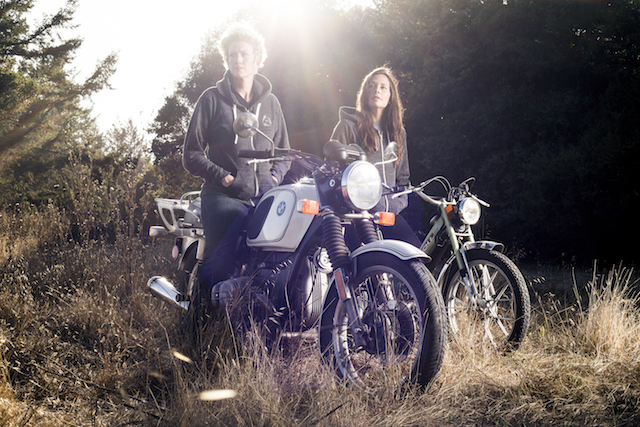 Is your business financially sustainable at this time?
After the first two years of working second and third jobs to make ends meet, we are finally making enough money to live solely off the business. If our growth continues on this upward trajectory, we are setting ourselves up to enjoy the fruits of our labor.
Where would you like to see yourself in five, ten years' time?
It's not a sexy answer but we'd really like to be more secure financially, less feast-or-famine. We're getting too old for this rollercoaster. In 5-10 years we hope to be one of many American-made clothing companies out there. But basically we want to be in the same the place we are now – creating, printing and giving a voice to, and inspiring people.
How do you market your business?
Like most people today, we are all up on Facebook and Instagram.  We also vend at different events (The One show, Born Free, The Dream Roll, to name a few) which gives us the unique opportunity to meet our customers face-to-face.  Donations, sponsorships and raffle prizes at events have also helped to get our name out there.  On June 3rd we will be opening our brick-and-mortar location in Occidental, CA.
Word-of-mouth and repeat customers are the driving force behind what we do.  We currently have $0 marketing budget but somehow our brand continues to grow; we attribute that to word-of-mouth, social media, and satisfied repeat customers.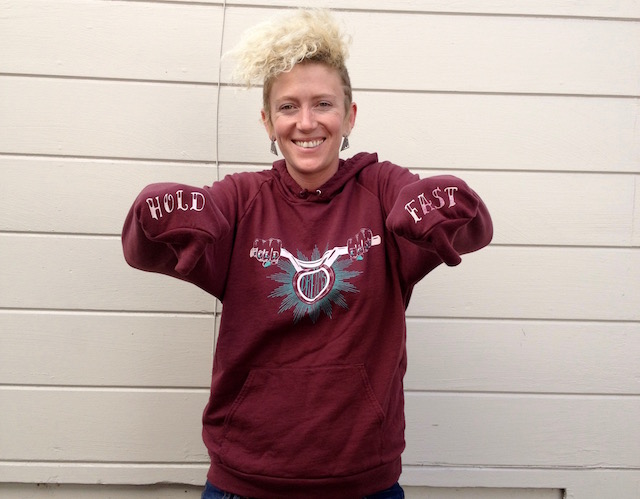 What's the most valuable tool in your kit?
Lucky Lil Kim print squeegee.
How does being LGBTQ impact on your business (if at all)?
Everyone that is familiar with our brand knows we are married.  We make no apologies for who we are.  Our marketing is very personal and honest, people who aren't open to that can unfollow.  That's the beauty of social media. You can like it or love it…or you can fuck right off.
What three websites, blogs, books or people do you rate for business advice or ideas about your work?
We work with our tattoo artists friends: Naomi Welch and Harmony Borneleit, who are frequent Hinterland collaborators and super inspiring artists.
The Women's Moto Exhibit, and events like Babes Ride Out, The Dream Roll that bring women together.
What's your hot tip for queer women who want to start their own business?
Be honest and unabashed about yourself.  Don't apologize for who you are. The people who you do connect with will form a solid and unwavering base for your business.
Keep up with Hinterland on Instagram and Facebook, and check out their wares at hinterlandempire.com!
---
Are you a solopreneur, freelancer, or side-hustler? Have you started your own voluntary organisation? Have you found another exciting way to make a living from your passion? Or do you know someone we should be featuring? Tell me all about it! Email beth at autostraddle dot com.