In August, I set out to watch every Kristen Stewart movie ever made, and I am here today to share the results of that highly uneven experience.
Kristen Stewart's film career began with a haphazard assortment of films wherein children did schemes and had adventures. Regardless of each film's quality, she was snagging lead roles from the jump — Panic Room was her second movie. She played tomboys or awkward outcasts and then, eventually, graduated to what would become her most enduring legacy: playing Bella Swan in the Twilight franchise. During and after that financially beneficial but artistically damning contract, Stewart seemed hellbent on proving herself serious by seeking out independent films that were sometimes bad but always Not Twilight.
Thematically, she has often found herself functioning as a transformational figure for the psyche of a white boy or man at a crossroads, delivering harsh truths with messy hair and her hands in the back pockets of her jeans. Often, this man is played by Jesse Eisenberg. She's the opposite of a manic pixie dream girl, but ultimately her effect on the men in her radius is the same. She is quirky and a little rough around the edges. She pushes people to see themselves clearly while rarely taking time to do the same for herself. Her characters often find themselves involved with older men or caught in love triangles. In more recent years, homoeroticism and outright homosexuality have become a more constant presence in her work, and as she's grown up, the world has finally begun to take seriously the girl we knew was an incredible actress all along. She has starred in a string of biopics including this year's big one, Spencer, which marks the first time Stewart has generated Oscar buzz.
Stewart recently told The Sunday Times: "I've probably made five really good films, out of 45 or 50 films? Ones that I go, 'Wow, that person made a top-to-bottom beautiful piece of work!" Having now viewed every single film she has ever been in, I can attest that this is in fact true. I wouldn't give a 10/10 to any of the films on this list, but at least ten would easily get a 1/10. It was incredibly difficult to decide which film was worse than another film and exactly how much worse. But it was still a great journey to take.
There are 42 films on this list. Stewart has cited 45 – 50. The discrepancy is as follows: I did not include documentaries (Bad Reputation, Shooting Panic Room, Aware Anywhere, Love Antosha), shorts (Come Swim, Once and Forever, Cutlass, Crickets) or movies in which she did not have any lines (The Flintstones in Viva Rock Vegas, The Thirteenth Year) or actually appear (the horrific K-11, in which she did a ten-second voiceover).
Which leaves us with 42! Let us begin then, shall we?
---
42. The Messengers (2007)
Directed by: Danny Pang & Oxide Pang Chun
Written by: Todd Farmer & Mark Wheaton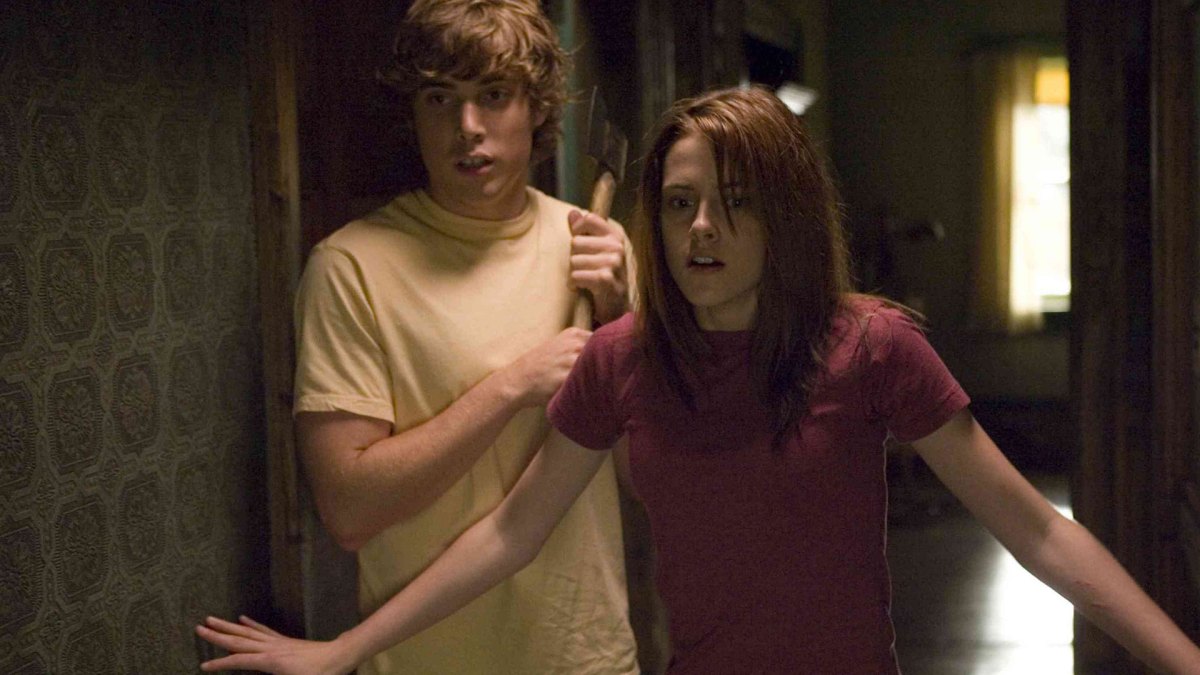 A big-city family moves to a little farm in North Dakota and the children are haunted by ghosts and plagued by jump scares. There are a lot of crows. Ghosts flock to Kristen Stewart like bees to honey but in a world where her parents are honey truthers.
41. The Twilight Saga: Breaking Dawn Part One (2011)
Directed by: Bill Condon
Written By: Melissa Rosenberg and Stephanie Meyer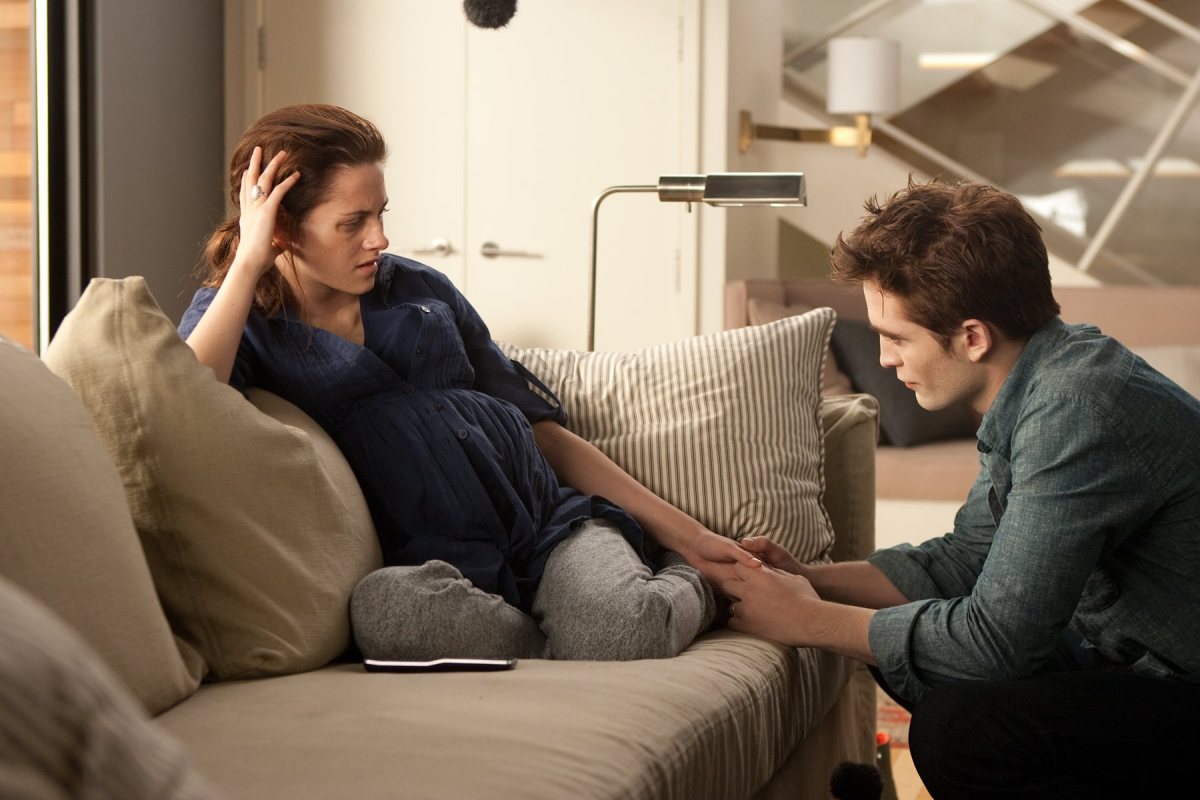 This Kristen Stewart movie is a 2+ hour anti-abortion PSA with vampires! The sheer volume of young people exposed to this film make its emaciated body horror more terrifying on a political and cultural level than it is in the world of the film itself.
40. Cold Creek Manor (2003)
Directed By: Mike Figgis
Written By: Richard Jefferies
Kristen Stewart, aspiring horse lesbian! Once again our young heroine finds herself moving out of the city and into a creepy house in a small town that is figuratively haunted by its previous inhabitants. Sad day for Sharon Stone and Dennis Quaid when they said yes to this project.
39. Jumper (2008)
Directed by: Doug Liman
Written by: Simon Kinberg, Jim Uhls, David S. Goyer and Steven Gould
How did it take four entire men to write one bad movie? Kristen Stewart is in this for ten seconds, so it's hardly a Kristen Stewart movie, but here we are. Despite this film being objectively terrible, it was one of my favorite watches of the K-Stew Ranking Experience, because it features my beloved Ann Arbor Public Library as a platform for advanced international travel.
38. Anesthesia (2015)
Written & Directed By: Tim Blake Nelson
Imagine a self-absorbed white teenage boy who wants to be a filmmaker is playing with paper dolls of his favorite actors, forcing them to tell "intersecting storieswp_poststhat are not actually stories so much as containers for him to share a series of pretentious, earth-shattering "revelationswp_postshe had while stoned at the 10th grade lock-in, all of which are thoughts literally everybody else has already thought a million times. Then you have this movie!! Kristen Stewart is a graduate student who cuts herself because "the world has just become so inhumanwp_postsand also because capitalism and um, iPhone addiction? Her story is based on probably a Seventeen magazine article? Kristen Stewart yells about her disillusioned peers while I scream into a pillow. If I were ranking her performances, this would be dead last, but I don't even think it's her fault?
37. What Just Happened (2008)
Directed by: Barry Levinson
Written by: Art Linson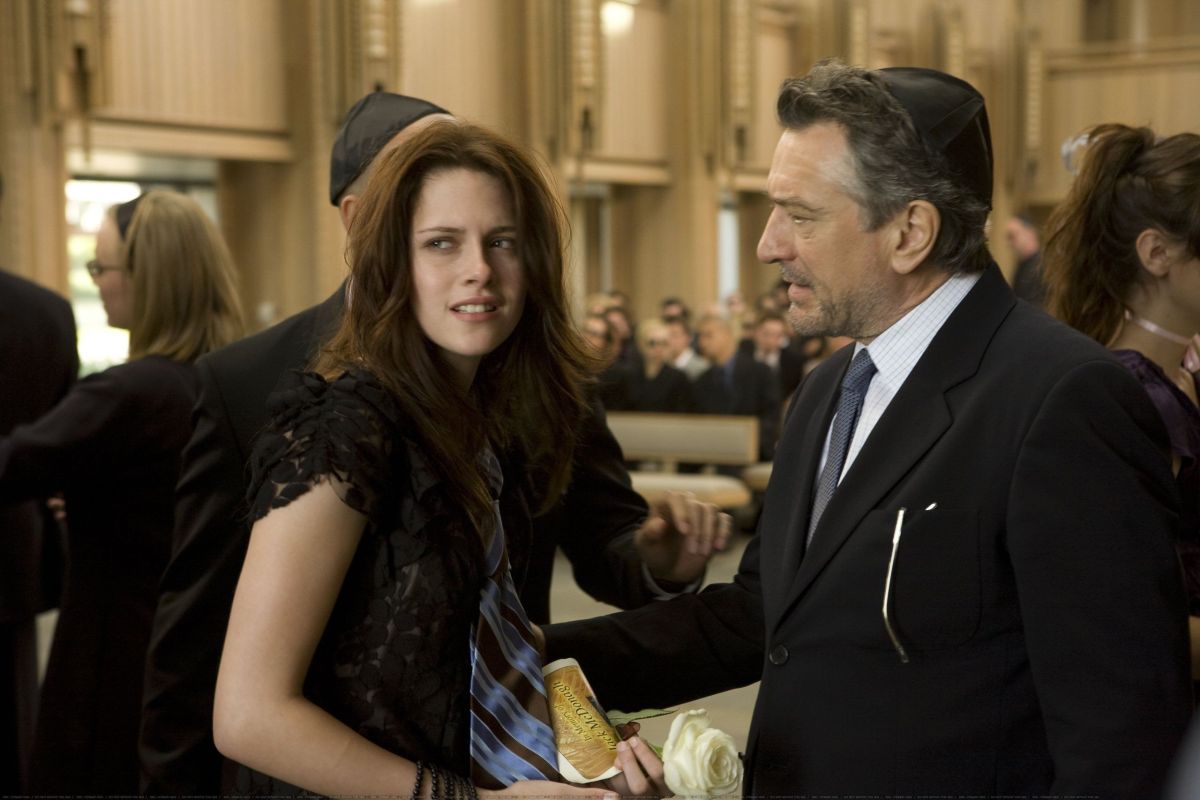 A pointless satire of movie producers, envisioned for the screen by movie producers. Kristen Stewart is one of many actors (Robin Wright, Stanley Tucci, John Turturo, Lily Rabe, Catherine Keener, Bruce Willis) who wasted their time being in this movie. Fortunately for her but unfortunately for me, she was only in it for maybe ten minutes, as one of Robert DeNiro's estranged children.
36. The Twilight Saga: Breaking Dawn Part Two (2012)
Directed by: Bill Condon
Written By: Stephanie Meyer and Melissa Rosenberg
Texts I sent while watching this film:
what the fuck is up with this baby
breaking dawn part one was horrifying i thought this couldn't be worse
why is wolfboy having sex thoughts ABOUT A BABY
the extended cullen family always look like an SNL parody
maybe kristen started dating robert patticakes bc she hated her job and needed excitement
like why i dated marc at the olive garden
….
it really takes a village to raise a baby
how did two hot vamps make one ugly baby
who did the makeup on peter fancinelli and are they still in prison
mormons have too much power in this culture
….
[shared a picture of the CGI baby]
???!!!!?!
35. Cafe Society (2016)
Written & Directed by: Woody Allen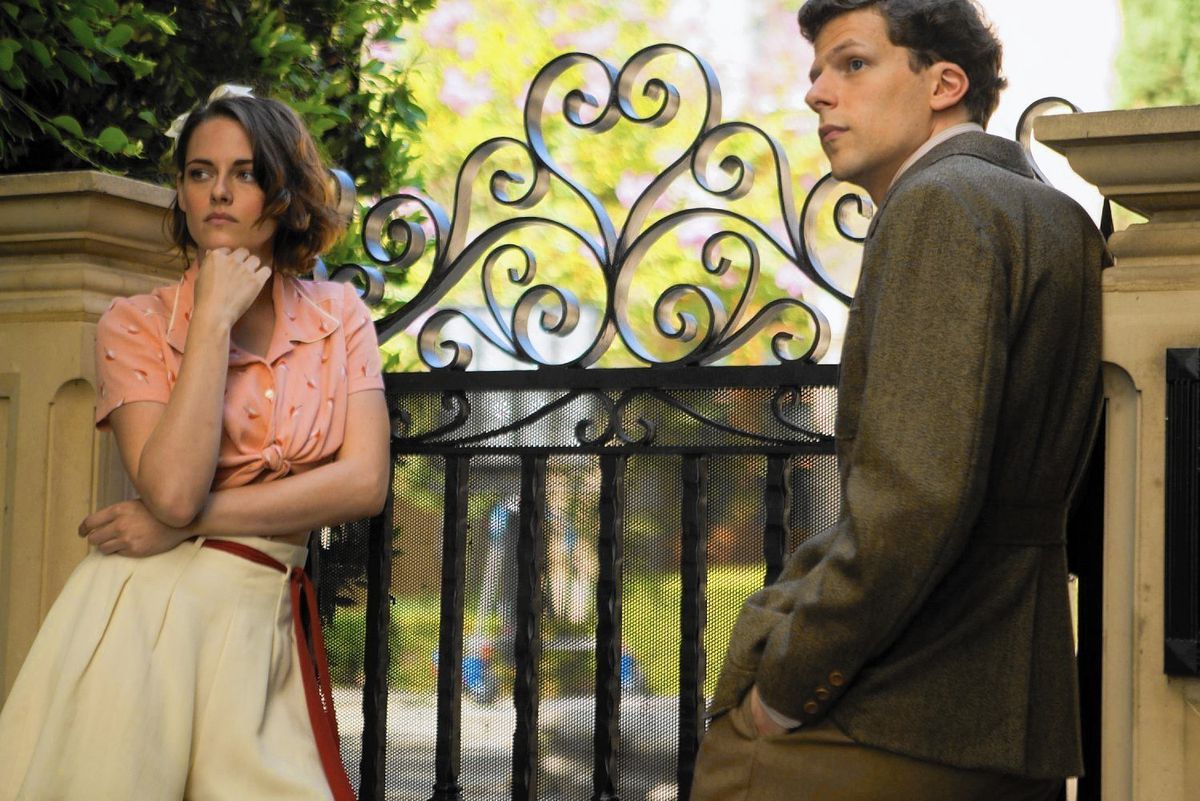 This film and Into the Wild occupy a similar sphere in this list wherein yes I am aware that according to "the critics," this is a "good film" and most would prefer it to Zathura: A Space Adventure.
Unfortunately, I was unable to bear it because, much like Into the Wild (we'll get there in a minute), we have a beautiful package and an extraordinary cast circling a deeply rotten core, and that core is A STRAIGHT CIS WHITE MAN WHO IS OBSESSED WITH HIMSELF. However, when that man is Woody Allen, the results are particularly unsettling.
Set in the golden era of Old Hollywood or whatever, Kristen Stewart plays Vonnie, a hottie assistant torn between cute new-in-town awkward curly-haired white boy Bobby (Jesse Eisenberg) and studio mogul Phil (Steve Carell). (Also although Kristen Stewart (26) and Steve Carell (54) are both adults, I feel compelled to point out this age difference because this is a Woody Allen movie and this is his creepy agenda!)
My primary feeling about this film is "Woody Allen: what if you just did not?" What if you just did not contribute a completely unnecessary voiceover to this film just to hear yourself speak? What if you did not exorcise your bitterness that you are no longer Jesse Eisenberg's age by directing Jesse Eisenberg to basically act like you do in your other films, which in his body just comes off as overly stylized, selfish, paternalistic, pushy and really basically just INSUFFERABLE? What if you just did not rely on the beauty and inherent charm and mythology of Old Hollywood to carry a film that otherwise is empty? What if you just stopped making movies????
34. Into the Wild (2007)
Written & Directed By: Sean Penn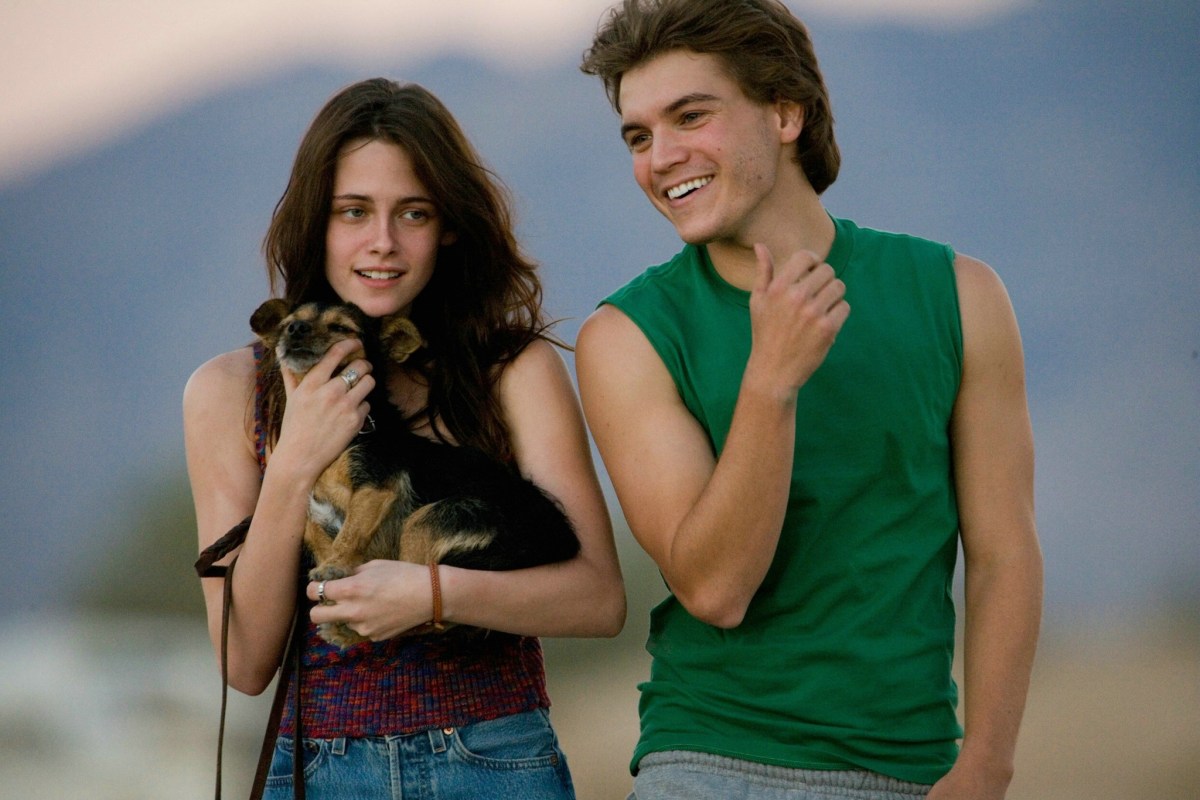 Next up on our Kristen Stewart movie tour is Into the Wild. Before I proceed, I want to say I bear no ill will towards the real Christopher McCandless, his life was his own to live (it does seem like he was suffering from an undiagnosed mental illness! But that's never addressed, instead he is framed as a "free spirit."), but I'm opposed to his post-death lionization, including this film, which has an actual body count.
A wealthy white man LITERALLY BURNS CASH MONEY and goes on a VERY poorly planned trip into the Alaskan wilderness to "live off the landwp_postsand I am expected to care for 2.5 straight hours! He abandons a life of opportunity and privilege without concern for his family or friends, who understandably panic and subsequently extend resources and anguish searching for him. He relies entirely on the kindness of strangers — who have far less to give than his own family — to survive after willfully destroying his own assets and even the ID that'd enable him to work for money. He romanticizes poverty, disenfranchisement and unemployment like only a privileged white man can! His primary life trauma is that at some point he found out that his Dad was married to another woman when his Mom got pregnant, and his Dad left his ex for his Mom. Yup, that's HIS trauma, not the trauma of IDK, that other family?
Kristen Stewart plays Tracy, a quirky 16-year-old who finds herself so enchanted by this selfish man that she wants to bone him in her parents' trailer while they're not home!
However, there are three minutes of this film in which Kristen Stewart plays guitar and sings "Angel From Montgomerywp_postswith Chris, and it's honestly transcendent. I could watch that three minutes out of context for the rest of my life.
33. Fierce People (2005)
Directed by: Griffin Dunne
Written by: Dirk Wittenborn
An angsty awkward curly-haired white boy named Finn wants to spend the summer studying "tribal peoplewp_postsin South America with his father, but due to reasons must settle for staying in the castle owned by his Mom's billionaire massage client, Ogden (Donald Sutherland). He quickly falls for Ogden's granddaughter, horny horse lesbian Maya (Kristen Stewart). They rub each other in "tribal paint" and hook up. There is sexual violence. The problem with this film is that it is racist!
32. Undertow (2004)
Directed by: David Gordon Green
Written by: David Gordon Green & Joe Conway
Men and boys in the woods of rural Georgia, family secrets, something something, Uncle Deel comes home, steals a coin collection, there is murder, the boys are on the run? I forgot to take notes to this movie. I was bored but it got good reviews so maybe I missed something? At some point we meet Lila (Kristen Stewart, 14), a tomboy who kisses Chris (Jamie Bell, 18) in an old rowboat that's like, on land?
31. Catch That Kid (2004)
Directed by: Bart Freundlich
Written by: Michael Brandt and Derek Haas
12-year-old tomboy Maddy (Kristen Stewart) wants to earn money for her Dad's surgery by robbing a high-security bank. It's like Ocean's Twelve, Junior! I was rooting for these kids! Jennifer Beals is Maddy's Mom? Hopefully this inspired at least one future lesbian to join a climbing gym.
30. Underwater (2020)
Directed by: William Eubank
Written By: Adam Cozad and Brian Duffield
Kristen Stewart's head is shaved and she's trapped underwater in a drilling facility at the bottom of the ocean and then there is an earthquake and there are monsters? This film was unnecessary.
29. The Yellow Handkerchief (2008)
Directed by: Udayan Prasad
Written by: Pete Hamill and Erin Dignam
Based on a 1977 Japanese film that was much better than this, Stewart plays Martine, a 15-year-old troubled teen on the run with her awkward messy-haired white boy outcast pal Gordy (Eddie Redmayne). They pick up a just-released-from-prison Brett (William Hurt) and take a road trip through post-Katrina New Orleans to get Brett to his ex-girlfriend. It was fine.
28. The Cake-Eaters (2007)
Directed by: Mary Stuart Masterson
Written by: Jayce Bartok
Fifteen-year-old Georgia (played by Kristen Stewart, 16) has Friedrich's ataxia and also wants to bone 20-year-old Beagle (played by Aaron Stanford, 30), a cafeteria worker at her high school. Those are her only personality traits, really: she has a chronic illness and wants to bone. Stewart gives the character all she's got to give, and it's very well directed. Georgia's Mom takes naked pics of her to raise disability awareness? Bruce Dern is there. At one point, Georgia gets the worst, most alarming lesbian haircut in history and her and Beagle escape their small town to hook up in a motel.
27. Equals (2015)
Directed by: Drake Doremus
Written By: Nathan Parker & Drake Doremus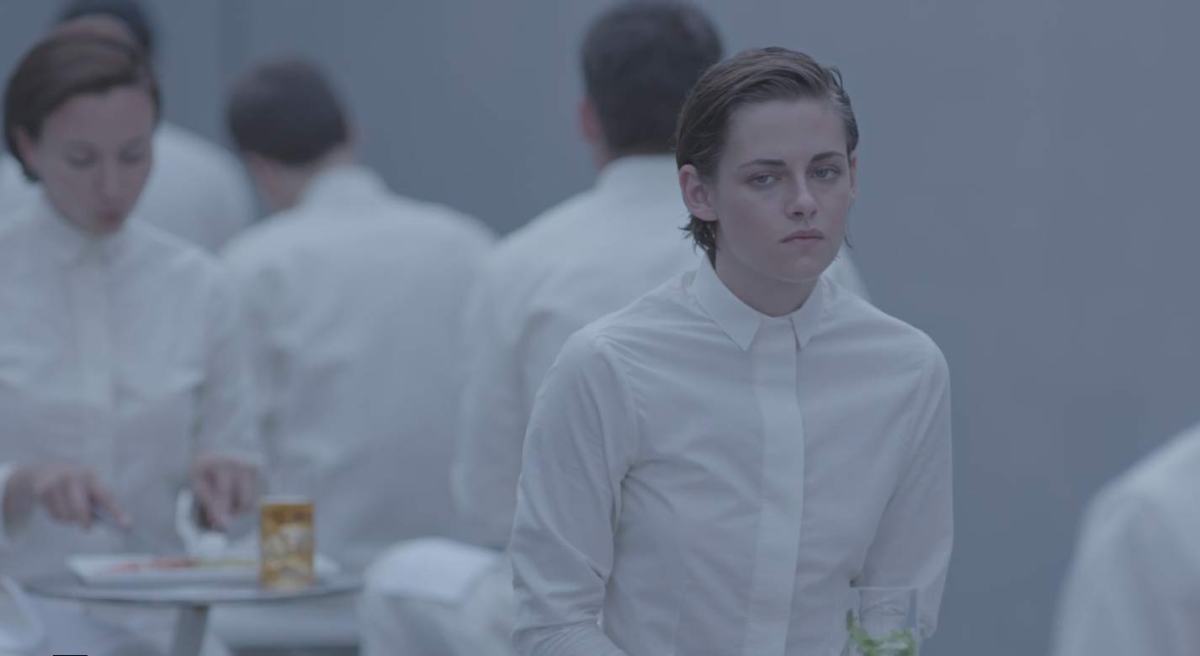 In a sanitized dystopia that never bothers to make a case for its existence, Kristen Stewart and Nicholas Hoult — who really nails the robot bit — rebel against the system's forbiddance of feeling feelings by falling in love with each other. It's like someone had 10% of a good idea, bleached everything, made some minimalist furniture, said "speculative non-fiction" ten times fast and then sent the reel straight to the cinema!
26. In the Land of Women (2007)
Directed by: Jonathan Kasdan
Written by: Jonathan Kasdan
Carter Webb (Adam Brody), a mopey awkward curly-haired white boy, moves to Michigan to take care of his ailing grandmother and somehow develops weird sexual relationships with Sarah (Meg Ryan) and her daughter, Lucy (blonde Kristen Stewart)! It's kinda charming in pieces and then Carter starts mansplaining something to Lucy and I die.
25. Welcome to the Rileys (2010)
Directed by: Jake Scott
Written by: Ken Hixon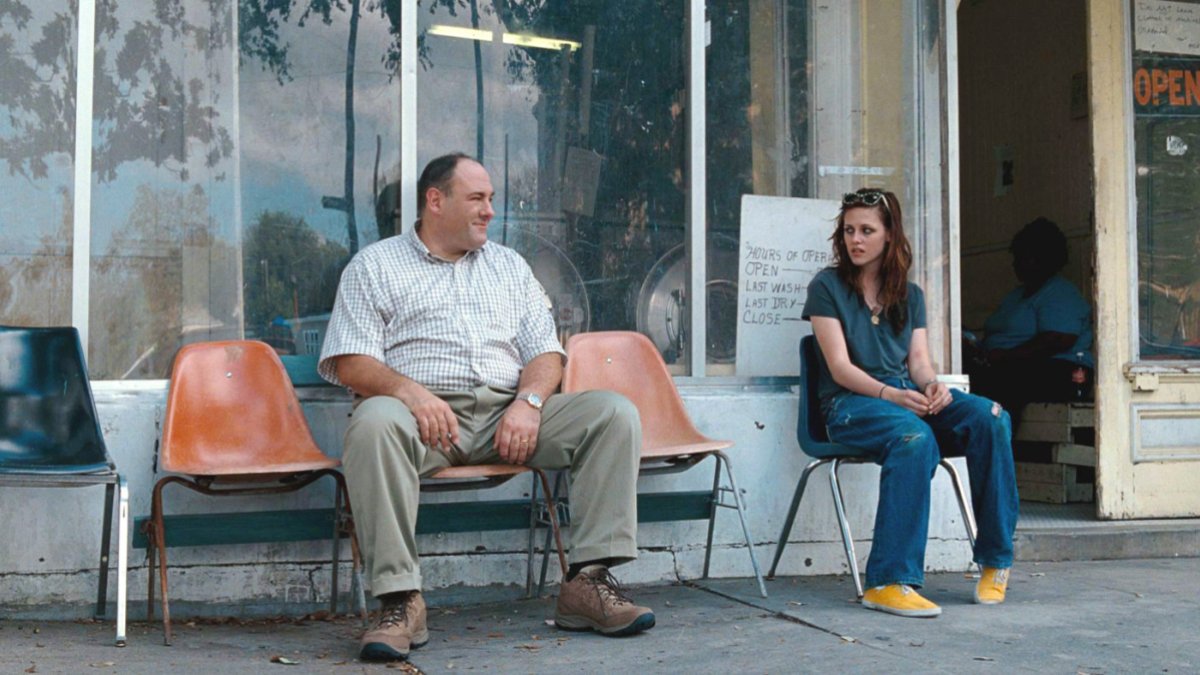 I think the movie itself was pretty good but "man saves sex worker from herselfwp_postsstorylines are like nails on a chalkboard for me, sorry
24. Lizzie (2018)
Directed by: Craig Macneill
Written by: Bryce Kass
A list of this nature composed by a heterosexual would likely place this Kristen Stewart movie further into the weeds of the bad movies but alas, I am not a heterosexual and therefore the abject badness of this film was indeed overcome by furtive lesbian barn sex.
23. J.T. LeRoy (2018)
Directed by: Justin Kelly
Written & Produced by: Savannah Knoop and Justin Kelly
I'm fascinated by scammer stories and the truths revealed by the lies we're desperate to believe, but this story starring Stewart as Savnnah Koop, a teenager manipulated by her older brother's girlfriend Laura Albert (Laura Dern) into adopting the false literary persona of J.T. LeRoy — a character Laura invented to sell her gritty fiction about abuse, drugs and poverty as semi-autobiographical — somehow tackles none of those themes. It tells its story clearly, but the result is just a blockbuster cast performing a TV movie script.
22. The Twilight Saga: New Moon (2009)
Directed by: Chris Weitz
Written by: Stephanie Meyer and Melissa Rosenberg
Jake's big try! An inspirational Kristen Stewart movie about how threatening to kill yourself is the best way to get your boyfriend back. The world of the Volturi added some roundness to Twilight's strange world, and I appreciated that Edward's brief absence gifted us more time with Jake and the Quileutes. I love CGI wolves I guess.
21. On the Road (2012)
Directed by: Walter Salles
Written by: Jose Rivera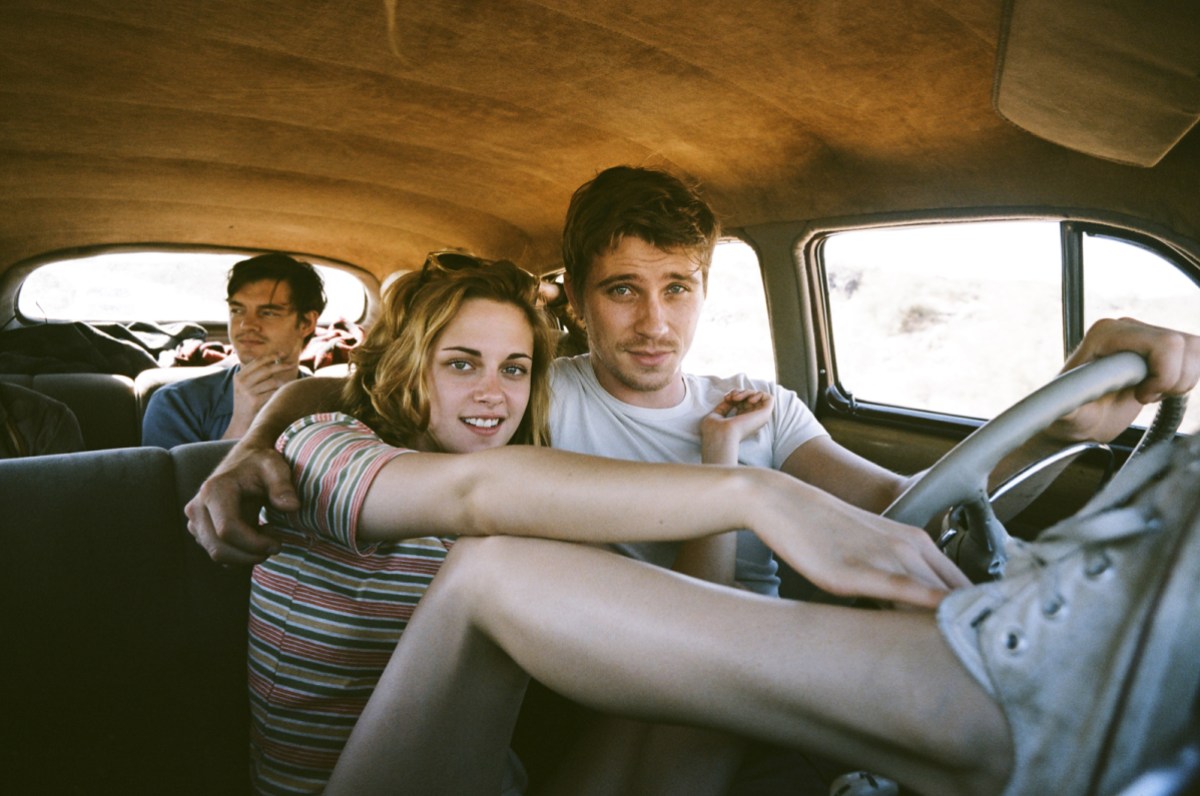 Sometimes a book is really amazing and I think, that's okay, not every book needs to be a movie! Kristen Stewart is a convincing Mary Ann, the White Men of Literature's prototypical manic-pixie-dream-girl. But as a superfan of the book and the Beats, I was mostly unmoved by this film that I had anticipated for well over a decade.
20. The Twilight Saga: Eclipse (2010)
Directed by: David Slade
Written by Stephanie Meyer and Melissa Rosenberg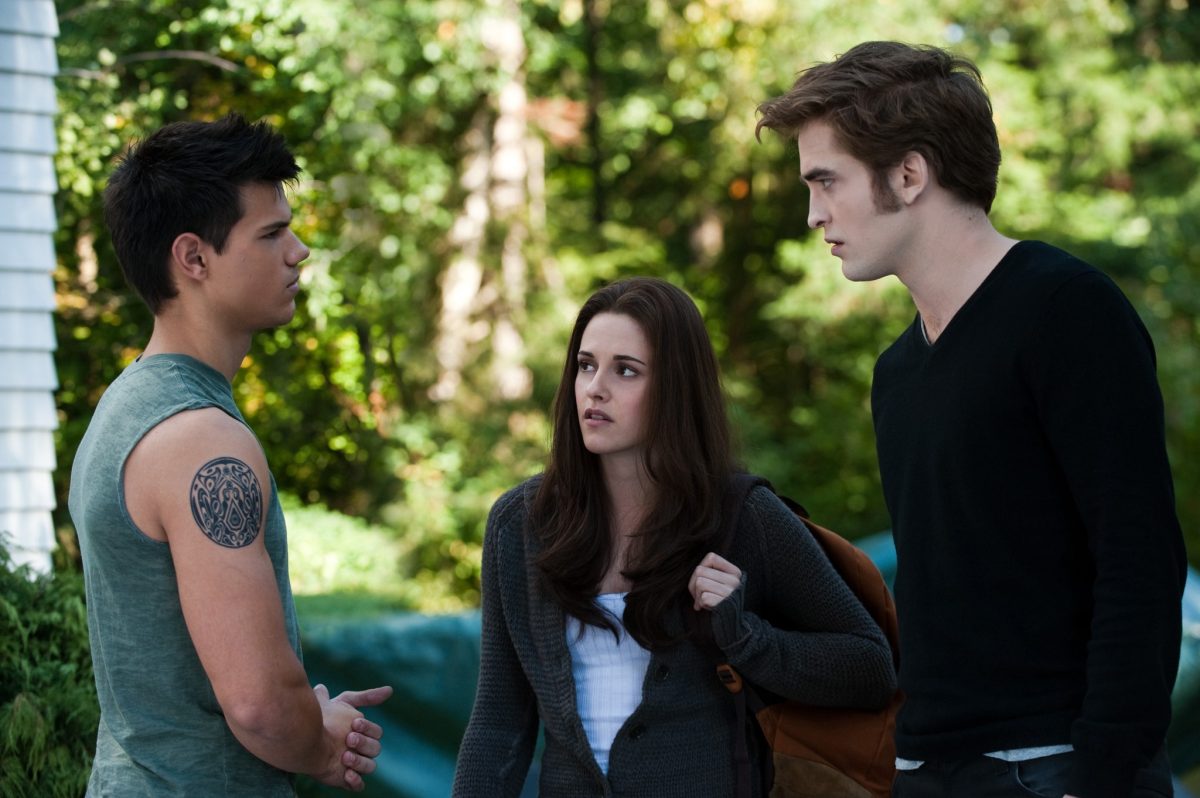 The only Kristen Stewart movie on this list I've had the pleasure of previously reviewing for this website, back in 2010 when Crystal made us all go. I think we were high? From that review: "Ok lots of fields of poppies and flying people… Eclipse was cool and entertaining, once you got over the whole 'how the hell did this totally masochistic love affair become a worldwide phenomenon' thing. Bella's like Helen of Troy in a hoodie. High school! Girl you are in high school. Good luck picking the right college, let alone joining the undead."
19. Charlie's Angels (2019)
Directed by: Elizabeth Banks
Written by: Elizabeth Banks, David Auburn and Evan Spilotopoulos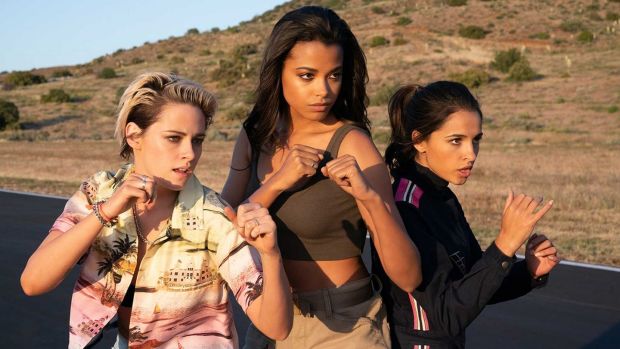 This film could've been a photoshoot. Unfortunately, once more my lesbian bias seeps through the cracks of this project. The "casewp_postsat the center of this otherwise aesthetically delightful romp of tight pants and fight sequences is so utterly empty, so boring, so irrelevant, that I felt actively insulted by the entire film. And yet! Kristen Stewart looked great and did a great job didn't she??? She was so gay! I had a good time!!
18. Zathura: A Space Adventure (2005)
Directed by: Jon Favreau
Written By: David Koepp and John Kamps
Kristen Stewart was literally frozen solid for half of this film but I think as a child I may have been entertained by little Josh Hutcherson's journey into space! Good for him!
17. Seberg (2019)
Directed By: Benedict Andrews
Written by: Anna Waterhouse & Joe Shrapnel
American actress Jean Seberg (Kristen Stewart), best known for Breathless, was eventually an FBI target for her involvement with the Black Panthers, and this film traces that chapter of her life. I really enjoyed the film and its style, but it's difficult to get past the FBI agent being portrayed as a martyr!!! I mostly lamented that now Kristen Stewart won't have the chance to be in a good movie about Jean Seberg.
16. Snow White & The Huntsman (2012)
Directed by: Rupert Sanders
Written by: John Lee Hancock, Hossein Amini and Evan Daugherty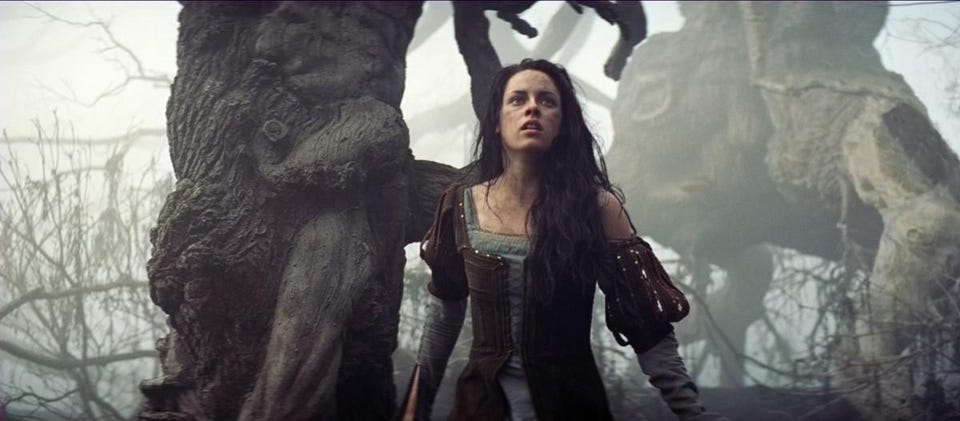 Stunning visuals, a reliably well-tread story with just the faintest whisper of new life barely breathed into it from a few towns over. Kristen Stewart looks great in armor, nice special effects, battle scenes I could endure because they were not too bloody, ultimately this had no point but the plot carried us on a horse from scene to scene and let us off at the end for snacks, so?
15. Billy Lynn's Long Halftime Walk (2016)
Directed by: Ang Lee
Written by: Jean-Christophe Castelli
For a movie trading in literally zero of my interests, I was drawn in quickly to this slice-of-life drama centered on young private Billy Lynn and his erroneously labeled "Bravo Squad,wp_postsfresh out of a harrowing Iraq battle, sent home for Thanksgiving to do a publicity tour touting their heroism. But the squad, heavy with PTSD and secrets and despair, are courted like symbols instead of people. Kristen Stewart is Billy's older sister, Kathryn, who is essentially the audience's surrogate — not the heartless publicity hounds or the entrenched soldiers, but someone who sees the war clearly and wants desperately for Billy to take a discharge and refuse his next tour.
14. Speak (2004)
Directed by: Jessica Sharzer
Written by: Annie Young Frisbie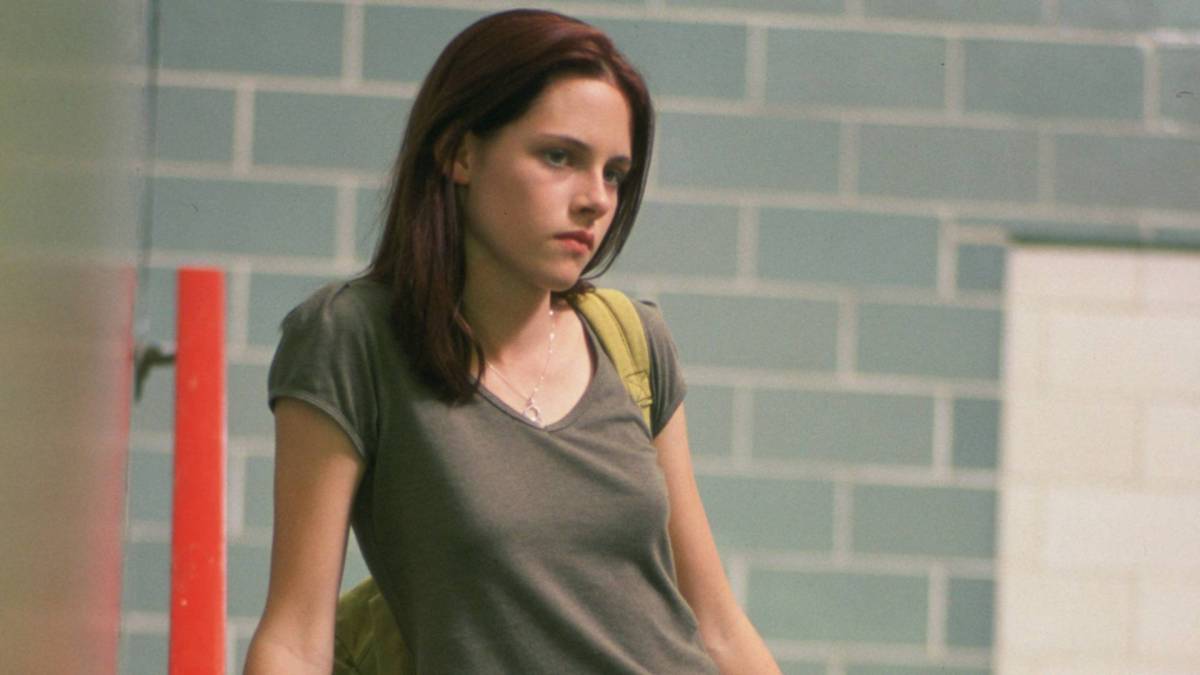 Eric Lively of L Word defame plays a popular teen who rapes Kristen Stewart's character, Melinda, at a party. Snubbed by her friends and ignored by her parents, she retreats into a stony silence and slow psychological deconstruction. Speak can't really decide if it's an indie drama or a made-for-TV movie, but if anyone doubted Stewart's acting chops, they could've started here for evidence of her unique talent for embodying the anxiety of trauma.
13. American Ultra (2015)
Directed by: Nima Nourizadeh
Written by: Max Landis
Up next in the Jesse Eisenberg/Kristen Stewart trifecta is this charming little action movie about Mike, an awkward curly-haired white boy stoner with a way-too-good-for-him girlfriend. But Mike turns out to be a secret agent who's been de-activated! But then he's re-activated by Tami Taylor when the government decides it's time to kill him! It's sort of dumb but also really fun!! Tony Hale is always a good time.
12. Camp X-Ray (2014)
Directed & Written by: Peter Sattler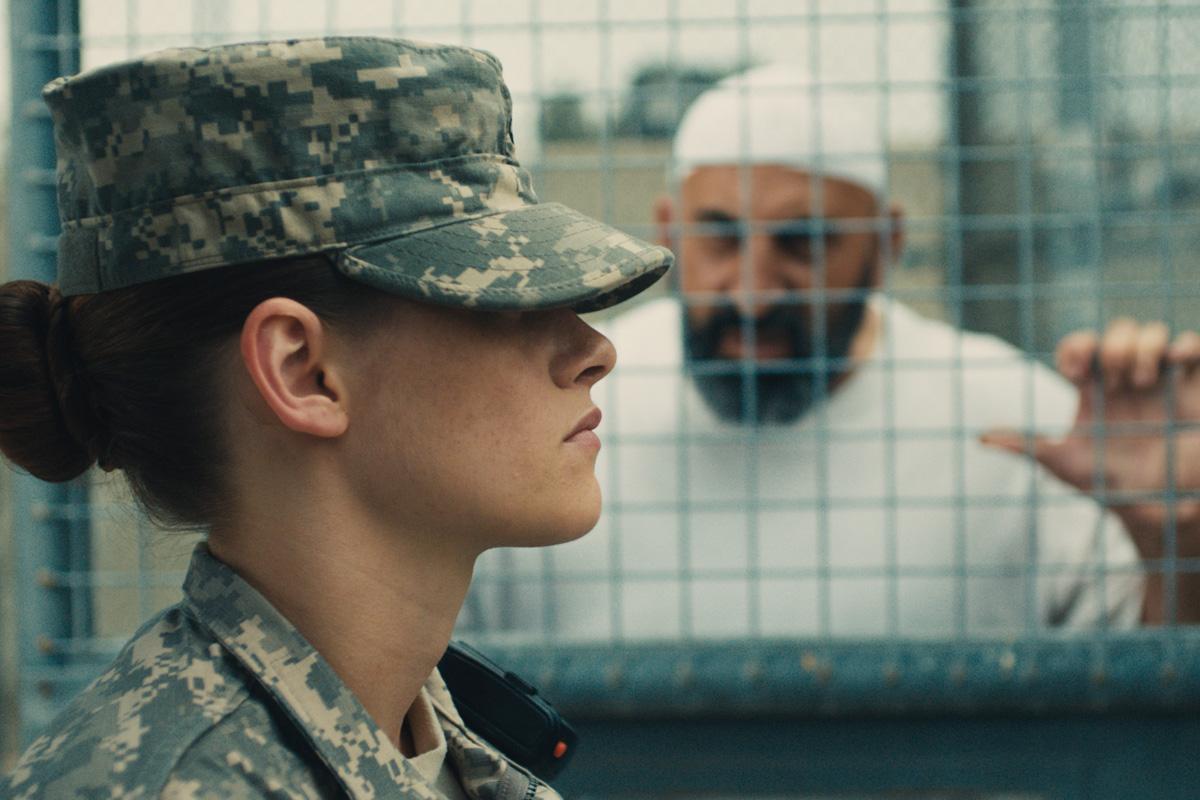 Kristen Stewart is Private Cole, a guard at Guantanamo Bay who connects with Ali, a detainee her comrades have routinely dismissed (Peyman Moaadi). I often felt like I was just watching a black-box play starring Stewart and Moaadi, who had incredible dramatic chemistry. It's dizzying to consider Cole's backstory — enlisting to get out of her small town, only to be flown directly to a small prison — and I wish there'd been more to chew on from Ali's. Mostly it kept nagging at me; this sense we were supposed to see Cole's eventual kindness towards Ali as angelic rather than what it really was — human.
11. Twilight (2008)
Directed by: Catherine Hardwicke
Written by: Stephanie Meyer and Melissa Rosenberg
This film has everything: a plot, characters, special effects, vampires, high schools, apples, baseball, a Mormon agenda, a place on a list of Kristen Stewart movies. What's not to love?!
10. Personal Shopper (2016)
Written & Directed by: Olivier Assayas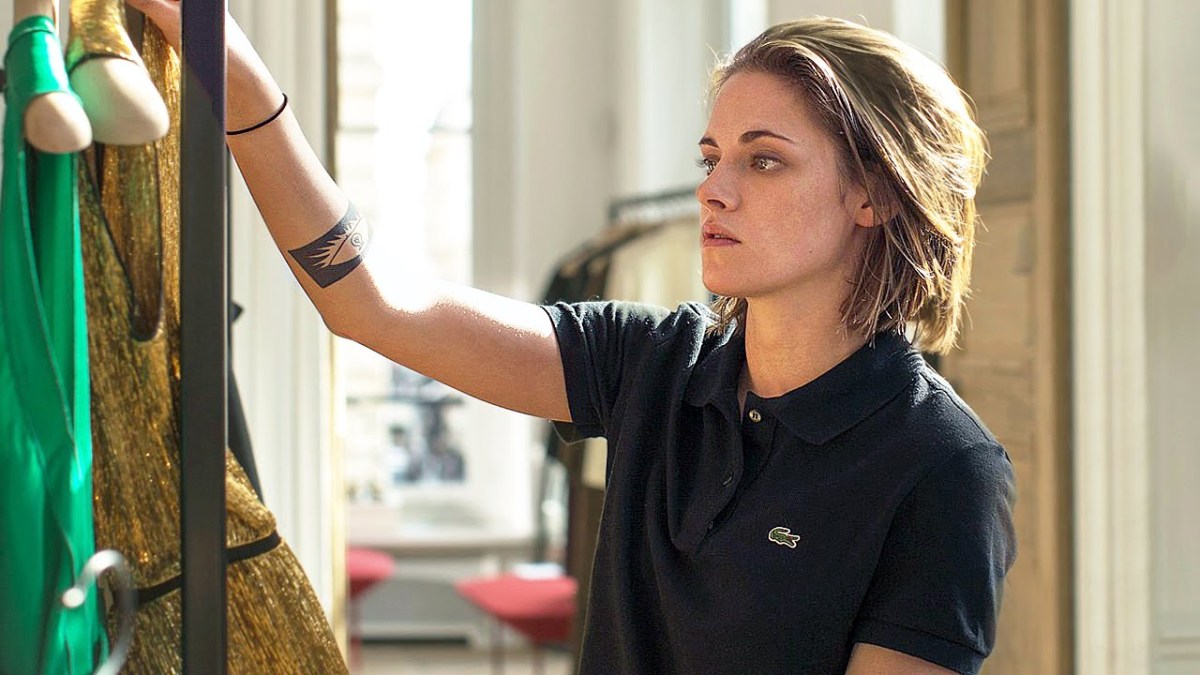 Stewart considers this and her other film with Assayas (Clouds of Sils Maria) to be on a very small list of work she's proud of, and it is indeed critically acclaimed and beloved by smart film people. Alas I am not a smart film person. I know this movie is better than the other movies on this list, I was just um, a wee bit bored??!
9. Adventureland (2009)
Written & Directed by: Greg Mottola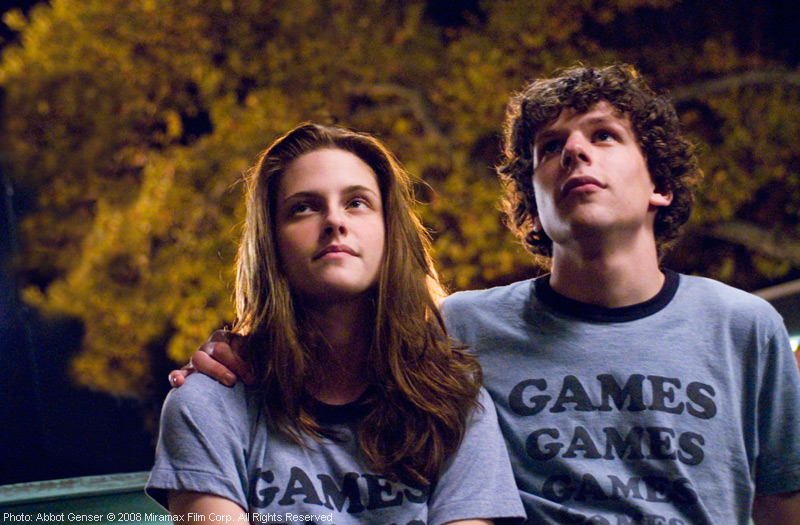 James is forced to spend his summer after graduating high school — class of 87! — working at a local carnival that serves as the small bond for a number of big fish to execute small pockets of power in this cold world. Adventureland is a fun watch teeming with comedic talent  and once again we find Kristen Stewart, she of effervescent complicated summer sexuality, falling incomprehensibly for a misunderstood weirdo.
8. Still Alice (2014)
Directed By: Richard Glatzer, Wash Westmoreland
Written by: Lisa Genova and Wash Westmoreland
Julianne Moore is Alice, a linguistics professor with three grown children, including an aspiring actress and passionate diarist played marvelously by Kristen Stewart. After losing track of her words while teaching, Alice is diagnosed with early onset Alzheimers and her family must learn to navigate this new reality.
7. The Runaways (2010)
Written & Directed by: Floria Sigismondi
Kristen Stewart as badass, gritty, determined, iconic punk rocker Joan Jett was a blessing in a year short on female-focused stories. The Runaways has the energy of its music and of its era, shifting from eroticized full-volume aggression to grainy, SoCal, sun-bleached, drug-addled dreams. Afterwards you wanna straddle a girl with smoky eye makeup and start a band. Never before or since has Stewart played a role with such intense lesbian top energy and the film crackles with nonstop sexual tension. Knowing now what wasn't quite as known back then, however, it's difficult not to lament its relatively gentle treatment of Kim Fowley, a serial rapist and child predator who passed off abuse as artistic genius.
6. Happiest Season (2020)
Directed by: Clea Duvall
Written by: Mary Holland & Clea Duvall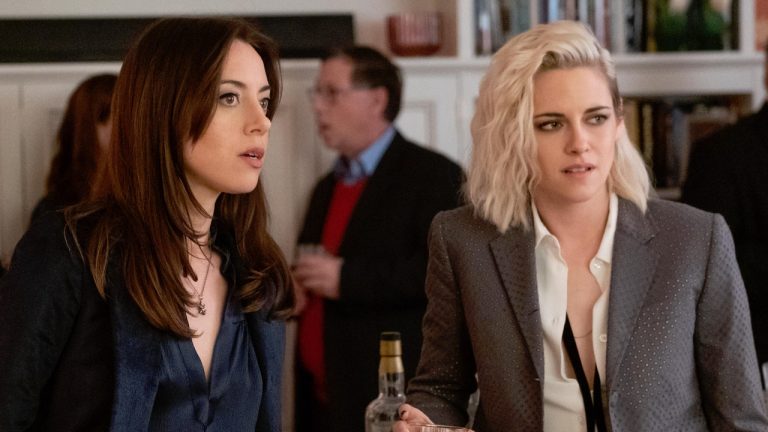 So much went wrong here — an implausible and sociopathic premise passed off like a wink/smile, the tap water level chemistry between the romantic leads — but it packed in so much delight, too! Some very winning jokes, a cast you'd love to play Scattegories with, Christmas cheer and Jane's novels and Harper's suit at the party and Aubrey Plaza's sulky-smart ex-girlfriend and the Mom with her iPad. I loved it!
5. Clouds of Sils Maria (2014)
Written & Directed by: Olivier Assaysas
A bounty of talent and European accents descend upon the Swiss Alps and so does Kristen Stewart wearing glasses and tugging on her shirtsleeves. Like Personal Shopper, my occasional boredom during this objectively excellent film made me doubt the power of my own artistic intellect. I liked it much better on a rewatch, because when I viewed it in the cinema I was suffering from crushing guilt over having chosen it for Date Night without realizing it was 2+ hours long and that there was no actual lesbianism in the film, only a play about lesbianism that everybody is rehearsing all the time.
Anyhow. Stewart is Valentine, the assistant to Juliette Binoche's Maria, who's unveiled resentment of The Youths and Their Superhero Movies comes squealing out of her eyeballs when she's asked to join the cast of the play that made her famous, but in a new role. Scandal-ridden actress Jo-Ann (Chloë Grace Moretz) will play Maria's original role, Sigrid, a beautiful younger woman who dupes and ditches Helena, an older lesbian who Maria will be playing in the revival.
There's a lot of intense and delightful verbal sparring between Valentine and Maria, who spend nearly all their time together. Also the clouds and mountains are beautiful.
4. Panic Room (2002)
Directed by: David Fincher
Written by: David Koepp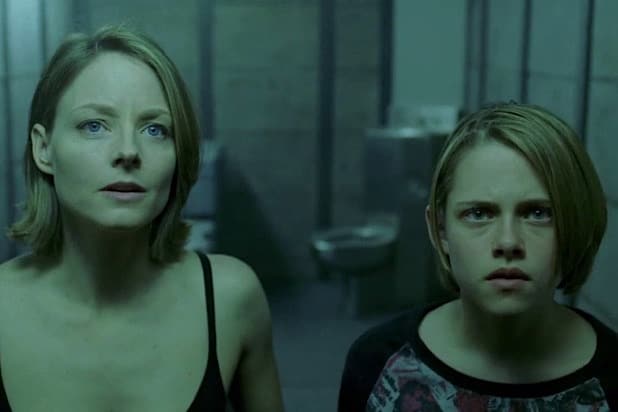 A highly competent thriller that brings two lesbian icons together, trapped inside a tiny room, bombarded by men looking for wealth under a capitalist heteropatriarchy. I was on the edge of my seat for this must-watch Kristen Stewart movie!
3. The Safety of Objects (2001)
Written & Directed by: Rose Troche
This was my first ever Kristen Stewart movie. The first time I saw her do anything at all, she was playing Sam, an 11-year-old girl who passed as a boy in The Safety of Objects. The film, directed and written by lesbian icon Rose Troche, was based on bisexual author A.M. Homes's short story collection by the same name. I was drawn to Sam, relating intensely to what I ultimately perceived as an ambivalence towards how others perceived her gender but also a deep aversion to wearing a dress. I didn't realize Sam was "the girl from Twilightwp_postsuntil much later. But I love all the weird people in this film, all the outsider stories lurking behind a neat suburban veneer.
2. Certain Women (2016)
Directed by: Kelly Reichardt
Written by: Kelly Reichardt and Maile Meloy
This film is so quiet and empty and full, and about Montana as much as it is about any of the people who live there. Stewart plays a law student who forms an (in my opinion homosexual) bond with a rancher in the town where she's teaching "School Law" and she doesn't say much, but she accomplishes so much here with her small patches of time. Everybody is so lonely even around other people, all these women giving more to life than it'll ever give back.
1. Spencer (2021)
Directed by: Pablo Larrain
Written by: Steven Knight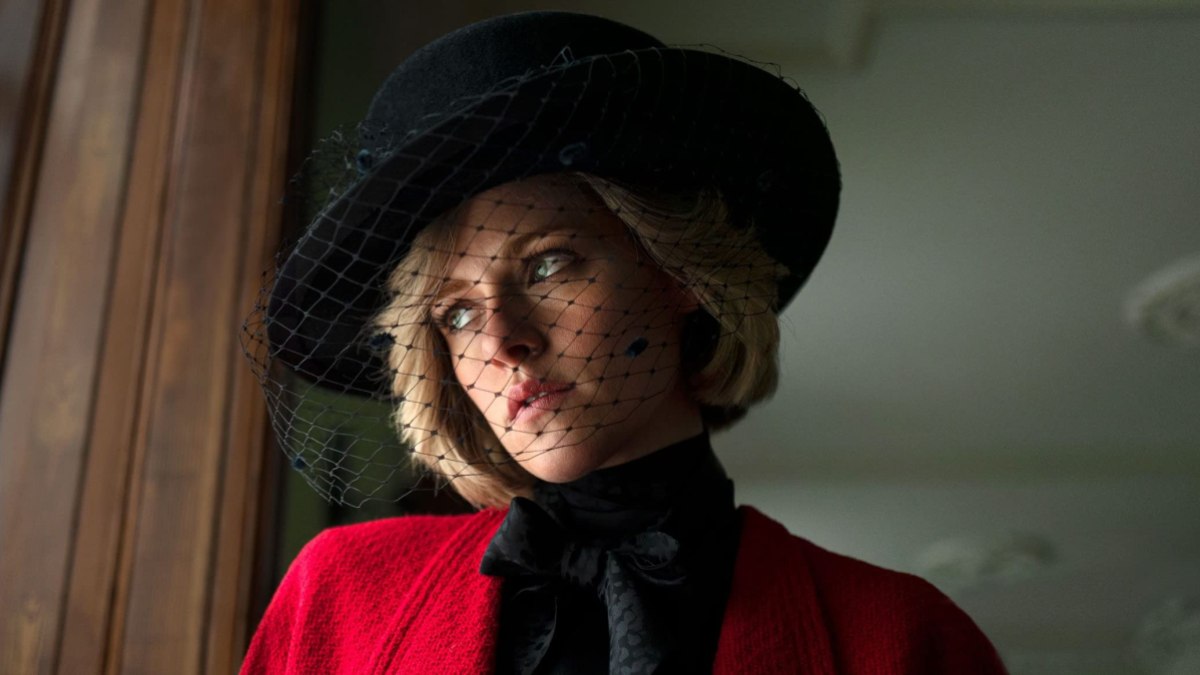 Undoubtedly her best performance and her first to inspire Oscar buzz, Stewart's Diana is gorgeously nervous, manic, unsettled, haunted. The script isn't perfect — managing to dull down a wildly intriguing truth and lack narrative momentum — but it is so lovely and tragic to witness! The fashions and her face and the castles and her children racing to keep up with their beloved mother and the scarecrow and the lesbian in the meadow! I loved it. However I'm confident that the best Kristen Stewart movie has yet to be made!