BISEXUALITY IS FOR THE GIRLS:
In most respects, this Gawker article surpsingly par for the course as far as mainstream writing on bisexuality goes — it seems to confuse "bisexual female" with "bisexual female celebrity."
Thanks in part to our famous bisexual women who are married to men, the world seems to think of bi women as ladies who will venture to the Sapphic side for fun or to please a man.
…bisexuals are basically just straight people who like to get a little funky. Just look at Paquin and Mullally* who are both in monogamous relationships with men. Sure, they might think about a little lady love every once in awhile, but they're basically in the same relationship as every other breeder on the planet. Lady Gaga admits that she's never actually let another woman ride on her disco stick, and her Sapphic proclivities seem to be a way to bind her closer to the gay community that she fights for and that continues to play remixes of every one of her singles at every one of their social gatherings.
Famous women coming out as loving both peen and vag is kind of nice, in a way. It may be a little meaningless, but it's like breaking in the public for hardcore homosexuals.
*Well firstly, Mullally is not bisexual, she has redacted officially!
Secondly, there are plenty of bisexual women out there who don't ascribe to the bisexual-with-a-boyfriend/husband mold embraced by out bisexual celebrities such as Anna Paquin, Angelina Jolie, Megan Fox, Amanda Palmer, Ani DiFranco, Drew Barrymore, Miranda July, Pink and Amber Rose.
A growing number of bisexual female celebrities either have had or are possibly still having relationships with women: Kristanna Loken, Nicol Paone, Nicole Pacent, Sophie B. Hawkins, Lindsay Lohan, Kim Zolciak and, our favorite person ever, Tila Tequila.
But more importantly, there are a number of bisexual women outside of both Hollywood and the music industry who are having relationships with men or women ("following the heart, not the anatomy," as not-actually-bisexual character, Alice Pieszecki, said in The L Word). Imagine that: a world outside of Hollywood! Where things are like, not a big f*cking deal! Wheee!
Howevs, once you look past Gawker's stock photo of two conventionally attractive, skinny, white, blonde women kissing, you'll see that they do take the time to question something which most mainstream media outlets don't — where are all the bisexual men?
As the article points out, Vanessa Carlton just came out as bisexual, joining other pretty famous ladies Anna Paquin, Lady Gaga and Ke$ha, but where are their male counterparts? They must be out there! According to the Kinsey Institute, there are totes bisexual men. All the moderately famous and well-liked male public figures can't be completely straight. Are they just afraid Ramin Setoodeh will write a shitty Newsweek article about them?
Gawker seems to think that, because it's "sort of meaninglesswp_postswhen women like Vanessa Carlton come out, it shouldn't be very daunting for the hypothetical famous bisexual dudes who we assume exist.
It's old data, but here is a handy graph: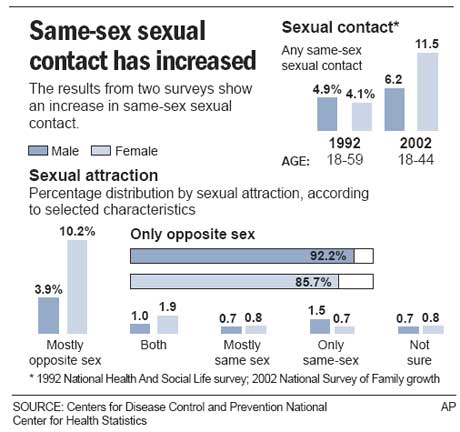 We've discussed this point at Autostraddle, with Riese arguing that, because she feels most everyone is kinda bi, saying it out loud shouldn't be such a big deal.
Gawker's take is a little different, arguing that since Paquin and Carlton are both currently with dudes, they're basically straight. Which is, you know, wrong. But I think the majority of America agrees with them; so probably if John Krasinski or someone came out while dating a lady — is he dating anyone? Probably, I have no idea — it would be no biggie, right? We'd send him a fruit basket and move on with our lives?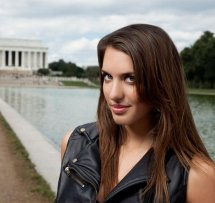 No, actually! That is not true. As Gawker acknowledges, there's a double standard on this issue, but it's a little more complex than just that. Remember the Real World D.C., which you only watched because of cute (bisexual!) Emily? There was also a bisexual dude, Mike. The footage was edited so that a hetero storyline was created for Emily, confirming for the viewers what people like to believe about bi women, that they're "basically straight."
But the footage of Mike hooking up with dudes WAS included in the show, and guess what? Everyone thought he was gay! Everyone! The other cast members, viewers, everyone — regardless of Mike's insistence on his identity.
There actually are bisexual men in the world! In the early '90s, there were quite a few: Kurt Cobain, David Bowie, Billie Joe Armstrong, Dave Navarro and Mick Jagger. Also, bisexuality seems to be historically more common amongst artists, musicians and writers over the years: Sammy Davis Jr, James Dean, Lou Reed, Jack Kerouac, Jim Carroll, Brett Easton Ellis and Neal Cassady.
But yeah, I guess that's not exactly Lady-Gaga-high-profile level. And bad science often perpetuates the idea that all women are bisexual while men are not. So this leads to the commonly-accepted idea that women are somehow more flexible in their sexuality, which is, of course, perpetuated by the media. But the perpetuation itself is a chicken/egg issue. I mean, do we believe that female sexuality is more fluid than male sexuality? Yes. But society has also created a huge double standard with regard to the issue of bisexuality, prompting a perceived difference between male and female sexuality. This issue came up in the Prop 8 trial, too!
To most of the world, man-on-man sex seem scarier than any other type of sex, because it means that at least one man has to be vulnerable, which isn't allowed. It's also different because men have penises, which either get hard or don't, so it's less likely that they'll take experimentation very far if it doesn't excite them, whereas many women are content to rub on the KY for life, while fucking some dude and thinking about chicks.

Basically, the real double standard is that:
1) No matter what a woman says about her sexual identity, it won't be taken seriously because of the patriarchy, especially if the identity she chooses is "debatable,wp_postslike some people view bisexuality.
2) Men aren't allowed any grey area. They're either straight like Rambo, or GAY GAY GAY GAY like the gay emperor of Gaytopia.
Bisexual people quickly get used to the idea that almost no one will take their identity seriously, and I think that the hypothetical bisexual men Gawker is wondering about are included in this. Who can blame them, really? Maybe there are dudes out there who really would be willing to come out as bisexual for the cause, but because society would twist it into them coming out as gay, they're just going to sit this one out until America has grown up enough to understand what words mean.
If Gawker is right that bisexual people are "queer training wheelswp_postsfor a country that's still uncomfortable with same-sex attraction, it might take a few more Vanessa Carltons and Lady Gagas before we're ready to wrap our heads around identities that don't fit into the cookie cutters we've been using all this time. Also maybe a few less articles with skinny blonde white women kissing. Just saying.