The last Christmas I was in the closet, I came home from a full day of managing complicated family dynamics at multiple gatherings — broke, exhausted, and lonelier than I'd ever felt in my entire life. I stood in front of my shelf of go-to movies for when I was feeling blue, and it just intensified my sadness. Love, Actually. Bridget Jones's Diary. Love and Basketball. You've Got Mail. The Last Holiday. The American President. I was never going to find love like that because I was never going to be able to tell anyone I loved women. I crawled under my covers, put on my most well-worn holiday DVD, and fell asleep listening to Thurl Ravenscroft croon about "Your heart's an empty hole, your brain is full of spiders, you've got garlic in your soul, Mr. Grrr-inch!"
I hadn't thought about that night in a good long time, but Clea DuVall's new queer holiday rom-com, Happiest Season, brought back that memory and kicked my heart in the teeth with those feelings like they happened last weekend.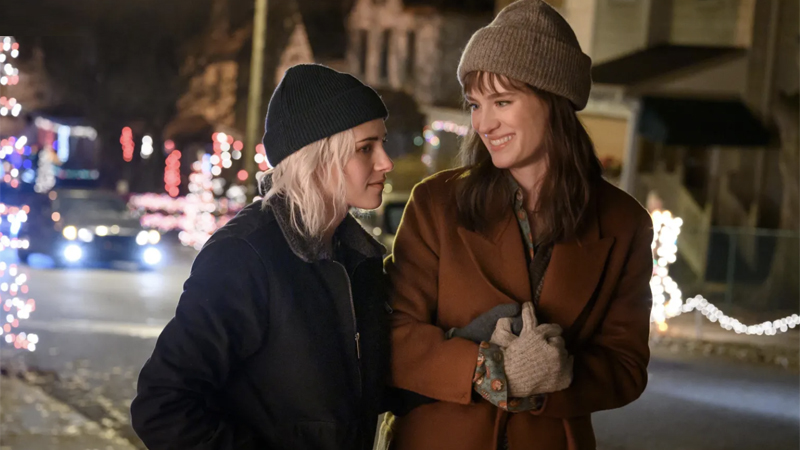 Happiest Season is the story of Abby, played by Kristen Stewart, and Harper, played by Mackenzie Davis, an exquisitely happy lesbian couple on the cusp of engagement who find themselves at home with Harper's family for Christmas, kind of by accident. Abby hates Christmas, and has since her parents died when she was 19. Harper loves it, and so do her mom and dad, played by Mary Steenburgen and Victor Garber. Harper wants Abby to love Christmas too, but her pitch for the holiday is not great. She stops the car on the side of the road on the way to her parents' and confesses that she's never come out to them, that she told them Abby was her roommate, and that she wants Abby to lie about being straight too. At first Abby wants to go home, but it's just five days, and she's very in love, and so she agrees to Harper's desperate and truly terrible plan.
With a set-up like that what you probably expect next is hijinks. And yes, there's silliness afoot, and plenty of hilarity, and at one point I actually had to pause the movie because I couldn't hear the dialogue over myself cackling — but Clea DuVall manages a real Christmas miracle in Happiest Season by capturing the distinctly queer and quietly heart-wrenching experience of not being able to share your real self with the people you love most, when all you want to do is shout from the tallest chimney in town that you've found your person, that you're in love. Harper is torn between preserving the image her family has of her and the needs of her girlfriend, and over the course of the film it becomes apparent to both her and Abby that she'll never be able to attend to that second thing as long as she's tethered to her family's expectations. But she truly does not know how to extricate herself.
For Happiest Season to work, Abby and Harper's relationship has to feel worth it. It has to feel lived-in and grounded, sexy and familiar, comfortable and settled; and it does. Stewart and Davis have easy, sparkling chemistry, and, frankly, Abby gazes at Harper with such intense and prolonged desire and affection, she gives Marianne and Héloïse some real competition in 2020's Gayest Staring Contest. The reason Abby and Harper have to feel so real is that Clea DuVall and her co-writer Mary Holland push their relationship right to the edge. If Abby was your best friend, you'd be in your car on your way to Pittsburgh to rescue her; and if Harper was your best friend, well, she'd be so embarrassed she wouldn't be telling you what she was doing.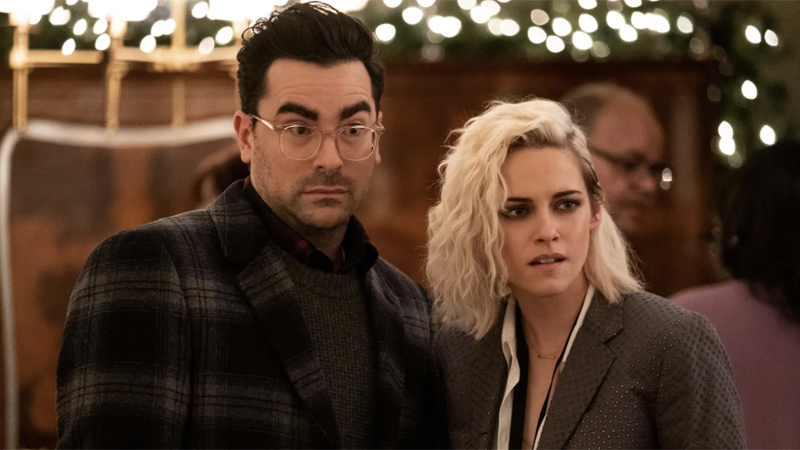 Let me linger, like Abby's lesbian ogling, on best friends for a second. One of my main complaints about queer movies and TV is always: Where are the queer best friends? Even in films and series with gay leads, everyone else is usually straight, straight, straight. And fine, the world is full of straight people, but there are just some experiences that do not translate. What Abby and Harper are going through, as individuals and as a couple, are singularly queer situations, on multiple levels. And so DuVall and Holland made the brilliant decision to cast scene-stealers Dan Levy and Aubrey Plaza in the roles of queer friends. Happiest Season would not succeed without them. They provide some of the biggest laughs and some of the most needed comfort and reality checks to both characters.
Harper's family, too, is perfectly cast. Mary Steenburgen, in particular, is both a hoot and a dagger. Alison Brie and Mary Holland play Harper's sisters. Brie is Sloane, the oldest and formerly most overachieving sister. And Holland is Jane, the breakout star of the film, the overlooked nerd who just wants to fit in. Harper, it turns out, isn't just in the closet because she's scared; she's in the closet because her Instagram perfect family is a tangled mess of dysfunctional dynamics that all need therapy.
I'm not sure I've ever felt anything on-screen as deeply as Harper sobbing to Abby, "I know that's messed up, but they're my family!"
One of the reasons we return to our favorite Christmas films over and over is because the formula is familiar, the tension is manageable, and a happy ending is assured. If Joan Didion was right — and I think she was — that we tell stories in order to live, it's no surprise that we tell the brightest, most cheerful, most hopeful stories we can think of in the coldest, darkest time of the year. Happiest Season succeeds as a Christmas movie because it hits all those beats we've come to rely on to infuse us with seasonal spirit and guide us through the frigid days. And it succeeds as a lesbian movie because it's gay in a deep and irrefutable way, and when you queer a formula, it subverts a genre.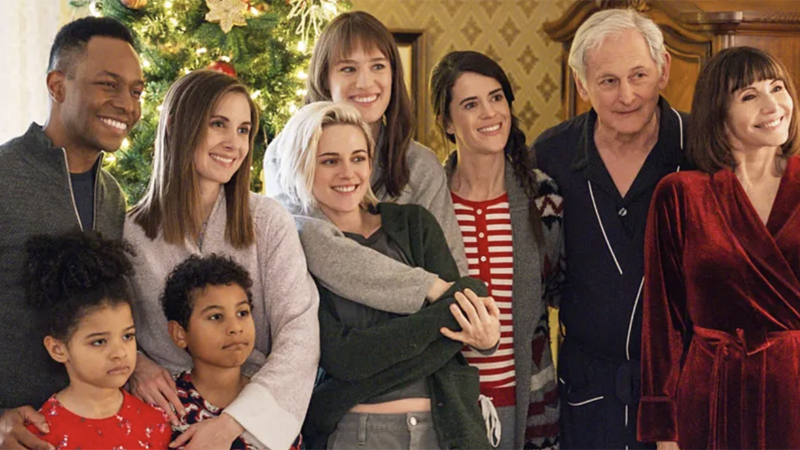 The film is not without its misses, including, of course, that it's very white both on-screen and behind-the-scenes, something Kayla noted about DuVall's 2016 film, The Intervention. And I think, to be honest with you, there are things that might hit too hard and close to wounds that aren't yet healed for some queer viewers, or might seem completely outrageous to people who didn't come from towns like Harper's, like mine.
When I came out, my grandparents had the hardest time with it, my grandmother especially. She didn't understand it. She couldn't even talk about it. For a very long time, even after I said it out loud to them, if I wanted to be close with my family — and I needed my family — I had to not talk about the gay part of myself, which was suffocating because being gay informs everything I do and everything I am. But my grandma kept working on it. And I kept working on her.
A few years ago, for Christmas, she sent me a photo album of me and my sister growing up. At the duck pond, at the beach, at the middle school dance, at college graduation, me and my sister side-by-side. Near the end, my sister got married and had a baby who grew into a pre-teen, and I came out and traveled around the world and moved to New York City. I wondered, as I neared the back cover, how it would end, and I let out a little choke-sob when I flipped to the final page, and on one side was my sister and her husband and son, and on the other side was me and my girlfriend (now-wife). I was 38 and it was the first time my grandmother had ever acknowledged Stacy not just as a part of my life, but as a part of our family. It's the best gift anyone's ever given me.
Happiest Season won't be for everyone, but there are gays in this world hiding under the bed like Kevin MacAllister in Home Alone who will watch this movie and run out into the snow like he did, and yell out into the night, "I'm not afraid anymore! You hear me? I'm not afraid!" And there are gays like me who haven't been afraid for a long time, but still crave the warmth of a familiar love story on a cold winter night.
---
Happiest Season lands on Hulu on November 25th.