Somewhere else in Sultry Los Angeles, Whitney and Sara are participating in Haviland Stillwell's favorite hobby – making a vision board.
Whitney: "The funny thing is that Sara's like a wild child, but she's also like obsessed with self-improvement things, if it involves patchouli, Nag Champa, some kind of om sound, she's down with it."
That? Right there. Was the actual Academy-Award winning moment. That's when you see that Whitney loves her. There's a distinct affection in her voice, the kind your girlfriend gets when she talks about the not-cute things you do as being super-cute, 'cause she loves you.
I mean, not to sound like my writing teacher, but DETAILS, Ilene, DETAILS. Details make people exist. Like Sarahara being into new age shit! Not these pointless plots, endless abstractions and ambiguous feelings without anything to really hold on to underneath the veneer.
We're well into Episode Two and I've yet to hear what Amanda does for a living or even as a hobby. I'm still not sure what Cori or Kacy do when they're not talking about babies. I don't know anybody's favorite color. Like the Patron Saintress Marissa once said in reference to Sajdah being so serious so soon with Chanel, but actually describing everybody on this entire show:
Marissa: "Support me? Protect me? I don't even know your favorite color! I don't even know if you like night or day!"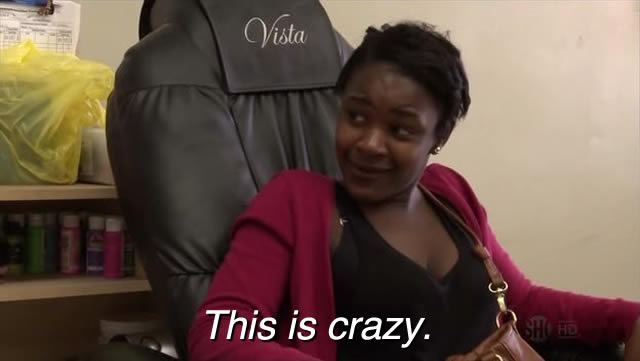 Just saying. Show, don't tell, Ilene.


Back in Charlotte somewhere else along the space/time continuum, Kiyomi and Laura are sitting on some barrels in an alley, lamenting their lackluster performance which they blame mostly on Somer, which's wacky 'cause you know, it wasn't Somer who made you too late for her to find out her shit got broken before the show, BRO.
Kiyomi: "I do wanna get her stuff fixed, but I also feel like, in the middle of a set, if shit is not working, you shouldn't be running, it's just like — it's a distraction — I'm disappointed in me and us. I'm disappointed in us."
Laura: "We really sucked."
Kiyomi: "Everything was terrible… it was the worst show that I've ever played in my life."
Somer's keyboard was in tip-top shape back in the city and yesterday, but now it's completely fucking broken. Laura says Hunter Valentine can't afford to replace it, so everybody's just gonna make mean faces at each other until their heads explode and puppies take over the universe!
Laura: "As much as you don't have money, we really don't have any. We're tapped out."
Somer interviews that they're supposed to be a family here, and she thought that'd be more of a like, band or team type-family and less of like, the kind of family where everyone is related and mean to each other and doesn't want to give anyone else their money.
Somer: "I can't not only not be working, and not be with my wife, and have all the things that I've worked my whole life to buy and pay for and build up to musically, be broken, I can't sacrifice all this for the band and be on tour and come back with nothing."

Back at Lamanda, Britenelle and Amanda head out back to haul in the wet mattress so they can splosh around on it all night. Britenelle says Lauren's gotta help 'cause she's wearing a fur vest, or something.
Britenelle experiences a conflict between this task and her gender identity:
Britenelle: "Grab your end, I'm not gonna carry this like a bulldyke. Lauren, get your fucking ass–"
They accidentally drag the mattress in dogshit and it smells. So, this is a television show. Then Amanda and Britenelle go have sex and Lauren sits down for a chat with the camera people:
Lauren: "Tonight it was just like the two of them hanging out all night, it was just like, what are you doing, you're turning this into a relationship. That's what it seems like to me."
Then Amanda and Britenelle have loud sex. Like extra loud sex. So.

Elsewhere on another level of karma ozone energy healer aura sparklepony wellness is The Healing Energy Party, starring Whitney as a wise wiccan yenta shapeshifter and Sarahahra as a dashing unsuspecting lesbian maiden.
Sara: "I'm really excited about going to this energy healing thing. I feel like we could use this for our own personal growth and it could be really good."
Whitney interviews that Sarahahara has NO IDEA that Whit's only moments away from popping the question on National Television, just like in The Bachelor. Whitney is both nervous and confident.
g-chat [during the show]
me: um, whitney is my favorite character on this show now?
she's like the only person whose head isn't up her ass
Laneia: 10:39 7/19/12
write that down
me: you have to write it down
are you writing it down
Laneia: done
me: "the words 'cold feet' exist for a reason" – whitney
1. to describe temperature
2. to describe the things you walk on
2 reasons
whitney
TWO REASONS
More importantly, Scarlett's there!

Somewhere out there in maybe Long Beach, Romi and Jay are eating and Romi's discussing how Jay works all the time but she sends him naked pictures and also wants to cuddle and also misses him, and he likes her boobs.
Romi: "The thing that really keeps me and Jay together is our sense of humor. You know he makes me laugh harder than anybody but… there's gotta be more."
Romi's lonely and wants to have pretty parties and love and sex and cracker jacks and sunbeams all the time, just fuck fuck fuck and love love love etc etc and Jay can't! He has to WORK, Romi. Jeez. If you want a partner who doesn't work, get back together with Kelsey. HEY-O!!


Back at The Energy Healing Party, Whitney's poor friends are forced to stand in front of the group and read extended fortune cookies — I mean, "affirmations," out loud to each other — and Sahara's eating it up.
So Whitney opens her envelope and reads something about big changes or rocket science or something, and then it's Sahara's turn, but obvs her envelope is a PLANT.
Sara: [reading] "Turn and face the person you hold most dear and open your heart."

Whitney steps forward — gets down on one knee —

Whitney: "Baby I love you a lot and I've known since the first time I saw you. Will you marry me?"
Sara: Is this real?
UM DUH WHERE THE FUCK DO YOU THINK WE ARE. IT'S THE REAL FUCKING L WORD, WOMAN. IT DOESN'T GET MUCH REALER THAN THIS.
THE END!
I cried! I yawned! I wouldn't know if it was better than Cats because I've not seen Cats. Here's Cats:
Here's Whitney and Sara again:
Whitney & Sarahara are already married at this point in the real world, so get your bridesmaids dresses ready!
So, thoughts? Better/worse than Cats?

Pages: 1 2 3 See entire article on one page