Friends, today we are gathered to examine the vast Vapid Fluff history of legendary queer songstress Demi Lovato. For many years, fans wondered, "Is Demi Lovato bisexual?" "Is Demi Lovato pansexual?" "What is Demi Lovato's whole deal?" Her bisexual anthem "Cool for the Summer" established her as a queer legend long before she was comfortable answering questions about her sexual orientation in the media.
Eventually, Demi Lovato did come around and become a proudly outspoken advocate who is open about being attracted to women as well as men. And then, Demi Lovato came out as pansexual. She's yet to publicly discuss any specific girlfriends, however, which gives us lots of room to speculate every time she is seen in the remote proximity of a queer woman. She has also been very visible as someone who's struggled with substance abuse, eating disorders and mental health, and I for one appreciate her candor every single chance I get.
Recently we have begun archiving the Vapid Fluff content that's existed at Autostraddle since this department's birth in 2013, and this is the first celebrity-specific roundup we've put together. It is truly wild to examine how far we've come. Today, we'll celebrate every single time Demi hinted that she was considering possibly toying with the idea of saying she might want to kiss a girl. This post about Demi Lovato coming out as pansexual was originally published in October 2020 and has been updated 2021.
---
Before Vapid Fluff was born, Selena Gomez and Demi Lovato were just a pair of freewheeling Disney kids who maybe possibly dated at some point? Very unclear, but the rumors have always been there and we would be remiss to exclude them from this roundup. She also dated Miley Cyrus' weird older brother and Joe Jonas.
August 29, 2013 – Demi Lovato is announced as a potential love interest for Santana on Glee, portraying a New York-based artist named Dani.
October 3, 2013 – Lovato makes her debut in Glee in the episode "Tina in the Sky With Diamonds." Her final episode airs in March 2014.
October 7, 2013 – Orange is the New Black actress Ruby Rose claims via Instagram to have engaged in acts of a sexual nature with Demi. Later, Rose insists the pair engaged in a two-year relationship during a break between Lovato and her longterm on-again off-again boyfriend and bisexual gateway drug Wilmer Valderrama. The timing of this revelation is sort of suspect, and there is no response from the Lovato camp. She continues to release music and skincare lines and pictures of herself kissing Valderrama for much of 2014.
March 5, 2014 – Demi Lovato gets an undershave.
March 26, 2014 – Demi films part of the music video for "Really Don't Care" at LA pride. Many years later, in 2021, she will describe the moment as such:
"I think time is everything," she says. "The queerness in me was, like, ready to explode when I filmed the music video at Pride. I was so ready to be an activist. And then people would ask me, 'Why are you so passionate about this?' And I would clam up, like…" She shakes her head again. "When I watch that video, to this day, there's a part of me that kind of cringes. I wanted so badly to be the person that I am today. I just wanted to find out who I was."
April 7, 2015 – Demi Lovato has her accidentally extremely vaginal-looking tattoo covered with a rose. Just saying.
April 29, 2015 – The original artist whose work was covered up publicly feuds with Demi, who does not seem to care very much.
July 1, 2015 – "Cool For The Summer," the lead single from Demi Lovato's fifth studio album, is released. With lyrics teasing bisexual curiosity and a smokin' hot music video, the song quickly grips the attention of everyone at Vapid Fluff HQ, many of whom had not noticed how attractive Demi Lovato is prior to this moment. Wild speculation about Lovato's sexuality reaches a fever pitch.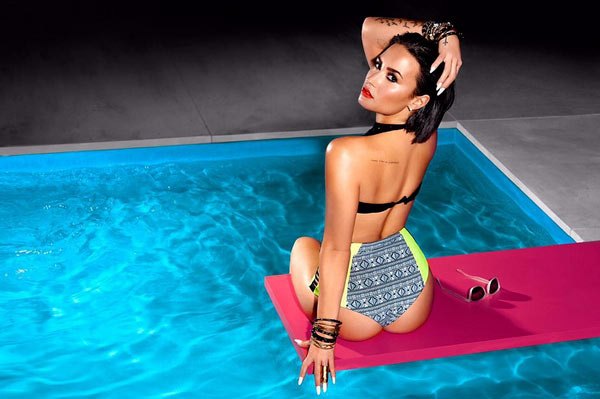 September 15, 2015 – We are told that Demi is just "young and having fun," shying away from any actual confirmation of Demi Lovato being bisexual. "I'm not confirming and I'm definitely not denying," she explained. "All of my songs are based off of personal experiences. I don't think there's anything wrong with experimentation at all." Demi, you are no help at all.
October 1, 2015 – On second thought, Demi Lovato announces that "love is fluid," and says of Ruby Rose, "Rumors are rumors.. and people are going to spread them. You can believe what you want, but no, I was not in a relationship with her."
June 8, 2016 – Lovato continues to play it coy, telling People magazine that regarding sexuality, "It's something I don't think needs to have a label: As humans, It's just about a connection with someone." She breaks up with Wilmer Valderrama and spends a lot of 2016 touring with Nick Jonas.
August 26, 2016 – A source confirms that Demi and UFC Fighter Luke Rockhold have gone on a few dates.
January 3, 2017 – TMZ reports that Lovato and Rockhold have split, and that Demi is now dating a different athlete – Guilherme "Bomba" Vasconcelos, a Brazilian welterweight.
July 16, 2017 – News breaks that Demi is now not dating that guy either, paving the way for….
September 11, 2017 – Demi Lovato is seen holding hands with DJ Lauren Abedini (aka DJ Kittens) at Disneyland, hardly a casual first date spot. Tongues wag, rumors fly. Not much comes of it, but we have some suggestions she might like to try just in case.
HQ 😉😉 pic.twitter.com/diqJcf2mTg

— ADC / Boom Out Heda (@HedaLexa888) September 11, 2017
October 16, 2017  – In anticipation of the release of her documentary, Demi tells Entertainment Tonight that she's single, perusing dating apps, and open to dating women. When pressed about how and when she decided to search for a human connection instead of gender-specific attraction, Lovato answers, "That's how I've always felt."
October 17, 2017 – "Simply Complicated," Demi Lovato's auto-biographical documentary comes out and includes thoughtful interviews about her struggles with drug abuse, her challenges in her career and of course her bisexuality. Lovato doesn't really offer much new information about the latter, but does insist that "Cool For The Summer" was not her cashing in on a trend; she truly does love dating men and women and always has.
January 1, 2018 – Obviously Demi Lovato rings in 2018 by planting a big ol kiss on Jojo Gomez. Kissing girls on stage turns out to be a thing she loves doing.
January 16, 2018 – A proudly single Demi Lovato goes on Ellen and plays "Who'd You Rather?" and it all comes down to… exactly who you hoped it would.
March 14, 2018 – Demi Lovato continues her incredible streak of kissing girls on stage.
April 2, 2018 – Demi kisses and straddles Kehlani on stage, just as we all would in her position. Demi Lovato is growing into a role model for me personally.
June 21, 2018 – Demi touches tongues with her female backup dancer. She also releases her single "Sober" and reveals that she's been sober for six years (we learn later in her film "Dancing with the Devil" that this claim has not been true for some time).
July 24, 2018 – Not quite a month after her six-year sober anniversary, Demi overdoses and nearly dies, which is a very serious situation and thus falls outside the Vapid Fluff oeuvre.
December 29, 2018 – Demi's boyfriend (fashion designer Henry Levy) uploads a video of them kissing, I guess.  They split in March 2019.
September 14, 2019 – Demi is rumored to have gone on a date with Bachelorette contestant Mike Johnson.
November 13, 2019 – Now she's dating this model guy! Lovato dates Austin Wilson for like… a month.
January 31, 2020 – Demi opens up about how she told her parents about her bisexuality. She says, "I'm still figuring [my sexuality] out… I didn't officially tell my parents that I saw myself ending up possibly with a woman until 2017. It was actually emotional, but really beautiful. After everything was done, I was like shaking and crying. I just felt overwhelmed. I have such incredible parents. They were so supportive."
March 6, 2020 – Demi goes back on Ellen to tell her she just wants to make out with Rihanna, like all of us.
March 19, 2020 – Miley Cyrus, who's pansexual, gets Demi lovato on the ol' IG Live to discuss how incredibly gay they were in the Disney days, alludes to some back story, shares in the ensuing giggles.
July 23, 2020 – Demi announces her engagement to Young and the Restless star Max Ehrich, her boyfriend of four months.
September 30, 2020 – "Still Have Me," a song about her breakup with Max Ehrich, is released.
October 10, 2020 – On this blessed date, we learned that just like every other woman alive at that time, Demi Lovato realized she was bisexual while watching Cruel Intentions. "It was definitely when I was young and definitely should not have been watching Cruel Intentions but did, and it was that scene where they made out on the park lawn. I was just like, 'Oh wait a minute, I really like that, I want to try it….' And then when I was 17, I did get down with that."
October 12, 2020 – Demi is reported to be having "issues" after her ex summons the paparazzi to photograph him crying at the beach where he proposed. This man is a lesbian. This is an ex-girlfriend move invented and perfected by me.
max ehrich dramatically crying on the beach to everytime by britney spears pic.twitter.com/6Tf9s0ln1d

— Britney Fan 🌹 (@BritneyHiatus) October 11, 2020
October 14, 2020 – After performing her song "Commander in Chief" at the Billboard Music Awards, some fans attacked Demi for  the political nature of the song, which directly criticizes President Trump. As one fan wrote, "I hope you realize this makes people that don't have the same political views feel like they can't listen to you anymore. We could care less what you post about politics but this song is going [too] far…I really hope this doesn't ruin your career."
Lovato responded by posting the comment in her Instagram stories and noted, "You do understand as a celebrity, I have a right to political views as well? Or did you forget that we aren't just around to entertain people for our entire lives … that we are citizens of the same country and we are humans with opinions as well?" she wrote. "I literally don't care if this ruins my career … I made a piece of art that stands for something I believe in. And I'm putting it out even at the risk of losing fans. I take integrity in my work over sales any day. As much as I would like to be sad that I disappointed you, I'm too busy being bummed that you expect me, a queer Hispanic woman, to silence my views/beliefs in order to please my audience."
In short, I love Demi Lovato.
January 21, 2021 – Demi Lovato sings a cover of Bill Withers' "Lovely Day" at Joe Biden's inauguration. This has nothing to do with her sexuality, it's just cool.
February 26, 2021 – Demi comes out swinging against gender reveal parties, correctly labeling the archaic and often extremely flammable occasions as transphobic.
March 11, 2021 – In a cover story for Glamour, Demi discusses her queerness with even more candor than she ever has before; she announces that she's feeling "too queer" to date a cis man.
March 17, 2021 – Following the SXSW debut of Demi's new YouTube doc "Dancing with the Devil," TooFab reports on the demise of Demi's previous engagement to Whoever That Man Was. "The video I made earlier wasn't an accurate representation of what I'm going through, so I thought this whole time that I didn't miss him," she reportedly says. "I just miss the person that I started quarantining with. And I don't know how to give my heart to someone after this… Honestly, what happened? I think I rushed into something that I thought was what I was supposed to do. I realized as time went on that I didn't actually know the person that I was engaged to." I don't know who he is either, Demi.
March 23, 2021 – The first two episodes of "Dancing with the Devil" drop and immediately devastate anyone who watches them. She discusses her history of sexual assault and her relapses into disordered eating and substance abuse in great detail and with with grim determination. During the drive-in premiere of the doc, she also performs some acoustic tracks from her new album (by the same name), which later appear on the record's deluxe edition.
March 25, 2021 – In an interview with Entertainment Weekly, Lovato personifies her new album, describing her as such:
"She is — I'm cautious to use the word happy, because no one's ever happy 24/7, but I'm content," says Lovato. "I do have a lot of joy in my life today that has really come from spending so much time with myself. Yeah." Lovato exhales, shakes her head and smiles again. "And — she's also really queer. Really, really queer."
You love to see it!
March 29, 2021 – You ever just… come out as pansexual to Joe Rogan?
A momentous occasion but also, weird choice! When asked about her future plans, Demi Lovato came out as pansexual, telling Rogan, "At this moment I want to adopt [children] for sure. I also don't know if I'm going to end up with a guy, so I can't really see myself even getting pregnant. I don't know. I'm so fluid now, and a part of the reason why I am so fluid is because I was super closeted off." When Rogan asked if Demi Lovato was pansexual, Demi Lovato responded, "Yeah, pansexual. I like anything, really."
She then elaborated, "I heard someone call the LGBTQIA+ community the alphabet mafia… I'm part of the alphabet mafia and proud."
March 20, 2021 – Episode 3 of "Dancing with the Devil" premieres, further detailing the trauma and fallout from Lovato's July 2018 overdose.
April 2, 2021 – Demi releases the video for Sober, in which she recreates the night of her overdose:
Another notable song on the album is "The Kind of Lover I Am," potentially the next Demi Lovato pansexual anthem, which includes lyrics like:
I might not believe in monogamy (Ooh)
The moment I fall, that's it for me (Ooh)
I get obsessed with no jealousy (Ooh)

That's the kind of lover I am (Kind of lover I am)
Doesn't matter, you're a woman or a man
That's the kind of lover I am (La-la-la)
You can safely put your heart in my hands
That's the kind of lover I am (La-la-la)
As she told Apple Music, "I feel like this is the song I'm going to play people if we start dating so they can get a sense of who I am. I'm just an open, free-spirited person who wants to be happy, and I deserve that. Everyone deserves that." I personally cannot wait until Demi plays this song for me.
April 5, 2021 – Are Demi and Noah Cyrus dating? Man I hope not.
April 6, 2021 – Chapter 4 of "Dancing with the Devil" is released, and finally includes the part where Demi addresses her brief engagement to Whoever That Man Was. As she explains, "I feel like I'm actually too queer to marry a man… in my life right now. I'm not willing to put a label on it right this second – I think i will get there – but there's a lot of things i have to do for myself first. I want to allow myself the ability to live my life in the most authentic form possible, which I just haven't done because of my past and some things I've needed to work on."
She also enthusiastically shows off her new house, which she describes as "very gay," and it apparently includes a basement styled after the Netflix television show Ratched (!?!?!). On top of this, this episode includes testimonials about Demi's talent and grit from Elton John, Will Ferrell and Christina Aguilera, the latter of which somehow just seems to make this whole thing even gayer than it already was.  At the end of the episode, Demi is shown cutting her hair short, and she explains that it's a rejection of gender and sexuality norms she had grappled with for years. Demi Lovato Pansexual. We've come a long way, baby.