It's been a while, but I'm still not out of nice things to say about Brittani Nichols. In case you're new around here, Brittani is the writer–rapper-comedian who brought Words With Girls into your life (and TV). B's production credentials include working on You Above All, The Lovely Rejects, Mimic, The Voice, and The Silent Thief, which I learned from her IMDb profile because she has one because she's practically Hollywood royalty. She likes quesadillas and cider, hates hipsters, and is hilarious. Words With Girls premieres tomorrow on Color Creative TV.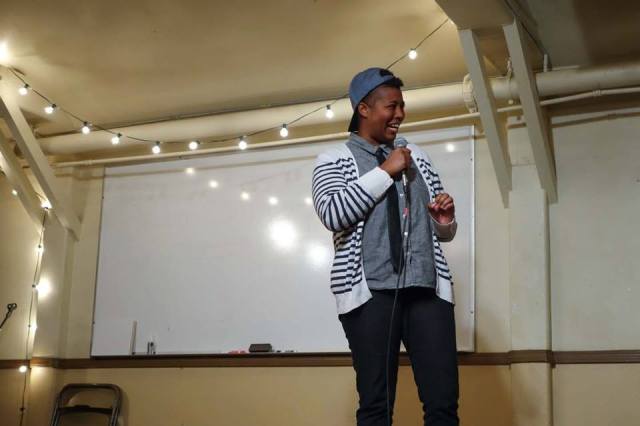 Can I skip to my most important question first? TELL ME HOW WORDS WITH GIRLS GOT BORN FOR TV.
Oh, man. I'm gonna give you the whole backstory. So one of the first PA gigs I ever got was for the audition rounds of The Voice. While working on that, I met someone who knows my aunt and through that connection, met some other people from Chicago. Those people told me about this email group that's for black people in "the industry." That was in 2011. Early this year, an email came through that group saying that some unnamed producer was looking for half-hour comedy scripts. It actually seemed pretty sketchy but I figured harmless and who knows what could come of it. Months later I got an email from this "unnamed producer" who turned out to be Issa Rae and she was looking for scripts for this new initiative called Color Creative TV. Basically I got a pilot made from cold emailing a script. It's insane.
What'd you pack for the premiere? Like literally, I want to know the entire contents of the suitcase you brought to New York City.
I'm not afraid to say that not only do I plan what I'm going to wear every day, I write everything I want to bring with me down to help make sure I don't leave anything. It actually makes packing super quick and easy and my time in whatever city I'm traveling to a lot less anxiety-inducing. Aside from normal stuff like clothes, toiletries, phone stuff, and usual wallet contents, I brought The Iceman Cometh, Season Finale: The Unexpected Rise and Fall of the WB and UPN, a portable phone charger, a small Moleskine notebook Hayley gave to me for my birthday, my favorite pen, a Metro Card, earbuds, gum, and a leather jacket that I didn't end up wearing. The night of the festival's big premiere I wore a hooded shirt with a suit jacket which is a look I really enjoy but there aren't any pictures of me in it because I'm not important, so I avoided trying to make people care about me by skipping most of the red carpet. AND this trip to New York, unlike last time, I had a working laptop. It was a real joy.
I escaped the LA heatwave like some sort of rich white woman

— Brittani Nichols (@BisHilarious) September 17, 2014
Tell me what's inside your dream quesadilla.
The year after my sophomore year in college, I stayed at Yale for the summer and worked as basically an RA. Part of our duties were working in this thing called a buttery which is a late night student run kitchen that serves the junkiest snackiest food in the world. Some of the things we served were dino nuggets and cheese quesadillas and one day, someone had the genius idea to put the dino nuggets INSIDE the quesadilla. It changed my life, that is not an exaggeration. That next year, I lived with my best friend off campus and on a whim, she bought a quesadilla maker and then my life was changed a second time. Time and time again people try to convince me that making it on a stove is better and I have proven every single one of them wrong. A quesadilla maker is quick and cooks the quesadilla evenly and even precuts it! They're only like fifteen bucks! So to answer your question, mexican cheese and dino nuggets. But the dino nuggets are for sure fried and it's made on a quesadilla maker. Serve with grape pop.
The only way I will always love anyone is if they die immediately after bringing me food and even then it'll mostly be out of guilt

— Brittani Nichols (@BisHilarious) May 14, 2014
I'm totally not a TV person, or at least not a TV person who watches relevant TV as the series are unfolding on the regular. You, on the other hand, are roughly a TV expert. If I were you, what shows would I be watching on the regular?
If someone asked me for recs right now this very moment before fall TV kicks in: You're the Worst but make sure you make it to the fourth episode because that's when I started enjoying it. It's by Stephen Falk who wrote for Weeds and Orange is the New Black. This show Rectify which my friend Lauren told me to watch. I've only seen the first season and that's on Netflix right now but it's good. BoJack Horseman is dark and funny and has so many different types of weird humor in them, you will likely enjoy one of them. I breezed through Faking It not too long ago and I find it so goofy, it seems like a really fun show to work on.
CUT TO: ME AT YOUR WEDDING IN SWEATPANTS

— Brittani Nichols (@BisHilarious) April 21, 2014
I downloaded Tig Notaro's "Live" because you told me to. I might have completely loved it. What are some of your favorite comedies or stand-up performances of, say, all time?
Dave Chappelle's stand-up specials Killin' Them Softly and For What It's Worth. I think a lot of people my age had this early onset social awareness due in part to Dave Chappelle. That leads me to Chappelle's Show and The Boondocks, which are these amazing works where they're so smart but still somehow broad enough that people find them funny even though they might be laughing at the most simple version of the joke and missing the statement and observations being made. I like anything where you don't get all of the jokes the first time through or every joke is layered so it's funny in like 3 different ways — I think 30 Rock and Arrested Development are my favorite examples of that. A show that will always be near and dear to my heart is Happy Endings. It wasn't perfect but I think it's the first real example of what I consider post modern comedy. To me it was the sort of humor that really trusts that audiences can be smart and don't have to be spoon fed jokes and opens the door to what can even be considered the "joke" of a scene. Also, Orange is the New Black is groundbreaking and I think we won't even realize how much so until we see the things that come after it and are made possible because of that show.
@bishilarious 
WWG YouTube
WWG Instagram
Color Creative
---
As you probably know by now, comedy and women are about the extent of B's interests. She created Comedy Crush to highlight the work of current comedy writers and/or performers in hopes of encouraging a queer lady following so those comedians pander to us for the rest of their careers, but this week she let me turn the spotlight around on her because she knew it would complete my entire life.