Welcome back to Boobs on Your Tube! Have we talked about how each week Batwoman gets better and better and that the chemistry between Ryan and Sophie keeps getting hotter and hotter, oh we have? Too bad, we aren't letting up yet! Sara got a visit with the one-and-only iconic gay Amelia Earhart on Legends of Tomorrow. Pose celebrated Mother's Day with the history of the greatest Mother of them all, Elektra Abundance Evangelista Wintour! Supergirl is already at its midseason finale and the gays (and everyone else) made one final push to save Kara. Himani felt the second season of Four More Shots Please really missed the mark where it counted, opting for superficial declarations of South Asian feminism instead of putting in the work of substantially addressing gender and sexuality. Meanwhile, Mythic Quest's second season got a gamer girl high score from Valerie. Shelli felt like Shrill's final season gave Fran the queer joy she deserves. And did you hear that Tina Fey's Girls5Eva on Peacock is actually super good and super gay?
Over in the land of film, we're sorry but Heather still cannot believe that Marvel has apparently never heard of bisexuality. The Craft is celebrating its 25th anniversary this month and here's a beautiful reflection on its legacy of queer power.
After two decades, Ellen is ending her talk show, and if you're going to read one thing about it, it should definitely be this, "what Ellen has continued to refuse to understand… [is that] it is not enough to simply publicly wish we could all get along. We can't. Not because we're mean, but because we're arguing about the literal humanity of oppressed people who have suffered — and continue to suffer — endless, compounded violence rooted in white supremacy."
PS: Here's a list of 16 queer fictional readheads you definitely can't handle.
Notes from the TV Team: 
+ The 25th WNBA season starts today! The first game tips off at 7PM (EST) tonight. Also, last night ESPN broadcast its film "144," a documentary that gives unprecedented access to what it was like for WNBA players in last summer's bubble. Be forewarned, though: have those tissues ready. — Natalie
+ It's coming! This week, TV Line confirms our hopes: the new season of The L Word: Generation Q will premiere on Showtime this summer. — Natalie
---
Charmed 311: "Witchful Thinking"
This week on Charmed, the sisters finally got rid of the allergy that was keeping them six feet apart by stealing a magic egg, but they accepted the deal without knowing the cost. So as one by one their dreams start to come true; Mel gets tenure over professors who have been there longer, Maggie gets an internship but the other kid up for it lands in the hospital. Josefina uses a spell (actually, a witchual) meant to activate one's powers, and finds herself able to manipulate nature like Poison Ivy… but at what cost?
As things start to fall to pieces, the girls realize that perhaps it wasn't worth it to risk the safety of the entire population just for the ability to hug again. So they work together to undo the cure, and their allergy is back but at least they're not wreaking havoc on people's lives anymore. And the best news? Josefina's powers are still active. The spell worked to activate her inherent powers, and it had nothing to do with the wish-granting egg.
This is all she really came for, to activate her powers, so now that she's done that, she's going to go home to Puerto Rico and go to school. Also, though she originally was going to steal the Book of Shadows back for her family, instead she sees the good the Charmed ones are doing with it and she decides to leave it with them, with a touch of an upgrade.
I love this journey for Josefina, and I'm glad she got her powers. And I do hope this isn't the last we see of her!
Oh also PS. Bisexual Badass Abigael is having a hard go of it, and no one is paying nearly enough attention to her, so she tried to turn into a human to stop her demon self from literally killing her, and now she's trapped in a prison world of sorts! Luckily Jordan also somehow got sucked in, too, otherwise it's possible no one would have ever saved my poor precious demon bb.
---
Nancy Drew 215: "The Celestial Visitor"
Odette was sadly absent from this week's episode, but we did get paid a visit from another legendary Stratemeyer creation: Tom Swift. Like he is in the books, he's a brilliant inventor with a boatload of futuristic gadgets (one of which has the voice of LeVar Burton), and in a delightful upgrade from the books, he is also Black and gay. Tom and Nancy have a very fun science vs supernatural duality, and in the end they have to work together like a modern day Mulder and Scully to use both to solve the mystery.
Also somewhere in the middle of said mystery, Bess got a little drunk on supernatural smoke and went a little sword-happy which was a cute way for our little queer queen to spend an episode if she couldn't be flirting with her almost-girlfriend via her best friend's body.
After some conversations with Nancy and Nick about code switching and blending for survival, Tom eventually decides to come out publicly in a way even his judgemental dad couldn't ignore. He asks Nick to kiss him for Instagram, and even though Nick is presumably straight, his masculinity is so far from toxic that he agrees without hesitation as long as it's okay with his girlfriend. She points out that they're already blurring the lines of monogamy, what with the lesbian ghost in her body, and it's all very sweet and cute and supportive.
Still a little stressed about the clock ticking down re: Odette but that's a problem for future us.
---
Legacies 312: "I Was Made to Love You"
Hope continues to be obsessed with Landon, and that kid is like an 80s horror movie villain, no matter how many times he goes down, he pops right back up. This week, Hope realizes that the Landon she's been hanging out with is actually a golem Cleo made to cheer her up, to try to convince her to activate her vampire side and make her a fully realized tribrid, a thing no one has mentioned in years but somehow came up three times this week. Cleo is apparently the artifact that Hope needs to open? Cleo definitely is more than she seems, considering when she ran into the ghost of Leonardo DaVinci, the creator of the artifact, he recognized her. Cleo tries to kill Hope, just a little, but Hope isn't one to go down without a fight. In fact, this episode was the most badass we've seen in a while, and it felt good. But before she can fight her own battles, the real Landon shows up. Yawn. On to the good/gay stuff.
Josie starts the day with a letter from her sister floating through her window, letting her know that Finch is a werewolf. After a conversation with the Necromancer-turned-Normal, Josie decides to just talk to Finch because, worst case scenario, Finch never wants to talk to her again, which is already where they're at.
Josie goes to see Finch and admits that she still likes her, like a lot. She feels bad that she lied about being a witch, but in her defense, Finch did the same. Josie says that she thinks Finch would like the Salvatore School, and that Josie would go back if Finch enrolled. Finch asks if she's done talking and Josie thinks it's a request and starts to leave, but Finch just wanted to make sure she wasn't interrupting before she kissed her. Sparks literally fly! It's the cutest!!
---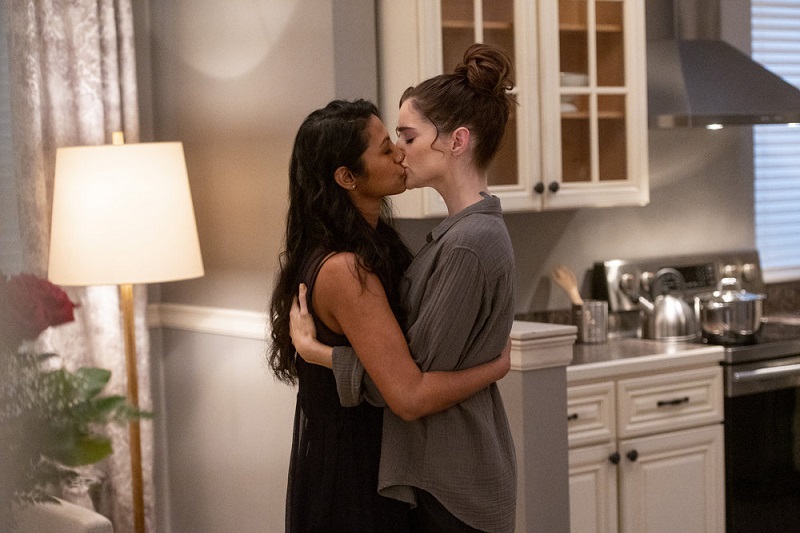 At the end of New Amsterdam's first season, Lauren Bloom is involved in a horrific ambulance accident. Fresh out of rehab, she tries to recover from her injuries without taking painkillers and only relents when taking them becomes a necessity. At one point, she's forced to perform an emergency appendectomy — she's not a surgeon, btw — without painkillers while balancing on her one good leg. I mention all that to say this: Lauren Bloom is a badass…. a Cristina Yang-esque badass who loves her job. So when she wakes up in bed next to Leyla, after having taken a whole week off to just be with her, it's a big deal. And when she ignores her alarm to cuddle next to her girlfriend a little longer, it's so ridiculously unlike her.
When she returns to the Emergency Department, it's a mess but Dr. Bloom is unbothered. She's calm and complimentary, saying things like "easy peasy" and just generally being un-Bloom-like. She approaches Max to ask for more resources for the ED — staff, overflow beds, and a second ambulance triage unit — but he dismisses her to focus on his latest cause célèbre: global warming. Instead of pushing him on it, she sighs and returns to work. But when Dr. Sharpe's patient codes, after her testing order was ignored by one of Bloom's doctors, she directs her ire right at Bloom. She blames her for the mess in ED and Bloom promises to remind Max of her request.
"Remind him? Remind him?! A week ago, you would have demanded it, and he would've opened up a triage unit already," Sharpe shouts. "Whatever the hell you did on vacation, you need to shake it off. You've gone soft, and it's putting our patients at risk."
Bloom confronts Max about her requests and he, again, redirects the conversation to climate change. She tolerates his argument for a while before she yells, "enough!" She pushes him to stop worrying about future patients and focus on the patients that need his help today. Later, Sharpe listens to her patient's full history — which includes a stint as a party girl in Panama — and diagnoses her as having cerebral malaria…which wouldn't have come up on any of tests she ordered. Bloom takes the admission as an apology but it's clear that she took Sharpe's words to heart. When she returns home — to a candlelit dinner and a dressed up Leyla — Lauren ends her relationship… or, at least, she tries.
Her attempt to break-up is met with laughter. Leyla asks Lauren if she's ever heard of balance which, TBH, she probably hasn't. Leyla encourages her to be hard at work but to save her softness for when they're together.
"So, I can't break up with you?" Lauren asks.
"Not a chance," Leyla answers…. and they lean into a kiss.
---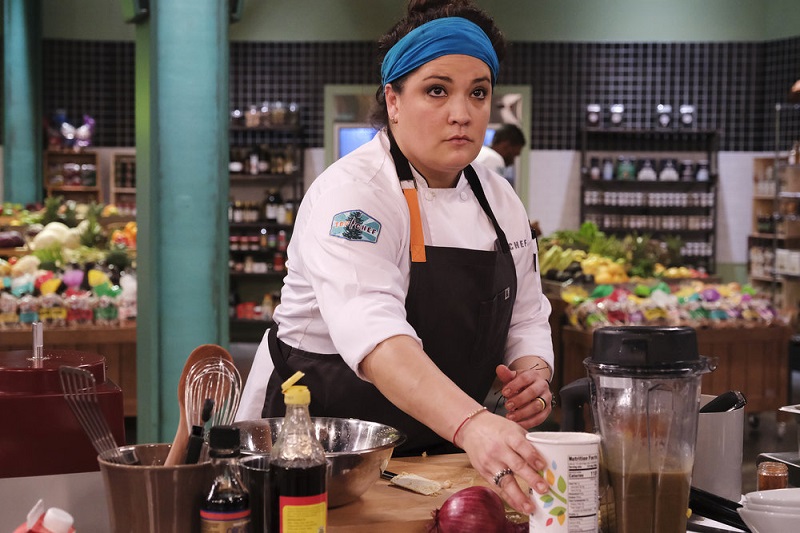 I've watched nearly every episode of Top Chef to date, with the notable exception of a few season finales. I haven't, for example, seen the season five finale because I could not bear to see Carla Hall lose… and especially to lose to whom she lost. Because there's always that separation on reality TV, right — person you want to win, person you'd be okay with seeing win and person you definitely do not want to see win anything ever — and I can't bear to watch the person I don't want to win actually win. My process is to wait until the show is over, spoil the outcome and then, if I can stand it, go back and watch.
I thought about this habit of mine again last night, as Jamie Tran, the effervescent chef from Las Vegas, re-entered the Top Chef competition — after winning in Last Chance Kitchen — to cheers from her fellow competitors. Padma notes that that's never happened before which made me realize: There's no chef in the competition this year that I really don't like. While there are some chefs I'd like to see win (the women) more than others (the men), none grate me quite like the self-important chefs of seasons past. Apparently, pandemics help weed the assholes out of the selection process.
At any rate, Padma and No Filter Fave Melissa King invite the chefs to take a second shot at creating a dish that they'd previously failed at making using overripe produce and "scrap" proteins. Our gay cheftestant, Maria Mazon, opts to repeat a dish that she flupped earlier in the competition — shrimp cakes — but because she's allergic, she can't taste her final product. Unfortunately for her, the judges can't taste the shrimp either so Maria ends up in the bottom three for the quickfire challenge.
In the elimination challenge, the chefs are tasked with preparing meals for front line workers on behalf of World Central Kitchen. The challenge hits home for everyone but especially Maria, whose wife has been a firefighter for 20 years. She creates puerco verde with cabbage and avocado slaw, corn salsa and a tortilla which looks delicious and meets an overlooked component of this challenge: making it easily re-heatable. Unfortunately, though, her attempt to cook her tortillas in the woodfire oven proved unsuccessful and her tortillas are raw on one side.
Maria ends up in the bottom three — due to her raw tortillas and to Shota winning immunity during the quickfire — but it's immediately clear she won't be the chef going home. The judges praise her puerco verde, with Padma calling it the best stew of the day, and admit that if it wasn't for her tortilla, she wouldn't be in the bottom three. Maria lives to cook another day!