The world is burning, but we still need some joy from the little things. And with that, here's what we really, really want this year! (Live your one wild and precious life while you can, y'know.)
Special thanks to Nikki, Raquel, and Bren for being wizards and making this post beautiful and highly functional! We are all blessed to exist on this scorched Earth alongside them. ❤️
Books About Hillary Clinton or By Hillary Clinton
I'm not over it. I want a second copy of Hard Choices in paperback because I love the photo of Hillary on the cover, Girls in the Van because I can't believe I haven't read it yet, Stronger Together to remind me what a normal policy platform looks like, and basically any other book with her face on it, please.
I'm gonna give The Desire Map another go in the new year since I've managed to scratch a lot of my big, scary dreams from the last time off my list. (Who knew it was possible!) And I'd like to embrace my inner rich white woman and integrate it into my life with this spiral-bound planner, please and thank you.
We had a cardboard cut-out of Hillary Clinton in my office for a while and I could not stop taking selfies with it. My new plan is to own one and just take it everywhere with me and pretend my one truest dream isn't dead.
Oh come the fuck on. Why wasn't I asked to be a brand ambassador for this specific jacket yet, honestly.
---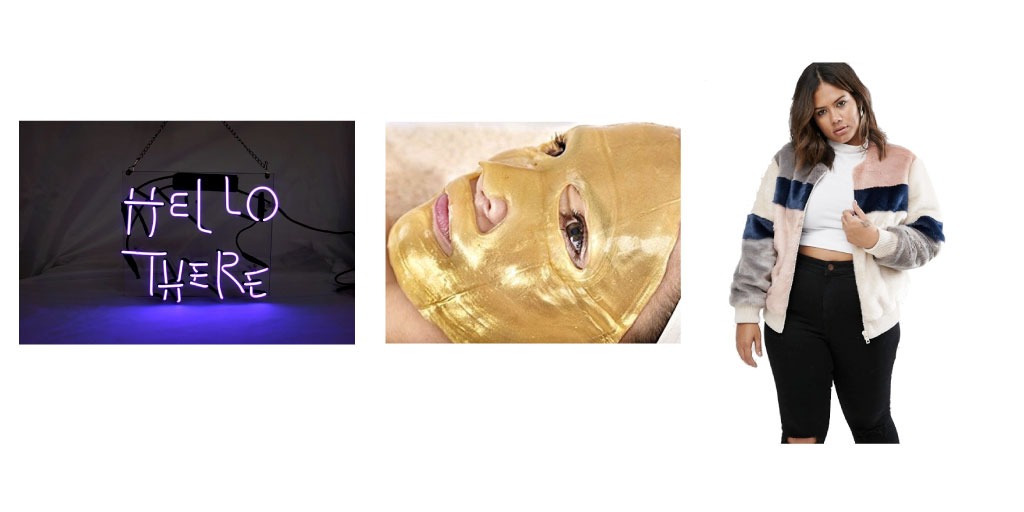 Wow, what a steal to own some Michael Keaton/Michelle Pfeiffer era Batman memorabilia for your home! I mean this would be my choice, really, but any neon sign is a great gift idea because you can make customizable ones. When people are like, "What do I get the person who has everything?" it's like, you get them a customized neon sign. Everyone would want a neon sign dedicated to them to put in their home.
Honestly I'm constantly trying to put decadent things on my face, and this $10,000 gold mask deserves to be mine. I bet Kanye West has never had this on his face, and that's even more of a reason why I need it.
Wow, look at this perfect jacket. Not much else to say other than I hope it's mine one day.
---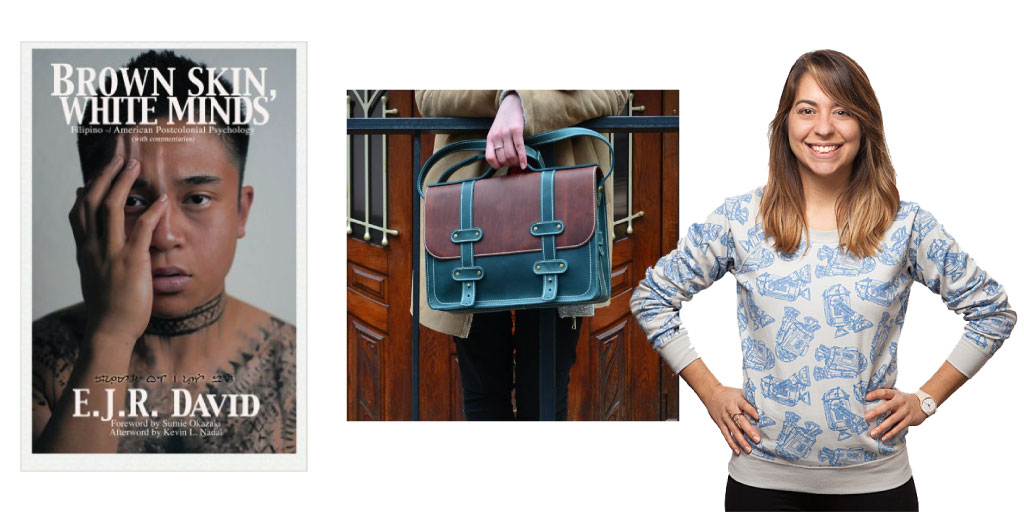 I spend so much traveling for work, and the men I travel with are always divided into two camps: the young ones carry backpacks, and the old ones carry beautiful leather briefcases. I'm 30 now, so.
Just some light reading for the holidays!
Size large, please and thank you. It's cold in Boston, so this sweatshirt is ~*practical*~ in addition to being adorable.
---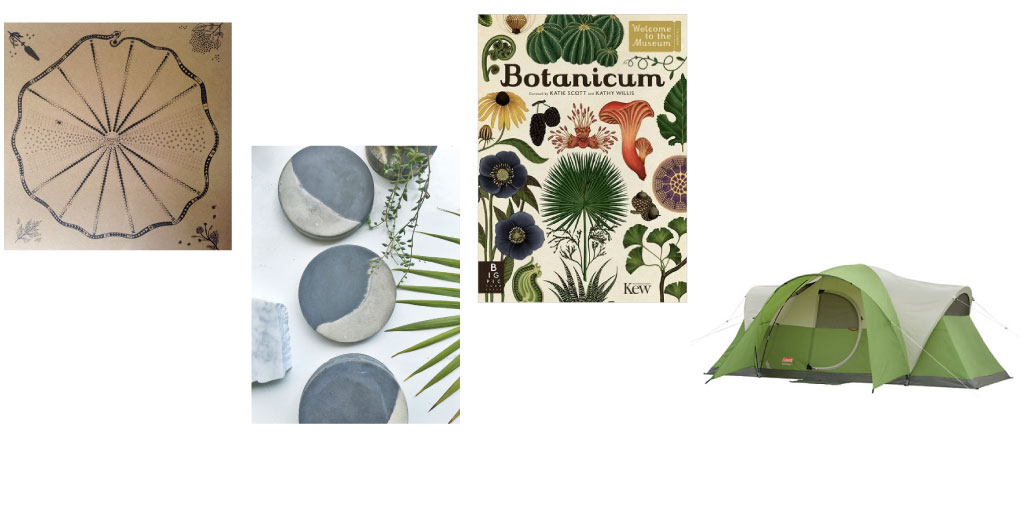 This lunar calendar was made by Alma Reyes Evans of Ursa Wild Design and is sold by Holy Sponge, a queer-owned company with some of the most beautiful and thoughtful menstrual products you can find in this world. (If you're in the market for a menstrual sponge kit or handmade reusable pads, Janeen happily has you covered!) I love this company and have been wanting one of their lunar calendars for a while. Maybe this is my year!
PLEASE I NEED THIS BEAUTIFUL AND INFORMATIVE BOOK.
Once upon a time, my dad, who is now dead, gave me a set of four Thirstystone coasters with the University of Tennessee "T" on them and I LOVED THEM. Unfortunately I only have one single coaster left of the set, and yet I do not live alone, therefore I am in need of at least three more coasters, perhaps even four. These charcoal and white concrete coasters will look heckin' spiffy in my living room. Also I'll no longer be forced to confront the fact that I somehow misplaced three entire coasters from the UT set that cannot be replaced by their original purchaser as he is, as aforementioned, dead. Win/win!
Ok hear me out: I need to go camping. I missed Bonnaroo last summer and in doing so, missed my only yearly camping opportunity because I don't own a tent in Arizona. If I owned this tent — this Coleman eight-person tent — not only would I own a tent in Arizona, but I'd own one big enough for all four of us to sleep in! Why do I not have my life in order by way of already owning this tent? Reader, I do not know. Let's right that wrong. Let's make 2017 the year I FINALLY go camping in this state and also learn how to build a fire.
---
After months of wearing ballet flats meant for actual ballet as my everyday footwear and dress footwear it's probably time for me to transition to something more study and less potentially disastrous if I step on glass, or in a puddle, or really on anything other than totally bare flat clean concrete.
I've been totally obsessed with shoes like this since seeing them everywhere at a dapper/pin-up themed event recently. I don't usually care about footwear, but as a result of not caring about footwear, I'm in really dire need of it in the following categories: "could wear with a pretty dress and still walkwp_postsand "could wear to briefly walk the dog.wp_posts(Both categories have the caveat "but not another pair of black boots, you live in California and they are not as functional as you want them to be and thigh-highs are not always appropriate, okay?") Are these the answer? I hope so. (Note that the ones in the photo are the Imsie Aqua Blue; the link goes to the company's page at Modcloth.)
To complement the shoes, duh.
Lately the books I'm most interested include "non-fiction works about sex and sexuality," "things about Los Angeles" and "things by women" (lately and forever). Eve Babitz's LA Woman and Sex and Rage, Chloe Caldwell's I'll Tell You In Person, a preorder of Roxane Gay's Difficult Women, a preorder of Alana Massey's All The Lives I Want, a deep preorder of Kristen Sollee's Witches, Sluts, Feminists and Zadie Smith's Swing Time are all on my list.
I don't know if you've noticed but everything old is new again. I loved forever classic Black Honey — is it back? did it ever leave? — when I was 12 and I love it now and I want to take it everywhere. But now Fresh Sugar Lip can come too.
This stainless steel dildo weighs 2.75 pounds and looks like pure sex. It's curved. It's ridged. I want it. I don't know what else to tell you.
---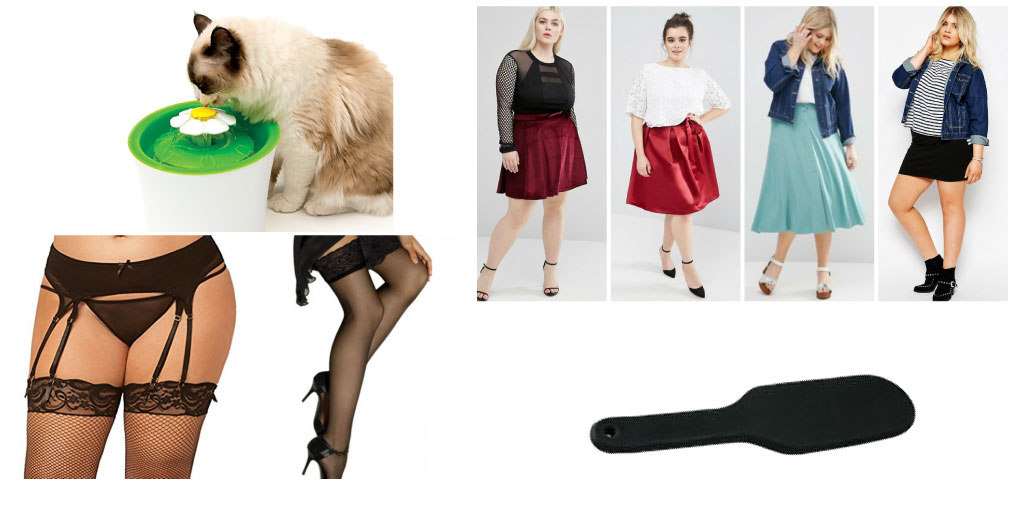 I went to New York and Philadelphia this year and found out that all my friends with cats have these cute fountains for them that are apparently so much better for them then just having a bowl of water??? I had no idea! Now I do, though, so I want one for my cat, Sawyer, and this is the cutest one I could find.
I'm making bold new decisions about my aesthetic and who I am as a person, and one of the decisions I've made is that I'm going to become a garter and stockings gal. I've never liked wear pants, so I wore leggings a lot, but I honestly don't really like those either (please don't hate me). So I'm switching to dresses, skirts and shorts with tights and stockings from now on. I already have tights, but I don't have a garter belt or stockings yet. I'm pretty sure I'm gonna look pretty fucking sick in these. Also, to be honest, I don't know anything about lingerie, so please, if anyone wants to educate me, I'm very open to learning.
For real, you guys, I need some more cutes, I need some more cute skirts. Other than that cute velour skirt, I also want this sateen midi skirt, this skater skirt with poppers and this really short mini skirt.
So, this year I discovered something new about myself, and that is that I am a big, big fan of being spanked. This toy looks wonderful. This is the number one thing I want right now.
---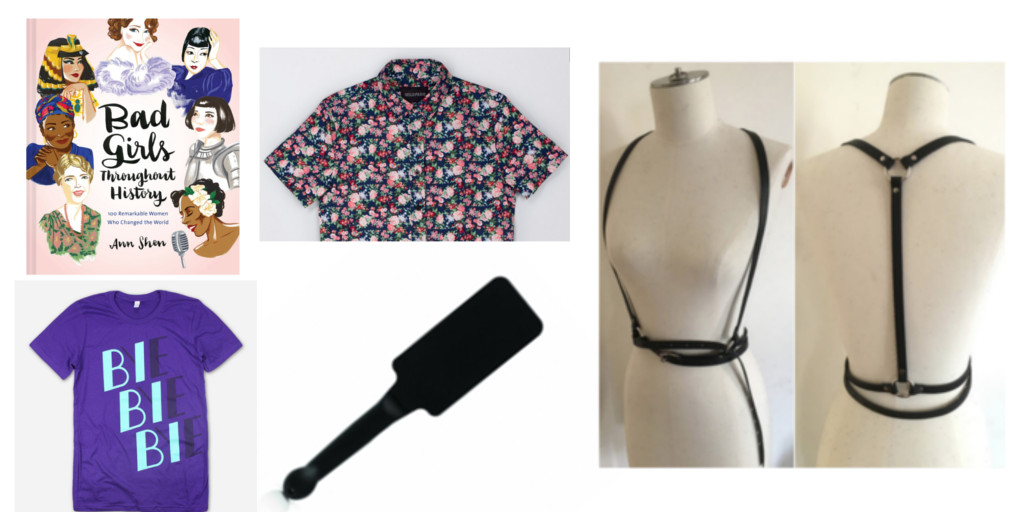 Business casual is so hard when you're still trying to perfect your tomboy femme aesthetic. I love the classic button down look with straight lines, and the fact that it's also floral only makes it better. I've been looking for clothes lately that will confuse my students enough about my gender that they need to use gender neutral pronouns, and this shirt feels like a winner.
As a self-professed bisexual, I like to let the world know as often as possible. Sometimes, I just yell it from the top of a hill at sunrise, but other times I want to be more subtle and I think this shirt, with the nostalgia it will create for the early 2000s and Justin Timberlake's frosted tips, will do just the trick.
I've wanted to start incorporating harnesses into my everyday look, and this one is a perfect stealthy piece. It's super minimalistic and also just really pretty and I want it so badly (I've been eyeing it on Etsy for months now). I could totally wear this while teaching and say it's suspenders, right?
I had it. I lost it. I need it.
---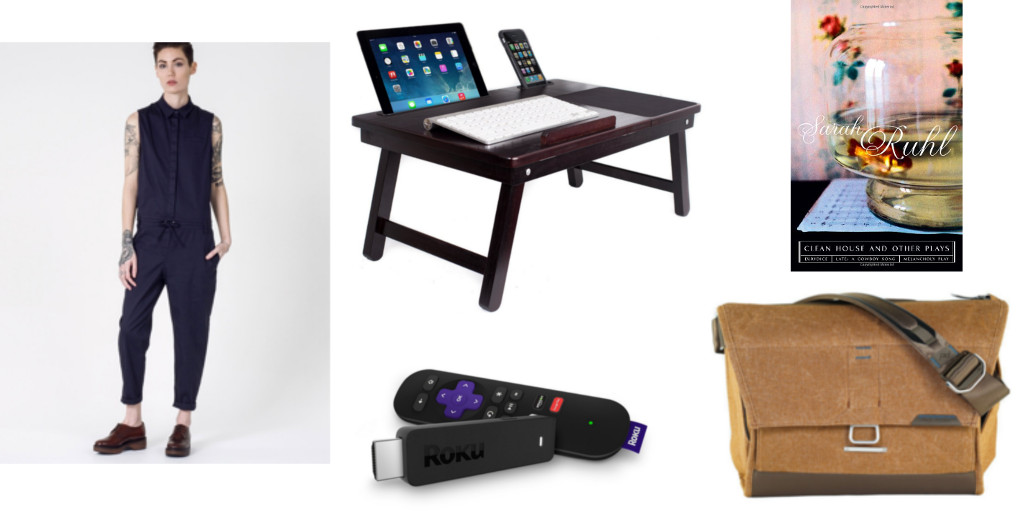 I'm not saying that owning these sleeveless coveralls will change my life, but yes I am. I'm not really a clothing-obsessed person (in fact, I rather hate clothes shopping), but there are two words that tickle my fashion fancy: pleather and sleeveless. While not pleather, these sleeveless coveralls are nonetheless perfect. When I showed the photo of them to my girlfriend, she asked if I'm also going to get the model's haircut and tattoos to complete the look and tbh, probably.
Bed Desk and other work-from-home essentials
Nothing screams "I WORK FROM HOME" like wanting a literal desk for your bed. Okay, so technically this product is called a "laptop bed tray," but I am choosing to refer to it as a "bed desk," which acknowledges my bed-centric approach to working from home while also making me sound like a damn professional. While I'm at it, here are a few other things I need to make my life as a freelance writer easier: literally a million unruled, hardcover Moleskines, a WiFi extender, and a Padfolio.
Not only am I a freelance writer, but more specifically, I am a freelance television critic. So it's a little absurd that I don't have some sort of streaming device for my television.
Six months ago, I moved to New York, and now I'm writing two plays. So I have accomplished my childhood dream of becoming A Cliché when I grow up. I always have books on my wishlist for Christmas, but this year, I really want plays, plays, and more plays. In addition to this Sarah Ruhl collection, I also want The Flick by Annie Baker (and any Annie Baker tbh), Sweat by Lynn Nottage, and The America Play and Other Works by Suzan-Lori Parks.
My sister recently got this bag in charcoal, and I am extremely jealous but also cannot afford a $250 bag. But this bag is incredibly well designed and has amazing features, which I know because my sister is an industrial design major and did endless research to find the perfect messenger bag. She knows what's up. But I want the "heritage tan" version so that I'm not completely copying her.
---
I need art more than ever, and these are just really, really good pencils. I recommend pairing them with these great notebooks and this fantastic pen.
It feels weird to rep Autostraddle on Autostraddle but really. When I was a closeted queer youth, this website was lifesaving water in a desert of fundamental christianity, and it's since been a warm respite of chosen family and support for me when I let myself get overwhelmed by current events. Now more than ever, I need us to be around for the vast landscape of lady-loving queers out in the world, closeted or out.
You can also join me, if you would, in being the change, sending supplies to standing rock, and subscribing to my rights.
I just want to warn everybody!! Also I want to start a girl-gang with Carmen.
---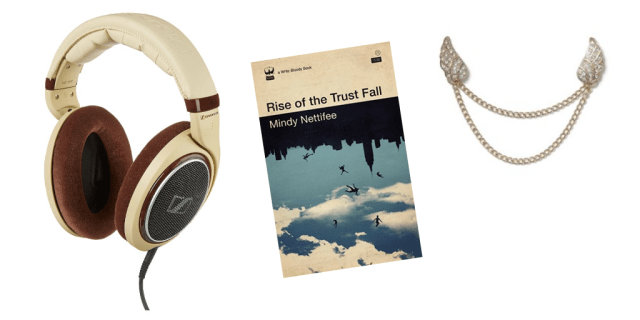 Y'all I have no idea what I want for Christmas this year? It is 85 degrees outside and also we are living in a post-apocalyptic hellfire, so the idea that Christmas is coming seems completely bonkers. But here are some cool things that I might want if I were a person who lived in a universe where Christmas was approaching.
By Mindy Nettifee, which I was sure I owned but I do not, somehow!
The whole time I was living out of the U.S. I promised myself that I would invest in high-quality headphones that I leave on my nightstand and don't stuff into a backpack so maybe these could be them I don't know!!
As usual I want literally every piece of jewelry and tiny accessory Topman makes, but most of all look at these collar clips.
But really
Probably don't buy me a present and just give your money to your local LGBT youth organization. Sorry for all the nihilism. Happy holigays and I love you.
---
GO TO THE NEXT PAGE FOR MORE PICKS!!!
Pages: 1 2See entire article on one page