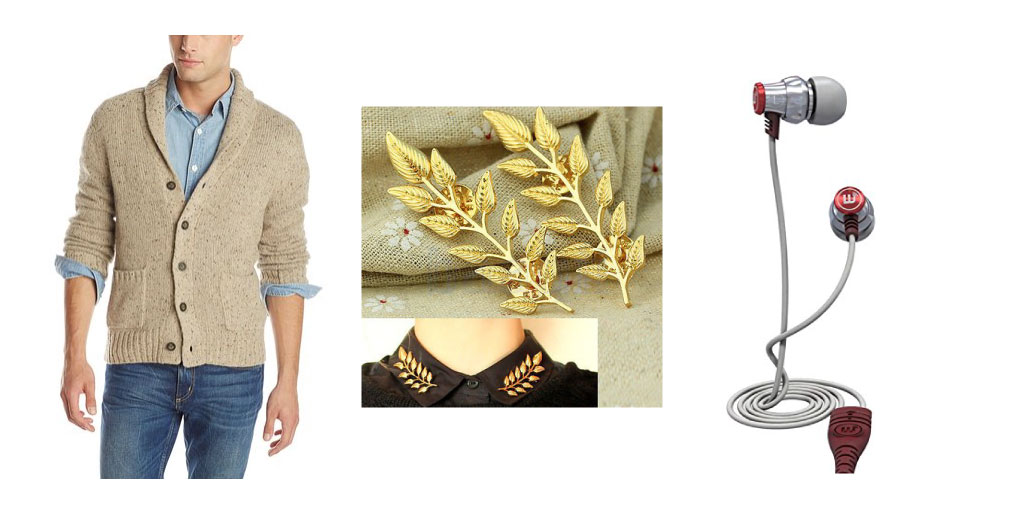 I'm always losing or breaking earbuds, either by accidentally putting them in the washing machine or by shoving them somewhere and forgetting. So I found these reasonably priced earbuds that sound great and have controls for music and phone. They are always on my gift list now.
Have you ever seen a collar clip so fancy? Last year I received an awesome octopus collar clip that I wear on the regular, but this one would be for fancier occasions and I love it.
Why are men's sweaters so comfy and warm while women's are practically see-through? The patriarchy. So I want this one that's from the "men's" department but will obviously fit my body.
---
I've been wearing the same form-fitting yoga pants to the gym for years and they don't really jell with the look I've got going on anymore. My entire wardrobe should make me happy, even just the stuff I'm sweating all over. So it's time for an upgrade! As someone with twigs for legs I am always a fan of skinny pants, and these look simultaneously comfy and polished enough that I could also wear them to lounge around or go out for brunch. Versatility and comfort? Don't mind if I do.
I write all of my first drafts by hand — it keeps the ol' brain going and helps me not second guess myself as much. But once that draft is finished, I then have to spend time typing it up before I can do any real editing. I'm intrigued by smartpens because they could help me streamline that process; this one converts your handwriting to searchable text and I believe (?) lets you save to Google Drive, which may very well change my life. The fact that you have to use Livescribe paper is a bummer, but you can print it out yourself on a laser printer, so at least that part wouldn't be hellishly expensive.
I've got some solid reasons to learn Spanish (living in Los Angeles, having a sister and future brother-in-law who live in Mexico, volunteering with future election campaigns, etc.) and have forgotten much of what I picked up in high school, so I need to get back on track. I'm using Duolingo right now and it's great, but I'll want something heftier soon enough.
Buying "boyfriend" anything always feels a little ughhh to me, but honestly I've always wanted a jacket with elbow patches to complete my professorial look. I am a librarian by day, after all. It's basically a requirement.
Books to Prep for the Revolution
I'm bracing for the Trump era by strengthening my knowledge base and making myself a better resource. That means reading a ton, including all those books I've only seen in excerpt or not yet absorbed at all. So this round I'm asking for Sister Citizen: Shame, Stereotypes, and Black Women in America by Melissa Harris-Perry, Sister Outsider: Essays and Speeches by Audre Lorde, My Body Politic by Simi Linton, and We Should All Be Feminists by Chimamanda Ngozi Adichie. Other recommendations welcome.
---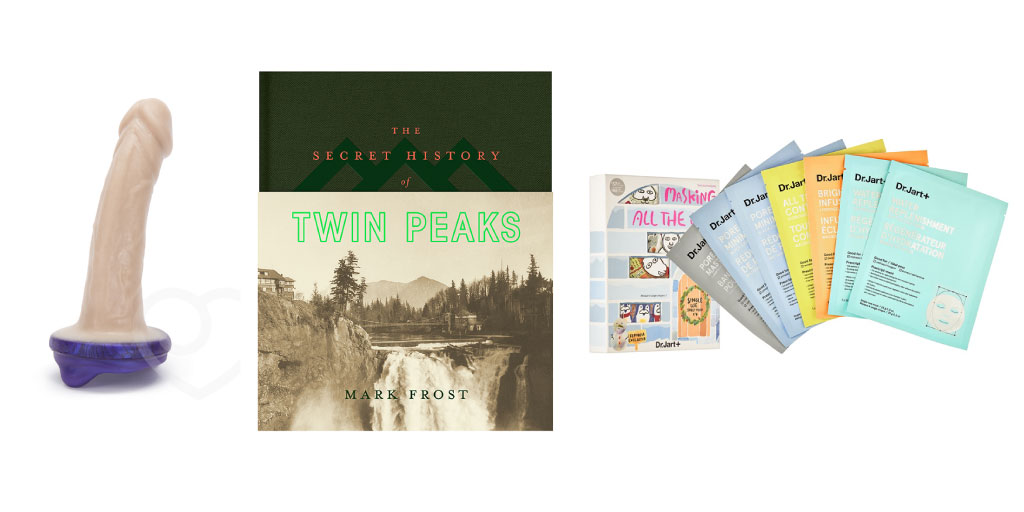 I am mesmerized by these here Vixskin "realistic feel" dildos, MESMERIZED I TELL YOU. Despite that mesmerization, it has taken my girlfriend and I about four months to decide on the Mustang Royale (we already have a harness mind you but nothing to put in it because, I don't know, brunch?). This may finally be The One and now all that's left is for it to appear, as if by magic, on a cozy holiday morning (nudge nudge).
I was very late to the Twin Peaks party but I have made up for it in obsessiveness. I've got my fingers crossed this book will reveal that the Log Lady is the badass lesbian character we all know she was. No spoilers if you've read it already please.
Look, sheet masks will not save us and I know this and yet somehow when I use one before bed I wake up feeling like I can conquer the world with my face. For example I spent the whole day after the election either openly sobbing or squeezing my eyebrows together in an effort not to openly sob (as I know pretty much the entire sane world did too), so I slapped one of these babes on that night and the next day someone told me I looked refreshed. Like, LULZ but also the power is real.
---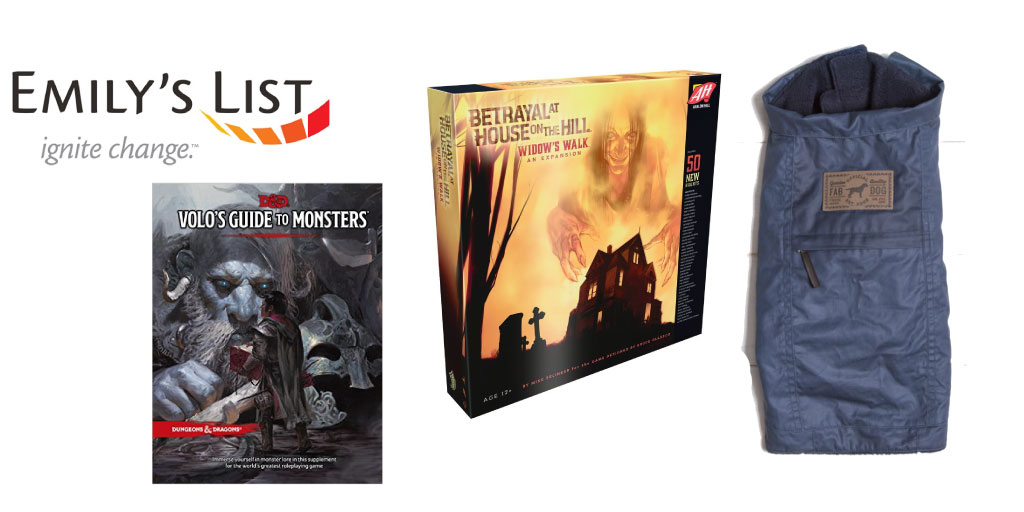 It's actually the only thing I really truly want for Christmas. Everything else on this list is an "if I absolutely had to pick" situation, because the most important thing to me in the world right now is more women in politics. I want a drastic overcorrection. There's a damn reason men aren't allowed to be Empress in my D&D 5e homebrew.
Because of course I want this. I want to throw all sorts of different kinds of Beholders at my players. I want all sorts of weird ass monsters. Side note, all my players want for Christmas is for no one to get me Volo's Guide To Monsters.
My first ever Betrayal experience was with a bunch of Straddlers at A-Camp. I've played a bunch since then. This boardgame is really cool and I want more of it.
My wife and I panic adopted a puppy to help us cope with this, the year of our collective dumpster fire 2016. She is a perfect angel and we love her. But she also is convinced that she melts in the rain. I cannot even imagine how she'll feel about sleet. She was born in June so she's never seen winter before God help us all.
---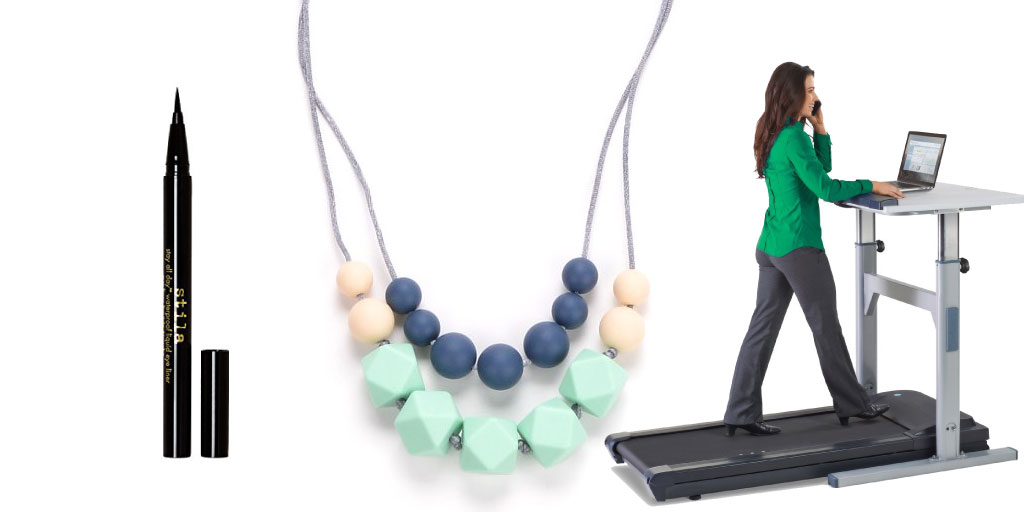 My makeup look going into 2017 is a bare, stricken face holding back tears with an intense black cat-eye so pointy and sharp and infallible it stabs the patriarchy right in the face.
I don't usually leave my home without accessories, but necklaces and dangly earrings don't go well with small grabby baby hands. This necklace isn't exactly passable as a regular non-mommy necklace, but it's cute enough and I don't have to fret if the baby wants to make a nom out of it.
I've wanted a treadmill desk since I learned about them existing. I had this desk, I'd have the best home office ever. Or maybe I'd even take it to my work office and be the envy of my coworkers. Or maybe I'd share it with them. Either way, it definitely would improve many conference calls.
---

This is a book of secrets! SECRETS. If I read this book then I will know how to arrange tabletops so well you'll come over and be like, "damn, this girl must know some secrets."
These are so great, especially if you frequently find yourself hungover from alcohol or from crying too much. But they're also really expensive and every time I buy another pack, I have an existential crisis.
These seem like boots for a person who is very serious about winter and wants to be ready for it.
I love traveling and seeing weirdo things and I want this on my shelf and then on my to-do list.
I think it would really tie the room together but I can't tell you why. It's a secret!
---
I stand proudly behind my desire to own skeleton everything, and this jewelry stand matches my room perfectly because it's clean, minimalist and creepy as fuck. Buy me this jewelry stand so I can hang my animal skeleton necklaces from its bony fingers. Buy me this jewelry stand so I can come one step closer to taking over for whoever names household items at Modcloth.
Recently at A-Camp, I've taken up the habit of performing red carpet interviews like a scruffy queer Joan Rivers, asking campers and staff alike about their outfit choices and excitement regarding whatever black-tie affair we're currently attending. However, because this idea happened relatively organically, I've been using a microphone as a stick, which is a fantastic sight gag but (surprise!) lends itself to terrible audio. With this microphone, I could finally join the pros.
Listen, I don't like it any more than you do, but I bike to work. I bike in New York City. Usually when I tell people this, they shrink back and tell me, "I could never do that! I'd be terrified!" and listen, you're right. When I'm pedaling home in the middle of the night, I want my bike to scream to passing motorists that they shouldn't hit me because I'm A) right there and B) possibly a horseman of the apocalypse. These eerie red lights should help me accomplish the desired effect.
I saw Sleater-Kinney play a while back and was inspired by Carrie Brownstein's glittery gold guitar strap, so I immediately went home and googled glittery gold guitar straps. From what I can tell, Carrie's strap probably cost about a million dollars, but these guys are only $40 and gorgeous. I already have (and love) one in gunmetal and currently need one in hot pink.
---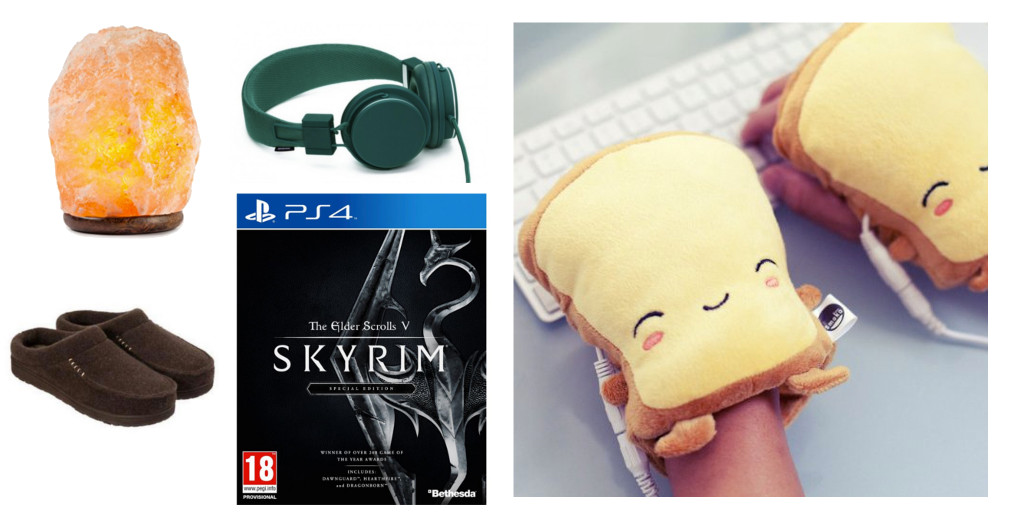 If I understand it correctly, Himalayan salt lamps are like a Patronus you plug into the wall and sit on your desk. They radiate cheer and repel Dementors (and also something about ions?). I would like to have a desk Patronus. I think that would make the winter easier.
It's been too long since I punched a dragon out of the sky.
I need some new headphones and these are the ones I like because they come in happy colors and last a long time and don't take up too much space in my backpack and sound good and aren't as expensive as a lot of other headphones.
I wore out my other grandpa slippers and so I need a new pair because I live in New York City and my landlord doesn't believe in the law about how he's supposed to make my apartment a livable temperature in the daytime.
Wireless USB-chargeable handwarmers for keeping your hands toasty while you're typing and reading and playing video games and they're shaped like literal toast! Everyone needs these, in my opinion.
---
The black blazer I currently own is a little dated in style and also has a weird bleach stain on the arm, which I have no idea how it got there. I want to look cool and stylish with a fresh blazer.
I tried out the smaller Passion Planner and it was just too small to write in all the things I wanted. I love the layout and really want to focus on my goals for the coming year.
Yo, I've been wanting fancy ass headphones for a very long time. I just want to drown out the world and focus on my work in peace, ok.
Look, I know I could get these at H&M or Forever 21 for like $5 but I've done that and they always get discolored after a few months and aren't wearable anymore. I want the real deal and why not invest in a pair of solid gold earrings to wear daily for years. I love these circle studs because they're simple and go with everything.
I'm guilty of always having my phone on the verge of dying, especially when I'm out and about or traveling and there's no outlet in sight. This pisses my mom off more than anything and I mean, I annoy myself when I do this. It mystifies me why I just don't charge my phone before I leave the house but that's neither here nor there. I need a portable battery pack to help me out, especially when I'm traveling.
---
I won't for one moment let you think I'm a music expert. You can ask anyone around me what my favorite songs/songs on repeat and it won't make me look cool. I just love the sound of vinyl and it reminds me of my grandparents and not being able to touch this thing that I always wanted to touch. I can't wait to touch this so much.
This book has been on my wish list for months. I found out about this book by reading a story online about an octopus that escaped its enclosure by figuring out when the security guard made checks. I love animals so much.
I feel like my yearly holigay gift guide should contain at least one sloth. This garland will decorate my bare walls. I need more sloth in my life.
---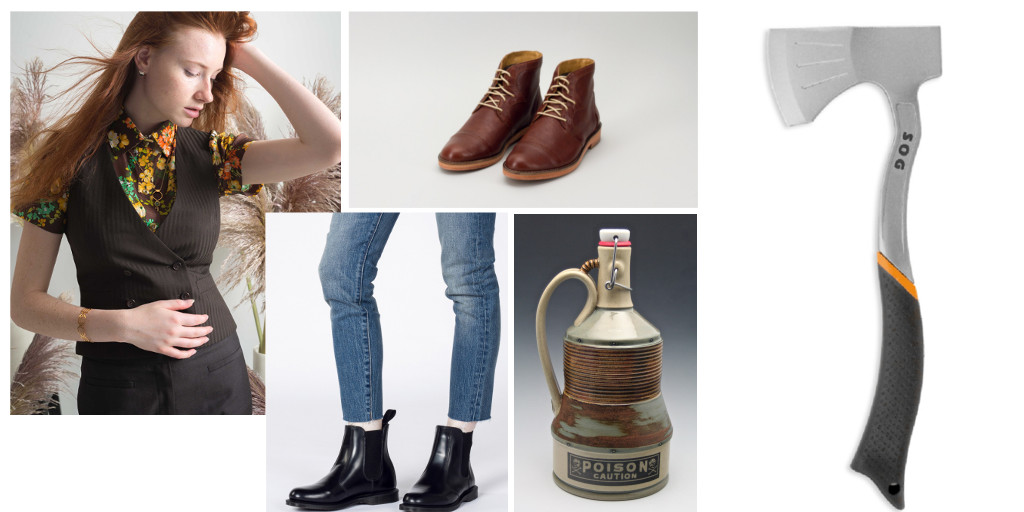 When I got married last year, I knew I didn't want a wedding dress – I wanted a slick-ass suit. So I went to Portland, to Duchess Clothier, where the rad staff measured me, helped me pick out fabrics, plan button positioning, keep my bust line in check while keeping me comfortable, and just being overall awesome. They still have my measurements, and I wear the waistcoat most of all. I'd love another one, they just fit so well and make me feel really good. (Also, more than half their customers identify as female
Wildfang is always a good choice, but holy smokes these Chelsea boots are gorgeous and I need them in my liiiiiiiife.
OK and while we're at it, why not look at these beautiful boots. Oh god, I need these too. Shoot.
Tim Carlburg is a super-talented potter in Montana whose business is centered on creating beautiful, fantastical, one-of-a-kind growlers and flasks for any beverage in your life. Since each piece is unique, there's no real inventory, but the gallery of his previous work should give you an idea of the possibilities.
Camping is nearly impossible without a good hatchet or axe. I need to upgrade, and I've been eyeing this beauty from SOG Knives. It weighs just 2 pounds, 1 ounce, and is all one, forged piece, making it super strong. Ugh, now I want to go camping. Winter camping is awesome, especially if you're into snow caves!
---
These little beauties are not only an instrument for telling time, they're a piece of socialist history that led to the democratization of luxury watches. Plus- they are dainty and badass.
The original Japanese title for this sewing book was "She has a mannish style," which that in itself would have made me want it. She Wears the Pants is the first Japanese sewing book (in English) to focus on a more androgynous style. Paper sewing patterns are included and I would seriously wear almost every pattern in there.
Maybe it's just because my self-care needs have been pushed into hyperdrive recently but, I can't get enough velvet. I wore a velvet dress a couple of nights ago and spent the entirety of the evening petting myself. I'm into it and I want more of it.
Ive been dreaming of owning one of these oh-so-sexy harnesses for months! Switch Leather Harness are 100% Queer owned and operated and take great care with all their designs to accommodate ALL sizes and genders. Plus- they're the only leather strap on harness company that is both sourced and manufactured in the US.
---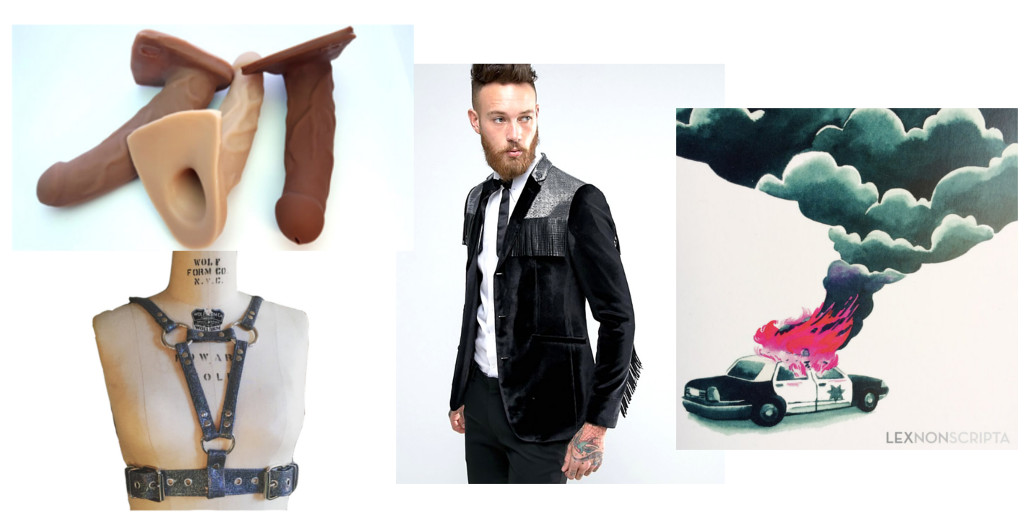 OK so, Form Function on Etsy has been selling super rad, quality packers and stand-to-pee silicone items for some time now. They feel as great as they work, which is to say wonderfully. Recently they put out the B.J Dildo which is a hollow toy that creates a suction when sucked on and my sex life wants this bad.
I honestly believe god intended my body to be adorned with this vinyl glitter chest harness by Gnat Glitter Kink. Who am I to disobey?
I think this is hot and I think that I would look pretty hot in it.
Something pretty to hang in my room.
---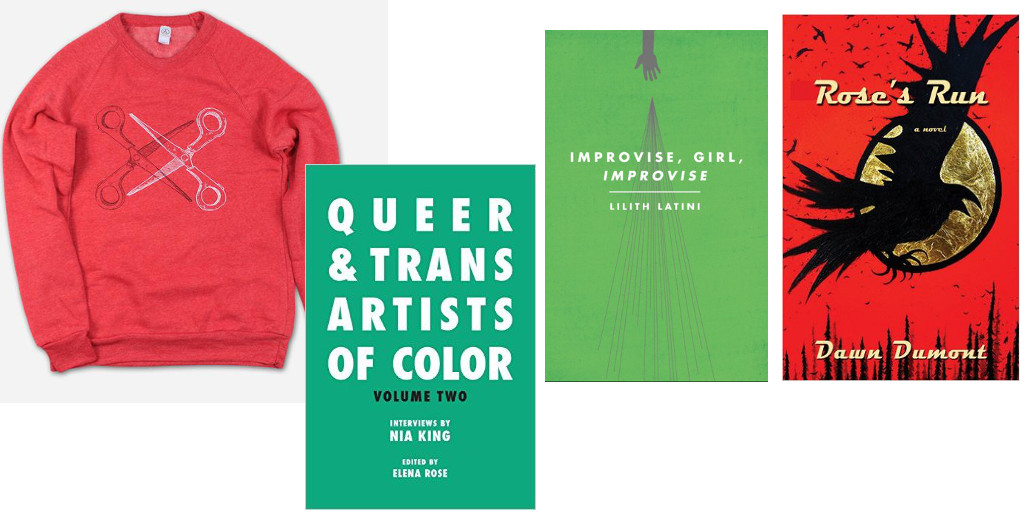 I need this book in my life and you probably do too. Art activist Nia King just self-published this second volume celebrating queer and trans Black and brown genius, with interviews with artists about stuff like preserving Indigenous languages through painting, the imminent trans women of color world takeover, self-publishing versus working with a small press, queer life in WWII Japanese American incarceration camps, and so much more! Some of the artists featured are Vivek Shraya, Cherry Gallette, Trish Salah, Inidra Allegra, Grace Rosario Perkins, and many others whose names you might not know yet, but you'll want to.
Last year the incredible trans-run and trans author-focused Topside Press published three books of poetry and shame on me I do not own any of them yet. In addition to Improvise, Girl, Improvise (best title ever), there's also Never Coming Home by Tyler Vile and Which One Is The Bridge by Charles Theonia. From "wrenching romantic disappointments on permanent rotation," a novel-in-verse from a slam poet, and trans women heroines living audaciously, it looks like there's something for everyone in these poems.
I already proudly own a Lazy Femme shirt and the Bi Bi Bi purple tee
And…one more book because really that's all I want for Christmas, let's be honest. I recently read Cree/Metis author/comedian Dawn Dumont's debut novel, Nobody Cries at Bingo, and I thought it was the funniest book I had ever read. I'm a wee bit obsessed with her now, and must have her other book, Rose's Run. It's about a single mother living on the Rez who decides to earn some self-respect by running a marathon even though she's a smoker who hasn't run in twenty years and has no motivation. Along the way she has to do battle with a truly mean old spirit who feeds off women's strength, which has been unintentionally been called forth by her teen daughter.
---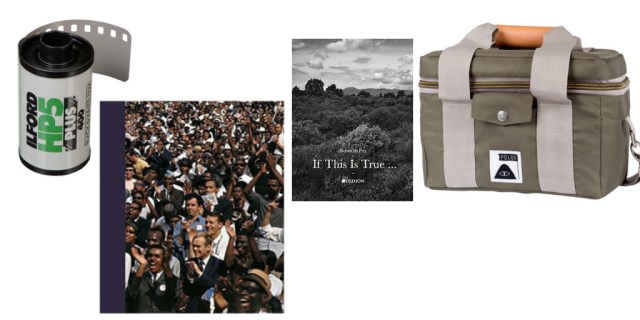 Film is expensive so is paper to print on and so is a place to print so like if you're feeling generous some hours at this communal darkroom in LA I'll send you prints I promise. (And like honestly while we're at it some color film would be nice too.)
Robin Puy's first book chronicles her journey on a Harley (are you sold yet or) across America mostly through the people she met and the details she saw.
Also I really want Peter van Agtmael's newest book Buzzing at the Sill. He is, in my opinion, one of the best documentary photographers producing work right now. He examines the battles we fight both at home and abroad. And if you know someone who is interested in documentary (and combat) photography in general this is the sequel to one of my all time favorites Disco Night Sept. 11. 
And probably the one I want the most tbh is Gordon Parks: I Am You: Selected Works 1934–1978—he had a truly a remarkable career and this review of his work is unmatched with moments ranging from the streets of Harlem to the pages of Vogue.
For when I do leave home. I mean this is cute and it can double as a La Croix carrying case but it's also practical—storing cameras in a cooler is the best way to keep gear from overheating in the summer.
---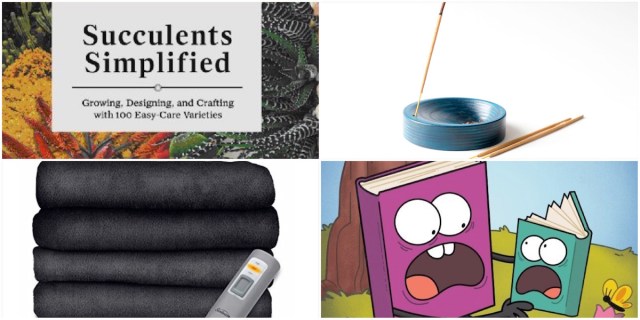 Why do my succulents keep dying? I don't know. But maybe Debra Lee Baldwin does.
I've always had a lot of good reasons why I couldn't have an electric blanket. I'll waste a lot of energy, I thought. I won't be able to get out of bed and onto the cold floor, I thought. I'll probably burn the house down, I thought. Well, all those things are still true, but fuck it! Everything feels like a nightmare and I want to lay motionless on my sofa underneath superheated fleece.
I've been processing my emotions by watching and re-watching Gravity Falls lately (ordinary folk uniting to conquer a seemingly omnipotent, sneeringly condescending and manipulative evil being who wants to cause destruction and chaos just for kicks? Idk, feels relevant) and this poster (which hangs in the Gravity Falls library) pretty much sums up where I'm at. Why is it terrifying? Why is it in the form of a question? Why does only one book have teeth? What role does the fish play? I don't know, but I want it in my office.
In my ongoing quest to make my office a sensory paradise, I would like to have an incense thingy that doesn't get ash all over my desk and floor. They have these beautiful ones on Etsy that are specially designed to not do that, and they are all from Latvia for some reason. What's going on in Latvia. Can someone get me an incense thing while they're there, like maybe one from this shop.
Pages: 1 2See entire article on one page