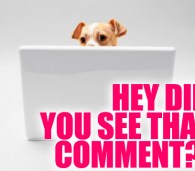 Hello? Have you recovered from Tuesday's DADT fail? No? Us neither. But no matter, we must plough forward!
This week we had two special guests! Krista from Effing Dykes told us about her feelings re: the word 'dyke', and Julia helped make sense of Judith Butler.
The Senate voted not to even talk about DADT so we had to make ourselves feel better by photoshopping pictures of John McCain. Then we debuted part one of The Real L Word Parody starring your favourite people and it is maybe the best thing ever, so if you haven't seen it, go watch it now. Seriously. Don't come back here until you've watched it.
Also, hey, did you know that it was Editor-in-Chief Marie "Riese" Lyn Bernard's birthday yesterday? Have you wished her a happy birthday yet? Maybe you should do that because Riese is a really special person! But also, I think you guys already know that, judging by the kind of things you've already said to her. If I could, I would give all those comments an award. We love you, Riese.
---
On Don't Call Me A Dyke! by Effing Dykes:
You Get It, Girl Award to jc_unstrung:
"Dyke" is ours and ours alone. It was bought and paid for with the blood and pain of those who came before us, the nellies and diesels who either couldn't or wouldn't hide in shame. We owe them. We owe them and all of our brothers and sisters who come after us not to just let the power of those words – dyke, queer, fag – just slip away into the common, bland vernacular.
On BBC3's Lesbian Drama "Lip Service" Premieres in October, Starring 'Frankie' as 'Shane':
The Damn You Chaiken Award to Barbara, TheVegetarian: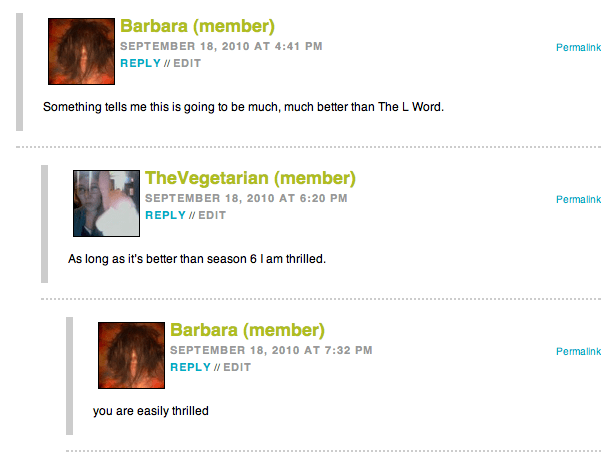 On Repealing Don't Ask Don't Tell: It's A Thing:
The Maybe You Should Check Out Our Hair Care Thread Award to madden:
3 major things i gathered from this: Lady Gaga is in a word … PHENOMENAL, Joe Biden has excellent dentures, and finally- i need a haircut cuz only rachel Maddow can really pull off the Maddow poof.
On NSFW Lesbosexy Sunday: Smoking Scissoring Guns:
The Sandwich Award to Dina:
One time a picture of my girlfriend in Paris ended up on a website full of pictures of girls eating sandwiches.
True story.
On VIDEO! The Real L Word Parody PART ONE: Looking Back, Casting a Spell on Your Box:
The Award for Feeling The Same Way to C:
ALSKDJHGKLJADGHFKDGHKLJHkljfdaghadflhlaksdjfodgakjl
YESSSSSSSSSS
On Kelly McGillis Gets Civil Unionized, Glambert Gets "Apology" From Daily 10 D-Bag, Elmo Upstages Katy Perry:
The Maybe By That Time You Will Actually Be Allowed To Get Married Award to Jana:
Fiona Apple is my future wife. I proposed to her in a letter. She hasn't written back yet, but since it takes her five years to write anything, I'm not worried.
On OPEN THREAD: DADT Repeal Vote Moves Forward Today, At Least We Hope:
The Harry Potter Makes (Most) Things Better Award to Rachel B, claireskies: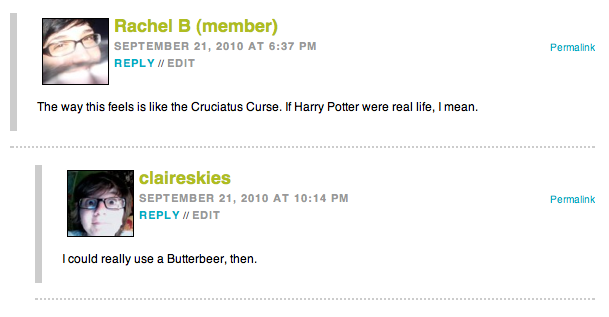 The We Hate John McCain Award to mkthrn:
McCain, you filibastard
On Glee Episode 201: Brittany Wants to Touch Boobs:
The Comatose Joy Like Rerun TV Award to Paper:
I feel like if I started taking this show apart it would just crumble like a dry cookie, leaving me like a sad and empty shell of my former self. I just look at all the shiny colors and pretty girls and smile.
On Don't Ask Don't Tell Fail Hangover Day: Bill Clinton and Rachel Maddow Tell The Truth:
The Brain Lobotomy Award to Sasha Farce:
I'm pretty sure that McCain will still be alive 17 years from now. So will Dick Cheney. It's only a matter of time until they end up roaming around yelling "BRAAAAAAAAAAAAAINS!" and ripping off skulls to get at our delicious, delicious gray matter.
Of course, in that scenario, McCain and Cheney are the only ones left alive, so all of us will be shut of them anyway.