WHAT IS SEXY. WHAT IS NOT SAFE FOR WORK. I don't know, but Riese made me do this week's NSFW Sunday and boy are my arms tired! HAHAHA. You guys, sorry there aren't more boobies. IT'S TEGAN AND SARA'S BIRTHDAY! I'm having a pale ale and thinking about strap-ons. How are you?
STUDY YOURSELF:
When we published Lesbian Safe Sex 101, Sarah I. pointed out that there's currently no real statistical knowledge of STIs among women who have sex with women. We've also been exploring our own thoughts and feelings about ladysex and what we're all doing here via the Great Anonymous Autostraddle Sex Doc Experiment of 2010. We're talking about these things here because if you have questions (and you do) health care professionals and like, your mom, probably aren't going to be very helpful.
The Center for Sexual Health Promotion at Indiana University is working to change that by conducting the first-ever sex study in the world geared solely toward women who have sex with women and guess what — you can participate! They want to collect the "largest, most diverse data on the sexual lives between women in contemporary history!" Go participate in the study! I took the time to answers these questions while watching football and talking on the phone, so I know you can do it. It's totally anonymous, obviously, and you'll get a coupon to Early to Bed. 
GIRLS KISSING GIRLS:
Coed Magazine has a gallery of 92 Oktoberfest Bier Maidens Making Out. 'Making out.' We feel like this will be the only link many of you click and we're mostly ok with that.
SCISSORING:
Hey what about scissoring?! I never get tired of talking about scissoring or tribbing or humping or sandwiches. Effing Dykes is talking about scissoring! Commenters are discussing if they scissor, how they scissor, when they scissor, etc. Good stuff. No one has mentioned sandwiches yet.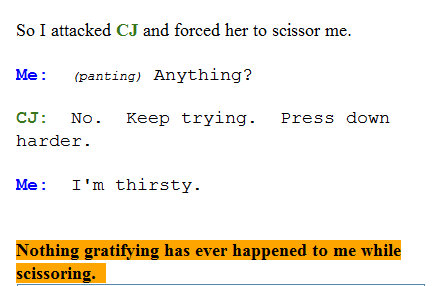 INTIMACY:
Greta Christina has some thoughts on intimacy: the balance achieved when the moment is perfect; how intimacy can't be forced; how to be ready when a moment presents itself, etc.
KINK:
If you have questions about kink, apparently Kink Academy is an excellent place to start. There are instructional videos and no one will make you feel stupid. Dangerous Lilly has a sampling of these videos so you can see what all the fuss is about.
PORN:
Porn is a tricky topic to bring up at Thanksgiving, so let's just talk about it here. Has mainstream porn hijacked our sexuality? Author Gail Dines discusses how she thinks today's brutal pornography has damaged our ability to have intimate relationships. This article, as well as Dines' book, is hetero-focused, but the discussion could easily be expanded to include queer porn.
Dines says that, since the inception of the internet, the porn industry has become more violent and dangerous for women both physically and emotionally. Without the internet, though, most feminist queer porn would go unseen. Online queer porn is currently the most diverse, realistic and pro-woman porn out there. Do you ever wonder if it could go down the same path as this mainstream garbage? I don't, for the record, but I wonder what you think.
SK: Now, this is an aspect that gets debated over and over again. The pro-pornography viewpoint is that what you see on your video screen is a fantasy, and that we are human beings who are capable of distinguishing between fantasy and reality, and we don't carry over what's in our fantasy to our real lives.
GD: Well, it's very interesting we say that because, you know, as somebody who studies media, and as somebody who's progressive, when we study right-wing media we don't say it's fantasy. We don't say, "You know what, don't worry about Glenn Beck, don't worry about Rush Limbaugh — people can distinguish." No, we understand that media shapes the way we think. It shapes our reality, it shapes our perceptions of the world. Pornography is one more form of media. It's a specific genre which, by the way, is very powerful because it delivers messages to men's brains via the penis, which is an extremely powerful delivery system. So I think the idea that it's fantasy just isn't borne out given the studies that we know about how porn, and how images in general, affect people's view of the world.
EROTIC FILM FESTIVAL:
LESBO RETRO: A Dyke Porn Retrospective will be showing at The Good Vibes Independent Erotic Film Festival, which kicked off September 18. I'm not saying you can necessarily afford to fly to San Francisco on such short notice, but maybe you should consider selling some stuff on eBay. Billy Castro, whom you will perhaps recall from his shoot in Original Plumbing, will be doing a gay porn panel with Jiz Lee which basically means my head just exploded.
SEXY ZINE ALERT:
Issue #2 of SanFranSexy is available via PDF and you can read it right now! Very queer, very sex-positive. There's even a column entitled "Professor Dandy's ManChat," which is a thing I enjoyed.
SEXY TUMBLR ALERTS:
FYSexualFrustration is full of stories about how sexually frustrated people are. You can submit your own frustrations and I think you should because they all seem to be very heterosexual right now.
Two of my personal favorites (which I found while simultaneously combing Tumblr and watching this really terrible Lifetime movie that came on after the not-terrible Lifetime movie starring with Kristen Stewart) are Beautifully so Disfigured and Trashion Bitches. They're sexy in sexy ways.
OH DID YOU NEED PHOTOS OF NAKED WOMEN? Ok, you might like ForbiddenLust86, which totally has pictures of naked women in queer situations. So.