Welcome to You Need Help! Where you seek advice and we try our very best to give it.
This has traditionally been done by way of individual Formspring accounts, Autostraddle's Tumblr and a Formspring Friday column, which has all been very fun and insightful. But, because Formspring has a character limit and we're wildly optimistic w/r/t our time-management skills, we thought we'd go one further and let you use our ASS private messaging to share advice-related feelings, too.
For more info on sending in questions, see the bottom of this post. Let's get down to bossing people around on the internet! Today you will help you to come out.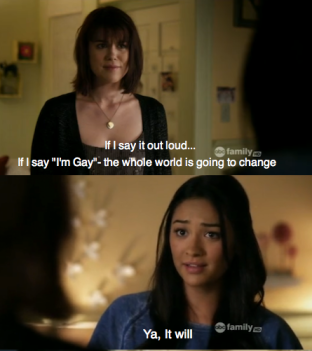 I've never really had to officially "come out" to a close friend or family member. Sure, in the years between realizing that I liked girls and actually doing something about it, there were conversations where I'd communicate that information to my conversation partner. There were also conversations where I'd deliberately conceal or downplay that information. In my immediate post-college years, my sexuality was honestly the least terrifying of 3-4 major secrets I was withholding from most anyone who cared about me. And, because it's not obvious that I'm gay from looking at me, I feel like life is often a constant series of micro-coming-outs to strangers.
But I've never sat down a friend or family member for the purposes of "coming out" to them. I started dating girls almost exactly around the time that I started writing publicly on the internet about my life (2006/7, when I was 26) and so everybody found out that way; through facebook or my blogs or other published writing. I've been financially independent and living away from home for something like 13 years now, so I've also got a lot less on the line than possibly some of you do.
So I feel totally unqualified to advise you on how to come out! But you ask me a lot of questions about coming out! So I've gathered them up and I'm going to post them here and hopefully our LOVELY READERS will give you the support you need, like a wet nurse for your soul!
OH ONE MORE THING! We also have these related articles:
+ How I Came Out to My Evangelical Christian Parents And You Can, Too
+ Coming Out at Work: What a Way To Make a Living
+ The "When I Knew" Series
+ Texas Is Not the Only State: Confessions of a Lesbian Exile in New York
+ It's National Coming Out Day and We're Thinking of You
+ National Coming Out Day Listling Without Commentary: Selections From Your Coming Out Stories
+ You Need Help: Lesbian Back-To-School Edition
+ National Coming Out Day OPEN THREAD: The Good, The Funny, The Awkward
+ "I Want the World to Know" Invites YOU to Share Your Coming Out Story
+ The celebrity coming out posts
+ How To Give Your Mom The Gift of The Gay Agenda
Now for the questions I need you to answer: 
1. My sister is a freshman in high school. I really want to come out to my family before I leave for college, but I'm scared that she's not ready to deal with having a lesbian sister at the same small-town conservative high school. Any suggestions?
2. My girlfriend is 26 and came out at 18, after all this time her parents being Lutheran will still not accept it. at first being around them I had to be the "friend" and although I wasn't okay with it, I put up with it for her sake. That didn't last long. What do I do?
3. Riese. I want to come out to my Dad, but I think he might already know. But he might not. Well either way it's going to be a super awkward conversation, but I feel like it's something he should know/ I want him to. My mom also already knows. HOW.
4. Thinking of coming out to a family member. Is sending him the Wikipedia page of the Kinsey scale + a graphic of the scale w/my number circled once I'm 300 miles away an OK way to do it? I refuse to do it in person. Scared he'll out me to everyone though.
5. Oh God, how does one come out to one's parents after one put it off for so long? It's like the longer the lie, the harder it is to fix it. I am newly 28 and i don't know how to fix this. This will not be happy news for themmm.
6. I just came out for the first time to a girl from my elementary school that I haven't seen in several years for no particular reason via facebook message and now I am pacing back and forth and sweating. Is that normal?
7. I have this straight friend who I hold hands with, cuddle with, joke about us being a couple but I love her. I know nothing will happen, but I want to come out and I don't want her to think I was perving on her this whole time. Should I not come out?
8. My mum likes to take an interest in my life so she asks "do you have a boyfriend?" or "Does your friend, [insert girlfriend's name here] have a boyfriend?" I don't want to come out to her but it just hurts me when she asks stuff like this. ): what do?
9. How do I stop avoiding home? What if I'm being a jerk and not giving my parents who love me enough credit? Will it ever be okay for the two people watched me grow up and the lady I love the most to be in the same room, maybe enjoying each other's company?
10. Should I come out to my roommates? My straight friends think it's sneaky that I haven't, but it's not something they have personal experience with so I'm taking that w/a grain of salt. I don't want to hide it from them, but I don't know how they'll react.

To send your question via ASS personal messaging, choose an editor: Riese | Laneia | Rachel
Or ask any team member you'd like: Meet the Team
*If messaging is down, email us! There are so many options, you guys! You could send carrier pigeons!*
For 100% anonymity, contact us through Formspring:  Riese | Laneia | Rachel
Please keep your questions to around, at most, 100 words. Due to the high volume of questions and feelings, not every question or feeling will be answered or published on Autostraddle. We hope you know that we love you regardless.