In a society that devalues femininity and lays claim to bodies of color, it should come as no surprise that being a brown femme is complicated. Coming from a masculine-of-center, non-brown POC perspective, it's easy to relate to complications. There's an empowerment that comes with self-identification and a growing consciousness of self. There's also the experience of erasure: the battle between the way you experience your body and the way others perceive it. So if woman-centered femininity is the norm, and brownness is ignored, then brown femmeness is almost like a tree falling in a forest when no one is around to hear it — you just have to make a louder sound.
Femmeness is a deliberate reclamation of femininity. It refutes the idea that femininity is in any way inherently weak, silent or anti-feminist. It is experienced by cis women, trans women, two-spirit people and intersex people who claim ownership over their chosen femininity and who find power without leveraging or requiring masculinity.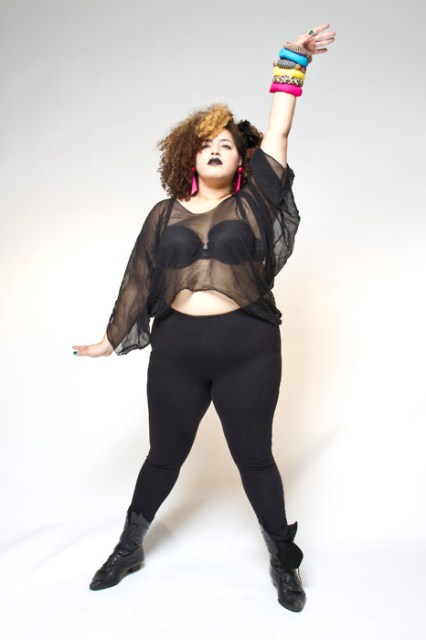 Although there's a lot of power in chosen femininity, there also seems to be the universal experience of invisibility. This is especially true for women of color who are systematically disregarded, whose existence is often invalidated and who historically have been left out of "progressive" movements like first- and second-wave feminism.
And if movements don't exist for you, if they don't include you, if they don't put your needs on the same level as their own, then there's only one thing to do: fuck 'em and make your own.
Introducing the Brown Grrlz Project, a response to and partner of the Brown Boi Project, which is a community of masculine-of-center people of color working for gender justice. The Brown Grrrlz Project, co-founded by activist and artist Kim Crosby, is a collective dedicated to "challenging the way that hegemonic society defines and oppresses Femme identified womyn of colour" by allowing them to author their own experience through networking, support services, skill-sharing and community-based education, because of course, knowledge is power. But it's not just knowledge that's power, it's solidarity that's power; it's community. It's the rejection of normalized gender roles, of compulsory heterosexuality, of the idea that one's own femininity can be used against her. It's women empowering each other, instead of women competing against each other for the respect of the white male world. There's room for all of us, but we need to create the space.
The Brown Grrrlz Project seems to view femininity as a form of resistance in a world where brown women are either terrorized or ignored. It is liberation from the idea that beauty is dependent on physical characteristics. It also acknowledges that an important part of femmeness is the aesthetic, and that aesthetics are valid and important. They are a form of expression that we can control without giving even one fuck about whose gaze they may attract.
It's also probably important to mention that the Brown Grrrlz are coming out with a calendar. Featuring Grrrlz from Toronto, California and New York, the project seeks to "amplify the work, vision and visibility of the members of the Brown Grrrlz Network." And, because femme appreciation isn't all about how these women look (though that's nice too), each month you can check out the Brown Grrrlz tumblr to see outtakes from the shoot and read about each woman's contributions to the community. It's an aesthetic with a political conscience. There's no one way to look or be femme, and so the calendar will feature individuals of varying abilities, ages, experiences, genders and sexualities. Say the Grrrlz:
"We recognize the diversity and the transforming nature of femmeness. It is complex and layered and we all hold varying levels of power and privilege. We all have work to do on ourselves, for others, for our communities and at the same time none of us are disposable…We ask that you join us in this celebration both imperfect and divine, just like us."
Keep rocking it out ladies. Femme appreciation life.