In February 2015, Autostraddle launched The Ultimate Lesbian Sex Survey, open to all "lady-types who sleep with lady-types." We garnered over 8,566 complete responses (89% of which were from people between the ages of 18 and 36) and now we're sharing the results with you, bit by bit. Previously: How Often Do Queer Women Have Sex?, 100 Gayest Places You've Had Sex, The Masturbation Habits of Queer Women, 50 Really Fascinating Things You Wanted Us To Know About How You Have Sex, 26 Bits of Solid Sex Advice, 41 Feelings You Have About Scissoring, Here Are Your Very Queer Underwear-Wearing Habits, When It Comes To Orgasms, Lesbians Are Nailing It and The 100 Most Ambitious Places You've Had Sex. Today we're talking about when you lost your virginity and how many partners you've had!
---
What Is Lesbian Sex?
The average American loses their virginity at the age of 17 — but "virgins" are defined as humans who haven't had heterosexual penis-in-vagina intercourse with a different-sex partner, which means a lot of queer women who've had sex with women would be considered "virgins" by that definition. So where do we even begin when talking about that patriarchal V-Card in a queer context?
Well, we're here, we're queer, and we have great sex, which 92% of us agree could be defined as "any time you are with at least one other person and someone is trying to make someone have an orgasm." 66% think mutual masturbation counts, 81.5% count oral sex and 80% consider fingering (digital penetration) to be sex. Of the 9.49% who indicated "other" in addition to or instead of the other options for "How Would You Define Lesbian Sex?", one noted:
"This is a difficult question. Do lesbians have sex? The epistomological root of the word 'sexual' means to sever or divide. I would say that intimacy between women does the opposite of sever. It makes us whole. We need a different word than sex to describe this."
So, there you go. Oh yeah, and then we have this flowchart:
Okay, so, now that we've established that lesbian sex is a real thing and that we can define it however the hell we want, let's talk about when you did it for the first time, how many people you've done it with, and so forth.
Your First Time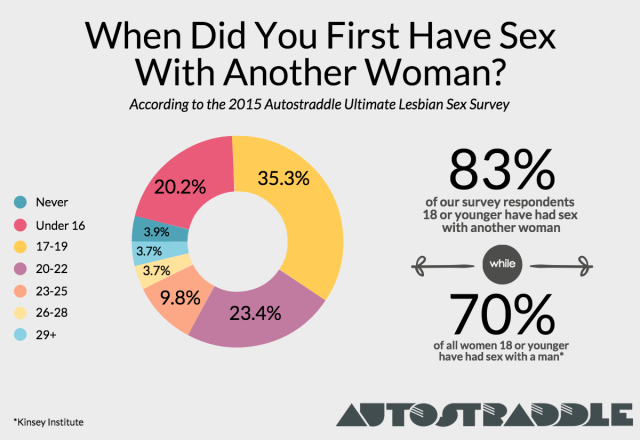 I'm 33 years old, and honestly I don't know many queer women my age or older who even knew another queer woman in high school, let alone wanted to and had the opportunity to have sex with one — which means I was wholly unprepared for how many of you had ladysex in early adolescence and therefore we didn't ask for an age beyond "16 or under." If we had, we could've provided you with an "average age at which a queer woman has sex with another queer woman for the first time," but we didn't, so we can't! Still, there's lots more to talk and think about with this data.
Do Queer Women Have Sex Earlier Than Straight Women?
According to our sample, yes — but our sample is willing participants in a survey about sex, so keep that in mind. One-third of American teenagers have had sex by the age of 16, but 43% of you had sex by the age of 16 — and amongst that group of 3,101 who'd had sex by the age of 16, 44% had done so with a man, 36% had done so with a woman, and 20% had done so with both men and women.
If we look at just lesbian-identified women, though, those numbers are very different, which suggests that the likelihood a queer woman has had sex with a man is a huge factor in whether or not she's had sex by the age of 16. Only 21% of lesbians had sex at 16 or younger, and of that group of 1,832 women, 41% did so with a man, 41% did so with a woman, and 17.9% did so with both.
Interestingly, there wasn't any difference between lesbians and bisexuals when it comes to sleeping with women before the age of 16 — it comes out to around 20 percent for both.
The Age Factor
Generational differences are enormously important when looking at this particular data set. Whether or not you've ever had sex with a man and when you first had sex with a girl are highly related to your age — older women are more likely to have slept with men at some point and less likely to have been with a girl at a younger age. This makes perfect sense: go back two decades and most teenage girls having sex with each other would've had to keep it very quiet, go back three decades or more and getting caught in a lesbian sexcapade could've destroyed your life. That's still true for a lot of queer women, but not to the same degree as it was in the past.
33% of those over 40 did it with a girl for the first time at 18 or younger, compared to 64.7% of under-21s. Obviously younger people will report younger ages of having had sex, because young people who haven't had sex are less likely to fill out the survey to start with, so those numbers are only moderately relevant — but also, 9.38% of under-21s who did take the survey haven't ever had sex with a woman, compared to 1% of over 40s.
There's also a severe generational difference when you look at how many women have had sex with men, which statistically speaking, tends to happen for the first time circa age 17 and therefore provides a more tightly controlled look at how things have changed since the time when sex with men was compulsory and sex with women was hard to come by. (Although, to be fair, it really wasn't socially acceptable for women to have sex with anybody they weren't married to for most of human history.) 49.6% of under-21s have had sex with a man, compared to 76.7% of those over 30 and 81.4% over 40.
For many bisexual, queer, pansexual and otherwise-identified humans, sex with men is something they genuinely desire doing, so, in order to get a better look at people who've had sex with men despite (at the time or eventually) wanting to have sex exclusively with women, I narrowed the field to just lesbian-identified women. The numbers were nearly identical for older women, but shifted slightly for younger ones: 41% of under-21 lesbians have had sex with a man, compared to 78% of lesbians over 40. This is one of many reasons why it's so frustrating when lesbian identity is policed based on whether or not you've ever had sex with a man — you're potentially denying an entire generation of women their identity.
Of everyone who'd had sex with a man, 91.7% did so for the first time at the age of 21 or earlier, but only 76% of those who'd had sex with a woman pulled it off before the age of 21. Sometimes it takes a little longer to find out that you like women at all, and sometimes it just takes a little longer to find a woman who likes you back. Heteronormativity is a powerful force, y'all.
How Many People Have You Had Sex With?
That's a good question, header text! I will answer it for you right now:
What's really interesting here is how many more partners you've had than straight women! According to the CDC, 10% of women between the ages of 25 and 44 have had sex (oral, vaginal or anal) with over 15 men — meanwhile, 29.4% of the women between 25 and 44 on our survey have had sex with over 15 people. That's nearly three times more!
There are many potential explanations for this. The first is that queers are more likely to be non-monogamous. The second is that there's less stigma around "promiscuity" in queer circles — my "number" is something I was constantly aware of and asked for when I dated men, but literally zero of the women I've dated have asked for it. The third is that people with vulvas who have sex with other people with vulvas don't risk pregnancy, which means casual sex can feel more, well, casual. 
What other factors play a role in how many sexual partners you've had? Well, here are the cross-tabbed factors that had the most dramatic results:
Another interesting correlation was "interest in kink." 30% of those very or exclusively interested in kink have had 16+ sexual partners, compared to 14.5% of those who are not very interested or not interested in kink.
Also, athough the sample size of Muslim-identified women (26) was too small for statistically significant conclusions, that small group did report way less sexual partners than other religious groups. Buddhists (214 respondents) and Wiccans (157 respondents) were more likely to have many sexual partners than other religious groups — 18% of Buddhists reported 25+ sexual partners, compared to 11% of the entire group.
Do more partners correlate with being more confident in bed?
Yes. 70.4% of those with 1-2 partners were either somewhat or very confident in bed, compared to 97.5% of those with 100+ partners. The differences are more extreme on either end of the spectrum — 71.6% of those with 100+ partners are very confident, compared to 18.7% of those with 1-2 partners and between 30 and 55 percent of those with partner counts ranging from 6 to 99. The better news is that most of you are confident in bed, period — 82.4% of the entire group are somewhat or very confident and only 9.23% are "not confident" or "really not confident."
So, there you have it! Queer women have more sexual partners than straight women and seem to have sex for the first time around the same age, too. Queers: they're just like queers!