On Sunday, I was driving down 580 in Oakland when I received an urgent message. It was my mentor and co-founder of Black Lesbians United, Jeannette Bronson asking if I had seen any racist or homophobic messages on our fan page. As her admin assistant, she often tasks me with looking out for hateful trollers (which we're accustomed to) when she is away from internet access. This message was a little different because I could tell it was urgent.
Just the night before, Jeannette had launched a Facebook event invite to our 7th annual retreat in Malibu, Ca. This is a weekend where black lesbians from all over the country come to spend the weekend connecting through conversations, African dancing and drumming, social activities like our butch/femme switch, poetry sessions and workshops ranging from spiritual craft making to sensual intimacy. It's a multigenerational space where the ages range from 18 all the way to 80. It was the first place I had the opportunity to be in conversation with a black lesbian elder (and have her lovingly tell me I'm doing this dating thing all wrong). In short, it's a space where members of this vast yet at many times marginalized and invisible community of women can come together to meet, affirm and learn from one another. We pride ourselves on making the world safe for Black Lesbians.
We're incredibly excited for our retreat's many changes this year including a longer weekend, a new space and new activities so we were thrilled to see our RSVP count start to rise rapidly. That was the last I saw of the invite until Jeannette's urgent request. The rest occurred more rapidly that we could have anticipated.
The RSVP quickly swelled to over 5,000 with an invite list of 20,000 for an event that normally maxes out at about 200 women. Then the comments started. Things like "I'll bring the KFC," "Are you going to bring the Disco Biscuits?" and "We are ready to scissor everyone." As I mentioned, trolls aren't new to us. For whatever reason, men like to come to our fan page and air whatever ideas that they have regarding women having the audacity to love each other without men present. Jeannette proceeded with our ritual of deleting and banning offenders thinking she would still have time to catch the LA Clippers game and Long Beach Pride later that day.
Then she noticed the comments went on for pages and pages. In real time, new comments were being posted every few moments. After a while event regulars started sending her messages about how hurt, scared and offended they were with the terrible things that were being posted. It was then that Jeanette reached out to our group of admins for ideas on what we could do next. We didn't want to completely delete the invite. Women had been waiting for months for the announcement so they could start to register and plan travel. But we also couldn't continue to allow these same women to be attacked in such a hateful manner. This wasn't just an attack on a Facebook invite. For many, this was an attack similar to those they experience in the real world navigating as Black Lesbians and in a space that they felt safe in. So what exactly happened?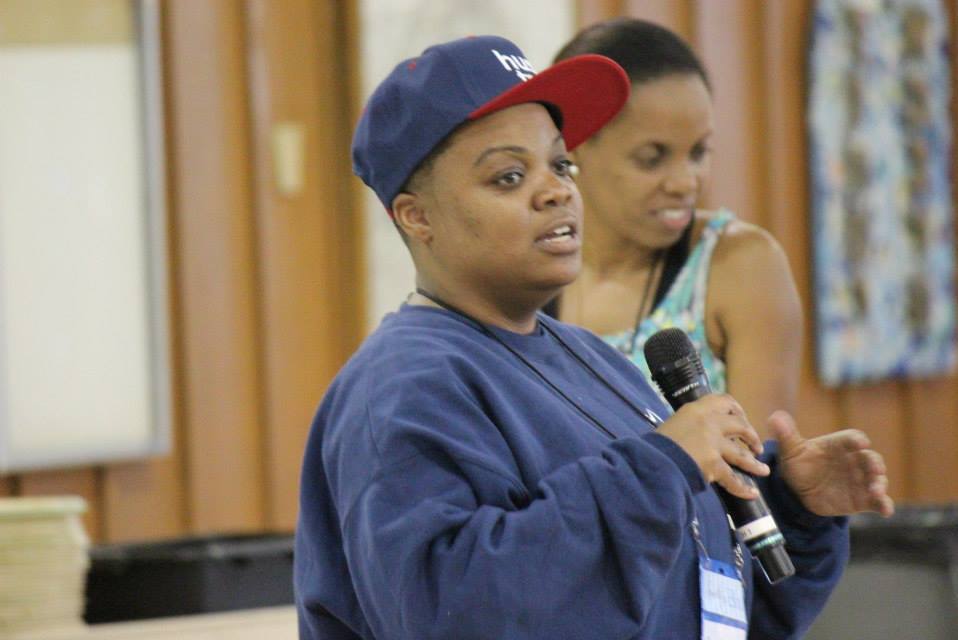 It was all a form of what is being called internet "fraping." I want to be very clear that I absolutely abhor that word and what it alludes to. But then again it perfectly describes how the practice is used to overtake a person or group, overpower them and dehumanize them. Last week there was a similar attack on an event invite to the flute recital of a student named Azeem Ward. While it remains to be seen if the attack was created by the same individuals that attacked the BLU page, the attack was virtually the same. The individuals swarm an invite by inviting thousands, presumably their friends or individuals with similar ethics and views. Then proceed to spam the event with comments that they see as "humor" but are really hurtful — and in this case racist and homophobic — in an attempt to show how stupid they think the event and/or the attendees are.
We think the attack started when someone found the invite and posted it in a UK feminist group. From there it took on a life of its own. Students from an unnamed university started sharing the post and posting the hurtful comments amusing themselves apparently in the middle of their final exams. I have heard of student communities partaking in collective rituals to let off steam during finals but this was unreal. It was also a clear example of young men reveling in their white male privilege by levying sophomoric humor on a community that they considered beneath them and worthy of such hate. As Jeannette explained "the vortex of the whole episode went from confusion, to hurt, to fear, to sadness, to anger and then activism as the comments went from being blatantly racist or homophobic to immature in nature."
In the midst of the attack though, something very interesting happened. Members of the internet community from all across the world started to rally around the group and event, firing back at the commenters and leaving messages of support on the page. Those most notable were from other folks in the UK stating their apologizes and shame in what their fellow countrymen had done. Someone quickly started a change.org petition for Facebook to be more proactive in monitoring these internet bullies.
Meanwhile, we were still in the tank deciding what we as an organization could do. There was dismay in the fact that there wasn't a quick, accessible way to stop the attack so we quickly made the decision to take the event down. We went through many options and scenarios of what we could do to keep it up so that those looking for this event could find it but there were no suitable options within the existing event. We wrote a Facebook post that stated, "Yesterday was a horrific experience, however the support that we received from so many was amazing. Thanks to all of the warriors who stood up to the abusers on FB, and all of the messages of support that we've received. And yes, the retreat itself will go on! We will not be silenced! We will not be bullied out of existence!"
Yes the event will go on! We were so overwhelmed by the support we received across the world by individuals that wanted us to know they stood against us and loved the fact that this space exists. Our LGBTQ community did NOT stand for that bullying and they made it known. For this moment they made us all feel that we had an even larger community that wanted to make sure we had this space to feel safe and supported.
This is our 7th year as BLU but really the women that founded this space have been creating this space for over 25 years in Los Angeles — longer than some of the event participants have even been alive. Many of them created friendships and even partnerships that have spanned over that same time period. Some of us found a community there when the ground was shifting under our feet. I am so proud to be part of this group of amazing women. I get overjoyed when I think of what the elders have tasked us with in asking us to help make sure that it goes on. If you are interested in finding out more about the retreat or if you are a black woman who loves other women and are interested in attending, you can find our page here or connect with us on Facebook. I hope that this year I get to see you on the land!