What's truly faked, of course, is high-maintenance "femininity," with its Sisyphean plucking, shaving, coloring, creaming, curling, straightening, nipping, tucking and starving. We would fight anybody who didn't think women should have the choice to do all of those things … But it also seems a little Orwellian that women who chose not to get involved in major personal overhauls—in other words, those women among us who look most like real, natural, unadorned, unconstructed females—are the ones who get dissed for not looking "feminine" and/or "trying to look like a man."
-The Girls Next Door, by Lindsy Van Gelder & Pamela Robin Brandt


Riese:
Firstly, I have this theory, which's that all women are bisexual, so that's what I assume until you declare/display allegiance to the straights or the gays. No one's shocked to hear that I have a girlfriend, but nor was anyone surprised when I had boyfriends. Is it possible to look bisexual? If it is, I think I might … or maybe it's just that I'm so used to feeling misread that always keeping one thing back is what I've become used to.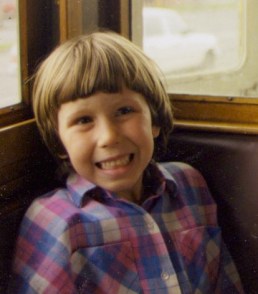 No one ever guesses anything correctly about me from just looking, and most innocuous questions I'm asked – about my family, home, religion, job, history, education — ensure a weighted/complicated answer, it's like I can't stop being undercover. I've had phases where I used my controversial factoids (which I'll withhold here, for everyone's sake) as party tricks but now, in line with my overall efforts to be a less abrasive human being, I have learned to evade questions, tell jokes or accept inevitably uncomfortable pauses. This isn't the first alternative lifestyle I've affiliated myself with in action or appearance.
So, this includes sexuality-related inquiries.
As a little tomboy girl-child, I was frequently mistaken for male, which I usually liked, 'cause it gave me access to power, The Baseball Card Club and better soccer teams, as well as confusion and concern from relatives. My parents raised me "gender neutral" and I still lack any instinctual knowledge abut wearing makeup or outfits. I performed an elaborate Fork in the Garbage Disposal dance to prevent my grandmother from weaseling a paralyzing dress onto my badass tree-climbing monkey 'bod. I've never had long hair or pierced my ears. So I've always had a really flexible idea of gender.
[I'd like to add that I don't think we don't give enough attention to how much body type factors in to our perceived gender. If we agree that gender is unfixed—fluid, created by society—then our physical appearance and attitude contributes to our gender identity insofar as it determines how the world around us will react to us. As a tall and skinny girl, my tomboyishness isn't particularly subversive, even in adulthood. And to be fair I'm curvy enough to go full-out girly, too.
I think heavier women face a much harsher jury when considering their gendered presentations. All of society's derogatory images of lesbians, and particularly their vocabulary—bulldyke, diesel dyke, bulldagger—imply "butch" women to be large, imposing, gruff and mean. Rosie O'Donnell's "butch" haircut was panned as evidence of her Radical Lesbian Personality—meanwhile Suicide Girls.com can have the same haircut and people pay money to watch them make out.
ALSO there is nothing wrong with wearing birkenstocks and  flannel and having short hair! Who cares? I don't like the attitude that there's something inherently BAD about genuinely fitting into the "stereotype" of what a lesbo looks like. TO EACH HIS OWN.]
See; something is changing. Whereas a few years ago I noticed most women identified strongly with one end of the gender spectrum or the other, something lately has granted so many of us permission to not make that choice — and we're not talking about androgyny. We're talking about wearing a dress on Monday and a tie on Tuesday.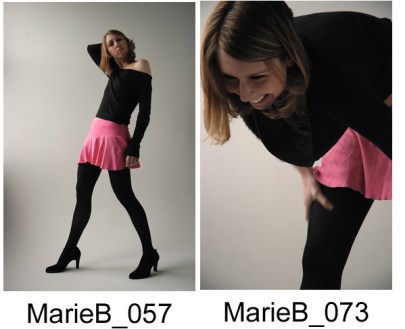 Entering the GLBT community in my early twenties, I felt like I had to pick Boyish or Girly and then acquire the corresponding girlfriend, or that there was an expectation that accepting my sexuality would coincide with some physical style shift or enable a more honest, solid, specific sense of self. Like being gay would be the end of confusion, like coming out wasn't that different from growing up.
I did cut off my hair at one point 'cause I was sick of being harassed by men on the street (it's common in NYC) — and no longer cared if that meant I was never approached by the guys I actually did like, either.  It's not that I wanted to seem gay. I wanted to seem MALE. It worked. I grow it out, I cut it, it's all play. Now, I'm totally at peace with gender being performance and not choosing. I like wearing dresses sometimes (with combat boots or sneakers, usually) sometimes I like dressing comfy/boyish.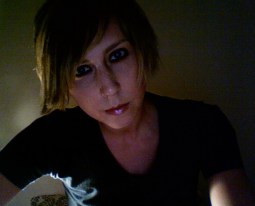 But much like growing up, coming out isn't the end of your search for identity and it doesn't necessarily break you out of confusion into the clear. And my sexuality is really only one part of me. I like to think that we're not really all bonded here 'cause we like to fuck girls, but because we share a common state of mind that's super common amongst people who've absorbed the same societal clues & experiences associated with being someone who likes to fuck girls. 'Cause a lot of AS readers aren't gay, and also aren't bothered by the gayness. 'Cause it's about something bigger than that.
So I think perhaps we should attribute various appearances to certain "types of people" not by who we sleep with but what we dream about. It's more interesting, and far more optimistic.

Tinkerbell:
Hello Autostraddle this is Tinkerbell. If you look at me and assume that I am a stuffed dog with the personality of a lincoln log, then you will never know that sometimes I have candy in my special pouch, that I used to be a purse, or that I love Littlefoot.
Because of my Mother and her friends I did not realize that some boys liked to be with girls until I had my feelings for Littlefoot. Loving Littlefoot does not make me look like other dogs or gay or straight. For example I am nothing like Tinkerbell the dog of Paris Hilton. I am much prettier and also poor. I am not like the Taco Bell dog who careos tacos. I don't even like tacos. If every girl dog who liked dinosaurs looked the same, that would be boring, and also more competition for me, Tinkerbell. So back off.
Thank you love Tinkerbell.

Pages: 1 2 3 4 5See entire article on one page