MAINE: Meet Paul & Jeanette. I gotta say that No on Question 1 in Maine is trying a really unique campaign and I hope the right people are getting the opportunity to check it out … you've met Phillip, now meet Paul & Jeanette and help make this shit go viral!
These ads make it clear this isn't a generational issue because there are plenty of old people with their heads on straight. See, straight white sixtysomething seventysomething eightysomething Republicans and/or war veterans are not just naturally against the gays after all, it's not like they got a side of bigotry with their Old Country Buffet All-You-Can-Eat Special. Omg I just accidentally typed that without the "O" in "Country." Do you ever type google.om? Just me?
How cute is it when he calls it the "Don't Tell, Don't Ask Policy"?
Also the governor is endorsing No on 1, thinks you should too. Also check out Six Days, Folks – Six Days, Do You Want a Win in Maine?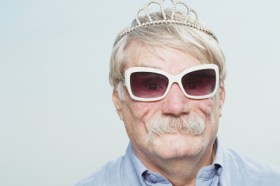 And speaking of old people: Over the next 25 years, persons in America who are 65 and older are expected to grow from about 12 to 20 percent of the total population, and various estimates indicate that lesbian, gay, bisexual and transgendered individuals will comprise 7 to 10 percent of that senior population. Family Research Council's coldhearted attack on LGBT senior citizens: the Family Research Council spoke out against Obama Administration plans to create a national resource center for LGBT seniors.
SCHOOLED: Watch the Christian News Service describe something totally awesome and expecting you to react with horror & disgust : Obama's Safe Schools Czar Advocated 'Queering Education.'
Also, On Top Magazine discusses how Focus on the Family totally blasted the Safe Schools Czar. Really though G-d forbid they tell gay kids they are okay and not weird! I guess Focus on the Family would feel more comfortable about gay kids internalizing self-hatred and killing themselves, yeah? (@cns)
WASHINGTON: Colbert handles how the Protect Marriage Washington against Referendum 71 group proves that gay marriage has horrible effects on fact-checking:
IMMIGRATION LAW: Deportation isn't often mentioned as a consequence of marriage inequality, but The Pittsburgh Post-Gazette had an article on the issue on Friday and Pam's House Blend covered it today in Obama Administration Fails to Help Gay Couple Bypass Discriminatory Immigration Laws. The story is about a gay man who lost his work-related green card after being laid off. But because his long-term relationship doesn't qualify as marriage in the eyes of the government, he was deported back to Indonesia.
There is currently legislation in the House dealing with this loophole in immigration law. But many proponents of immigration reform (such as the Catholic Church) say that attempts to include gay rights would kill the reform effort. Kevin Appleby, director of migration and refugee policy for the U.S. Conference of Catholic Bishops, says: "Why add another major controversy to an issue that's already divisive? It's a distraction that will simply hurt the overall effort." I guess that's just one more way to tell the gays to be patient.
Eric Holder, the U.S. Attorney General, didn't respond to the application in time, effectively denying it.
DADT: Army Secretary John McHugh said in an interview with Army Times that he's ready for a DADT repeal: "Anytime you have a broad-based policy change, there are challenges to that. The Army has a big history of taking on similar issues, [with] predictions of doom and gloom that did not play out." (@ queerty)
OBAMA: Obama invites gays to White House: So not only will President Obama be speaking on signing hate crimes legislation tomorrow, he's also sending inviting LGBT organizations for a reception run by a major LGBT donor. Obama keeps inviting us to come party but we've had enough partying, we want to have a talk about our relationship! That's so gay. (@ politico)