Brooke:
I pass as straight everywhere. I mean, even when I go to lesbian bars/events and LGBT organization shindigs for promoting, networking and the extensive market research I have to perform for Autostraddle, I'm usually approached at least once throughout the night by someone asking me if I'm straight. I find this to be a problem as it shows queer women feed into this stereotype in some ways as much as the rest of society does.
When people find out I work with Autostraddle, they'll often ask me if I'm gay. I usually say, "Does it matter?", wait for their mumbled/uncomfortable response and then let them know. However, I take this as a positive since it means they potentially view the demographic is legitimate enough for someone who is possibly heterosexual to be working on a business targeting it. I don't bring my sexuality up to most people unless they ask or I think it would serve a purpose.  Often, the easiest way to defy a stereotype on the micro level is to let people feel comfortable and then bring it up.
Re-reading this, I see a contrast between going to LGBT events where people ask me if I'm straight and when I talk to people about Autostraddle who ask me if I'm gay.  I'm not sure what to make of that yet, I'll think about it and get back to you all.
In the end, I've personally encountered very little negative response as a result of my sexuality on an individual level. But that doesn't take away from the fact that every day I'm made more aware of the lack of rights we have as a group and the detrimental social, political and cultural ramifications homophobia and inequality both in this country and abroad are bringing on us.  And yes, it is our job to change this.

Katrina:
When I came out at 16, I promised myself that I would never become one of 'those' lesbians. I wasn't really sure what that meant exactly, but I knew that I didn't want to be identifiable. Something about how I liked being a surprise or whatever; I liked to defy people's expectations. This is funny because, without any conscious effort, three years later I've become the short-haired, lip-ringed, plaid-and-skinny-jeans-wearing punk I am today. In fact, it was once been said to me, "Katrina Casino, you walk into a room, and it's like a rainbow carpet has been rolled out in front of you. It's just like, 'LESBIAN!.'"
My gay best friend (GBF) is something of a femme lesbian. Last year we both participated in a friend's project for her gender and sexuality class, and footage of us speaking was played to random people to guess whether we were gay or straight. As I apparently am the blazing becon of lesbianism on American University's campus, everyone pinned me, obvs, and that was fine. But the most revealing comments came when people tried to guess her sexuality. Apparently she wasn't a lesbian because she was cute or pretty. She looked like she took care of herself, and she wore makeup.
Girls who pass get written off as biddies; girls with swagger get privilege, but not attention.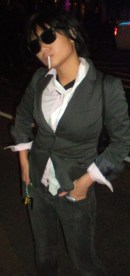 For some reason telling a girl that she'd be able to "pass" for straight was some sort of compliment.
Upon getting to college, I tried to reverse the trend. Being able to "pass" may have been aesthetically appealing, but being a lesbian with an androgynous appearance was a major way to access power. Girls who pass get written off as biddies; girls with swagger get privilege, but not attention.
Being a lesbian has allowed me to interpret femininity through a totally different lens. From the days of my tomboyhood, I've gotten to redefine what it means to be a girl. Trying to strike a balance between butch and femme in my appearance was exhausting, and I finally realized that I didn't need to try to "look" like a woman or a lesbian, because I was already both those things.
So yes, I am a woman, though unconventionally so. And yes, I am a lesbian, perhaps conventionally so. But what's that to anyone? The idea of looking like a woman or looking like a lesbian are based on outdated gender stereotypes and roles, and sometimes all I want is to wear my American Apparel (unisex) boy briefs.

NEXT PAGE: Alex and Robin
Pages: 1 2 3 4 5See entire article on one page