Tuesday Televisionary was right on time bitches: True Blood Ends Underwhelmingly, Glee Begins Showmantically, Hot Girls Outlast the VMAs.
Check out our Fall Preview 2009 Guide to see what's happened and what you can look forward to! Our Fall Music Preview is coming today, we've also got Fall Books, Fall TV, The Fall Excitantcy Matrix and the Biggest Event of Fall — The National Equality March.
Yesterday's Fix: Debating Lady Gaga's Genius, D.C.'s Gay Marriage Bill, Kelly Clarkson's Not-Gayness … Gay 'Freaks' vs. Teabagger Freaks?


THREE RIVERS: E-Online says that we should "look out" for Kate Moennig's Miranda to be "the spunkiest, most determined and vulnerable surgeon we've seen since Susan Lewis on ER." With each additional promo picture, Three Rivers yanks dear Shane a.k.a. Kate Moening further from our alternatively lifestyle haircutted grasp. Intern Laura has made this graphic for us of "Miranda Foster" strolling urgently through the hallway with a jean-jacketed Miranda Foster hovering angelically in the distance, which is confusing, but also brilliant:
Riese made this graphic of the ID photo recycled from Kate '05 [yeah, she already knew exactly what photoshoot the ID photo was from, b/c that's what you do in 2005 when you are discovering your sexuality via Kate Moennig fansites], clearly our priorities in life are curious but graphical: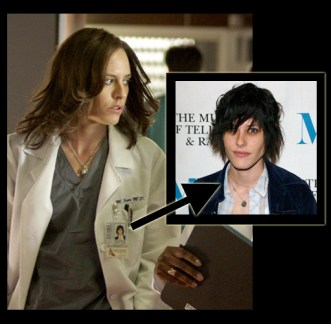 Oh and just one more thing? We also made this (it wasn't a BIG news day necessarily)
LOOK WHAT YOU'VE DONE: Caster Semenya Placed on Suicide Watch "She is afraid of herself and does not want anyone near her. If she commits suicide, it will be on all our heads. The best we can do is protect her and look out for her during this trying time." (@velvetpark)
WHIP IT: Drew Barrymore had her bisexual eyes on cast Ellen Page before Juno even came out you guys. (@ap) And the Huffpo thinks she looks crazy. Srsly, this interactive feature is kind of absurd.
We have no objections to this serious photo from the Toronto International Film Festival portrait studio:
SAPPHY: JESSICA SIMPSON'S lesbian dog has been snatched by a coyote – and the traumatised singer's fighting for its return. (@thesun)
REAL LOVE: 107-Year-Old Woman Dumps her 37-Year-Old Husband "It gets weirder. Kundor and the 37 year old Muhamad have been married for four years. It is his first marriage, and her 21st. Or 22nd. Or 23rd – it's hard to keep track." (@nerve)
LESBIAN TWINS: Not Quite Tegan and Sara "The Topps defy logic. "On paper," says their comedy-writer friend, Paul Horan, "yodeling lesbian twins don't really work." (@variety)
MASSIVELY SHOCKING REVELATION: Pink Brain, Blue Brain: People are still doing research to prove what's already been proven which is that a preference for trucks or dolls is not innate but socialized. I like my dolls in trucks, btw. Just saying. (@newsweek)
ELECTRIC TOOTHBRUSH SALES ARE UP: Alabama Upholds the Criminalization of Sex Toys "My motto has been they are going to have to pry this vibrator from my cold, dead hand. I refuse to give up." (@pandagon)
SLICK WILLIE: "Respect for Marriage Act" Introduced "Throughout my life I have opposed discrimination of any kind," Bill Clinton said in the statement. "When the Defense of Marriage Act was passed, gay couples could not marry anywhere in the United States or the world for that matter. Thirteen years later, the fabric of our country has changed, and so should this policy." (@the bilerico project)
JERSEY GIRLS: Same Sex Marriage is Coming to New Jersey "I look forward to signing marriage equality legislation," Corzine told the Press of Atlantic City. "I think that will be this year." (@pam's house blend)
HATERS: Ohio Finally Passes a GLBT Non-Discrimination Bill, Some Guy Gets Douchey All Over Everyone's Asses "Wagner then did his best to prove his point, talking about the "sexual revolution," how increased numbers of homosexuals have led to increased incident of sexually transmitted diseases and the dangers inherent in living in a world in which homosexuality is accepted. He told his colleagues, 'You can live with whoever you want, but don't use the state government to force acceptance.'" (@Pam's House Blend)
BEER: Low-Alcohol Beer Is a Confusing Idea, Its Ads are Insulting (@sociological images)


Auto-Straddler of the Day

"people always say you should be yourself, like yourself is this definite thing, like a toaster or something. like you know what it is, even. but every so often, i'll have like, a moment, where just being myself, and in my life, right where i am, is like, enough." (Angela Chase)

from Intern (hot) Laura:
Did you know you can travel the world FO' FREE?  CouchSurfing.com helps you find a couch–or just a drink and a friend–in 64,939 cities.
+
from Alex:
The Poster List is a pop poster store I know of because of Carlytron actually. So this may be some sort of 'team pick' cheating, but I'm about to seriously purchase about a dozen posters from this site cause they're awesome and I thought I should let you know.

From Riese:
Lorrie Moore at Book Expo America answers your questions. Well, most of them.
+
+
from KC Danger:
Man, don't you just hate sifting through pages and pages of Tegan and Sara pictures? Yeah, me too. So whatever you do, don't go to Fuck Yeah Tegan and Sara.