Greetings, squirrel friends! The fall television season is upon us! This week marks the much-anticipated return of Glee, as well as a very interesting VMAs and the end of a totally bizarre season of True Blood. But I'm getting ahead of myself here. First, the news!
First, Patrick Swayze died last night, and that makes me really, really sad. NO ONE PUTS BABY IN A CORNER. Second, everyone went crazy. Third, EW's Michael Ausiello has a post-mortem chat with True Blood creator Alan Ball. And fourth, Television Without Pity finally announced the winners of their Tubey Awards!
Also, in case you haven't seen it yet, Auto-Fave Kathy Griffin mocked Kate Gosselin awesomely on Jimmy Kimmel Live:
And now, onto the awards!
Jump To:
Glee, by Carlytron
True Blood, by Laneia
Intervention, by Tinkerbell
MTV Music Video Awards, by A;ex
Top Chef, by Laneia
America's Best Dance Crew, by Intern Vashti
Hot Girls of the Week


Glee Episode 102 – "Showmance"
(by Carlytron)
The Number One Feeling Award
Obvs our number one feeling forever will be Glee, until it goes on to that TV network in the sky, at which point we will talk about it with the reverence we reserve for shows like Buffy and Arrested Development. This was the first new episode since the pilot aired earlier this year. We liveblogged it/created a drinking game for it, too! Basically, this show is really amazing. Its pacing and writing (and cinematography!) are quick and witty, just the way I like 'em. We covered a ton of ground in just 44 minutes of television, so let's begin shall we?
So Terri wants Will to buy her a big house in which to raise their imaginary daughter or gay son. Did I say imaginary? I did!
She's having a hysterical pregnancy and once she finds out, she does the following, all of which are bad: 1) lies to Will and says they are having a boy; 2) tells Will he doesn't need to be a night janitor, and she doesn't need a house, making him think that she's being selfless; and 3) gets to work on making a baby for real-reals… gosh, I hope it's a boy! I really want to hate Terri but it's so hard, Jessalyn Gilsig's delivery is so good that it's nearly impossible. Meanwhile, Will has been flirting hardcore with Emma, who wears only cute clothes and says only cute things. Seriously, she might be an android sent from a cute galaxy or something. Jayma Mays was great on Ugly Betty and Heroes, but she's really incredible on Glee.
Emma counsels Rachel (ZOMG PAMPHLETS!) on her non-existent eating disorder:
Rachel: "I tried but I guess I just don't have a gag reflex."
Emma: "When you're older that'll turn out to be a gift."
Rachel tells her that she's in love with Finn, Emma is clearly similarly in love with Will (the Emma-crying-in-the-car aside is hilarious), and she advises Rachel to find a similar interest and that might help get their love connection going.
And boy does it ever! Rachel joins the Celibacy Club (what kind of high school is this where all of the cheerleaders and football players are part of something called a celibacy club?) and barely lasts one meeting, storming out after telling everyone that not only is celibacy a terrible idea, but that girls want sex as much as boys! Whoa! This show is on Fox?! Everybody drink!
"I feel like a girl like Quinn would never be popular in high school." – Robin
Rachel and Finn get in trouble for using the Cheerio's photocopier to make flyers for Glee club (how on earth does Finn not know who Justin Timberlake is? Seriously where is this school?), so she decides to stage a coup. Without Will's knowledge the Glee kids change the performance for the big school assembly from a lame disco number to Salt 'n' Pepa's "Push It," which is totally amazing and leads to the following: 1) Quinn and two Cheerios join Glee, taking away Rachel's solo; 2) The Lynch now has three spies on Glee; and 3) the Glee kids have to now adhere to a special list of songs, all of which are "approved," and are therefore totally lame. Rachel and Finn also totally MAKE OUT until Finn has a "situation" and has to leave.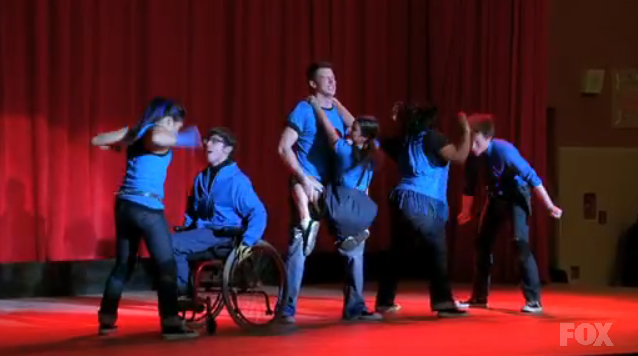 And now a special comment on Jane Lynch (heretofore known as "The Lynch"): she's so amazing, right? We already knew she was amazing but she's really fantastic the entire episode. Her delivery is hilarious and militant all at once, making her the perfect high school tv villain, and she says some of the most quotable things:
The Lynch: "Iron tablet? Keeps your strength up while you're menstruating."
Will: "I don't menstruate."
The Lynch: "Yeah? Neither do I."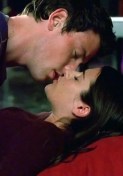 She also refers to her hamstrings as her "hammies," which is awesome because I have also been saying that ever since I saw The Cable Guy.
In the end Emma decides to go on a date with Coach Ken to keep from acting on her feelings for Will and Rachel sings "Take a Bow" because she's sad. So what did you think, did it live up to the hype?! Do you looooove Glee more than you can possibly handle? What was your favorite moment or quote? And for added bonus Glee content, check out Fox's Glee video page, they're not embeddable but they have tons of behind-the-scenes extras!

True Blood Episode 212: Beyond Here Lies Nothing
by Laneia
"I'm a waitress. What the fuck are you?"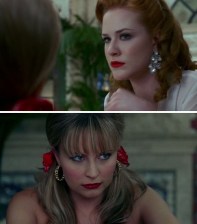 Well, then. So that's that. An entire season's worth of suspense-building debauchery and wtf-edness, and this is our ending. I thought for a second that Lafayette was going to rape Sookie, or that the Fancy Dress Delivery Lady was going to turn out to be Maryann, or that the ostrich egg would hatch. But um, none of that stuff happened. Ok, look — I'm just gonna say it: MEH. It was meh. Very underwhelming. Have I come to expect too much? Alan Ball, tell me — are you bored with us already?
There was an interesting tidbit during Maryann and Sookie's exchange at the beginning of the show. At least, I think it was a tidbit? Maryann tells Sookie that the god who watches over her [Sookie] isn't the same god that "the blind billions worship." Sookie has a flashback to Season 1, when she saved Bill from being drained by the Rattrays outside of Merlotte's. The chain tightened around Mack's neck, but we never saw who was responsible. Are we to assume this was the act of Sookie's mystery god? I will ponder this point for the next 9 months because frankly, it's the only interesting thing the writers have left me with.
Hey! Anna Paquin looked pretty in her Maid of Honor gown!
We also learn that the vampire blood Lafayette has been selling is from Queen Sophie-Ann herself. This is probs supposed to be very scandalous and whatnot so I'm just going to go with that emotion. Did you catch that she referred to it as her "queendom" while threatening to rip Eric's fangs from his mouth? That was cute! Almost as cute as the glances she and Hadley exchanged. Has anyone read the books? I'd like to know if their relationship is discussed in any more detail there than in the show. Lemme know, Idaho!
As usual, Jason said amazing things that were hilarious and brilliant. Amazlariousiant things, you guys. Here is a sampling:
"I love the smell of nail polish in the morning!"
"It's times like these that this town needs a good man, Andy. And that man, is us."
"It's like if a tree falls in the woods — it's still a tree, ain't it?"
But what about Maryann? Oh, don't worry about her. She gets killed within the first 25 minutes. It was actually quite easy. See, Sam just turned into a white ox and impaled her with his horn/arm. Simple. I'm sorry, what's that? Where did they find a shiny white ox for Sam to morph into? Minor details! Insignificant! Shhhh! Insert Gratuitous Sam Butt Shot here. Maryann's offering looked a little like Burning Man, yeah? But with more meat. What's the difference between an ox and a bull?
Cheryl: "That's her grandmother's dress! They ruined her grandmother's dress!!"
Laneia: "Aaaah!!"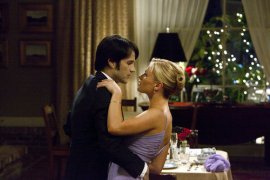 Ok! Now that the Maenad's dead and buried — buried just any ol' place, by the way — let's clean up this house and sew Jane's finger back on! Nevermind the entire town has been totally mind-fucked for what, three weeks? I've lost all sense of time with this show. Whatever. Get everybody off Sookie's lawn. Oh hey, you know what we should do? Go out for French food. Definitely.
Let's go over these "cliffhangers", kiddos.
* Sam is looking for his real mom and dad! Just like Annie!
* Bill asks Sookie to marry him but doesn't hear her say yes because someone violently abducts him before she comes out of the bathroom!
* Jessica is now the Vengeful Vampire Virgin! Horny men beware! Grrr! Aaargh!
* Jason kills Eggs and Andy is taking the blame. For Jason. Who shot Eggs. In the head. For no good reason. At all.
Hello this is my theory re: The Murder of Eggs — Tara will be inconsolably distraught, etc., after Eggs' death [because obviously she had so much time — three weeks? 70% of which she can't remember because she was under Maryann's spell — to fall truly and honestly in love with him, of course] and in this vulnerable state, will turn to Jason, the man she used to love/have a crush on. Jason will start to feel feelings for Tara, either out of guilt or genuine emotions, whichever, and things will go along swimmingly for a bit and then BAM! Tara will find out the truth about Eggs' murder and everything will fall dramatically apart OMG. Yes, I've watched a soap opera or two in my day, thankyouverymuch. [And then! Tara will murder Jason's twin brother and be placed in an institution for the criminally insane, where she'll give birth to a daughter but really it'll be Sookie's daughter and she'll be Autistic! GENIUS!]
"Never say never when there's the internet."
This is basically Team Autostraddle's motto. HOLLER!

Intervention In-Depth: "Addiction in Uniform"
by Tinkerbell
The Army Purple Medal of Honor Award for Bravery in Cocaine Consumption

Hello Autostraddle, this is Tinkerbell. This weeks episode was very serious about what happens to American people who go to war and then come back with an 8-ball of cocaine up their honker, crouched over the toilet barfing up stomach intestines. This is not a surprise to Tinkerbell who does not like blood or human flesh or the desert.
There was a voiceover this week so it was okay that I am not the best at reading. In Vietnam, the soldiers had time off to drink & be with ladies but not in Iraq, where there are no kites or flowers. Therefore the fighting & killing & fear/anxiety was just The Worst. There are many things about war I do not understand.
The people in this episode had already been intervened upon so there was no kicking & screaming, only stories of hell and redemption, like Lady Gaga.
Matt looks like an action figure but he drinks like a drunk person. He started drinking while he was in Iraq and then he came back and got dumped, and was jobless and alone with vivid nightmares about death. Then he had another girl then got dumped. He was drunk constantly for six months straight, which is OOC, Riese is never drunk in the daytime.
Lea, deployed to Iraq, wore a cute hoodie at 9:33 and could not adjust to civilian life. So she drank a bunch of alcohol and did other drugs.
Paul would sit in his room and do an 8-ball of cocaine and drink a fifth every day.
It hit Lea like a freight train that she's not the only one and now she is a Veteran in Recovery. No one did anything scary except kill millions of people for oil and then become miserable forever. Lady Gaga hung from the ceiling like Jesus bleeding from her chest.
I got stuffed at Build-a-Bear and am eating a fudgsicle with orange slices.



Next: Video Music Awards, Top Chef, America's Best Dance Crew & The Hot Grrrls of the Week.
Pages: 1 2See entire article on one page