It's the most wonderful time of the year! AKA the part where we tell you what we really really want this year. Considering how special each and every snowflake is who works here, there's bound to be something in this guide for you, your girlfriend, all your gay friends, and maybe even one of your most badass family members. So let's do this thing!
---
Carmen, Feminism and Straddleverse Editor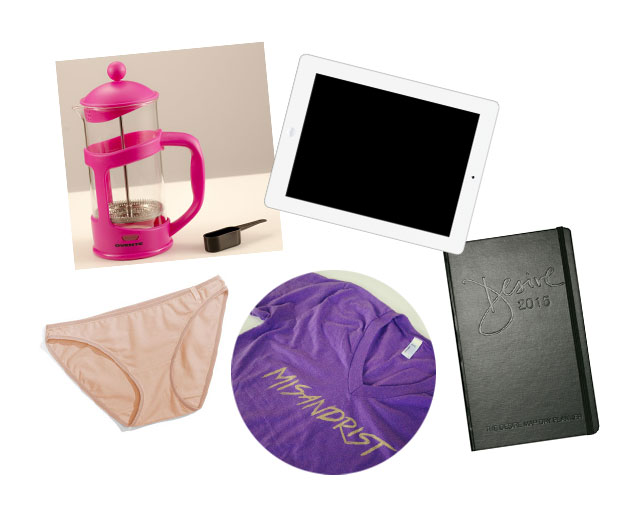 It's about damn time. I've got a Mr. Coffee K-Cup Coffee Maker on top of my fridge, a 12-cup Cuisinart Coffee Maker on my counter, and visions of good coffee and good mornings not being mutually exclusive dancing in my head. I used to have a pourover, but I left it behind at some point during my great adventure called college, and now I just want something that makes the right amount of coffee with the least amount of work. It's time for a french press, preferably this Ovente FPT34 because I love pink and owning things that sound very serious.
I'm not above it. After a few years with an iPhone 4 and an incident that left my laptop a little less than fully fuctional, I'm thinking of making the dive toward an iPad and buying a nice little keyboard case for it so that I can use it for everything, love it forever, and never let it die.
I feel like I ask for DKNY panties every year. I love DKNY panties.
I can't believe I don't own this yet.
If I could spend every day next year thinking about my dreams and goals, I think I'd probably be 100% happier. And if I continue to deny to myself how badly I've fallen into the Desire Map universe, well, then I am just lying to myself.
---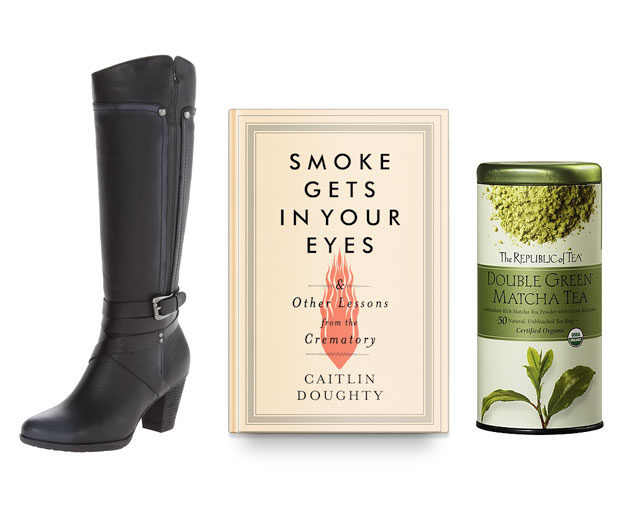 I had a pair of almost-knee-height black leather winter boots that I wore, out of love and exuberance, when it was anywhere between minus or plus 30 degrees Celsius, and even though I've had them repaired twice they have died in a way that makes repair more expensive than they originally cost. Though I will probably mourn them forever I think these ones look like good replacements.
Smoke Gets in Your Eyes: And Other Lessons from the Crematory
I like reading memoirs about things I don't normally have to think about, and after reading Caitlin Doughty's interview with the LARB I really want to read this one. Also for anyone keeping track I'm also into California Prose Directory 2014: New Writing from the Golden State, a fiction and non-fiction anthology; Pen & Ink: Tattoos and the Stories Behind Them, which I have seen all over the place but would probably not buy for myself; Spent: A Memoir, because I am really into Antonia Crane's work for the internet and want to read a ton of her all at once; and Ayiti because it is by Roxane Gay.
Please buy me all the tea ever.
---
Maddie, Contributing Editor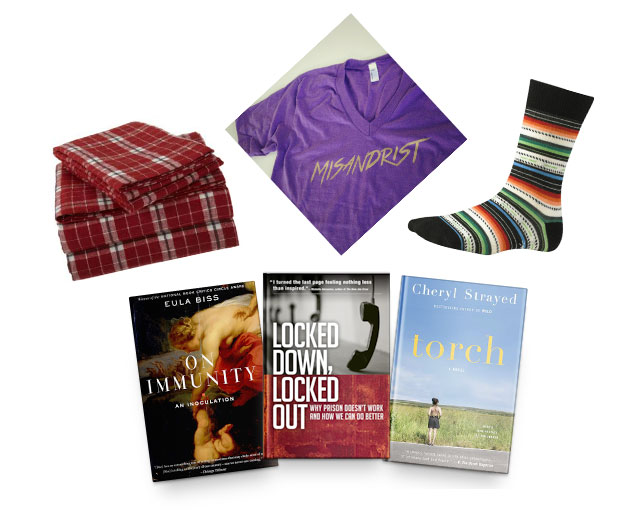 This feels like the adult version of asking for flannel pajamas. I have a queen-sized bed for the first time in my life (thanks, person I'm subletting this room from!) and it is the greatest thing ever. The only thing that would make it greater is if I had some bomb flannel sheets for optimal cozytimes.
To wear while snuggled in my flannel sheets. And anywhere else.
I don't f*ck around when it comes to socks, but Smartwool is expensive, and so it's an annual holiday ask. I especially need the thinner ones this year, because most of my thin socks have holes in them right now. Women's size M, please.
Books
I always want all the books, so here are four:
Starting off, to continue my political education about prisons and a future without them, I want Maya Schenwar's new book, Locked Down, Locked Out: Why Prison Doesn't Work and How We Can Do Better. I haven't read Bad Feminist yet, and I am dying to. Then, I want to read Torch, which is Cheryl Strayed's first book. Part of me wonders if it's not very good, because I've never found it in any bookstores, despite the general ubiquitousness of Wild and Tiny Beautiful Things, but Cheryl often feels sort of like a spirit guide to me, so I want to read it anyway, because I am sure it will make me cry happy and sad tears all at once. Joining them on my list is Eula Biss's new book, On Immunity: An Inoculation, because Notes from No Man's Land changed my life and my greatest dream is to write like she does.
---
Hannah, Contributing Editor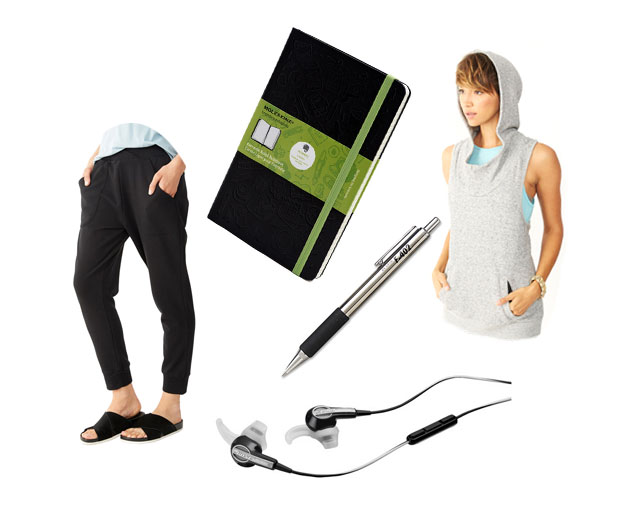 A Notebook That Doesn't Get Lost
I recently resolved to plumb the depths of my "junk" drawers and scavenge the corners of my bedroom to find all of my old Moleskines. While I'm sure there will be endless pages of terrible poetry I don't actually want to retrieve, I know there are some gems in there somewhere. Becoming an adult means learning to organize my life, and one way I plan on doing that is with this Moleskine notebook that comes with a subscription to Evernote.
I'll finally be able to find that passage I was looking for without having to flip past the painfully saccharine love poems of October 2012.
No writing will actually get done unless I have a lifetime supply of Zebra F-301 retractable ballpoint pens
Seriously, this pen is my creative muse. I need one million of them because they are always getting hijacked. I actually stole my first one from a lover and never looked back… hence the painfully saccharine love poems of October 2012.
Alternative Apparel Game Changer Hoodie
I really excited about the emerging leisurewear-as-outerwear trend. This futuristic hoodie/vest mashup
has got me hankering for some quality lounging about, sipping hot beverages and staring out of frosted windows time. Also it's going to look swell layered under my blue leather jacket.
Alternative Apparel Slouchy Pants
I'm trying to will myself into a work-at-home situation by investing in some quality sweats. Hopefully it doesn't work out the same way as the time I bought those hot pink running shoes as an incentive to start going to the gym. Either way, I'll have some sweet Bieber-y sweats
Squishy-Soft In-ear Headphones
I've always enjoyed the look of over-the-ear headphones, and audio geeks always tell me over-the-ear is superior, but… they mess with my 'do. Most in-ear headphones, on the other hand, make my tiny little ear canals hurt. These in-ear headphones by Bose are made of super squishy silicone that hooks around the inner folds of your ear really comfortably. They also make a noise-cancelling version for 170 extra beans.
---
KaeLyn, Contributing Editor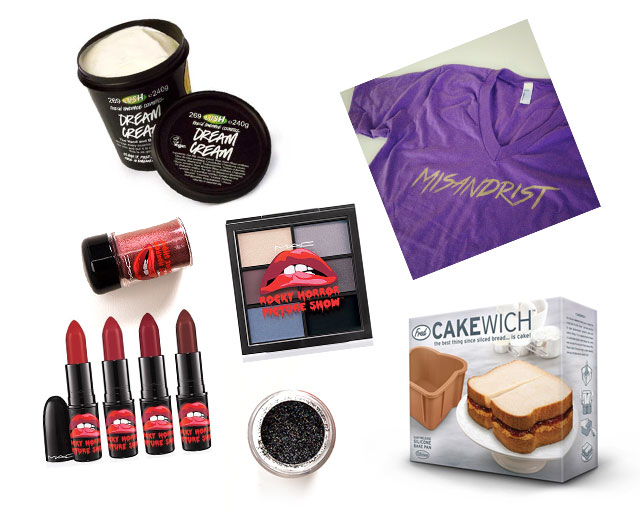 Slather me in this, please. It is winter and my skin is itchy and parched and sad. This cream is so yummy and so gentle and doesn't leave me all greased up. Lavender, chamomile, olive oil, cocoa butter, oat milk…so good I could eat it. I could probably eat iy, but it is not for eating, so don't eat it, but if I was stranded on a deserted island with only LUSH Dream Cream, I would give it a taste.
I bought this tee when it first came out, but I miscalculated how it would fit and I got it a size too big. So I gifted it to a lovely queer friend who is rocking it hard. But now I don't have my own and I feel empty inside. Must have, please.
MAC Rocky Horror Makeup
I am shivering with antici…PATION over the MAC Rocky Horror collection. I'll take the Riff Raff eyeshadow pallette and the nail lacquer in Formidable and all four lipsticks and the It's Not Easy Having a Good Time burgundy glitter and the 3D black glitter. Oh, Tim Curry, my creature of the night, my original queer crush, I just want to wear your face. Is that too creepy? Say, do any of you guys know how to Madison?
I just feel like this would be a really fun cake for the next potluck or birthday party. Imagine the cool "toppings" you could come up with! PBJ cake? Marzipan deli meat? Food-colored "ketchup" and "mustard" frosting? Om nom nom.
Mey, Trans Editor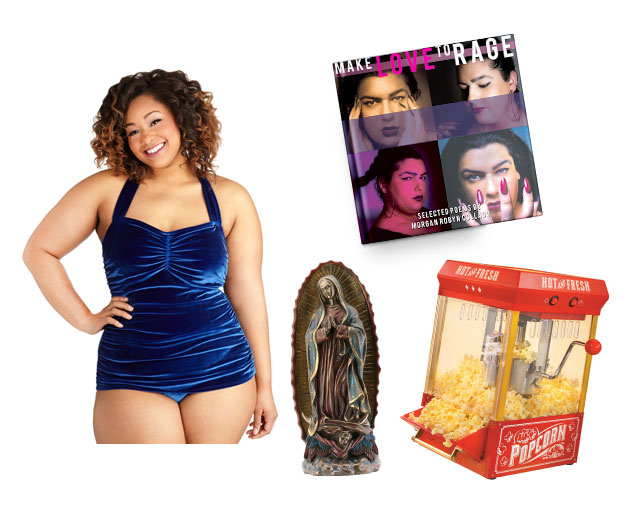 Plus-size Velvet Everything
Seriously, is there anything better than velvet? I mean, probably, yeah, but velvet clothes are still really great. Luckily, Modcloth has a bunch, including some great plus-size stuff. Just look at this gorgeous Lady Love Song Dress in Merlot Velvet. That's how you make a femme statement. Or for everyday wear, there's this Inspire Yourself Skirt in Merlot and Fine and Sandy Blazer in Black Velvet. They even have a retro swimsuit in velvet!
My five La Virgen candles, prayer cards and framed picture don't quite make the shrine that I'd like. This statuewill be a welcome addition.
Make Love to Rage and other books
I can't remember the last Christmas where I didn't ask for and receive books, and I'm not about to start this year. Top on my list is Morgan Robyn Collado's book of poetry Make Love to Rage. I'm also looking forward to the man behind The Mountain Goats John Darnielle's debut novel Wolf in White Van. When it comes to comics, I'd love to get Volume Four of both the interstellar family fantasy/war story/adventure/romance Saga and Matt Fraction's Hawkeye, which is probably the best comic about a male superhero out there today (but I mean, it is a lot about Kate Bishop Hawkeye too).
Nostalgia Electrics KPM200 Kettle Popcorn Popper
I love popcorn. It's literally one of my three favorite foods. And this popcorn popper is the Queen of All Popcorn Poppers. Plus, if I had this, all I'd need was a balloon arch, a dancing bear and a few hundred queers and I could have my very own A-Camp Carnival.
---
Brittani, Sports and Comedy Editor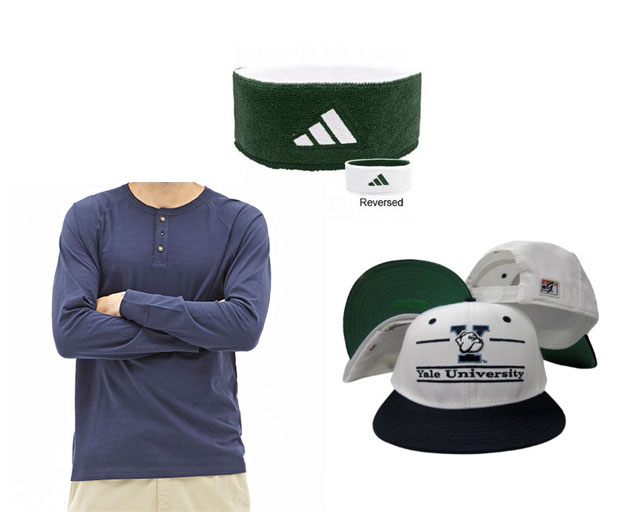 I feel like I have a few signature looks but all of them can either be lumped into off season lax bro or really cool substitute teacher. I'd like to expand my look with Henley shirts. They're simple, they're able to be layered but also not too thick to wear in the spring, and you can get them for cheap. I have yet to try one on so I'm really hoping they're flattering on me.
I'm currently on a basketball team called The Beatdown and our uniform color is green. I sweat a lot and rather than wiping my forehead with my shirt, I should probably get a headband.
I used to have a Navy blue Yale fitted but it somehow got bent up to a point that I couldn't wear it anymore. I think I gave it to someone who had less restrictive presentation standards. Anyway, I want a new one and since I'm very into wearing my hats backwards right now (see first paragraph re: lax bro) I think this one would be dope.
---
Kaitlyn, Contributing Editor
I almost feel ashamed coming right out the gate asking for a coat rack, but…nah. My girl and I U-Hauled in June, and when all our winter gear was stuffed in the closet, there was no issue. Now that it's getting chilly, we've got coats and hats and scarves and gloves draped over just about every furniture item in our apartment. To me, a coat rack is not only a practical solution to our biggest wintertime problem; it's also the ultimate marker of adulthood. I mean, an entire piece of furniture for organizing your winter outerwear? It's so responsible. I need it.
I watch a lot of Chopped and have developed an obsession with searing perfect grill marks into all of my food. This pan would help me reach that goal, as well as my dream of eating steak for every meal for the rest of my life.
Last month I bought a pair of pants that I imagine wearing with this cardigan. They're fairly average black high-waisted pants, but I can just tell how good (and COMFY) I'd look wearing them with a tan v-neck, long necklace and this cardigan on top.
Xbox One Assassin's Creed Unity Bundle
When I was moving from Chicago to New York earlier this year, I spent a few weeks at home with my parents in Virginia. I was bored out of my mind when everyone was at work/school, so I spent a lot of that time playing Assassin's Creed on my sister's Xbox. When I left, I found a gaping void in my life that can only be filled by traveling through time killing people and traveling cities parkour-style. I keep trying to trick my sister into giving her console to me, but that doesn't seem to be working (she's weirdly immune to mind control) so I guess the next best option is to get one of my own. And this one comes with the new Assassin's Creed! What a steal.
---
Laura, Contributing Editor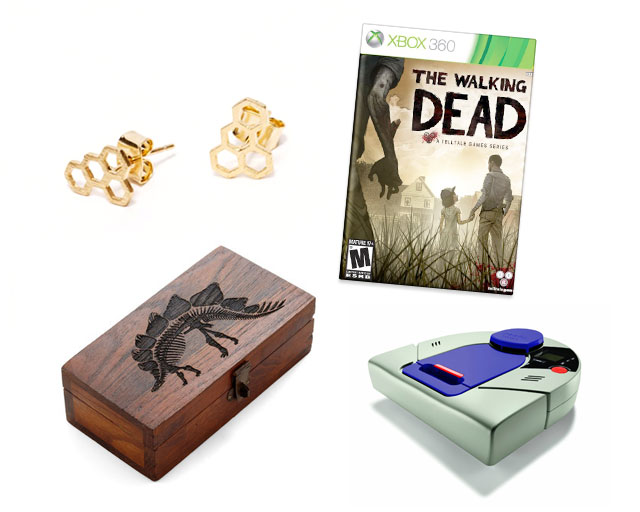 These are really pretty and kind of nerdy! We belong together.
Object d'Artifact Keepsake Box
Did I ever tell you that I decorated my bathroom in a dinosaur theme? But, like, classy adult-type dinosaurs, with a chartreuse and cedar color scheme. This box would look so good holding my bobby pins, right?
The Walking Dead – A TellTale Games Series for Xbox 360
I still haven't played the first game in this series, even though a) I love The Walking Dead, b) this game is supposed to be amazing, and c) the main character, Clementine, looks just like my little sister, certified badass. And there a million used copies floating around now, so it should be cheap and easy to get this for me!
Neato XV-21 Pet & Allergy Automatic Vacuum Cleaner
Year number two of living with a dog: there are no surprises left. Just hair. Any human looking at my clothes can immediately tell you that my home life is ruled by a dog with light brown fur. I just want to be able to wear black sweaters again.
---
Heather, Senior Editor
To Accomplish Sticky Note Packet
Confession: I cannot process the demands of the world unless I write everything I need to do down on a piece of paper with my own hand. I've tried every digital thing under the sun and those kinds of apps and programs and websites only stress me out to the max. This slick little notepad of variety seems like just what my addled ADHD brain needs to relax for a second.
Caribbean Blue Cast Iron Dutch Oven
The main way I stay alive in the winter is by cooking one thousand soups. Recipes always say to use a dutch oven but I just use a big ol' pot because I don't own a dutch oven. But I sure would love to own a dutch oven, especially one that is the color of the Caribbean so I can be reminded of my first foray into lesbian scissoring every time I'm cooking.
Middle Earth: Shadow of Mordor for PlayStation 4
I didn't buy this when it came out because I didn't believe a LotR-licensed game could live up to the hype, which broke my heart a little bit because open-world RPGs are my lifeblood, man. And also, I am obsessed with Middle Earth. But now Shadow of Mordor is making everyone's list of Best Games of 2014 and I wasted $50 on Thief.
Complete Set of 16 Minifigures from The Lego Movie
Everything would be awesome if I had this complete set of Lego Movie Minifigs. Everything would be cool if you were part of a team that made that happen. Everything would be awesome if I were living my dream of displaying these lovingly on the Lego shelf above my desk. (If you don't know that Tegan and Sara song from The Lego Movie, shame on you!)
I've had more bike stuff stolen since I moved to New York City than everything the Riddler stole from Gotham City in the whole history of ever. Like my whole bike, for starters. And then components from my replacement bike. And helmets and seats and seatposts and bells and lights and I don't even know what all anymore. But I've rebuilt a third bike and now all I need is to not get hit by a taxi when I'm riding home from the gym.
Stef, Music Editor
This is for all the times when I'm not at A-Camp and can't just turn to the living, breathing bear standing next to me and politely ask it to open my beverage for me. All things considered, I wouldn't mind this skull one either.
I was initially going to buy these when I moved away from New York because I thought they'd help me not miss the city as much, but then I never bought them and then I moved back anyway so whatever. I still want them because they're goddamn adorable.
I have no idea why I believe that perfect spheres of ice will cause my whiskey to magically taste better, but it turns out that I do.
Death By Audio Ghost Delay pedal
For the last couple of years, I've done most of my musical endeavors as strictly studio projects – leaving me with years and years' worth of half-finished songs that barely anybody's ever heard. This year, I resolve to actually join some bands and play some shows, and to do that, I need a bunch of gear. If I'm gonna actually play my guitar outside of my bedroom, I'm gonna need to make some weird sounds come out of it. Enter the Ghost Delay, which will make all my songs sound like they're being performed by actual ghosts.
Moog EWSTD019 Etherwave Theremin
But like, if I'm going to stay inside and work on music all by my lonesome, the least you could do is buy me this theremin. I love learning how to play new instruments, and the theremin (an electronic instrument you play by moving your hands around above it to control pitch and volume) is deeply, wonderfully odd. I'll use it to get in touch with my inner Myrtle Snow.
---
Alley, Contributing Editor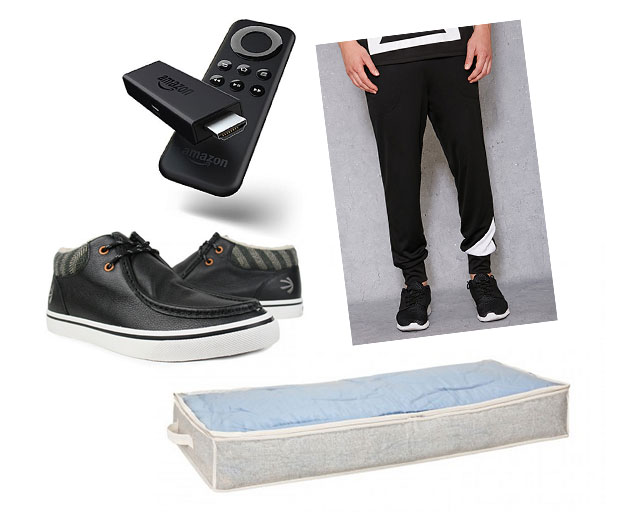 If I didn't want it for the title alone I'd def want to add it to my collection of TV tech toys. Even though we already have a Chromecast in the house it sometimes ends up in my housemate's room and the FIre Stick is only 5 bucks more for 4x the storage twice the memory. Also stoked about the remote, even if I will probably lose it in the couch cushions (but hey we find underwear so it evens out) and voice search that supposedly "just works."
Anyone who knows me knows I have a little bitty problems with shoes, mostly sneakers. I have an entire Ikea shelf system dedicated to them. But these ones are totally practical you guys! They are comfortable enough to feel like sneaks but classy and hip enough to dress up enough for work. It's like a Portland dress shoe and I need them ok? Plus there's only 3 left and one of them in my size, though I am usually lucky enough to find men's shoes in my size since 8s are on the small side. This also means they're usually on clearance…just like these!
Working from home several days of the week means I often don't leave pajamas. But sometimes I don't like to look like a complete slovenly mess and the same goes for my workouts. These joggers look like a fashionable way to be comfortable on the couch or at the gym and unlike similar fashion sweats they're under a hundred dollars and come in my size instead of stopping at the one just below me (I'm looking at you Levi's!).
Under the Bed Storage Bag – Faux Jute
If I'm going to be getting all these clothes and shoes I need some place to put it and under the bed and out of site is the perfect place. But then again I still want the storage unit to go with the decor in case it does need to sit out somewhere. And that it is fabric and malleable and therefore can be stuffed in a corner…brilliant.
---
Robin, Contributing Editor
Y'all, I'm obsessed with collecting coffee gear. I already own Hario's excellent hand-crank coffee grinder, a single-cup pourover cone, a French press, a Vietnamese coffee phin, and a regular ol' Mr. Coffee. All I'm missing from this setup is an all-in-one system for making cold brew. This all-in-one system. I won't have to worry about filtering at all. It'll already done for me. Hot damn. Happy holidays.
Bowers & Wilkins C5 S2 Headphones
I have two sets of everyday over-the-ear headphones, the Audio-Technica ATH-M30 and the AKG K240 Stereos, and both double as very effective earmuffs for the winter months. Lately, though, I've been cultivating my pompadour, so anything with a headband is out. These Bowers & Wilkins earbuds not only come with an inline mic, but they sound so good that I don't feel too vain for wanting (tho really, needing) them.
Books
Just the top three that I want this year: The Empathy Exams by Leslie Jamison because I haven't read it yet but I know in my bones I will want to reread it forever; Deathless by Catherynne Valente because I have read it and I want to reread it forever; Kissing the Witch by Emma Donoghue because queer fractured fairy tales.
Duh.
---
Fikri, Contributing Editor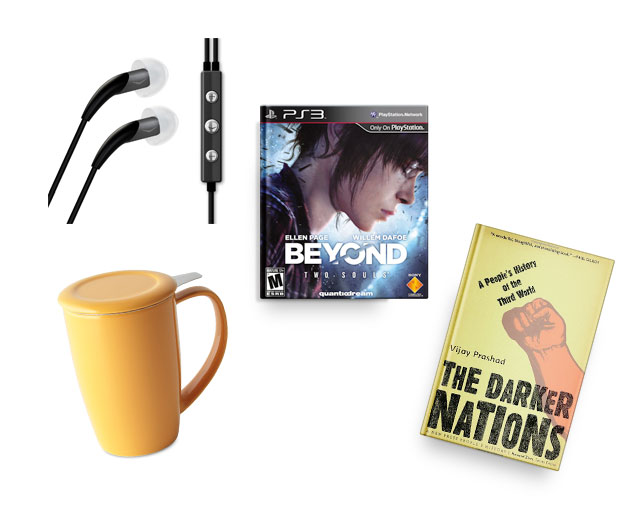 My bag got stolen during my last month in London and this is the last thing I haven't been able to replace. Probably because these earphones are obscenely expensive and I'm getting too old to listen to music while trying to concentrate on other things, but listening to music in bed in the dark with my old X10s used to be one of my favourite things in the world.
That is Ellen Page's face, you guys. I think it is clear how this is immediately relevant to my/our interests. I also wouldn't say no to Portal 2, Alice: Madness Returns or The Last of Us.
And then if someone could do grad school for me while I tackled these, that'd be good too.
WINTER IS COMING.
The Darker Nations: A People's History of the Third World by Vijay Prashad
I have a massive book problem: I usually bring a couple of books along with me when I travel and then I come back with 5-7 more — every week without fail. (I also have a massive travel problem.) Yet somehow this book has eluded me in my transnational quest to visit every independent queer/anarchist bookstore in existence, so I'm almost ready to give in and hit the check out button on Amazon.
---
Lydia, Fashion/Style Editor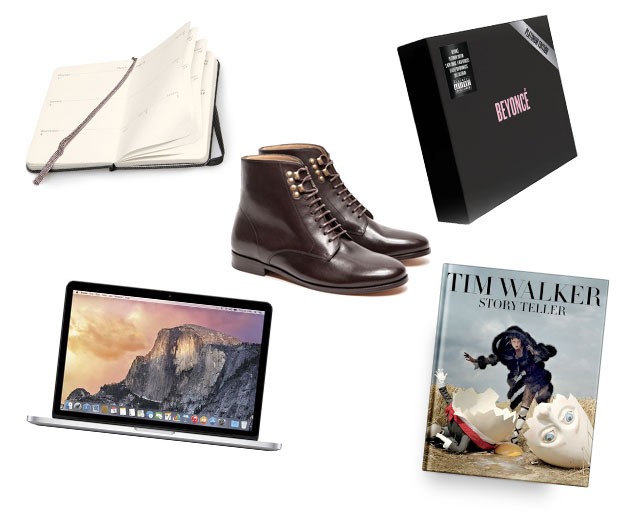 Moleskine 4 x 2.5 Weekly Horizontal Planner
I'm a Virgo. I like to plan things, and I love products that are concise and direct. I still like writing things down/I don't fully trust my iPhone. Don't tell Siri. This my favourite fuckin' planner because it's teensy but somehow has enough space for alllll the things.
The only thing better than Beyonce is platinum Bey. Need I say more?
This one is more wishful thinking than anything else, but it'd be nice to update to a computer from this decade. That doesn't require being plugged in at all time. To my Toshiba: I still love you, just the way you are, but I gotta upgrade ya.
A.P.C. Francoise Lace Up Boots
I've learned the value in purchasing quality footear, now that my daily commute involves lots of walking. These French beauties are classic enough to warrant a large sum, and I can't resist the nod to Victorian granny boots. Gimme!
This is a giant coffeetable book by my favourite fashion photographer. Tim creates entire alternate universes within his photos, and quite often takes my breath away. He's also a master of studio portraiture, cultivating immense depth and individuality in an environment which is often dry and boring. This book is infinitely inspiring!
Kate, Contributing Editor
I want to look like I just stepped off the runway and onto a motorcycle, where I engaged in a high speed chase with evil robot police. Think again, evil robot police. I look better than you, evil robot police. After losing the evil robot police, I can head to my favorite dive to dramatically remove my sunglasses, shake out my semi-long but still masculine hair, and buy drinks for me and my cool biker gang. The most unrealistic part of this fantasy is that I have enough money to buy an entire round.
Since my life has gone zero to a hundred real quick, I have to take care to consider how I started from the bottom. I mean, lord knows, sometimes it's felt like it's been all me, forever, when I've been up all night, buried alive, on my worst behavior. I don't know if anyone expected me to come thru and own it, because I've been the furthest thing from successful. Sometimes I think I'm doing it wrong, that it's just practice and I'm never gonna connect with headlines and buy that fancy tuscan leather, have the fireworks and cameras show me a good time. I want to be unforgettable, but I don't want to be too much. I want them to miss me but not be over me. Mom always said "make me proud" and "find your love," because she wants me to take care. Now she says "look what you've done" because the good ones go and what we think is the calm is just fear. I keep telling myself I just have to hold on, we're going home and we'll be fine. Hell ya fucking right, this year is going to be the best I ever had. I'm goin in. Wu-Tang Forever.
Babehaham Lincoln Drink Insulator
Important for keeping my drink safe from the outside elements but also for showing the people of Europe that I am an American babe who is fully capable of building a log cabin whilst drinking beer from a colorful sock.
---
Rachel, Managing Editor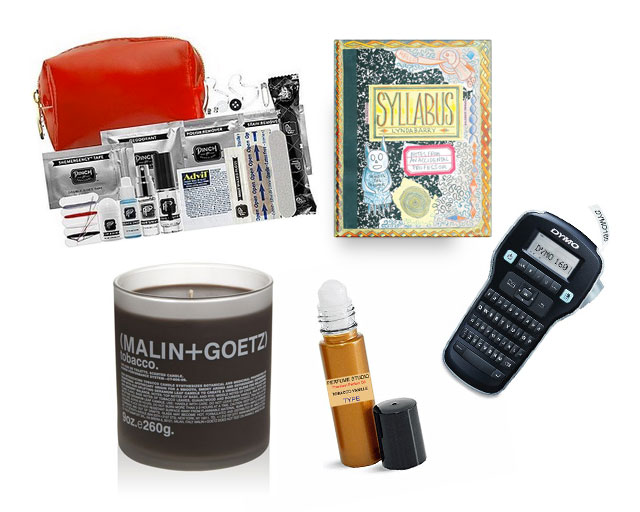 For the past, I don't know, five years I've thought "I should really take fifteen minutes and put together a little baggie of all the things you end up needing unexpectedly out in the world and keeping it in my purse, so that I never have to try using a paperclip as a bobby pin again." Obviously I have never done this. This year was the first year I realized I can just make someone buy me all that stuff. So, people in my life who know from experience what a disaster I am: get me this please!
I love Lynda Barry so much! Like, a weird amount, considering I've never met her. If you've ever come to one of my writing workshops at A-Camp you've probably done some of her exercises. I've been feeling a little adrift since I graduated from my structured MFA writing program this year, and I think this is exactly what I need to help me find my own learning-ish space outside of formal school.
I've asked for this for so many gift-giving holidays and NEVER GOTTEN IT. I just love knowing where everything is and having it organized and labeled correctly. It would bring so much joy into my life to be able to easily make a label that says HEY THIS IS WHERE THE COUSCOUS AND JAM ARE, DUMB DUMB.
Tobacco-Scented Things (Malin & Goetz Tobacco Candle, Tom Ford Tobacco Vanille Fragrance)
After 25 years of thinking perfume was weird, I have unexpectedly become OBSESSED with things that smell good, and tobacco is one of my favorite scents. It's also fancy, I guess, so none of the delicious-smelling tobacco things I want are really in my price range. Who would ever want to spend upwards of $50 on me so that my bathroom can smell like tobacco? I don't know, but this is me vision boarding it into the universe.
---
Alex, Design Director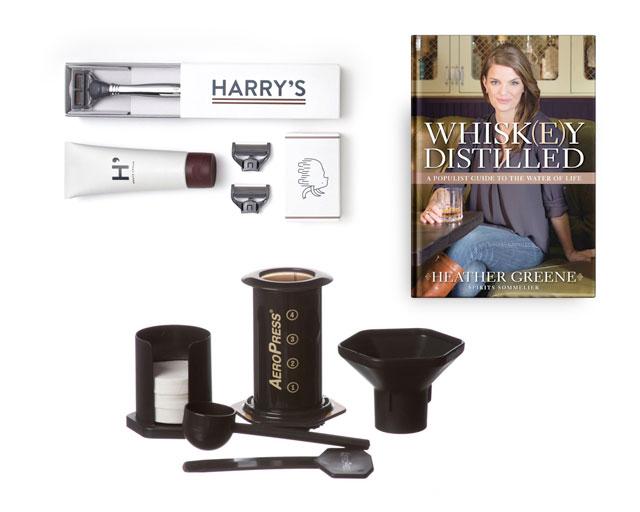 Anything that comes packaged in a gift box is already winning the holidays. I love Harry's brand and product design – it's super simple. This will save me from stupid pink razors forever and ever amen.
Whisk(e)y Distilled: A Populist Guide to the Water of Life
As the first American woman to serve on the Scotch Malt Whisky Society Tasting Panel in Scotland and first female whiskey sommelier at The Flatiron Room in NYC, Heather Greene has been someone I've been keeping tabs on for the last year or so. Pretty much if someone is writing a book about whiskey, I'm interested. And if that person is also a woman? I'm done.
I broke my Chemex last year because I can't have nice things. Which makes me think I should move on to something that supposedly makes even better coffee than a Chemex, and is not made of glass so I can't break it! Therefore: the AeroPress Coffee and Espresso Maker. Also, the AeroPress is easier to travel with.
---
Riese, Editor-in-Chief / CEO / CFO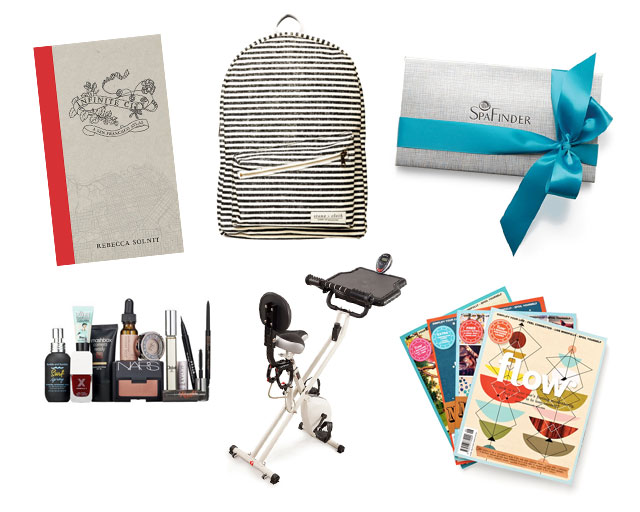 Honestly, there's only one thing in the entire universe that I want for Christmukkah this year: for you to buy merch, join A+, or donate to Autostraddle! Or you can give me something fancy and expensive that I could sell on ebay and then use to pay my writers. OR:
Infinite City: A San Francisco Atlas
I think we're only gonna be in the bay area for another 1-2 years, and I wanna be sure to see everything important before it's time to go. I saw this book at Mrs. Dalloway's, which's an amazing bookstore I love, and thought wow this would be so nice to have and hold in my heart!
The Benson Backpack in Nautical Navy
My backpack is literally falling apart, but this one's real cool and plus anything you purchase from stone + cloth goes to provide scholarships for children in need.
The two main things I need in general all the time are a vacation and/or various services wherein people do nice things to me while I sit/lie still, aka a spa day, a.k.a. experiences specifically described as massages, facials and/or mani-pedis.
I'm so bad at shopping for beauty and skin care stuff. I stand there forever with my mouth hanging open trying to figure out which of these items will actually work or be worth the investment. Or I could just circumvent the whole damn situation and get a Value Set or Sephora-Designed Favorites Set which'll contain like 15 perfumes or six skin care situations so I can try them all, thus making all ensuing journeys into womanhood a lot easier to navigate.
Laptop Workout Desk and Exercise Bike
I feel like saying I want this is admitting to something dark and sad within my soul, but oh my lordess this exists!!
I'm obsessed with this publication but it's Danish and really expensive and not available through our affiliate merchants. Regardless, it's a whole magazine about paper crafts! It's the best.
---
Mari, Contributing Editor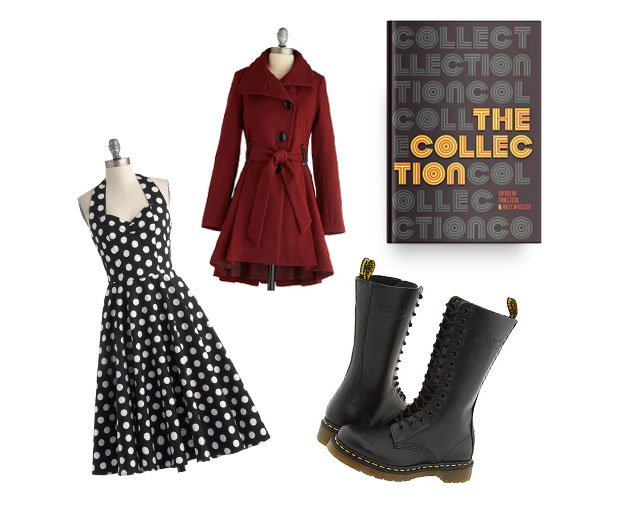 I don't care if it's a dyke cliche; I fucking love Docs. They're comfortable, cute, and fit my wide feet, and I own them in at least 10 different styles. My beloved 1914s finally bit the dust after 15 years of service and hundreds of thousands of miles, and I desperately need to be made whole again.
This dress…this fucking dress. I'm really not someone who gets into really girly stuff, unless it's gothy or the style dates from like pre-1970. Literally every dress I own is retro as hell. I have been crying over my love for this dress for like year, but have lacked an excuse to actually buy it. But, I NEED it to be part of my life.
I live in Detroit, and my girlfriend lives in north country New York, so I'm destined to be enduring an ugly winter. I also happen to have a thing for long coats. They're classy, and they keep your butt warm. I'm in love with this coat, even though it's not black (and I honestly can't tell you when I last owned a not-black winter coat.)
The Collection: Short Fiction For The Transgender Vanguard
Quite frankly, it's a crime that I DON'T own this book yet. It's been on my list for a while, but I always seem to have other pressing needs for my precious dollars (which are also frequently books.) The folks at Topside Press are putting out some AMAZING trans writing, and I can't wait to dig into this anthology and cry my eyes out.
Yvonne, Senior Editor
Don't judge me, ok. I know you're tired of hearing me say I love Texas, I'm a proud Texan, yadda yadda. But I've seen so many girls with a version of this Texas necklace and I am envious every time. I want it so bad! It properly articulates how much I love my home without being over the top and also it's cute and goes with everything.
Last year, I asked for high quality knives and my brother was a sweetheart and gifted them to me! They've officially won the most useful gift I've ever received. This year I want a blender that will actually chop my veggies and fruits, none of this half-assed bullshit that my current blender produces. I don't think anyone would get me a Vitamix just yet, but I think this Ninja one is a great upgrade and will get the job done.
Nars Pure Matte Lipstick in Volga
My girlfriend gave me this deep red lipstick last Christmas and I fell in love. Before then, I had only used Burt's Bees lip shimmer, if that even counts as lip makeup. I'm feeling more confident in how I look with lipstick so I want to expand my horizons and go for a dark wine color. I've seen it all over my news feeds and I want to rock it too.
Can y'all believe I don't have a You Do You sticker? Because I can't. I want exactly 2 stickers — one for my journal and one for my computer.
---
Audrey, Contributing Editor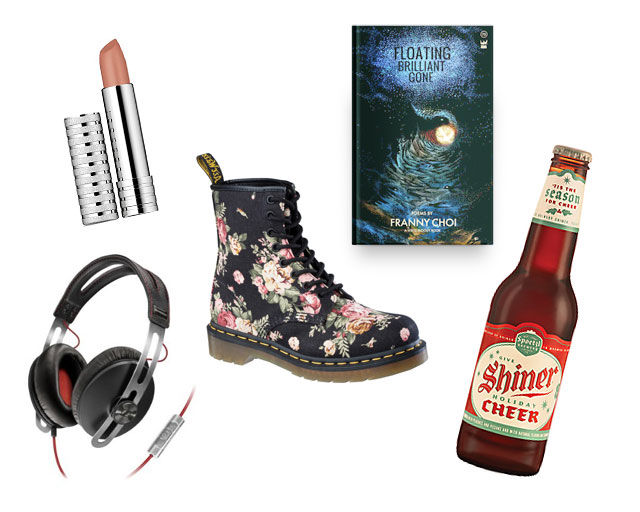 Clinique Long Last Matte Lipstick in Suede
Blame my mother for my Clinique snobbery — or blame their reasonable prices, no animal testing situation, and always excellent products. This season they've finally upped their matte lipstick game, and I want this perfect neutral on my face. But they seem to stock it one tube at a time at the mall in Managua – every time I go they "just ran out." #help So I am probably going to order it online and have my mother ship it to Nicaragua. That is how far I will go to mimic Ellen Page's Out cover photo.
Seinheisser Momentum Headphones
My beloved Klipsch S4s are in the process of fluttering off to the big wiry garden in the sky so I am coveting an upgrade to the Seinheisser Momentum overhear headphones. They would be so dreamy for all my holiday listening, like Perfume Genius, Azealia Banks, and Nick Jonas.
Floating, Brilliant, Gone by Franny Choi
My 2014 Write Bloody quotient is way down since I don't have access to Austin's Book People on a regular basis, and the new WB book I feel like I need most for my soul is Floating, Brilliant, Gone. Choi writes so beautifully from inside the broken places, and sometimes the heart just needs that.
Dr. Martens Women's 1460 Re-Invented Victorian Print Lace Up Boot in Black
I've been aching more and more to live in all the spaces between femininity and masculinity. Nothing conveys that to me more than floral printed Docs. I have massive feet, so I'm not actually sure I have any business wearing Doc Martens, but #LifeIsAHighway and I want to walk it in these boots.
The most beautiful gift y'all can all give me for Christmas is to go to your favorite local dive bar, the one with 6+ Willie Nelson records on the jukebox, and order a Shiner Holiday Cheer — on tap if you can find it. Drink it slow and just transmit that vibe to me. #Texas
---
Ali, Geekery Editor
Most of the National Book Award Finalist Books
This is a biased list item because I just came back from the National Book Award Reading. But specifically I want to draw everyone's attention to Station Eleven by Emily St. John Mandel, which chronicles a traveling Shakespeare company after a flu epidemic wipes out life on earth as we know it. And also Brown Girl Dreaming by Jacqueline Woodson, which is YA and I'm an adult, but is a memoir told in poems. Speaking of YA and poetry, I actually think Tumblr and Twitter have uniquely prepared the upcoming generation of readers for poetry (because fragmented narrative, non-traditional form, economy of language and a million other reasons), but that's an essay for a different day. For now, you just need to know that there's not a single National Book Award finalist that I wouldn't be thrilled to get for Christmas.
Noise-Isolating Headphones To Help Me In My Isolation
You know what I want? To never hear the hapless undergraduates accidentally set off the emergency door alarm in The New School library ever again. I also don't particularly want to hear douchebags talk to each other on aeroplanes. I don't know sound from my elbow, but I do know gadgets (and I do know that my favorite speaker is a Bowers and Wilkins speaker). I know I don't want something that'll drain device battery (so no wireless) and I know I don't want something that will stick in my ear or push the backs of my earrings into my head. I also know I don't want Beats because they fall apart faster than you can say "overpriced."
Food. Literally Any Food That I Don't Have To Pay For Or Think About
I am both a shitty cook and a poor graduate student. I'm also a vegetarian. That someone could send me a box of vegetables and directions for how to get them into my mouth in a delicious way is, like, legit the best way I can think of to express love right now. Because I have eaten Ramen for dinner for three days now and I'm about to eat a chocolate cookie. Send help.
---
Chelsey, Editorial Assistant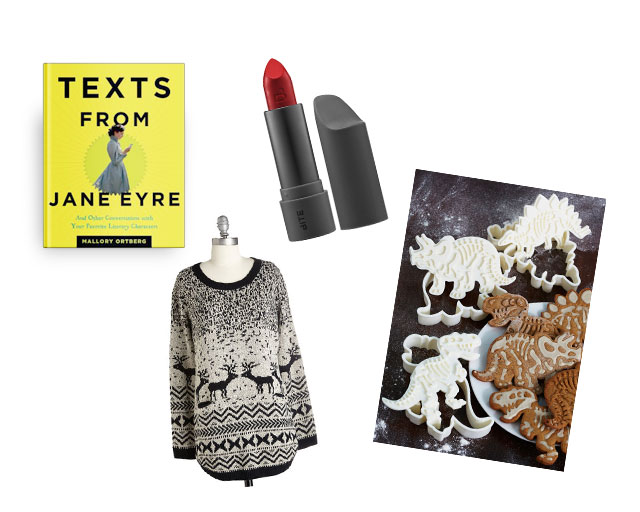 I just realized this book existed the other day and I am SUPER UPSET I didn't order it immediately. Texts from literary characters are pretty much all I ever want to read for the rest of my life.
I have been hunting for the perfect red lip for ages, and this one has no bad stuff and apparently includes the amount of resveratrol found in five glasses of red wine? Sign me up.
This sweater is really just a work of art.
Paleo in Comparison Cookie Cutter
I'm pretty sure these speak for themselves? THEY ARE DINOSAUR SKELETON COOKIE CUTTERS. I don't know if much more says Christmas to me than dinosaur skeleton cookies.
---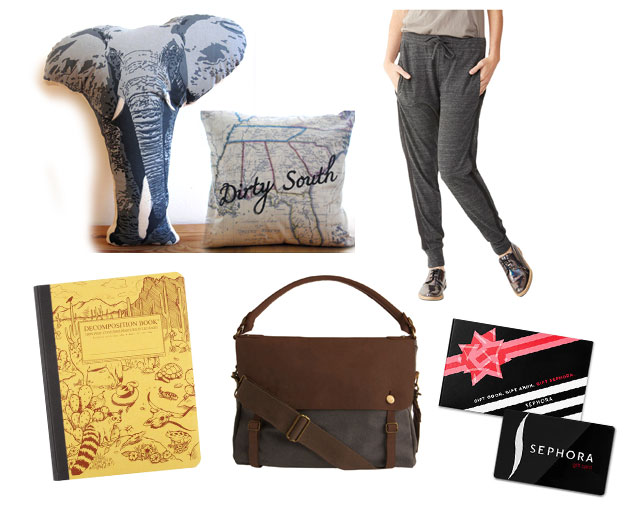 Elephant or Dirty South Pillows
I don't know what's going on, but I'm obsessed with pillows right now. I'd happily accept that Elephant Pillow for my bed — like can you even imagine how adorable a bed would be, all made up and neat/tidy topped with a freaking' elephant pillow? — or the #BLESSEDASFUCK Dirty South situation for my sofa. I just need to express myself through pillows! It's part of my journey.
What if someone gave me these Jogger Pants? How much better would my life be then? Probably substantially better, I bet. I might even go jogging.
I've got journals and planners covered, but I really need some notebooks for random lists and doodling! These Decomposition Notebooks are made using recycled paper and come with different cover options, and I'm really into the desert themed one because that's what's outside my house right now.
This bag is so perfect! The handle AND the shoulder strap are both removable, which means it'll look sleek and cute no matter how I want to carry it. Also it's huge. I could fit two or three entire bags of bagels in here.
Megan gave me a Sephora gift card last year and it took me around nine months to use it because I don't buy a lot of makeup and couldn't decide what I needed most. I ended up going with the Urban Decay Natural2 eyeshadow palette and it's The Fucking Best and I realized that I actually really like makeup shopping! So another gift card from Sephora would just be the bee's knees. Right now if you give a $25 eGift card, you get $5 from Google Wallet for yourself, so y'all should probably jump on that.
Pages: 1 2 3 4 5See entire article on one page