The jokey Vapid Fluff piece we published on Tuesday containing excerpts from negative Yelp reviews about lesbian bars by straight people and men has sparked debate on the "not-queers in queer spaces" situation offsite (specifically on reddit) and it seemed like it'd be worthwhile to hash it out here, too. I don't know that there's any subjective or objective truth to be found here, especially when what it means for it to be "okay" for non-queers (straight people and men) to occupy queer spaces is so vague to begin with.
Personally, the first bars I ever went to were gay male bars. I was underage and straight-identified a lot of the time, but they let me in! Whether I was accompanying my co-workers to Happy Hour in one of Hell's Kitchen's many gay dives after a hellish lunch shift at The Olive Garden, tagging along with my gay best friend to subdued upscale bars decorated like country clubs or dancing all night at Posh; I wet my feet in so many spaces that weren't made for me.
But when I entered these spaces, my expectations of service were low. I didn't expect the bartender to pay attention to me, the doorman to greet me with a smile, or really for anybody besides the people I'd come with to be nice to me. I was a guest in their space. Sure, it feels shitty to wait longer than everybody else for a drink, but it didn't feel unjust. I certainly wouldn't have run home and told Yelp about it like I did when that bitch in Berkeley fucked up my eyebrows. I was there with men who'd been beaten up in school for being gay, who'd been kicked out of their homes, who feared kissing their boyfriends in public, who were ignored by bartenders at straight bars. I deferred.
The majority of non-queers who enter queer bars probably have a similar state of mind — every straight person I've ever been in a queer space with has. But the Yelp reviews I pulled from for that post were specifically from people who felt some profound injustice was being served when they weren't the center of attention at a lesbian bar. People who felt that a straight guy and his straight girlfriend not being a butch bartender's #1 priority was "reverse discrimination" in action. The language used by those who felt wronged— language that often critiqued the lesbian's body size, apparel, or gender presentation — said much more about why these people had a bad time than the complaint itself did.
So, we went over some of the most popular arguments we've heard on both sides, which we'll present to you here. This isn't all-encompassing or complete, it's just a starter set of ideas for you to chew on.
---
FOR: Who Else Can I Go To The Bar With?
Many brand-new gays and some longstanding gays have two options: go to a queer bar with a straight girl or a gay man, or don't go at all. The brave best friends who volunteer to accompany us on these formative journeys into the wilderness shouldn't be disrespected.
But… The strongest argument against this practice is that lesbian bars should be one place on earth where nobody has to worry that the girl they're eyeing is straight. That girl might not eye you back or like you back and she may not be single and she may reject you but at least you won't walk away feeling gross and stigmatized for being gay. (So, if you're gonna bring your straight best friend to a bar, make sure she's not somebody who's not gonna be an asshole if they're hit on politely by another girl!)
---
AGAINST: You Only Like Us Now 'Cause It's Safe and Trendy
Would the straight people happily attending our bars in 2014 have jostled for admission in 2004? In 1994? In 1984? In 1944? There's a storied history of non-oppressed populations playing oppression tourism, casually dropping in on this fun exotic underworld for their own amusement and then returning to their safe, non-oppressed lives afterwards. We fought hard for these spaces — once the only places where we could be ourselves — only to have them invaded by outsiders as soon as the stigma and legal threat faded.
A bisexual friend told me, "I always feel like straight people (of whatever gender) going to gay bars when they have not been explicitly invited by a gay person are like really proud of how down with gay people they are, like they're very proud of it and assume that it is a space that is also for them because of how progressive they are! They go to Pride parades!"
But… Would every lesbian at the lesbian bar have jostled for admission in 2004? In 1994? In 1984? We can decry straight people for only stopping in now that it's both legal and culturally acceptable… but it's not just them who feel more comfortable attending lesbian bars now, it's also us. Many of us weren't brave enough to go until it was safe and trendy.
But but… The lesbians who were brave enough to go to the lesbian bars in 1994 probably have a right to be annoyed by fair-weather friends. Furthermore, actual queers uncomfortable with being seen in a queer space would've been putting a lot more on the line to attend one back then than a straight person, so comparing our hesitance to theirs might not be giving ourselves enough credit.
---
FOR: But some of my friends are straight and/or men!
So, you've got six friends. Three are gay and three are straight and you all wanna go out together and have fun. Do you go to the gay bar or the straight bar? I don't know the answer to this question. I think probably I would suggest that we all come back to my place, get stoned, play Scattergories and eat Pumpkin Spice Oreos.
---
AGAINST: We have so few spaces just for us, please just let us have this one space, please, because like the whole world is your space and you can kiss wherever and we can only kiss here so please don't
"Not to generalize, but there are better straight bars. Why would you even want to go to a lesbian bar?" A lesbian friend told me. "Whatever drink special or ambiance a person could claim to be looking for in a lesbian bar could easily be found in a straight bar down the street. There is just no fucking reason for guys to be there."
Similarly, as in the Instagram screenshot I included in the Yelp reviews post, I'm baffled by heterosexual couples who visit queer bars without any queer friends and proceed to make out at the bar. It's one thing to come with your gay friends to have a good time, but if you're a straight person there on a romantic date with your monogamous straight partner… WHY? Just why?!!?
But… With so many lesbian bars shutting down, how much can anybody say our community is valuing this one precious space? And who, exactly, is the space for? Is it for all queers? At The Lex in San Francisco four years ago, my friends weren't allowed in the playing-pool rotation because they weren't part of the clique dominating the bar that night, you know? Sometimes when I read straight people complaining that they get the evil eye or the cold shoulder from queer patrons I wanna say, "Queer people get those same looks!" "Nobody talks to me either!"
---
FOR: Maybe once upon a time you too were the "straight girl" at the lesbian bar
Just being real.
---
AGAINST: Lots of straight cis men cannot handle themselves in a lesbian bar or come for all the wrong reasons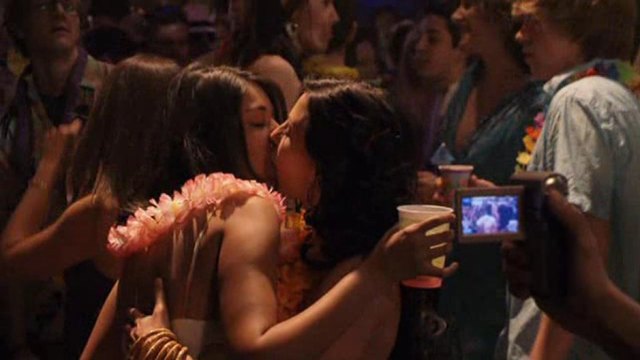 Don't bring bro-bar culture into a girl bar, this isn't a live show! "I've had several experiences at gay bars where me and my girlfriend and my friends have been hit on my straight men," a queer friend told me, "And it's the worst because they think we're straight and I'm like, bro, I'm dancing with my girlfriend — and then they hit on us even more! It's gross."
A bisexual woman pointed out that "I feel like guys go for the same reason that a guy came to and then followed me around a music festival called LADYFEST for like two hours; because they realize there is a much higher ratio of women to men than at other venues and don't really care that the nature of the venue makes it extremely unlikely that those women want to fuck you because who cares whether women actually WANT to have sex with you, right, as long as you want to have sex with them, like why would that even be a factor."
She also mentioned, "I had a very traumatic experience because one of my first dates and I went to this gay bar, and we were sort of looking forward to it, and 80% of the people in there were straight, and it was so depressing. We were like 'Well I guess this is a safe place for us to PDA, or safer than the outside world, but it feels like we have an audience and it's gross.' Like straight couples just sitting at tables looking at all the people around them, like spectating."
But… Not all men?
---
FOR: It's Reverse Discrimination!
We wouldn't want to be unwelcome in straight bars, so why are we making straight people feel unwelcome? AREN'T WE RAGING HYPOCRITES?!!! WHAT ABOUT EQUALITY? OR EQUITY, FOR THAT MATTER?!!!
But….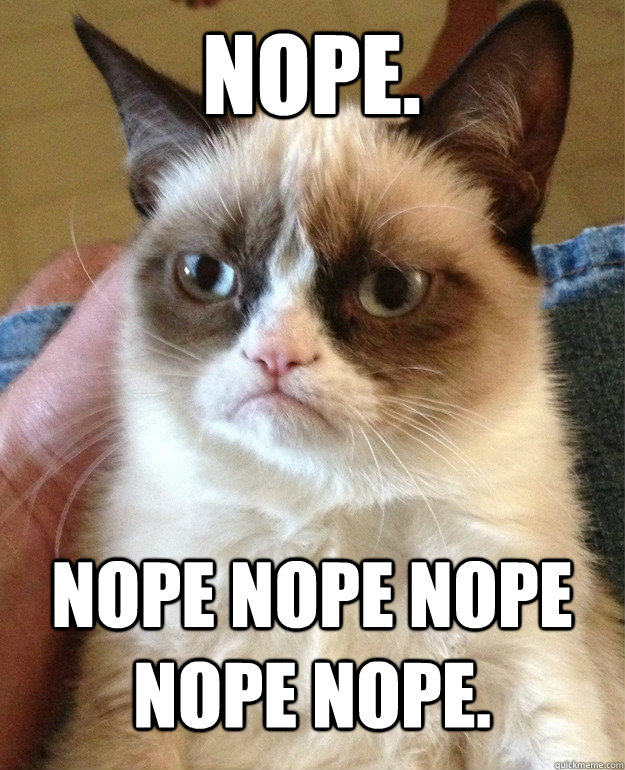 Reverse homophobia isn't a thing. That's not how it works. Also it's worth mentioning that queers and trans people are still kicked out of your bars and are sometimes killed or attacked because they attended your bars.
But… How does the matrix of oppression play out when the heterosexuals seeking admission are of color, or when it's a gay man who wants in?  There's a relatively strong history of queer spaces being a safe space not just for queer people, but for people of color who feel equally disenfranchised in spaces primarily aimed at white straight cis men.
If it is our collective oppression that enables us to feel comfortable excluding straight people, then we have to acknowledge the limits of that oppression. A cis white lesbian at the queer bar might wanna think twice before sneering at a straight woman of color or a feminine gay man… but this argument still doesn't make any room for straight cis white guys all up in our space.
---
AGAINST: We need a safe space for our gender presentations
When we talk about queer bars and parties we usually talk about bars and parties in large diverse cities like San Francisco and New York, but we forget that in rural or conservative areas of the country, a queer bar can actually be the only safe space available, period. A masculine-of-center friend told me that queer bars are the only place she feels like she can breathe easy. She doesn't fear dirty looks or physical violence from men, which she has experienced in spades all her life, or like they want to compete with her for women. It's also a rare space where she can go to the bathroom without being informed that the men's room is right over there!  Similarly, femme lesbians often report lesbian bars being the only space where their gender presentation doesn't get automatically read as "straight" and where she's free from harassment, intimidation, unwanted sexual attention and even sexual assault from straight guys.
The negative yelp reviews are revelatory in this instance, because the gender presentation policing and derision of masculine or fat women by those reviewers is pretty merciless. An allegedly lesbian bouncer is described as a "Drew Carey lookalike" who needs to "lose some weight."  Unfriendly patrons are accused of being "jealous because [the male reviewer has] fuller facial hair." Bartenders who won't crack a smile when a man is apparently aggressively "complimenting" her are, we're told, revealing "their crack as their Dickies sag." The kinds of guys who think those thoughts are exactly the kinds of guys who inspire unsmiling bartenders, hostile bouncers and unfriendly patrons.
But… Even at lesbian bars, we're not always safe from being policed for our gender presentation or other aspects of our identities. At Henrietta Hudson's, my two friends and I — all of us in skirts and tank tops — were asked if we were actually gay, and not believed when we insisted that we were because we "looked straight." Many lesbian trans women have testified in the comments that they don't feel welcome in lesbian bars themselves, and lots of Yelp reviews cited queer bars as being unwelcoming to any woman of color, which is epically fucked up. Also, femme straight women could use a break from harassment, intimidation and unwanted sexual attention as well.
---
FOR: It's mean to be mean to people, period.
Why bring more negativity into the world? You could get really upset at these perceived intruders… or you could just hang out and have a good time.
But… Some people are actual assholes! Which is why so much of this just comes down to respecting the space. The truth is that there are a lot of not-queer humans who attend queer bars with the understanding that the space is not for them, and they should defer to its intended clientele, and everything goes just fine.
---
So tell us what you think! What arguments or arguments-against-arguments did we miss? We're hopeful that we can have a nice friendly conversation on this topic without snark or defensiveness or wild accusations of bad faith. HAVE AT IT, GRRRRRRLS