It's the most wonderful time of the year! AKA the part where we tell you what we really really want this year. Considering how special each and every snowflake is who works here, there's bound to be something in this guide for you, your girlfriend, all your gay friends, and maybe even one of your most badass family members. So let's do this thing!
---
Carmen, Feminism and Straddleverse Editor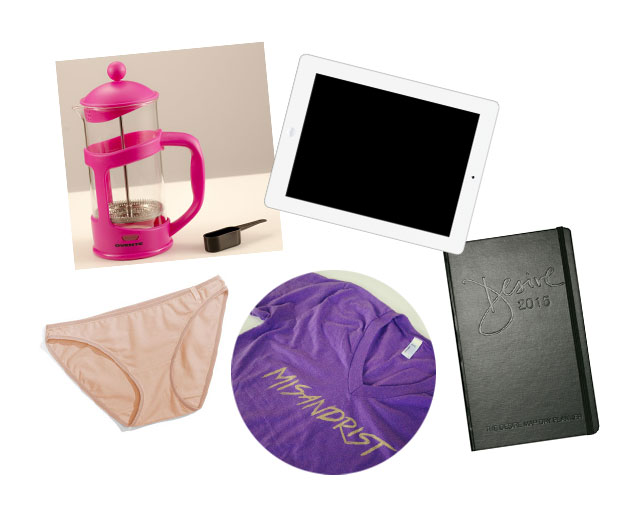 It's about damn time. I've got a Mr. Coffee K-Cup Coffee Maker on top of my fridge, a 12-cup Cuisinart Coffee Maker on my counter, and visions of good coffee and good mornings not being mutually exclusive dancing in my head. I used to have a pourover, but I left it behind at some point during my great adventure called college, and now I just want something that makes the right amount of coffee with the least amount of work. It's time for a french press, preferably this Ovente FPT34 because I love pink and owning things that sound very serious.
I'm not above it. After a few years with an iPhone 4 and an incident that left my laptop a little less than fully fuctional, I'm thinking of making the dive toward an iPad and buying a nice little keyboard case for it so that I can use it for everything, love it forever, and never let it die.
I feel like I ask for DKNY panties every year. I love DKNY panties.
I can't believe I don't own this yet.
If I could spend every day next year thinking about my dreams and goals, I think I'd probably be 100% happier. And if I continue to deny to myself how badly I've fallen into the Desire Map universe, well, then I am just lying to myself.
---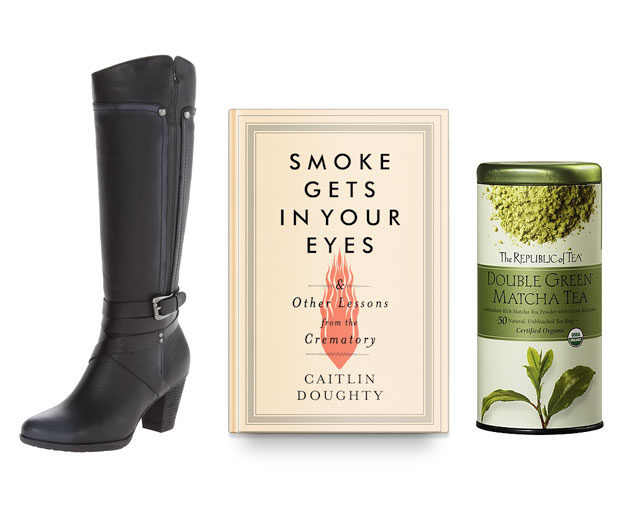 I had a pair of almost-knee-height black leather winter boots that I wore, out of love and exuberance, when it was anywhere between minus or plus 30 degrees Celsius, and even though I've had them repaired twice they have died in a way that makes repair more expensive than they originally cost. Though I will probably mourn them forever I think these ones look like good replacements.
Smoke Gets in Your Eyes: And Other Lessons from the Crematory
I like reading memoirs about things I don't normally have to think about, and after reading Caitlin Doughty's interview with the LARB I really want to read this one. Also for anyone keeping track I'm also into California Prose Directory 2014: New Writing from the Golden State, a fiction and non-fiction anthology; Pen & Ink: Tattoos and the Stories Behind Them, which I have seen all over the place but would probably not buy for myself; Spent: A Memoir, because I am really into Antonia Crane's work for the internet and want to read a ton of her all at once; and Ayiti because it is by Roxane Gay.
Please buy me all the tea ever.
---
Maddie, Contributing Editor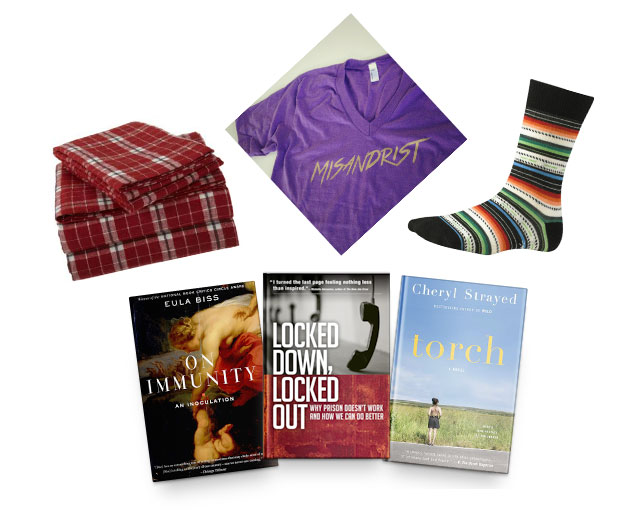 This feels like the adult version of asking for flannel pajamas. I have a queen-sized bed for the first time in my life (thanks, person I'm subletting this room from!) and it is the greatest thing ever. The only thing that would make it greater is if I had some bomb flannel sheets for optimal cozytimes.
To wear while snuggled in my flannel sheets. And anywhere else.
I don't f*ck around when it comes to socks, but Smartwool is expensive, and so it's an annual holiday ask. I especially need the thinner ones this year, because most of my thin socks have holes in them right now. Women's size M, please.
Books
I always want all the books, so here are four:
Starting off, to continue my political education about prisons and a future without them, I want Maya Schenwar's new book, Locked Down, Locked Out: Why Prison Doesn't Work and How We Can Do Better. I haven't read Bad Feminist yet, and I am dying to. Then, I want to read Torch, which is Cheryl Strayed's first book. Part of me wonders if it's not very good, because I've never found it in any bookstores, despite the general ubiquitousness of Wild and Tiny Beautiful Things, but Cheryl often feels sort of like a spirit guide to me, so I want to read it anyway, because I am sure it will make me cry happy and sad tears all at once. Joining them on my list is Eula Biss's new book, On Immunity: An Inoculation, because Notes from No Man's Land changed my life and my greatest dream is to write like she does.
---
Hannah, Contributing Editor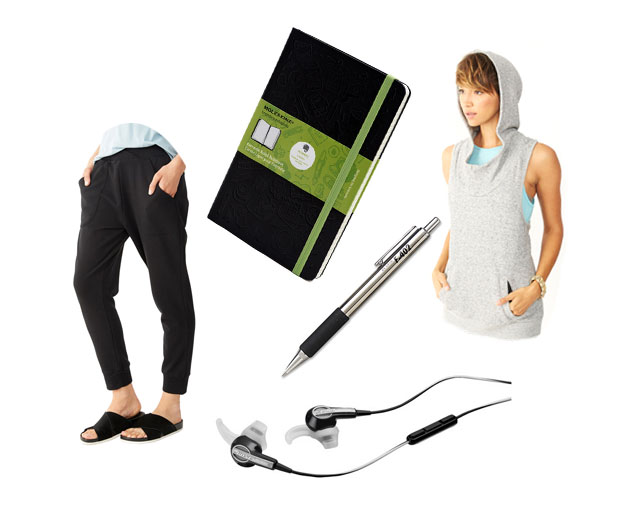 A Notebook That Doesn't Get Lost
I recently resolved to plumb the depths of my "junk" drawers and scavenge the corners of my bedroom to find all of my old Moleskines. While I'm sure there will be endless pages of terrible poetry I don't actually want to retrieve, I know there are some gems in there somewhere. Becoming an adult means learning to organize my life, and one way I plan on doing that is with this Moleskine notebook that comes with a subscription to Evernote.
I'll finally be able to find that passage I was looking for without having to flip past the painfully saccharine love poems of October 2012.
No writing will actually get done unless I have a lifetime supply of Zebra F-301 retractable ballpoint pens
Seriously, this pen is my creative muse. I need one million of them because they are always getting hijacked. I actually stole my first one from a lover and never looked back… hence the painfully saccharine love poems of October 2012.
Alternative Apparel Game Changer Hoodie
I really excited about the emerging leisurewear-as-outerwear trend. This futuristic hoodie/vest mashup
has got me hankering for some quality lounging about, sipping hot beverages and staring out of frosted windows time. Also it's going to look swell layered under my blue leather jacket.
Alternative Apparel Slouchy Pants
I'm trying to will myself into a work-at-home situation by investing in some quality sweats. Hopefully it doesn't work out the same way as the time I bought those hot pink running shoes as an incentive to start going to the gym. Either way, I'll have some sweet Bieber-y sweats
Squishy-Soft In-ear Headphones
I've always enjoyed the look of over-the-ear headphones, and audio geeks always tell me over-the-ear is superior, but… they mess with my 'do. Most in-ear headphones, on the other hand, make my tiny little ear canals hurt. These in-ear headphones by Bose are made of super squishy silicone that hooks around the inner folds of your ear really comfortably. They also make a noise-cancelling version for 170 extra beans.
---
KaeLyn, Contributing Editor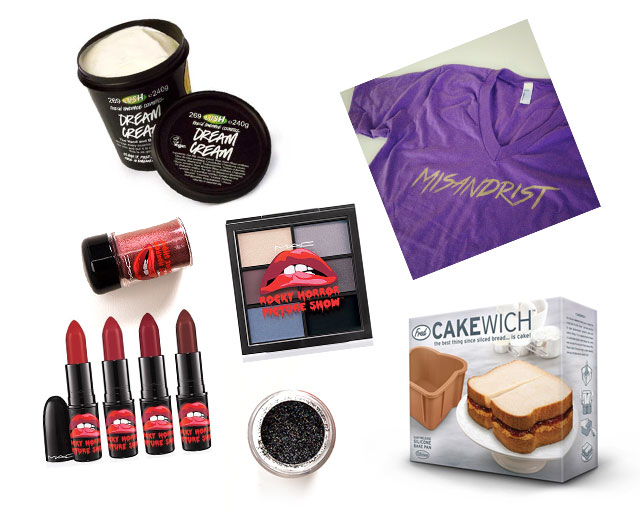 Slather me in this, please. It is winter and my skin is itchy and parched and sad. This cream is so yummy and so gentle and doesn't leave me all greased up. Lavender, chamomile, olive oil, cocoa butter, oat milk…so good I could eat it. I could probably eat iy, but it is not for eating, so don't eat it, but if I was stranded on a deserted island with only LUSH Dream Cream, I would give it a taste.
I bought this tee when it first came out, but I miscalculated how it would fit and I got it a size too big. So I gifted it to a lovely queer friend who is rocking it hard. But now I don't have my own and I feel empty inside. Must have, please.
MAC Rocky Horror Makeup
I am shivering with antici…PATION over the MAC Rocky Horror collection. I'll take the Riff Raff eyeshadow pallette and the nail lacquer in Formidable and all four lipsticks and the It's Not Easy Having a Good Time burgundy glitter and the 3D black glitter. Oh, Tim Curry, my creature of the night, my original queer crush, I just want to wear your face. Is that too creepy? Say, do any of you guys know how to Madison?
I just feel like this would be a really fun cake for the next potluck or birthday party. Imagine the cool "toppings" you could come up with! PBJ cake? Marzipan deli meat? Food-colored "ketchup" and "mustard" frosting? Om nom nom.
Pages: 1 2 3 4 5See entire article on one page