Kate, Contributing Editor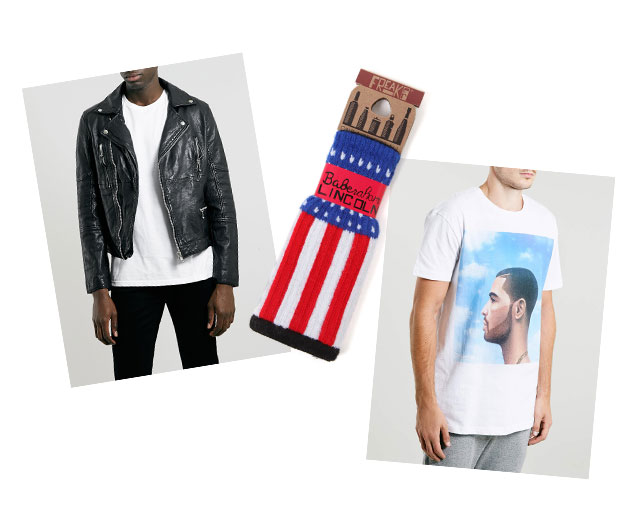 I want to look like I just stepped off the runway and onto a motorcycle, where I engaged in a high speed chase with evil robot police. Think again, evil robot police. I look better than you, evil robot police. After losing the evil robot police, I can head to my favorite dive to dramatically remove my sunglasses, shake out my semi-long but still masculine hair, and buy drinks for me and my cool biker gang. The most unrealistic part of this fantasy is that I have enough money to buy an entire round.
Since my life has gone zero to a hundred real quick, I have to take care to consider how I started from the bottom. I mean, lord knows, sometimes it's felt like it's been all me, forever, when I've been up all night, buried alive, on my worst behavior. I don't know if anyone expected me to come thru and own it, because I've been the furthest thing from successful. Sometimes I think I'm doing it wrong, that it's just practice and I'm never gonna connect with headlines and buy that fancy tuscan leather, have the fireworks and cameras show me a good time. I want to be unforgettable, but I don't want to be too much. I want them to miss me but not be over me. Mom always said "make me proud" and "find your love," because she wants me to take care. Now she says "look what you've done" because the good ones go and what we think is the calm is just fear. I keep telling myself I just have to hold on, we're going home and we'll be fine. Hell ya fucking right, this year is going to be the best I ever had. I'm goin in. Wu-Tang Forever.
Babehaham Lincoln Drink Insulator
Important for keeping my drink safe from the outside elements but also for showing the people of Europe that I am an American babe who is fully capable of building a log cabin whilst drinking beer from a colorful sock.
---
Rachel, Managing Editor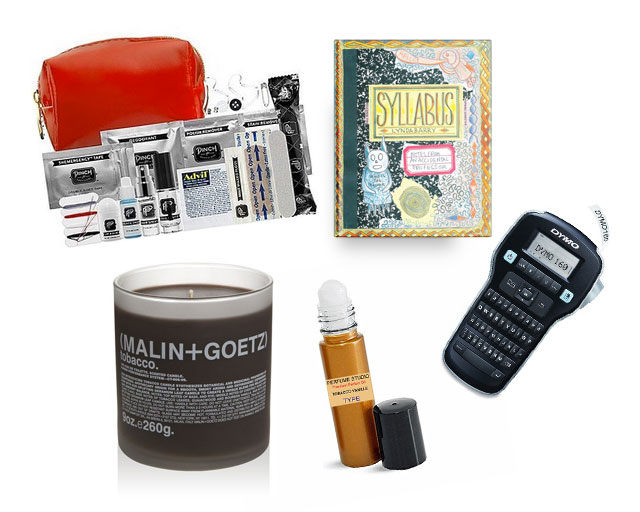 For the past, I don't know, five years I've thought "I should really take fifteen minutes and put together a little baggie of all the things you end up needing unexpectedly out in the world and keeping it in my purse, so that I never have to try using a paperclip as a bobby pin again." Obviously I have never done this. This year was the first year I realized I can just make someone buy me all that stuff. So, people in my life who know from experience what a disaster I am: get me this please!
I love Lynda Barry so much! Like, a weird amount, considering I've never met her. If you've ever come to one of my writing workshops at A-Camp you've probably done some of her exercises. I've been feeling a little adrift since I graduated from my structured MFA writing program this year, and I think this is exactly what I need to help me find my own learning-ish space outside of formal school.
I've asked for this for so many gift-giving holidays and NEVER GOTTEN IT. I just love knowing where everything is and having it organized and labeled correctly. It would bring so much joy into my life to be able to easily make a label that says HEY THIS IS WHERE THE COUSCOUS AND JAM ARE, DUMB DUMB.
Tobacco-Scented Things (Malin & Goetz Tobacco Candle, Tom Ford Tobacco Vanille Fragrance)
After 25 years of thinking perfume was weird, I have unexpectedly become OBSESSED with things that smell good, and tobacco is one of my favorite scents. It's also fancy, I guess, so none of the delicious-smelling tobacco things I want are really in my price range. Who would ever want to spend upwards of $50 on me so that my bathroom can smell like tobacco? I don't know, but this is me vision boarding it into the universe.
---
Alex, Design Director
Anything that comes packaged in a gift box is already winning the holidays. I love Harry's brand and product design – it's super simple. This will save me from stupid pink razors forever and ever amen.
Whisk(e)y Distilled: A Populist Guide to the Water of Life
As the first American woman to serve on the Scotch Malt Whisky Society Tasting Panel in Scotland and first female whiskey sommelier at The Flatiron Room in NYC, Heather Greene has been someone I've been keeping tabs on for the last year or so. Pretty much if someone is writing a book about whiskey, I'm interested. And if that person is also a woman? I'm done.
I broke my Chemex last year because I can't have nice things. Which makes me think I should move on to something that supposedly makes even better coffee than a Chemex, and is not made of glass so I can't break it! Therefore: the AeroPress Coffee and Espresso Maker. Also, the AeroPress is easier to travel with.
---
Riese, Editor-in-Chief / CEO / CFO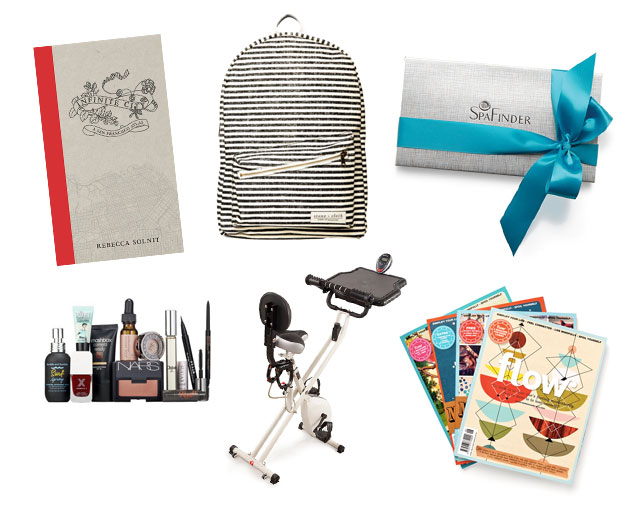 Honestly, there's only one thing in the entire universe that I want for Christmukkah this year: for you to buy merch, join A+, or donate to Autostraddle! Or you can give me something fancy and expensive that I could sell on ebay and then use to pay my writers. OR:
Infinite City: A San Francisco Atlas
I think we're only gonna be in the bay area for another 1-2 years, and I wanna be sure to see everything important before it's time to go. I saw this book at Mrs. Dalloway's, which's an amazing bookstore I love, and thought wow this would be so nice to have and hold in my heart!
The Benson Backpack in Nautical Navy
My backpack is literally falling apart, but this one's real cool and plus anything you purchase from stone + cloth goes to provide scholarships for children in need.
The two main things I need in general all the time are a vacation and/or various services wherein people do nice things to me while I sit/lie still, aka a spa day, a.k.a. experiences specifically described as massages, facials and/or mani-pedis.
I'm so bad at shopping for beauty and skin care stuff. I stand there forever with my mouth hanging open trying to figure out which of these items will actually work or be worth the investment. Or I could just circumvent the whole damn situation and get a Value Set or Sephora-Designed Favorites Set which'll contain like 15 perfumes or six skin care situations so I can try them all, thus making all ensuing journeys into womanhood a lot easier to navigate.
Laptop Workout Desk and Exercise Bike
I feel like saying I want this is admitting to something dark and sad within my soul, but oh my lordess this exists!!
I'm obsessed with this publication but it's Danish and really expensive and not available through our affiliate merchants. Regardless, it's a whole magazine about paper crafts! It's the best.
---
Mari, Contributing Editor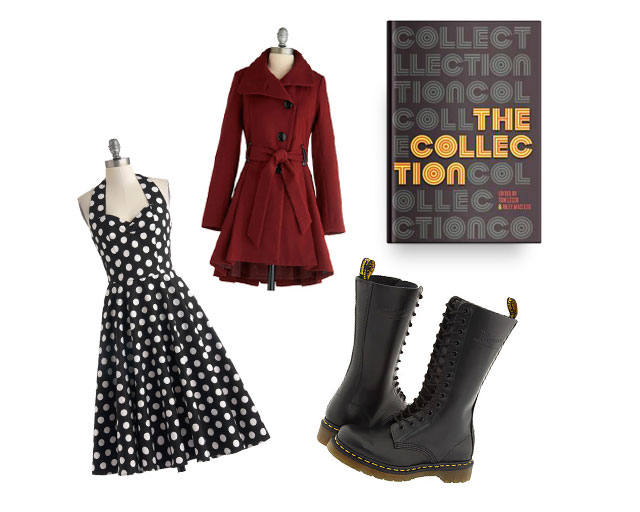 I don't care if it's a dyke cliche; I fucking love Docs. They're comfortable, cute, and fit my wide feet, and I own them in at least 10 different styles. My beloved 1914s finally bit the dust after 15 years of service and hundreds of thousands of miles, and I desperately need to be made whole again.
This dress…this fucking dress. I'm really not someone who gets into really girly stuff, unless it's gothy or the style dates from like pre-1970. Literally every dress I own is retro as hell. I have been crying over my love for this dress for like year, but have lacked an excuse to actually buy it. But, I NEED it to be part of my life.
I live in Detroit, and my girlfriend lives in north country New York, so I'm destined to be enduring an ugly winter. I also happen to have a thing for long coats. They're classy, and they keep your butt warm. I'm in love with this coat, even though it's not black (and I honestly can't tell you when I last owned a not-black winter coat.)
The Collection: Short Fiction For The Transgender Vanguard
Quite frankly, it's a crime that I DON'T own this book yet. It's been on my list for a while, but I always seem to have other pressing needs for my precious dollars (which are also frequently books.) The folks at Topside Press are putting out some AMAZING trans writing, and I can't wait to dig into this anthology and cry my eyes out.
Pages: 1 2 3 4 5 See entire article on one page