Hello and welcome to the star-studded Autostraddle recap of the third episode of the third season of The Real L Word, a half-hour musical television program about a teenage rock group who fill their days performing enthusiastic cover songs at The P*lace and discussing serious issues such as schoolyard crushes and peer pressure.
This week on The Real L Word, everybody cried, Whitney dove from an airplane into a serene pool of heavily chlorinated water, Romi wore eighteen earrings in one ear and an entire mountain range on a necklace and Lauren and Amanda explored the seedy sexual underbelly of Los Angeles' Booth Babes subculture. Also, Ilene Chaiken broke into a stock footage factory and was so impressed with clips of Los Angeles at Night and Austin Streets at Dawn that she infused the episode with 65% more stock footage than usual. Also, an alligator ate Somer's arm and Kiyomi refused to pay for it. Let's begin!

We open in Sunny Los Angeles, where the brilliant morning sunshine casts its generous rays across the newlyengayged couple, Sarahara and Whitney.
Clearly we're all chomping at the bit for more footage of Sarahara and Whit-me's naked weheartishly-lit mornings, so this scene was not even at all slightly boring.
Sarahara interviews that she really enjoyed the Energy Healer Lifeshram Goobaroo Incense Hemp Moon Voodoo Party last week.  All her chakras are aligned:
Sara: "It was really beautiful. Out of all the different engagement stories that I've heard of, this by far was the most creative and brilliant that I've heard."
Oh really?
Was it really, Sara? Was it better than this?
How about this? Was it better than this?
How about this?
No but really, was it better than this? It wasn't!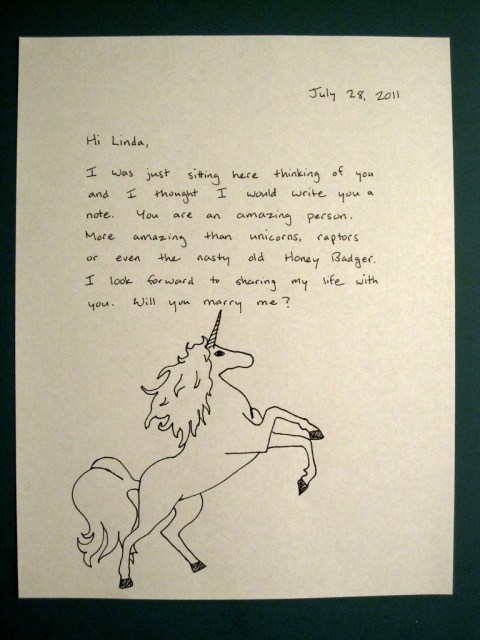 +
Ultimately, if it wasn't this (below), then you're doing it wrong:

We stumble forward in a Southernly direction to Kiyomi's vagina JUST KIDDING to a hotel room in San Antonio, where Somer's repairing her ailing keyboard and Kiyomi is doing the conversational equivalent of masturbating in front of the bathroom mirror.
Kiyomi and Vero flip enthusiastically through a notebook containing a cornucopia of temporary tattoos while Somer seeks positive affirmations regarding saving the band "like 400 dollars in repairs."
Kiyomi: (to Vero) "She was gonna have to pay for it anyway. It's not the band's repairs."
Somer: (In the other room) "I get like zero percent love for fixing this."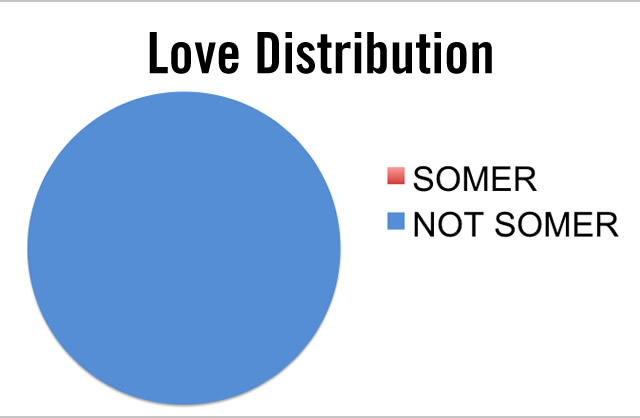 Kiyomi's busy covering her hickeys with temp tattoos while my Canadian girlfriend is busy discussing how Americans don't abbreviate "Veronica" as "Vero" and how it's really pronounced Vair-oo and how Vero is definitely Francophone. [UPDATE: she isn't, see here]

Back in the Industrial Backlots of Sunny Los Angeles, California, Romi and Rose are hitting up Jeffery's Warehouse Salon for Rose's hair to lose its virginity.
Quick time out: So, Rose is getting her hair done on a folding chair in a warehouse. Are you thinking what I'm thinking? Of course you are:
At a suspiciously convenient moment, Ruby rings Rose to gossip about Whitney and Sara's engagement, which Rose consequently conveys to Romi, and you can see for at least ten seconds that Romi does care, actually, a little bit, but very much wishes she didn't. Not because Romi wanted to marry Whitney, but because she wants to marry somebody and soon, I think, and nobody wants their non-committal confirmed Bachelorette ex-girlfriend to marry before they do.
Romi: "Wait wait, engaged? Is that what it was?"
Rose: "What can you say?"
Romi: "It's beautiful."
Rose: "I just wish them the best."
Romi: "I wish them so much happiness."
Rose: "That's all you can do."
Romi interviews that there's no way Sarahara and Whitney's mutual fear of eternal-commitment can conquer the burning fire of their sweet sweet love.
Romi: "Do I think that they'll make it? I don't know. But I don't think that anybody needs to go through dating Whitney again or anybody wants to go through dating Sara again, so I pray that they stay together forever 'til death do they part."

And onward we go to The House of Sad and Fog, where two of the saddest Pandas in all of Los Angeles are attempting to breathe, speak, think, hope, eat, sleep, and/or live despite, I imagine, wanting to crawl into a cave and sob indefinitely. Cori is transporting a rack of unbearably adorable onesies from the closet to her drawer, and so is Kacy, and so we know that what we knew was going to happen has happened.
It's difficult for me to reconcile a story as heavy as this being wedged between Rose not wanting her highlights to look like some Chola and Kiyomi telling Somer she's a self-entitled prick.
The couple interviews:
Kacy: "Cori had some bleeding, and so we went to the emergency room and they did an ultrasound but they didn't check Cori's cervix, and they sent us home. They said everything was fine and they sent us home. And the next day we went ot our OBGYN who said everything was not fine, Cori's cervix was opening prematurely, it's just a condition that's very rare."
Cori: "I was five months pregnant."
Kacy: "We made it through delivery. She came out at 9:12 PM. The first question we asked was, can we put her in an incubator? And she needed two more months."
Cori: "We were so close." [sobbing]
Kacy: "She was too little."
Cori: "She was moving all day, we felt her, she was fine."
Kacy: "There's nothing that you could've done baby, it was perfect, she was perfect, there's nothing you could have done."
What's beautiful about this, if there's any beauty to be found in a well this dark and sad, is how dedicated and loving their relationship is, and how you can see Kacy fighting back the urge to completely decompose because she knows Cori has decomposed already, and will continue to, and that she has to keep it together for her. And that Cori knows this, too, and can depend on it.
Cori: "I don't know how I'm gonna get through this, I've never experienced heartbreak and pain like this. I don't know what I would do without Kacy. I don't know, I'm just, trying to take things day by day and I don't know."
I cried through this scene, big real actual tears.

…and now we return to our regularly scheduled emotional impact, in which nothing is everything and everything is drama, where Kiyomi and Somer are facing off in a Dinosaur vs. Cylon Death Match.
Kiyomi wants to check the adaptor, or something, and Somer wants to go upstairs and chill and Vero is cool as a motherfucking cucumber and Laura is just being Miley. Also cool as a refrigerated vegetable, Somer leans with exasperation against the elevator as her and Kiyomi throw invisible rocks at each other and Kiyomi makes enormous hand gestures suggestive of a fight that actually matters.
Kiyomi: "I don't know why you have to be so difficult."
Somer:  "I don't know why you have to be such a bitch all the time."
Kiyomi: "I'm not a bitch! Because you can't hear your fucking tone and I respond to you with the same tone and you realize — when you're constantly —
Somer: "I don't ever give you this kind of attitude -"
Kiyomi: "When you're constantly rude to people -"
Somer: "You always talk like this to everyone, you talk like we're –"
Kiyomi: "No I don't."
Somer: "Yes you do."
Kiyomi: "No I don't!"
Somer: "Why do you think people call you the dictator?"
Um, probably because of that outfit she's always wearing?
Kyomi and Somer scream gayly forward, breaking all the rules of Lesbian Fight Club, most notably Rule #3.
Kiyomi: "I don't care."
Somer: "–because you're really mean!"
Kiyomi: "No, you know what–"
Somer: "You can be really snippy."
Kiyomi: "No, you're a fucking self-entitled little asshole sometimes!"
Somer: "You're talking about yourself, dude."
Kiyomi: "No I'm not, you need to check yourself!"
Somer: "I don't know what you're talking about dude, I'm laid back and chill."
Kiyomi: "Okay then talk to the rest of the bandmates and see what they say, you can not go through a day without complaining about a single fucking thing –"
Somer: "You can't go through a day without talking to people in a really nasty tone, and I know –"
Kiyomi: "I talk to you exactly the same way–"
Somer: "– and I know it's your personality, but it's grating."
Kiyomi: "I talk to you exaclty the same way you talk to me!"
Somer: "It's grating, after a while."
Kiyomi: "Yeah so is your fucking self-entitled little pissy piece of shit attitude!"
Somer: "Alright."
I'd easily qualify a good 60% of Kiyomi's vocal utterances as spoken in "a really nasty tone," and all I've heard Somer complain about was when her most valued possession got fucked in a hasty hungover packing situation, but regardless Kiyomi leaves Somer in her dust and fumes forward into the parking lot, speeding like a tampon escaping a crowded vagina, consumed with rage and ego.
Kiyomi: "I'm done!"
Kiyomi commences yapping to a semi-interested Laura and a completely disinterested Vero regarding why Somer is the self-entitled one, not her, and the reason is that Kiyomi has put "eight years of blood, sweat, and tears" into her band Hunter Valentine.

Cut to Los Angeles circa March or August 1886, where Miss Amanda and Miss Lauren are transforming your average everyday bedframe/mattress situation into a "pod." Gripping stuff.
Amanda: "We're building this thing and we're calling it a pod because it looks like a giant bed that goes outside. The pod is for laying outside, and you can throw the curtains down and maybe hook up with somebody in some warm weather."
This sounds like something that my old buddies at Phi Sigma Kappa might come up with, but whatever. Lauren asks if Britenelle plans to grope Amanda at Plato's Retreat Pod but Amanda says Britenelle don't come around here no more.
Amanda: "Lauren really scared Britt off, it was very prevelant that they didn't get along, like even the energy when they were in the same room together was like… WOOF."
Lauren affirms Amanda's decision like some girls do when the girl they like drops the girl they hate and you have some roundabout psychological explanation for the breakup's necessity to mask your actual motivation which's wanting to bang-bang-bang on the door to her baby's vaginal walls now & forevermore. I retired from that kind of emotional business circa 2006 — both sides —  but these are great reminders of the follies of my youth.
Amanda: "It's really annoying that Lauren scared her off like that but there's no point in upsettting lauren, so i'm just not gonna say anything."



Back in Somewhere, Texas, in what seems to be March of this very year, Kiyomi, still dressed like Hipster Waldo, is confessing to her manager that she's feeling homicidal towards Somer.
Kiyomi: "I might fucking kill this girl, like right now."
Kiyomi interviews that Somer's usage of the term "the dictator" is one of many ways in which Somer's been "stirring the pot," thereby leading Kiyomi to call her manager in order to properly "check herself."
Meanwhile, Vero the Coolest Cucumber and Somer are explicating the Kiyomi/Somer Showdown of March 2012 in what appears to be a calm, reasonable and collected manner, almost as if they desire a mature conclusion to an unnecessary conflict. Unfortch, that's not K's choice.
On her way back into the hotel, Kiyomi's stopped by Vero and Somer, who wanna process this shit and get it out of their fucking way.
Vero: "Listen dude, we're talking about tones and stuff, and you know, we're all admitting that we're all sensitive, that we all get stressed out, I really — like I'm gonna step in right now, and I love you guys so fucking much–"
Kiyomi: "You know what? I don't even care about lovefest right now, I care about the shows, that's my main concern. I don't really care whether you guys call me the dictator, I have a job to do —"
Vero: "The dictator was a joke."
Kiyomi: "Yeah, but no, that's not the way — she said a lot of things that are really offensive, and really disrespectful."
Somer: "I apologize —"
Kiyomi: "In general I think that you're pretty disrespectful and I feel like you are self-entitled."
Somer: "I can't operate under being yelled at on a constant basis."
Kiyomi: "I'm not yelling at you on a constant basis — "
Somer: "You're just short, you know? That's all." [shrugs]
You know what's interesting about Kiyomi? When she's musing over what she loves about her chosen field, it's never actually about the music itself, or songwriting even — which they've yet to really discuss — it's always about being on stage. She loves playing shows. But does she really love rock 'n roll? Because I love rock and roll. Put another dime in the jukebox, baby.

Somewhere at some point in dusky Long Beach, California, Romi Flinger's cruising the city, gabbing via mobile to The Slab of Man —
Romi: "I miss you and I just wanna see you more! That's all."
Jay: "Get a dog."
Romi: "I want one. So bad."
Jay: "Get a goldfish or something."
Romi: "I don't want a goldfish."
Aw! The Little Plastic Castle could've been a surprise every time.
Anyhow, it turns out Romi has betrayed the hearts of The Lesbians of The Internet in exchange for a fling with a guy who she's 99% sure doesn't even know what she does for a living (to be fair, neither do we), never asks about her, and says things like this to conclude a conversation:
Romi's all prepped for marriage and baby-making like Everybody Else Is Doing but unfortunately she's dating The Slab of Man who just suggested his role in her life could be fulfilled by a tiny fish in a bowl.

Thus we sweep on over to another area of Los Angeles on some other night or year or season or era, where Amanda and Lauren have foregone the Mangey Pod for some public canoodling at a Hot Hip Girl Party.
Lamanda engage in some drunken tonsil hockey, and Amanda interviews that "it's a horrible idea to fuck your roommate," and that she loves Lauren and thinks she's beautiful and doesn't want her to feel rejected in any way, which I believe is a Uniquely Lesbian Feeling (especially 'cause so many women have body image issues and the last thing you wanna do is be that girl who pushed her over the edge into all-consuming self-loathing by rejecting her advances) I've felt that before, I think, and likely been on the other side of, too.
The camera zooms out to reveal that:
1. Amanda's outfit consists of a bra, a cardigan, and a winter hat
2. Whitney and Sara are here! With Ruby!
3. YAWN
Amanda dishes that she's ditched Britenelle 'cause Britenelle was intimidated by Lauren, and Whitney the Girlfriend Whisperer has some wise words on the topic to share in her interview:
Whitney: "Lauren and Amanda, the whole friends with benefits thing, if you're hooking up someone will catch feelings. So one of you mother fuckers have some feelings going on and if I had to put my money on it, I'd say Lauren has the eye out for Amanda a little stronger."
Amanda jokes about threesomes, because honestly, people joke about threesomes a lot (right??), and it's this big deal 'cause nothing else exciting has happened yet this season and so whatever. Hell, people HAVE threesomes a lot. Look the bottom line is, I'd rather be hanging out with Giraffes.
We then cut over to Romi, who announces that after her convo with Jay, she wanted to 'dance and play with her friends' and "didn't want drama," so she's hitting up Here Lounge, adjacent to The Abbey and voted Most Likely To Be The Site Of Lesbian Drama in the Autostraddle 2012 Los Angeles Club & Bar Awards, with Rose, voted Most Likely To Start Drama in the Autostraddle 2010 Los Angeles Reality Show Awards.
Romi's entrance inspires another round of shit-talking against Romi by the Lovely Ladies in the corner. Lauren says Romi hates her 'cause of Lauren's previous affair with Romi's ex, but Whitney notes that Romi's ex's lips have touched many other lips, not just Lauren's, so where could Romi even begin. It's stupid, but so is this show, so.
Whitney really lays it on thick, re: Romi —
Whitney: "She'll hate on you because you're pretty, she'll hate on you 'cause you're new and you're pretty, she'll do anything to get over on somebody, she'll fuck your girl, she'll fuckin' take your man, apparently — I'm sorry but the fact is Romi needs to be called out more often."
Romi notes the shit-talking and attributes it to Sara's jealousy of Romi's sexual history with Whitney or whatever, and then a million angels flew over the mountains and turned into eagles and then turned into clouds, and then rained and fed all the corn.


Back to dusty Austin, Texas, a month or billing period later, where Kiyomi's prepping for her show by yelling at her not-girlfriend who's miffed by Kiyomi's failure to call when she said she would, which's an affront to Kiyomi's aforementioned selfless personality.
Kiyomi: "Dude, I can't just call you whenever I want, I'm in a van with people, by that time we had just arrived in Austin, I got in a huge fight with Somer and she's pretty much out of the band — what do you fucking want from me? I'm still trying to call you after pushing all this fucking shit across town, I haven't played yet, like, you're not the least bit understanding whatsoever. What do you want me to do?!"
Anyhoo, turns out the show they thought was at 12:30 is actually at 11:30 so there's no time for a sound-check! Another stunning intro from Kiyomi to the audience:
Kiyomi: "I guess we're gonna play about four songs 'cause uh, the schedule got screwed up. We're Hunter Valentine–"
Hunter Valentine's show, though, turns out real good, with Somer hopping around like she means it and Vero playing her instrument like a strap-on and Laura banging away. Kiyomi interviews that she channelled all her anger into the show, which should tide her over 'til the next time Ali calls.

Back at Here Lounge, which boasts an expansive bar area (made famous by the Truck Stop Girls who dance on top of it) with multiple entry points for ladies seeking alcoholic refreshments, Lauren and Amanda have inexplicably chosen to stand at the smaller bar area right next to Rose & Romi, who have inexplicably chosen to stay standing at the smaller bar area despite already having drinks and being apparently irked by Lamanda's presence, which Lauren describes as "an awkward moment."
Romi notes that Lauren's hooked up with Kelsey but also with "every other girl in West Hollywood," which I think is the pot calling the kettle slutty. Furthermore:
Amanda and Lauren interview (sidenote: Lamanda's interviews together are always especially cute — and honestly their situation is one of a handful on this show I've ever honestly related to, it reminds me of a not-relationship I had once or twice.)
Amanda: "I've never met Romi, but how do you go from being a lesbian to being like, 'Oh, I want a dick in my mouth."
Lauren: "Because she's not really gay."
Amanda: "Okay."
In a subsequent scene which defies the finely-tuned sense of timing I thought I'd acquired for this show, Kelsey shows up!
No, wrong Kelsey!
This Kelsey:
Romi Flinger, the planet around which all other planets orbit, tells her friends that she's furious at Kelsey for leaving her house and visiting the Drama-Free Zone of Here Lounge and that they've not seen each other since the breakup, which is absolutely a total lie. Kelsey dashes by Romi without a proper hello, so Romi chases her down to yell at her.
Romi: "Do you know what I'm dealing with tonight? Do you know what I'm fucking dealing with tonight?"
Kelsey: "No, I don't!"
Romi: "Do you know?
Kelsey: "No–"
Romi: "I can't fucking come out because all your fucking girls. I've got Lauren and her girlfriend, I've got Sara being mean. I've got Whitney being mean. I've got everybody being fucking mean to me and I'm trying to like, have a good time… and hold myself together… and then you have to show up and do this."
Kelsey: "What do you want me to do, disappear?"
[pause]
Kelsey: "Come here."
R0mi's got emotional needs like Bain's got dollar dollar bills which's why, I imagine, she's more of a girl's girl than a man's girl. If I may grossly generalize inappropriately for a moment, sometimes it seems like it's an epidemic amongst twentysomething dudes that they believe all women are Crazy Until Proven Innocent and so you can't have emotional outbursts or cry or be unstable, ever, lest you reveal yourself to be Crazy, just as they always expected. But Kelsey listens to that whole monologue and instead of even fighting back, she just offers a hug. Mostly this whole Romi plotline has served to remind me constantly why I enjoy lesbianism and hate men so much.
Kelsey: "She just looked so sad. I just saw she wasn't happy, and the minute she saw me she felt like, safe, and there's all that's still here and I love her so much and she's standing in front of me and it's just like two peas in a pod."
That being said, what the WHAT?

Back to the house of Sad and Fog, where Kacy and Cori are setting up an impending visit from Whitney and Alyssa, who they've selected as the receptors of the bad news. They'll tell Whitney & Alyssa, and then Whitney & Alyssa will tell everybody else, and then Romi will finally stop texting about her ideas for a new fashion line, Hija Por Vida Baby.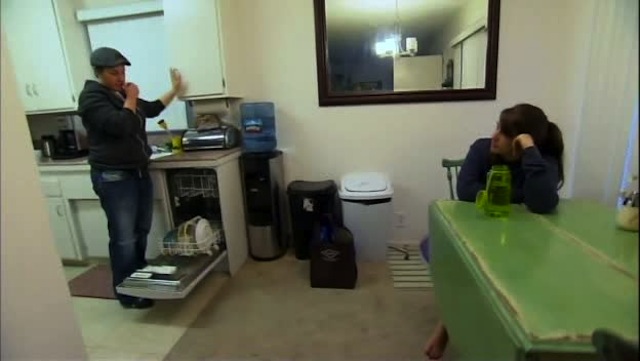 Kacy texts Alyssa and Cori starts sobbing and Kacy holds her, and we the audience attempt to prep ourselves for another transition from tragedy to Kiyomi Fucking McCloskey eating crab in a bib while bitching about Somer. I seem to recall crying during this scene, perhaps throughout.

Thus we return to Sunny Austin, Texas, where Laura and Kiyomi are enjoying some native eats and talking shit. Kiyomi interviews that playing good shows with Somer feels so good, but "putting up with her bullshit" might not be worth it.
Laura: "I like her — I mean, I never fight with anyone really. And I've had so many —"
Kiyomi: "Yes you do. I don't know why you think you're this fucking peacemaker all of a sudden. You're a fucking firey Italian fighter."
Laura: "I just don't like to fight."
Kiyomi: "Nobody likes to fight, I don't think. Maybe Ali likes to fight."
Laura: "Yeah but I've never had an argument with Vero, I mean, like not really. One, maybe. I've had two fights with Somer on this tour."
This engrossing/repetitive conversation is halted when the waitress dumps a bucket of crustaceans on their table and the girls bib up to dip in.


Smear on back to Hungry Los Angeles, California, where Romi and Jay are enjoying a rock-n-roll ensemble of undeniably delicious Thai food served among a legendary decor inspired by the merciless history of Hollywood's rock bands, movie stars and hit films. It's called Toi on Sunset!
Today's topic: Romi wants more face-and-vagina-time with The Slab Of Man, and The Slab Of Man wants Work, Party and, to an unfortunately lesser degree, Pussy. Romi's not pleased.
Jay: "You're a trainwreck."
Romi: "I'm not a trainwreck."
Jay: "You're still calling yourself a lesbian all the time, it makes it kinda hard to be with you. You're not a lesbian."
Romi: "What am I?
Jay: "I'm sorry, when you date a boy you become not a lesbian anymore, you become a heterosexual or a bisexual."
Romi: "Shouldn't you love me for exactly who I am?"
Jay: "You're growing on me."
Apparently Jay wasn't too gung-ho on dating Romi again, but Romi finagled Jay into the relationship by promising she was up for taking whatever he had to offer and he made it clear that what he had to offer was a series of variations on "get a goldfish" and "smell you later" and she said "okay." It's not working anymore, and also girls are cute.
Jay interviews that Romi wants "too much, too fast," for him, and Romi cries and tells him that she loves him but he only likes her, and then it starts raining and Los Angeles dissolves into the ocean.

Somewhere else in Los Angeles, Sarahara and Whit-me-me are Skyping Whitney's Mama to break the big news about their engagement.
Mama Mixter notes that Sarahara's new not-engagement ring, which's approximately the size of Mount Kilimanjaro, is super cool, and Whitney's like, 'well, speaking of rings… she's got another new ring!" and thus Sarahara flashes the engagement ring, and Mom is all like:
Mama Mixter: "What is that?"
Whitney: "What do you think it is?
Mama Mixter: "Are you kidding?"
Whitney: "We're engaged!"
The big announcement's met with an awkward stunned silence from Mama Mixter, who I presume is attempting to reconcile her awareness that women can't marry women in California with this unexpected announcement from her daughter and Sarahara, who she likes a lot, allegedly. Whitney and Sarahara quickly realize they're the sole members of the Smiling and Laughing Contingency of this conversation, and thusly they stop laughing as hard, and I resort to just eating peanut butter straight out of the container with a fork (the spoons are all dirty.)
Mama Mixter: "It's strange."
Whitney's taken aback and Sarahara attempts to offer small comforts. Whitney interviews:
Whitney: "I'm like a little upset from the reaction from my Mom, you know, I'm telling her one of the biggest announcements of my life, it's not necessarily what you envision in your head of your parents reaction being."
Sarahara lovingly wipes away Whitney's bro-tears and sticks her tongue in Whitney's mouth.

Elsewhere in California's Emotional Couch Conversations With Mom Series, Romi and her Mom are indulging in a heart-to-heart regarding Romi's sexual confusion.
Romi says she stopped dating men seven or eight years ago, and then after her Dad died she dove headfirst into a sea of naked emotional lesbians.
Romi: "When Dad died, I think that my thoughts at that time was, I'm just gonna run and go somewhere where I found safety, which was like, watching you with Tina, and a woman relationship was my home, was what I knew, and that's when I started dating. And I was attracted to women, and I did want to explore that, and I did want to find out at that time what part of me wanted to connect and be with women, but what I did though Mom was shut out any opportunity with any man at that point, it was like no more, I'm done, no guys."
It seems she's attempting to pin her love for the ladies on her lesbian Mom, which's problematic, really, because if having happy parents of whatever sexual orientation was all it took to turn a person gay or straight, there would be a lot less gay people in the world. Like, for example, my Mom's lesbianism and my Dad's death didn't make me gay. SHANE MADE ME GAY.
Romi: "With my dad being gone, there's a part of me that wants to have that relationship so bad in my life."
Romi says that she doesn't get men, or understand men, and she endeavors to blame that, too, on her upbringing, I think, which's also problematic, but maybe just was edited that way, and who really knows anything anymore about anything really.
The heart-to-heart ends and they embrace and Mom tells her she's got time to figure it out and that she shouldn't worry about what other people think. Especially all of us here right now.

Back to the House of Sad and Fog, where Cori and Kacy have summoned Alyssa and Whitney to deliver the worst news ever –
Kacy: "We just wanted to tell you guys in person that Cori went into pre-term labor and the doctors couldn't stop it, so Charlie, our little girl, came way early, too early, and um, she couldn't survive."
Alyssa exhales, Whitney bites her lip, and Cori is crying again because this is a story that will make a person cry every time, maybe forever.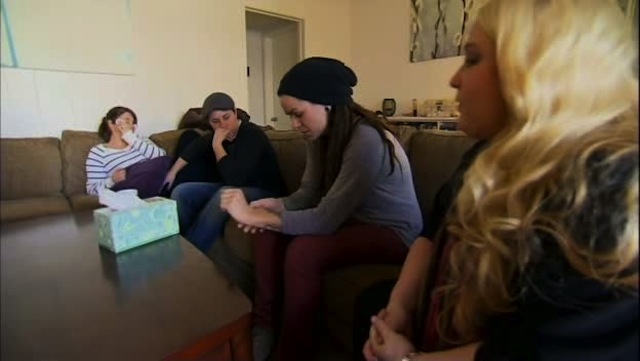 Alyssa tells them that her Mom miscarried twins at six months and later birthed Alyssa and her most-likely-awesome brother, so they shouldn't give up hope. Whitney interviews:
Whitney: "To be sitting in a room with a couple that's just lost their child that you care so deeply about, it's like you don't know what to say."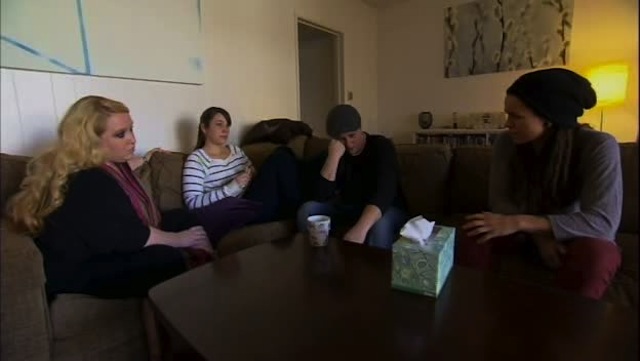 Cori and Kacy interview:
Cori: "I think the only thing that's just helping me get through this, is just having that memory of seeing her face and holding her little hands."
Kacy: "We still wanna be parents. I mean, we are parents. We have a daughter, you know. She's my first, she'll always be my first. But we're gonna try again."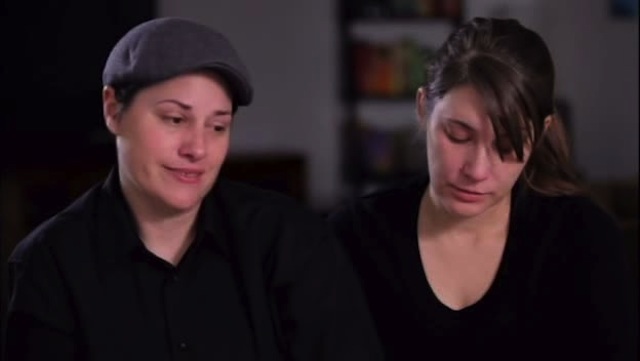 I cried during this scene too, I believe.

Somewhere in West Trivial Problems, California, Amanda's talking to a giant face on her tablet device and interviewing about being homesick and missing her ex- girlfriend.
Amanda says she's unable to conduct heart-t0-hearts about missing her ex, Kendall, with Lauren, 'cause Lauren would "kill her." But she misses her New York friends, probably also Riverside Park at night and Cafeteria at 2 AM and Josie's for brunch and that one dish at Zen Palate. Or maybe that's um, me.
Amanda: "I love my friendship with Lauren, you know? But I don't need a Mom, I don't need somebody asking me where I am all the time and what I'm doing and what's going on and what time are you gonna be home, and it's just like — lemme do what I wanna do! Like, chill out."
Lauren shows up, noting that Amanda's been in her room for eons, and Amanda confesses that she's homesick. Luckily, because somebody's gotta spend at least 45 seconds in New York City STAT if this show really wants to commit to its New York vs. Los Angeles storyline, Lauren suggests they take a little trip back to the big city to visit. Amanda is down with that plan.
Amanda: "You make me feel better."
Lauren: "I'm so glad you're here, it's totally normal to feel this way, you know?"
Amanda: "I'm glad I'm here too."

Romi's at home on her couch crying and staring with despondance at the ceiling, ruffling her hair, and asking somebody on the phone, "can you come over?" and seeing as there's no "have you ever considered a poodle?" on the other line, we can safely assume it's not Jay.
Mere moments later, somebody's at the door. Somebody's at the door! Who could it be?
Who's At the Door? Is it Hope Solo?
No… hm. Is it Naked Jessica Clark playing Lilith in True Blood?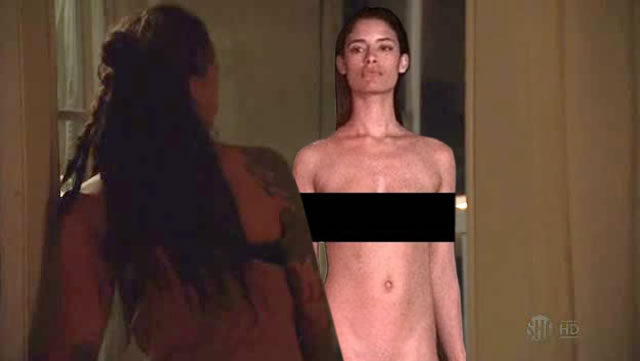 Oh, it's that Dusty guy, right? Is it Dusty?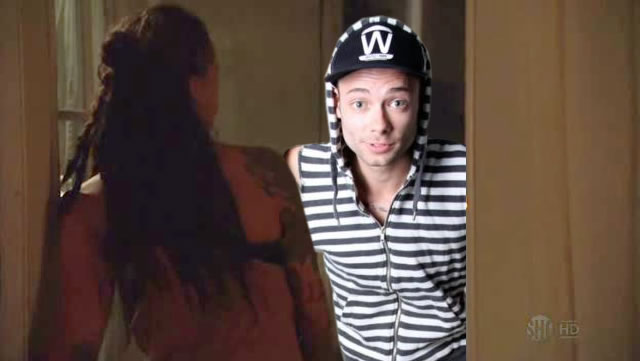 Hm, maybe it's that girl who just met you but gave you her number, which is crazy?
WAIT NO WAIT, it's definitely bread hat cat!
It's not BREAD HAT CAT? Well, is it maybe Sexual Croce?
Nope! It's not any of those things. It's Kelsey!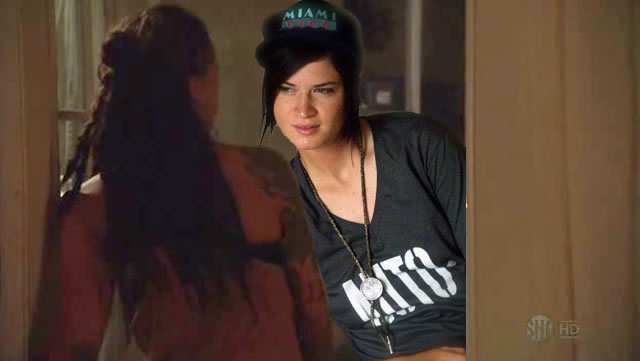 Yup, seriously it's Kelsey.
Like two peas in a pod.
And off we go…
Therein ends this recap of this stupid television show!
Speaking of the things I do for you, I don't know if you've heard, but we're currently hosting a campaign on Indiegogo to rebuild our website and make this the bestest biggest ship ever!
According to our reader survey, only 13% of you had donated to Autostraddle as of last month, so we're pretty optimistic about what could happen if every single one of you donated! 728 of you already have! We raised over $40,000 in 21 hours and it's still going strong, with lots of perks in store.
The post about the campaign is here and the campaign page is here. There's even a cute video to watch! Whatever you can spare, we really really appreciate it. Thank you so much!!!!
Pages: 1 2 3See entire article on one page