If you search online for the great canceled TV shows, you'll see a lot of mine and your favorites: Firefly, Freaks & Geeks, Everwood, Twin Peaks, Wonderfalls, Pushing Daisies and of course My So-Called Life. There are so many fabulous short-lived titans of quality out there, though. Here are a few names you might not find familiar, but are worth familiarizing yourself with.
Profit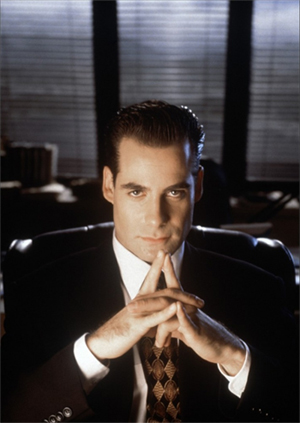 "When you want someone to love you, open your heart. When you want someone obsessed with you, close it." – Jim Profit
Some shows are special because they teach us how to better live our lives. Some shows are special because pretty women and high Bechdel Test scores and things. Profit is special because it is evil. Not in the wishy washy Soprano's or Dexter evil, where they're "kinda sorta good and/or well-meaning." I mean evil-evil, I mean if they ran a Chili's they would serve baby back ribs made from actual babies.
Adrian Pasdar stars as Jim "Wants To Watch The World Burn" Profit, a sociopath with eyes on climbing the corporate ladder at any cost. While he's not above murder, it's his mind that's his scariest asset. Not only do his plots-within-plots scratch the ears of the sadistic kitten in all of us, but he also has a mesmerizing way of talking to the audience before going to bed at night, offering anti-Aesops like the quote above in an effort to teach us his worldview. It was canceled after scores of viewers in the Bible Belt called in to protest a show about "Satan in a suit," and so while Profit may not have been for the faint of heart it was for the lover of writing. For dark and smart television aficionados I have got just the mad man for you.
Way to watch: Buy on Amazon or rent on Netflix.
United States of Tara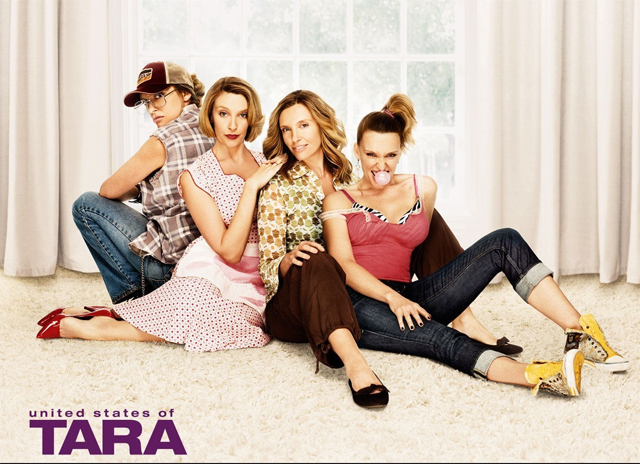 Tara: "What are you putting everywhere?"
Dr. Hattaras: "Rat traps."
Tara: "What? I don't wanna know there are rats in here!"
Dr. Hattaras: "Then don't think of them as rat traps. Think of them as mice traps or rabbit traps or…or kitten traps. When the kittens eat the bacon, this bit will just come over and stroke its back, and they will live forever."
If the 2009 Emmy's had decided to give Toni Collette five Best Actress awards for each of her many personalities, I can't imagine anyone blaming the Academy of Television Arts & Sciences. Created, written and produced by Diablo Cody (Juno), it is purely perfect dysfunctional family comedy. Starring Ms. Collette as Tara, this married mother of two struggles to handle the many women (and men) inside her head that want to come out and dance in her meat suit. Couldn't be as perfect as it is without a fabulous ensemble cast in the form of her family. Banter of the highest order found herein, this show is a giver of gloriously shit-eating grins. Bonus: if you're like me and get vicarious embarrassment for on-screen awkwardness, prepare to hide under your blanket a lot.
Way to watch: Buy on Amazon or stream or rent on Netflix.
Drive
If you're a fan of canceled TV, whether you know it or not you're a fan of Joss Whedon co-conspirator Tim Minear. @CancelledAgain on Twitter, he has served as executive producer and writer on a number of exceptionally well-constructed shows that were critical and/or geek darlings but were unable to find a lasting audience. You may recognize some: Firefly, Angel, Terriers, Dollhouse, Wonderfalls, The Chicago Code, The Inside. One such show is Drive, about dozens of strangers thrust into an illegal cross country road race for $32 million, or in some cases their heart's desire. Nathan Fillion and Emma Stone were definitely compelling notches in its belt, but brass tacks: it's fun. Action series are so hard to do right in television because of budget constraints, but visually and viscerally Drive manages to deliver the distilled joy of the Fast & Furious franchise without stepping too hard in an angst cow pie. So if you've ever wanted to see Firefly's writing chocolate in Top Gear's peanut butter, then welcome home.
Way to watch: Stream on Amazon.
Brimstone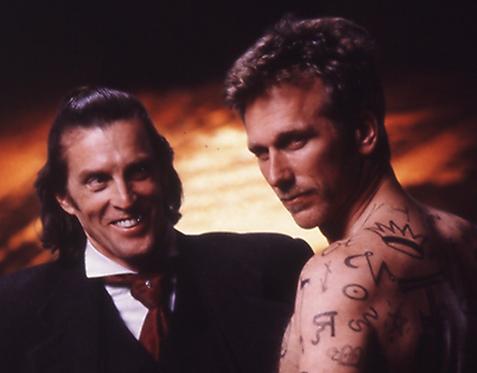 Ezekiel Stone, a name for whom his parents should receive a citation for practically cursing their child to be a hardboiled detective, died and was damned to Hell for killing the man who raped his wife. Stone is returned to Earth by the Devil when 113 damned souls escape, tasked with executing each of them in exchange for a clean slate and a second chance at life. Immediately stands out for its saturated visual style and being sweet and hopeful despite painting with wide cynical brushstrokes. I think if Brimstone had come out now during our current buzz for fantasy action series it would have lasted a lot longer.
Way to watch: YouTube.
Journeyman
Livia: "You don't even seem like Katie's type."
Dan: "What's her type?"
Livia: "I don't know; Jack's a cop — edgy commitment-phobic, a bad boy — you're not."
Dan: "I'm a recovering gambling addict who travels through time — I have some things going for me."
A Quantum Leap-esque series about a man pulled against his will through time and space to help people, Journeyman does sci-fi right and strives for one better, a strong romance. Watch the first episode, "A Love of a Lifetime." By 3/4 of the way in you'll be sold on the notion that lead Dan and his wife Katie are doomed, and by 4/4 you believe again in the indomitable power of love to conquer all. This is the show's greatest strength, and perhaps too its greatest failing in maintaining a mainstream audience: it's so hard. Dan and Katie and everyone fight so hard to be happy over the course of an episode's 44 minutes that by the time they find some sliver of joy at episode's end you, my friend, are emotionally drained. But for those willing to take the plunge, Journeyman pays back in dividends for your time.
Way to watch: Hulu.
Jack & Bobby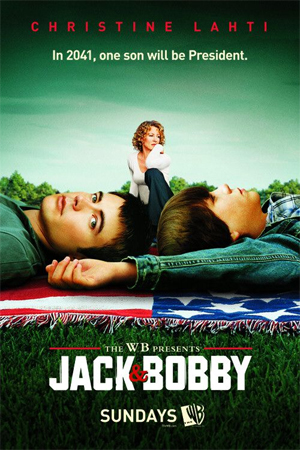 "Is sarcasm your only mode now, Jack? I mean, I know you're only a teenager but it might be time to mix things up a bit."-Grace McCallister (played by the always excellent Christine Lahti)
This is a show for people who like teen dramas but need equal time given to check-ins with the adult population, ala Everwood. Add an extra star to your mental score if you also crave a little of The West Wing's starry-eyed political musing. Centered around two brothers, one of whom will become President of the United States in the year 2040, J&B intersperses decisions the brothers make in real-time with political commentary from friends, running mates, competitors and pundits in the future, monologuing about how a choice in their youth affected political motivations in their adulthood. It's weird, right? But it's also the kind of brilliant genre-meshing I think we would all benefit, intellectually, from seeing more of.
Way to watch: Stream on Amazon or rent from Netflix.
Pages: 1 2See entire article on one page