Hello and welcome to the star-studded Autostraddle recap of the third episode of the third season of The Real L Word, a half-hour musical television program about a teenage rock group who fill their days performing enthusiastic cover songs at The P*lace and discussing serious issues such as schoolyard crushes and peer pressure.
This week on The Real L Word, everybody cried, Whitney dove from an airplane into a serene pool of heavily chlorinated water, Romi wore eighteen earrings in one ear and an entire mountain range on a necklace and Lauren and Amanda explored the seedy sexual underbelly of Los Angeles' Booth Babes subculture. Also, Ilene Chaiken broke into a stock footage factory and was so impressed with clips of Los Angeles at Night and Austin Streets at Dawn that she infused the episode with 65% more stock footage than usual. Also, an alligator ate Somer's arm and Kiyomi refused to pay for it. Let's begin!

We open in Sunny Los Angeles, where the brilliant morning sunshine casts its generous rays across the newlyengayged couple, Sarahara and Whitney.
Clearly we're all chomping at the bit for more footage of Sarahara and Whit-me's naked weheartishly-lit mornings, so this scene was not even at all slightly boring.
Sarahara interviews that she really enjoyed the Energy Healer Lifeshram Goobaroo Incense Hemp Moon Voodoo Party last week.  All her chakras are aligned:
Sara: "It was really beautiful. Out of all the different engagement stories that I've heard of, this by far was the most creative and brilliant that I've heard."
Oh really?
Was it really, Sara? Was it better than this?
How about this? Was it better than this?
How about this?
No but really, was it better than this? It wasn't!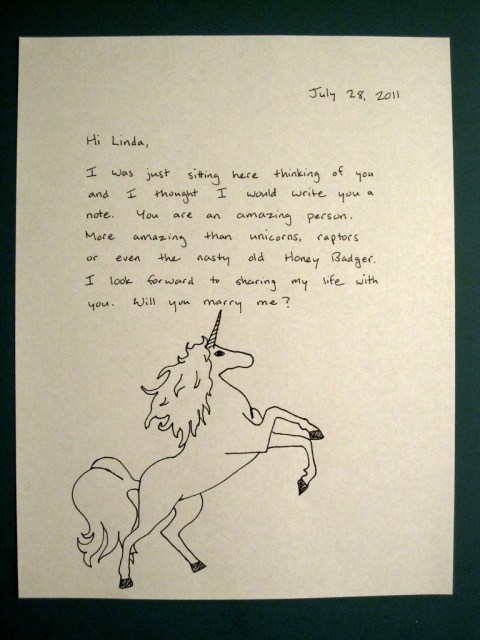 +
Ultimately, if it wasn't this (below), then you're doing it wrong:

We stumble forward in a Southernly direction to Kiyomi's vagina JUST KIDDING to a hotel room in San Antonio, where Somer's repairing her ailing keyboard and Kiyomi is doing the conversational equivalent of masturbating in front of the bathroom mirror.
Kiyomi and Vero flip enthusiastically through a notebook containing a cornucopia of temporary tattoos while Somer seeks positive affirmations regarding saving the band "like 400 dollars in repairs."
Kiyomi: (to Vero) "She was gonna have to pay for it anyway. It's not the band's repairs."
Somer: (In the other room) "I get like zero percent love for fixing this."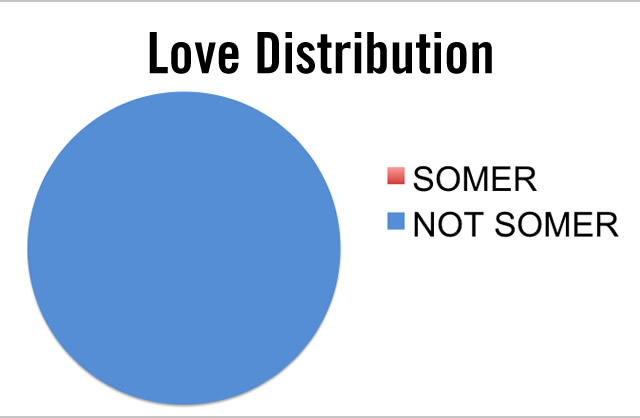 Kiyomi's busy covering her hickeys with temp tattoos while my Canadian girlfriend is busy discussing how Americans don't abbreviate "Veronica" as "Vero" and how it's really pronounced Vair-oo and how Vero is definitely Francophone. [UPDATE: she isn't, see here]

Back in the Industrial Backlots of Sunny Los Angeles, California, Romi and Rose are hitting up Jeffery's Warehouse Salon for Rose's hair to lose its virginity.
Quick time out: So, Rose is getting her hair done on a folding chair in a warehouse. Are you thinking what I'm thinking? Of course you are:
At a suspiciously convenient moment, Ruby rings Rose to gossip about Whitney and Sara's engagement, which Rose consequently conveys to Romi, and you can see for at least ten seconds that Romi does care, actually, a little bit, but very much wishes she didn't. Not because Romi wanted to marry Whitney, but because she wants to marry somebody and soon, I think, and nobody wants their non-committal confirmed Bachelorette ex-girlfriend to marry before they do.
Romi: "Wait wait, engaged? Is that what it was?"
Rose: "What can you say?"
Romi: "It's beautiful."
Rose: "I just wish them the best."
Romi: "I wish them so much happiness."
Rose: "That's all you can do."
Romi interviews that there's no way Sarahara and Whitney's mutual fear of eternal-commitment can conquer the burning fire of their sweet sweet love.
Romi: "Do I think that they'll make it? I don't know. But I don't think that anybody needs to go through dating Whitney again or anybody wants to go through dating Sara again, so I pray that they stay together forever 'til death do they part."

And onward we go to The House of Sad and Fog, where two of the saddest Pandas in all of Los Angeles are attempting to breathe, speak, think, hope, eat, sleep, and/or live despite, I imagine, wanting to crawl into a cave and sob indefinitely. Cori is transporting a rack of unbearably adorable onesies from the closet to her drawer, and so is Kacy, and so we know that what we knew was going to happen has happened.
It's difficult for me to reconcile a story as heavy as this being wedged between Rose not wanting her highlights to look like some Chola and Kiyomi telling Somer she's a self-entitled prick.
The couple interviews:
Kacy: "Cori had some bleeding, and so we went to the emergency room and they did an ultrasound but they didn't check Cori's cervix, and they sent us home. They said everything was fine and they sent us home. And the next day we went ot our OBGYN who said everything was not fine, Cori's cervix was opening prematurely, it's just a condition that's very rare."
Cori: "I was five months pregnant."
Kacy: "We made it through delivery. She came out at 9:12 PM. The first question we asked was, can we put her in an incubator? And she needed two more months."
Cori: "We were so close." [sobbing]
Kacy: "She was too little."
Cori: "She was moving all day, we felt her, she was fine."
Kacy: "There's nothing that you could've done baby, it was perfect, she was perfect, there's nothing you could have done."
What's beautiful about this, if there's any beauty to be found in a well this dark and sad, is how dedicated and loving their relationship is, and how you can see Kacy fighting back the urge to completely decompose because she knows Cori has decomposed already, and will continue to, and that she has to keep it together for her. And that Cori knows this, too, and can depend on it.
Cori: "I don't know how I'm gonna get through this, I've never experienced heartbreak and pain like this. I don't know what I would do without Kacy. I don't know, I'm just, trying to take things day by day and I don't know."
I cried through this scene, big real actual tears.

…and now we return to our regularly scheduled emotional impact, in which nothing is everything and everything is drama, where Kiyomi and Somer are facing off in a Dinosaur vs. Cylon Death Match.
Kiyomi wants to check the adaptor, or something, and Somer wants to go upstairs and chill and Vero is cool as a motherfucking cucumber and Laura is just being Miley. Also cool as a refrigerated vegetable, Somer leans with exasperation against the elevator as her and Kiyomi throw invisible rocks at each other and Kiyomi makes enormous hand gestures suggestive of a fight that actually matters.
Kiyomi: "I don't know why you have to be so difficult."
Somer:  "I don't know why you have to be such a bitch all the time."
Kiyomi: "I'm not a bitch! Because you can't hear your fucking tone and I respond to you with the same tone and you realize — when you're constantly —
Somer: "I don't ever give you this kind of attitude -"
Kiyomi: "When you're constantly rude to people -"
Somer: "You always talk like this to everyone, you talk like we're –"
Kiyomi: "No I don't."
Somer: "Yes you do."
Kiyomi: "No I don't!"
Somer: "Why do you think people call you the dictator?"
Um, probably because of that outfit she's always wearing?
Kyomi and Somer scream gayly forward, breaking all the rules of Lesbian Fight Club, most notably Rule #3.
Kiyomi: "I don't care."
Somer: "–because you're really mean!"
Kiyomi: "No, you know what–"
Somer: "You can be really snippy."
Kiyomi: "No, you're a fucking self-entitled little asshole sometimes!"
Somer: "You're talking about yourself, dude."
Kiyomi: "No I'm not, you need to check yourself!"
Somer: "I don't know what you're talking about dude, I'm laid back and chill."
Kiyomi: "Okay then talk to the rest of the bandmates and see what they say, you can not go through a day without complaining about a single fucking thing –"
Somer: "You can't go through a day without talking to people in a really nasty tone, and I know –"
Kiyomi: "I talk to you exactly the same way–"
Somer: "– and I know it's your personality, but it's grating."
Kiyomi: "I talk to you exaclty the same way you talk to me!"
Somer: "It's grating, after a while."
Kiyomi: "Yeah so is your fucking self-entitled little pissy piece of shit attitude!"
Somer: "Alright."
I'd easily qualify a good 60% of Kiyomi's vocal utterances as spoken in "a really nasty tone," and all I've heard Somer complain about was when her most valued possession got fucked in a hasty hungover packing situation, but regardless Kiyomi leaves Somer in her dust and fumes forward into the parking lot, speeding like a tampon escaping a crowded vagina, consumed with rage and ego.
Kiyomi: "I'm done!"
Kiyomi commences yapping to a semi-interested Laura and a completely disinterested Vero regarding why Somer is the self-entitled one, not her, and the reason is that Kiyomi has put "eight years of blood, sweat, and tears" into her band Hunter Valentine.

Cut to Los Angeles circa March or August 1886, where Miss Amanda and Miss Lauren are transforming your average everyday bedframe/mattress situation into a "pod." Gripping stuff.
Amanda: "We're building this thing and we're calling it a pod because it looks like a giant bed that goes outside. The pod is for laying outside, and you can throw the curtains down and maybe hook up with somebody in some warm weather."
This sounds like something that my old buddies at Phi Sigma Kappa might come up with, but whatever. Lauren asks if Britenelle plans to grope Amanda at Plato's Retreat Pod but Amanda says Britenelle don't come around here no more.
Amanda: "Lauren really scared Britt off, it was very prevelant that they didn't get along, like even the energy when they were in the same room together was like… WOOF."
Lauren affirms Amanda's decision like some girls do when the girl they like drops the girl they hate and you have some roundabout psychological explanation for the breakup's necessity to mask your actual motivation which's wanting to bang-bang-bang on the door to her baby's vaginal walls now & forevermore. I retired from that kind of emotional business circa 2006 — both sides —  but these are great reminders of the follies of my youth.
Amanda: "It's really annoying that Lauren scared her off like that but there's no point in upsettting lauren, so i'm just not gonna say anything."

Pages: 1 2 3See entire article on one page