Somewhere else in Los Angeles, Sarahara and Whit-me-me are Skyping Whitney's Mama to break the big news about their engagement.
Mama Mixter notes that Sarahara's new not-engagement ring, which's approximately the size of Mount Kilimanjaro, is super cool, and Whitney's like, 'well, speaking of rings… she's got another new ring!" and thus Sarahara flashes the engagement ring, and Mom is all like:
Mama Mixter: "What is that?"
Whitney: "What do you think it is?
Mama Mixter: "Are you kidding?"
Whitney: "We're engaged!"
The big announcement's met with an awkward stunned silence from Mama Mixter, who I presume is attempting to reconcile her awareness that women can't marry women in California with this unexpected announcement from her daughter and Sarahara, who she likes a lot, allegedly. Whitney and Sarahara quickly realize they're the sole members of the Smiling and Laughing Contingency of this conversation, and thusly they stop laughing as hard, and I resort to just eating peanut butter straight out of the container with a fork (the spoons are all dirty.)
Mama Mixter: "It's strange."
Whitney's taken aback and Sarahara attempts to offer small comforts. Whitney interviews:
Whitney: "I'm like a little upset from the reaction from my Mom, you know, I'm telling her one of the biggest announcements of my life, it's not necessarily what you envision in your head of your parents reaction being."
Sarahara lovingly wipes away Whitney's bro-tears and sticks her tongue in Whitney's mouth.

Elsewhere in California's Emotional Couch Conversations With Mom Series, Romi and her Mom are indulging in a heart-to-heart regarding Romi's sexual confusion.
Romi says she stopped dating men seven or eight years ago, and then after her Dad died she dove headfirst into a sea of naked emotional lesbians.
Romi: "When Dad died, I think that my thoughts at that time was, I'm just gonna run and go somewhere where I found safety, which was like, watching you with Tina, and a woman relationship was my home, was what I knew, and that's when I started dating. And I was attracted to women, and I did want to explore that, and I did want to find out at that time what part of me wanted to connect and be with women, but what I did though Mom was shut out any opportunity with any man at that point, it was like no more, I'm done, no guys."
It seems she's attempting to pin her love for the ladies on her lesbian Mom, which's problematic, really, because if having happy parents of whatever sexual orientation was all it took to turn a person gay or straight, there would be a lot less gay people in the world. Like, for example, my Mom's lesbianism and my Dad's death didn't make me gay. SHANE MADE ME GAY.
Romi: "With my dad being gone, there's a part of me that wants to have that relationship so bad in my life."
Romi says that she doesn't get men, or understand men, and she endeavors to blame that, too, on her upbringing, I think, which's also problematic, but maybe just was edited that way, and who really knows anything anymore about anything really.
The heart-to-heart ends and they embrace and Mom tells her she's got time to figure it out and that she shouldn't worry about what other people think. Especially all of us here right now.

Back to the House of Sad and Fog, where Cori and Kacy have summoned Alyssa and Whitney to deliver the worst news ever –
Kacy: "We just wanted to tell you guys in person that Cori went into pre-term labor and the doctors couldn't stop it, so Charlie, our little girl, came way early, too early, and um, she couldn't survive."
Alyssa exhales, Whitney bites her lip, and Cori is crying again because this is a story that will make a person cry every time, maybe forever.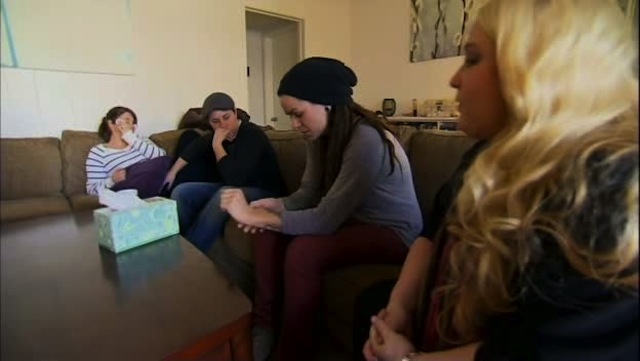 Alyssa tells them that her Mom miscarried twins at six months and later birthed Alyssa and her most-likely-awesome brother, so they shouldn't give up hope. Whitney interviews:
Whitney: "To be sitting in a room with a couple that's just lost their child that you care so deeply about, it's like you don't know what to say."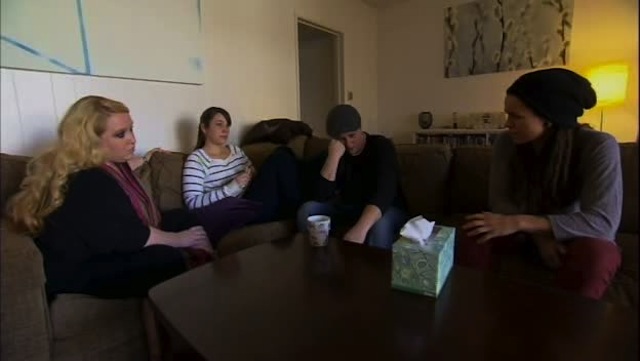 Cori and Kacy interview:
Cori: "I think the only thing that's just helping me get through this, is just having that memory of seeing her face and holding her little hands."
Kacy: "We still wanna be parents. I mean, we are parents. We have a daughter, you know. She's my first, she'll always be my first. But we're gonna try again."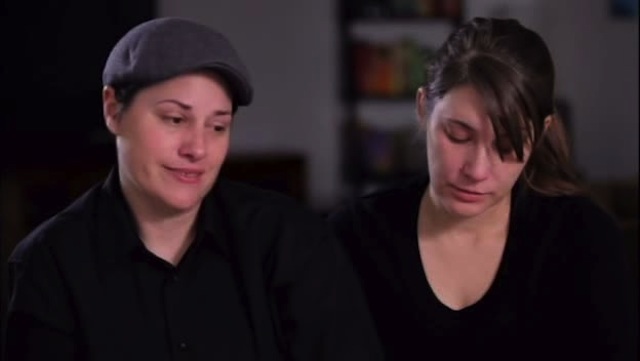 I cried during this scene too, I believe.

Somewhere in West Trivial Problems, California, Amanda's talking to a giant face on her tablet device and interviewing about being homesick and missing her ex- girlfriend.
Amanda says she's unable to conduct heart-t0-hearts about missing her ex, Kendall, with Lauren, 'cause Lauren would "kill her." But she misses her New York friends, probably also Riverside Park at night and Cafeteria at 2 AM and Josie's for brunch and that one dish at Zen Palate. Or maybe that's um, me.
Amanda: "I love my friendship with Lauren, you know? But I don't need a Mom, I don't need somebody asking me where I am all the time and what I'm doing and what's going on and what time are you gonna be home, and it's just like — lemme do what I wanna do! Like, chill out."
Lauren shows up, noting that Amanda's been in her room for eons, and Amanda confesses that she's homesick. Luckily, because somebody's gotta spend at least 45 seconds in New York City STAT if this show really wants to commit to its New York vs. Los Angeles storyline, Lauren suggests they take a little trip back to the big city to visit. Amanda is down with that plan.
Amanda: "You make me feel better."
Lauren: "I'm so glad you're here, it's totally normal to feel this way, you know?"
Amanda: "I'm glad I'm here too."

Romi's at home on her couch crying and staring with despondance at the ceiling, ruffling her hair, and asking somebody on the phone, "can you come over?" and seeing as there's no "have you ever considered a poodle?" on the other line, we can safely assume it's not Jay.
Mere moments later, somebody's at the door. Somebody's at the door! Who could it be?
Who's At the Door? Is it Hope Solo?
No… hm. Is it Naked Jessica Clark playing Lilith in True Blood?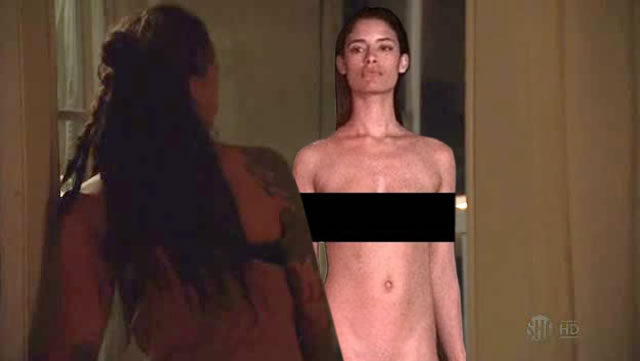 Oh, it's that Dusty guy, right? Is it Dusty?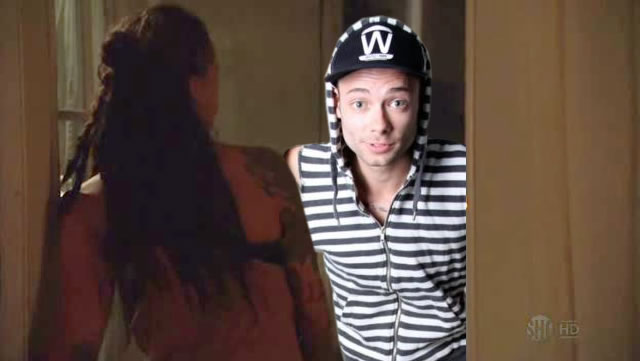 Hm, maybe it's that girl who just met you but gave you her number, which is crazy?
WAIT NO WAIT, it's definitely bread hat cat!
It's not BREAD HAT CAT? Well, is it maybe Sexual Croce?
Nope! It's not any of those things. It's Kelsey!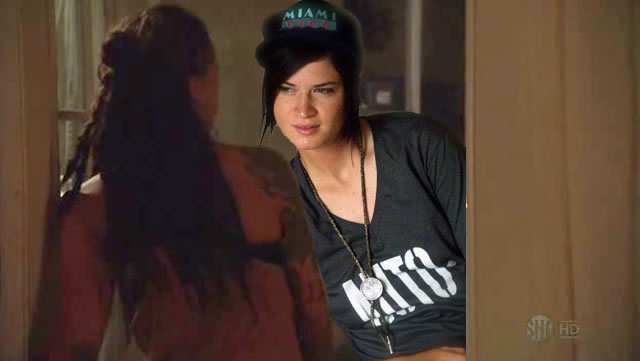 Yup, seriously it's Kelsey.
Like two peas in a pod.
And off we go…
Therein ends this recap of this stupid television show!
Speaking of the things I do for you, I don't know if you've heard, but we're currently hosting a campaign on Indiegogo to rebuild our website and make this the bestest biggest ship ever!
According to our reader survey, only 13% of you had donated to Autostraddle as of last month, so we're pretty optimistic about what could happen if every single one of you donated! 728 of you already have! We raised over $40,000 in 21 hours and it's still going strong, with lots of perks in store.
The post about the campaign is here and the campaign page is here. There's even a cute video to watch! Whatever you can spare, we really really appreciate it. Thank you so much!!!!
Pages: 1 2 3See entire article on one page