Back in Somewhere, Texas, in what seems to be March of this very year, Kiyomi, still dressed like Hipster Waldo, is confessing to her manager that she's feeling homicidal towards Somer.
Kiyomi: "I might fucking kill this girl, like right now."
Kiyomi interviews that Somer's usage of the term "the dictator" is one of many ways in which Somer's been "stirring the pot," thereby leading Kiyomi to call her manager in order to properly "check herself."
Meanwhile, Vero the Coolest Cucumber and Somer are explicating the Kiyomi/Somer Showdown of March 2012 in what appears to be a calm, reasonable and collected manner, almost as if they desire a mature conclusion to an unnecessary conflict. Unfortch, that's not K's choice.
On her way back into the hotel, Kiyomi's stopped by Vero and Somer, who wanna process this shit and get it out of their fucking way.
Vero: "Listen dude, we're talking about tones and stuff, and you know, we're all admitting that we're all sensitive, that we all get stressed out, I really — like I'm gonna step in right now, and I love you guys so fucking much–"
Kiyomi: "You know what? I don't even care about lovefest right now, I care about the shows, that's my main concern. I don't really care whether you guys call me the dictator, I have a job to do —"
Vero: "The dictator was a joke."
Kiyomi: "Yeah, but no, that's not the way — she said a lot of things that are really offensive, and really disrespectful."
Somer: "I apologize —"
Kiyomi: "In general I think that you're pretty disrespectful and I feel like you are self-entitled."
Somer: "I can't operate under being yelled at on a constant basis."
Kiyomi: "I'm not yelling at you on a constant basis — "
Somer: "You're just short, you know? That's all." [shrugs]
You know what's interesting about Kiyomi? When she's musing over what she loves about her chosen field, it's never actually about the music itself, or songwriting even — which they've yet to really discuss — it's always about being on stage. She loves playing shows. But does she really love rock 'n roll? Because I love rock and roll. Put another dime in the jukebox, baby.

Somewhere at some point in dusky Long Beach, California, Romi Flinger's cruising the city, gabbing via mobile to The Slab of Man —
Romi: "I miss you and I just wanna see you more! That's all."
Jay: "Get a dog."
Romi: "I want one. So bad."
Jay: "Get a goldfish or something."
Romi: "I don't want a goldfish."
Aw! The Little Plastic Castle could've been a surprise every time.
Anyhow, it turns out Romi has betrayed the hearts of The Lesbians of The Internet in exchange for a fling with a guy who she's 99% sure doesn't even know what she does for a living (to be fair, neither do we), never asks about her, and says things like this to conclude a conversation:
Romi's all prepped for marriage and baby-making like Everybody Else Is Doing but unfortunately she's dating The Slab of Man who just suggested his role in her life could be fulfilled by a tiny fish in a bowl.

Thus we sweep on over to another area of Los Angeles on some other night or year or season or era, where Amanda and Lauren have foregone the Mangey Pod for some public canoodling at a Hot Hip Girl Party.
Lamanda engage in some drunken tonsil hockey, and Amanda interviews that "it's a horrible idea to fuck your roommate," and that she loves Lauren and thinks she's beautiful and doesn't want her to feel rejected in any way, which I believe is a Uniquely Lesbian Feeling (especially 'cause so many women have body image issues and the last thing you wanna do is be that girl who pushed her over the edge into all-consuming self-loathing by rejecting her advances) I've felt that before, I think, and likely been on the other side of, too.
The camera zooms out to reveal that:
1. Amanda's outfit consists of a bra, a cardigan, and a winter hat
2. Whitney and Sara are here! With Ruby!
3. YAWN
Amanda dishes that she's ditched Britenelle 'cause Britenelle was intimidated by Lauren, and Whitney the Girlfriend Whisperer has some wise words on the topic to share in her interview:
Whitney: "Lauren and Amanda, the whole friends with benefits thing, if you're hooking up someone will catch feelings. So one of you mother fuckers have some feelings going on and if I had to put my money on it, I'd say Lauren has the eye out for Amanda a little stronger."
Amanda jokes about threesomes, because honestly, people joke about threesomes a lot (right??), and it's this big deal 'cause nothing else exciting has happened yet this season and so whatever. Hell, people HAVE threesomes a lot. Look the bottom line is, I'd rather be hanging out with Giraffes.
We then cut over to Romi, who announces that after her convo with Jay, she wanted to 'dance and play with her friends' and "didn't want drama," so she's hitting up Here Lounge, adjacent to The Abbey and voted Most Likely To Be The Site Of Lesbian Drama in the Autostraddle 2012 Los Angeles Club & Bar Awards, with Rose, voted Most Likely To Start Drama in the Autostraddle 2010 Los Angeles Reality Show Awards.
Romi's entrance inspires another round of shit-talking against Romi by the Lovely Ladies in the corner. Lauren says Romi hates her 'cause of Lauren's previous affair with Romi's ex, but Whitney notes that Romi's ex's lips have touched many other lips, not just Lauren's, so where could Romi even begin. It's stupid, but so is this show, so.
Whitney really lays it on thick, re: Romi —
Whitney: "She'll hate on you because you're pretty, she'll hate on you 'cause you're new and you're pretty, she'll do anything to get over on somebody, she'll fuck your girl, she'll fuckin' take your man, apparently — I'm sorry but the fact is Romi needs to be called out more often."
Romi notes the shit-talking and attributes it to Sara's jealousy of Romi's sexual history with Whitney or whatever, and then a million angels flew over the mountains and turned into eagles and then turned into clouds, and then rained and fed all the corn.


Back to dusty Austin, Texas, a month or billing period later, where Kiyomi's prepping for her show by yelling at her not-girlfriend who's miffed by Kiyomi's failure to call when she said she would, which's an affront to Kiyomi's aforementioned selfless personality.
Kiyomi: "Dude, I can't just call you whenever I want, I'm in a van with people, by that time we had just arrived in Austin, I got in a huge fight with Somer and she's pretty much out of the band — what do you fucking want from me? I'm still trying to call you after pushing all this fucking shit across town, I haven't played yet, like, you're not the least bit understanding whatsoever. What do you want me to do?!"
Anyhoo, turns out the show they thought was at 12:30 is actually at 11:30 so there's no time for a sound-check! Another stunning intro from Kiyomi to the audience:
Kiyomi: "I guess we're gonna play about four songs 'cause uh, the schedule got screwed up. We're Hunter Valentine–"
Hunter Valentine's show, though, turns out real good, with Somer hopping around like she means it and Vero playing her instrument like a strap-on and Laura banging away. Kiyomi interviews that she channelled all her anger into the show, which should tide her over 'til the next time Ali calls.

Back at Here Lounge, which boasts an expansive bar area (made famous by the Truck Stop Girls who dance on top of it) with multiple entry points for ladies seeking alcoholic refreshments, Lauren and Amanda have inexplicably chosen to stand at the smaller bar area right next to Rose & Romi, who have inexplicably chosen to stay standing at the smaller bar area despite already having drinks and being apparently irked by Lamanda's presence, which Lauren describes as "an awkward moment."
Romi notes that Lauren's hooked up with Kelsey but also with "every other girl in West Hollywood," which I think is the pot calling the kettle slutty. Furthermore:
Amanda and Lauren interview (sidenote: Lamanda's interviews together are always especially cute — and honestly their situation is one of a handful on this show I've ever honestly related to, it reminds me of a not-relationship I had once or twice.)
Amanda: "I've never met Romi, but how do you go from being a lesbian to being like, 'Oh, I want a dick in my mouth."
Lauren: "Because she's not really gay."
Amanda: "Okay."
In a subsequent scene which defies the finely-tuned sense of timing I thought I'd acquired for this show, Kelsey shows up!
No, wrong Kelsey!
This Kelsey:
Romi Flinger, the planet around which all other planets orbit, tells her friends that she's furious at Kelsey for leaving her house and visiting the Drama-Free Zone of Here Lounge and that they've not seen each other since the breakup, which is absolutely a total lie. Kelsey dashes by Romi without a proper hello, so Romi chases her down to yell at her.
Romi: "Do you know what I'm dealing with tonight? Do you know what I'm fucking dealing with tonight?"
Kelsey: "No, I don't!"
Romi: "Do you know?
Kelsey: "No–"
Romi: "I can't fucking come out because all your fucking girls. I've got Lauren and her girlfriend, I've got Sara being mean. I've got Whitney being mean. I've got everybody being fucking mean to me and I'm trying to like, have a good time… and hold myself together… and then you have to show up and do this."
Kelsey: "What do you want me to do, disappear?"
[pause]
Kelsey: "Come here."
R0mi's got emotional needs like Bain's got dollar dollar bills which's why, I imagine, she's more of a girl's girl than a man's girl. If I may grossly generalize inappropriately for a moment, sometimes it seems like it's an epidemic amongst twentysomething dudes that they believe all women are Crazy Until Proven Innocent and so you can't have emotional outbursts or cry or be unstable, ever, lest you reveal yourself to be Crazy, just as they always expected. But Kelsey listens to that whole monologue and instead of even fighting back, she just offers a hug. Mostly this whole Romi plotline has served to remind me constantly why I enjoy lesbianism and hate men so much.
Kelsey: "She just looked so sad. I just saw she wasn't happy, and the minute she saw me she felt like, safe, and there's all that's still here and I love her so much and she's standing in front of me and it's just like two peas in a pod."
That being said, what the WHAT?

Back to the house of Sad and Fog, where Kacy and Cori are setting up an impending visit from Whitney and Alyssa, who they've selected as the receptors of the bad news. They'll tell Whitney & Alyssa, and then Whitney & Alyssa will tell everybody else, and then Romi will finally stop texting about her ideas for a new fashion line, Hija Por Vida Baby.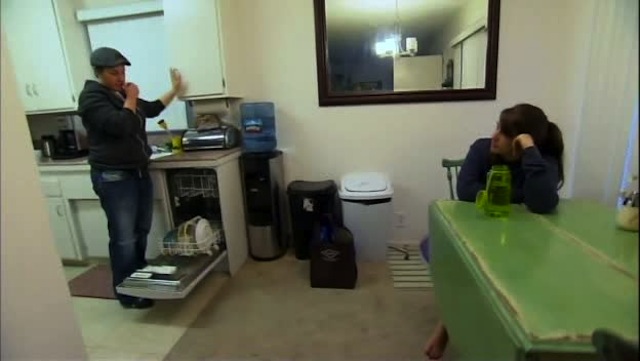 Kacy texts Alyssa and Cori starts sobbing and Kacy holds her, and we the audience attempt to prep ourselves for another transition from tragedy to Kiyomi Fucking McCloskey eating crab in a bib while bitching about Somer. I seem to recall crying during this scene, perhaps throughout.

Thus we return to Sunny Austin, Texas, where Laura and Kiyomi are enjoying some native eats and talking shit. Kiyomi interviews that playing good shows with Somer feels so good, but "putting up with her bullshit" might not be worth it.
Laura: "I like her — I mean, I never fight with anyone really. And I've had so many —"
Kiyomi: "Yes you do. I don't know why you think you're this fucking peacemaker all of a sudden. You're a fucking firey Italian fighter."
Laura: "I just don't like to fight."
Kiyomi: "Nobody likes to fight, I don't think. Maybe Ali likes to fight."
Laura: "Yeah but I've never had an argument with Vero, I mean, like not really. One, maybe. I've had two fights with Somer on this tour."
This engrossing/repetitive conversation is halted when the waitress dumps a bucket of crustaceans on their table and the girls bib up to dip in.


Smear on back to Hungry Los Angeles, California, where Romi and Jay are enjoying a rock-n-roll ensemble of undeniably delicious Thai food served among a legendary decor inspired by the merciless history of Hollywood's rock bands, movie stars and hit films. It's called Toi on Sunset!
Today's topic: Romi wants more face-and-vagina-time with The Slab Of Man, and The Slab Of Man wants Work, Party and, to an unfortunately lesser degree, Pussy. Romi's not pleased.
Jay: "You're a trainwreck."
Romi: "I'm not a trainwreck."
Jay: "You're still calling yourself a lesbian all the time, it makes it kinda hard to be with you. You're not a lesbian."
Romi: "What am I?
Jay: "I'm sorry, when you date a boy you become not a lesbian anymore, you become a heterosexual or a bisexual."
Romi: "Shouldn't you love me for exactly who I am?"
Jay: "You're growing on me."
Apparently Jay wasn't too gung-ho on dating Romi again, but Romi finagled Jay into the relationship by promising she was up for taking whatever he had to offer and he made it clear that what he had to offer was a series of variations on "get a goldfish" and "smell you later" and she said "okay." It's not working anymore, and also girls are cute.
Jay interviews that Romi wants "too much, too fast," for him, and Romi cries and tells him that she loves him but he only likes her, and then it starts raining and Los Angeles dissolves into the ocean.

Pages: 1 2 3See entire article on one page