all photos by Ari Gofman
Happy Purim!
Purim is a celebration: the traditional holiday involves retelling the Book of Esther, dressing in costume, getting so drunk that you can't tell Mordechai from Haman (one of the heroes and one of the villains, respectively), and eating hamantaschen.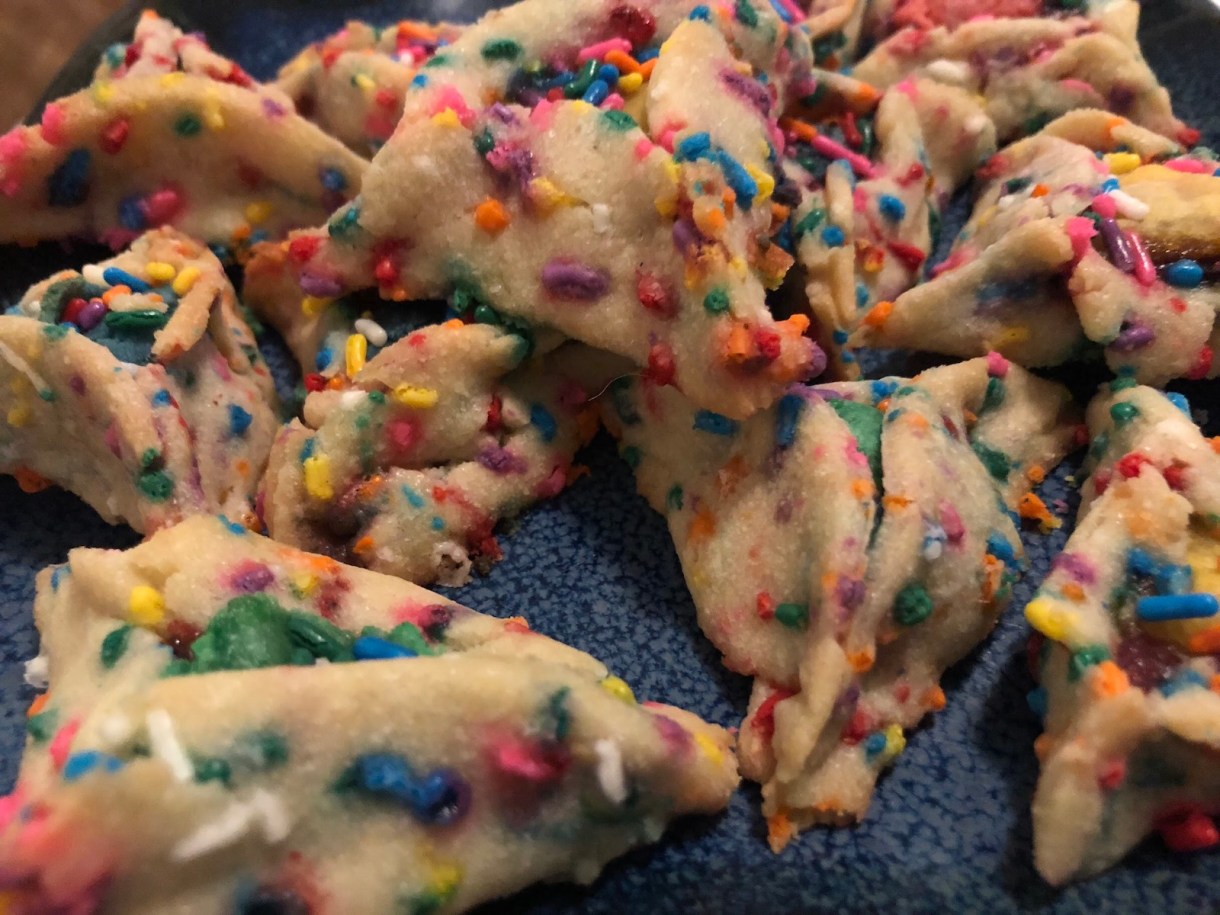 Purim, as far as Jewish holidays go, is extremely queer. The costumes people wear on Purim are a celebration of gender fuckery; even many observant Jews who otherwise dress strictly in the gender binary will cross dress for this holiday. For me personally, performing last year in a Purim Spiel (play) was the first time I intentionally dressed as a man while exploring my changing gender presentation. It felt like an opportunity to push my boundaries in public and to play a role without feeling like anyone expected me to know what I wanted to do with gender. This year, it was an excuse to finally buy a suit for my now openly-genderqueer self. In the spirit of gender fuckery, let's make our Purim hamantaschen look as queer and delightful as our beautiful selves.
Autostraddle posted a delicious vegan hamantaschen recipe a few years ago, so this time I'm bringing you a recipe with conventional dough (both homemade and quick options) and rainbow sprinkle filling!
There is a beautiful recipe for rainbow hamantaschen floating around the internet, but having made rainbow cookies with a similar dough once, I knew I didn't have time to go in that direction. Instead, we're going to make a simple dough and use color in the filling. The rainbow effect will be in the whole group – Purim is a party, so we'll make these for a crowd!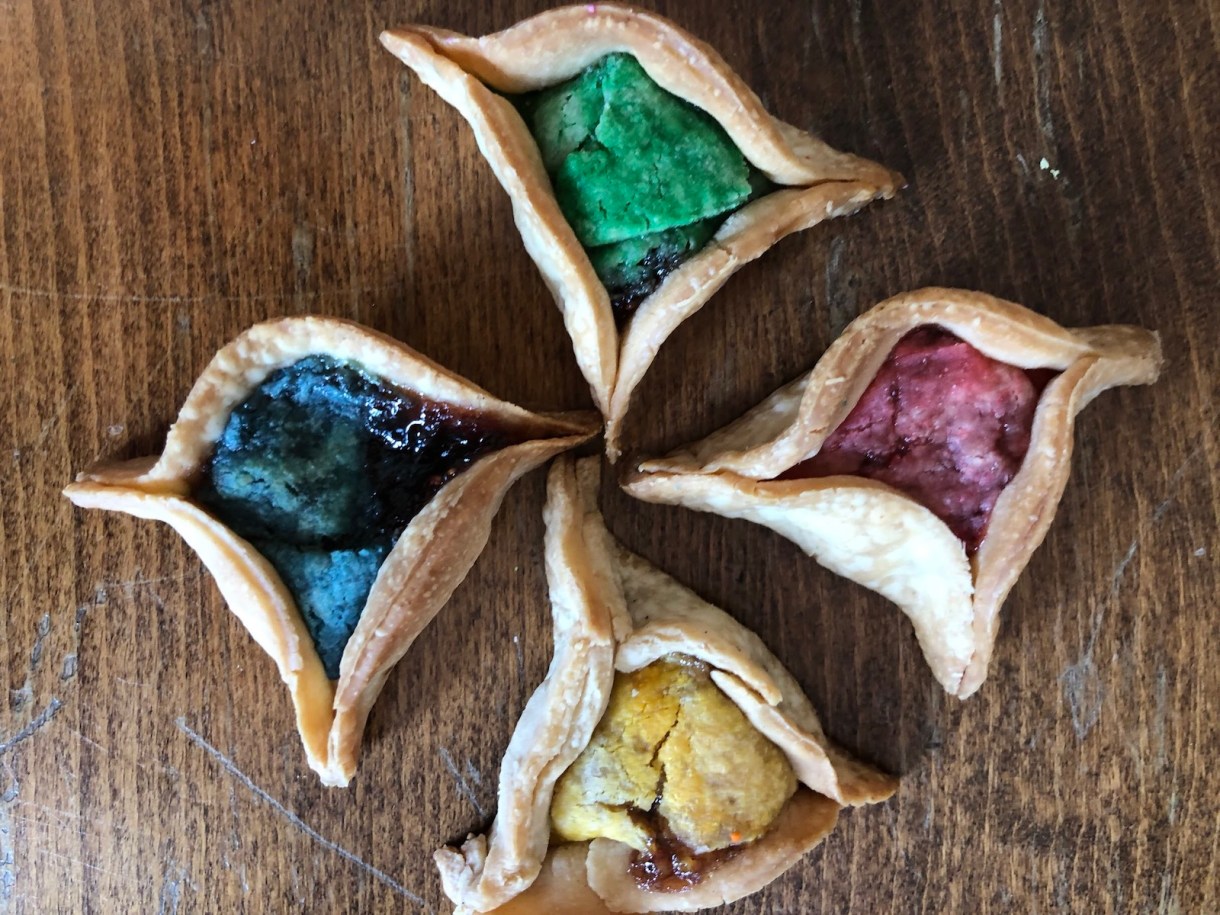 Ingredients & Instructions for Dough
There are a few options here, and like most hamantaschen, this recipe is mix-and-match. Feel free to adapt, improvise, and have fun!
Home Made
Feel free to use your favorite hamantaschen dough recipe; I suggest this recipe from Genius Kitchen for its good flavor and tendency to unfurl less than other recipes.
3⁄4 cup margarine or Earth Balance, softened
3⁄4 cup sugar
1 egg (or egg replacer if vegan)
1 tsp grated lemon or orange zest, or a squirt of lemon or juice
1 tsp vanilla
1⁄4 tsp salt
1 tsp water
2 1⁄4 cups flour
1. Cream margarine/Earth Balance in mixer bowl.
2. Add sugar and beat till fluffy.
3. Beat in egg, lemon/orange peel, and vanilla.
4. Add in flour and salt.
5. Beat in water a few drops at a time until dough starts to come away from sides of bowl.
6. Add sprinkles – more than you expect. I used about ⅓ cup.
7. Form into a disk.
8. Refrigerate for a few hours (at least one).
Lazy Queer's Version
This option is new to me, suggested by my A-camp cabin-mate Maddy Jennewein, and is my new go-to for hamantaschen forevermore. All you do is lay out a pre-made rolled pie crust. Optional: to have a rainbow exterior, create a solid, even layer of sprinkles on your counter or on a cookie sheet and gently roll the crust out until the sprinkles are thoroughly adhered. The sprinkles will go on the outside (ie, sprinkle side down) when folding.
Ingredients & Instructions for Filling
1 7oz package marzipan/almond paste (or smaller if you can find it)
Food coloring
Large container of sprinkles that don't melt in the oven; I used standard rainbow cylinder sprinkles
Jam of your choice; I use raspberry, strawberry should also work great. Blackberry? Blueberry? Boysenberry? Go for it!
1. I used about a third of a package of almond paste per batch. Cut off the piece you will be using and cut into portions with a knife. I made four colors and cut into fourths, but feel free to use a different number of colors. Divide into four small bowls. Drop three drops of food coloring into each and use a spoon to thoroughly mix in the color. Use a fresh spoon for each color, or wash very thoroughly in between.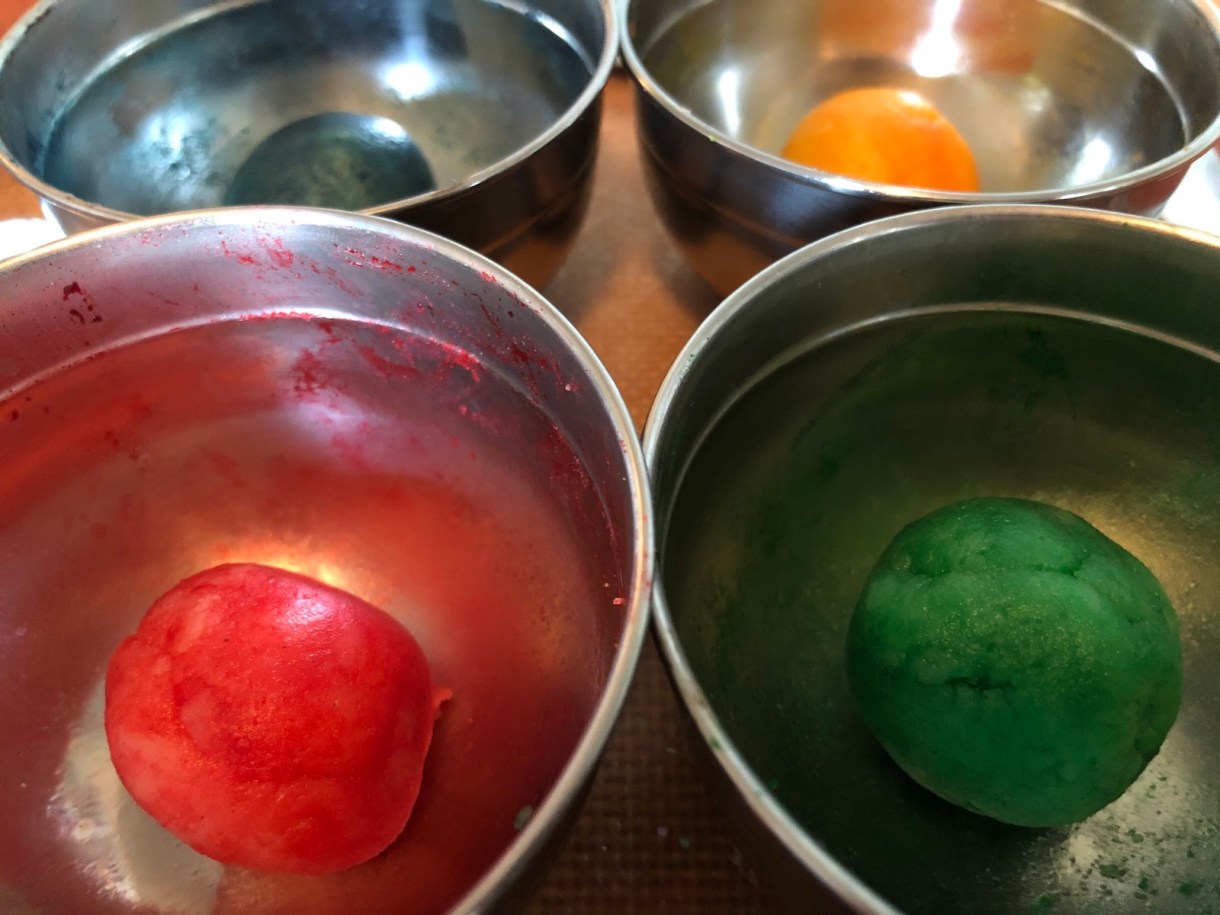 2. Roll into a small ball and place on a lightly floured surface. Lightly smush and put some flour on before rolling out to about 1/4 inch thick. Cut into triangles about one inch per side and set aside, covering with cling wrap to avoid drying out.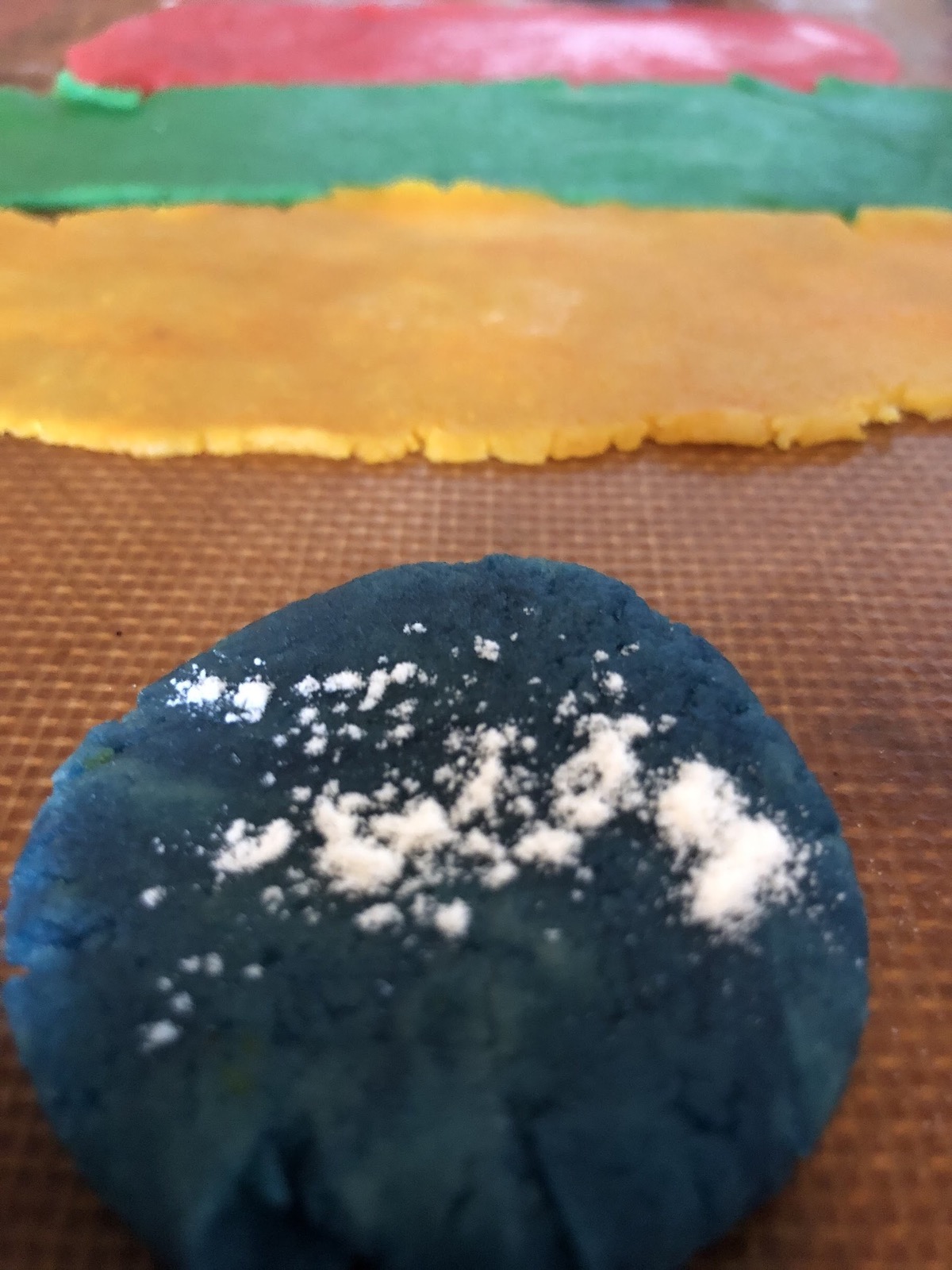 Assembly & Baking Instructions
1. Preheat oven to 350°F.
2. Regardless of what dough you're using, roll it out to about 1/4 – 1/8 inch thick. Cut out circles about three inches thick (I use a standard mason jar lid as a cookie cutter). Combine scraps and re-roll out until dough is all used.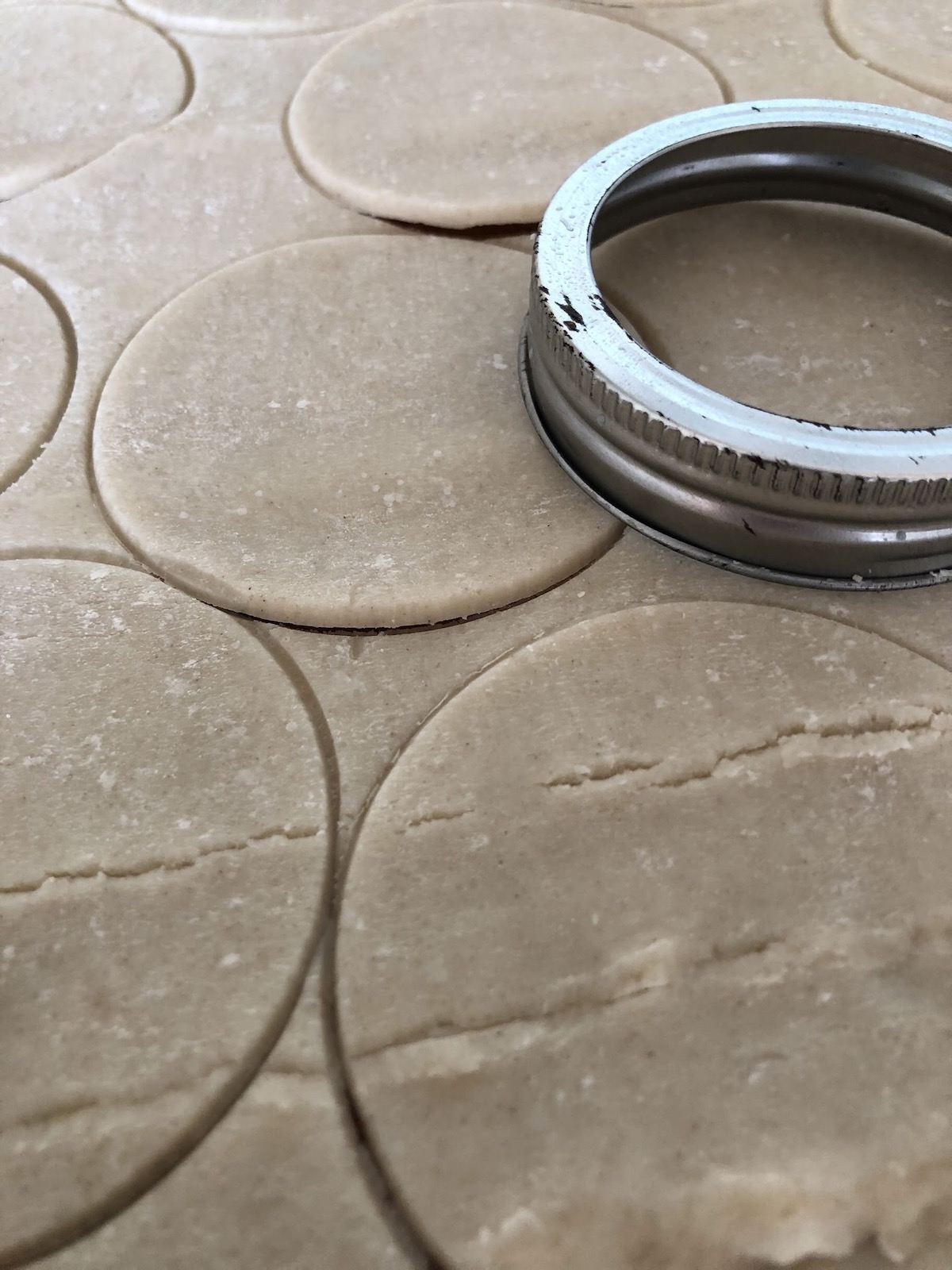 3. Use a piping bag or spoon to put about 1 teaspoon jam in the center of each cookie.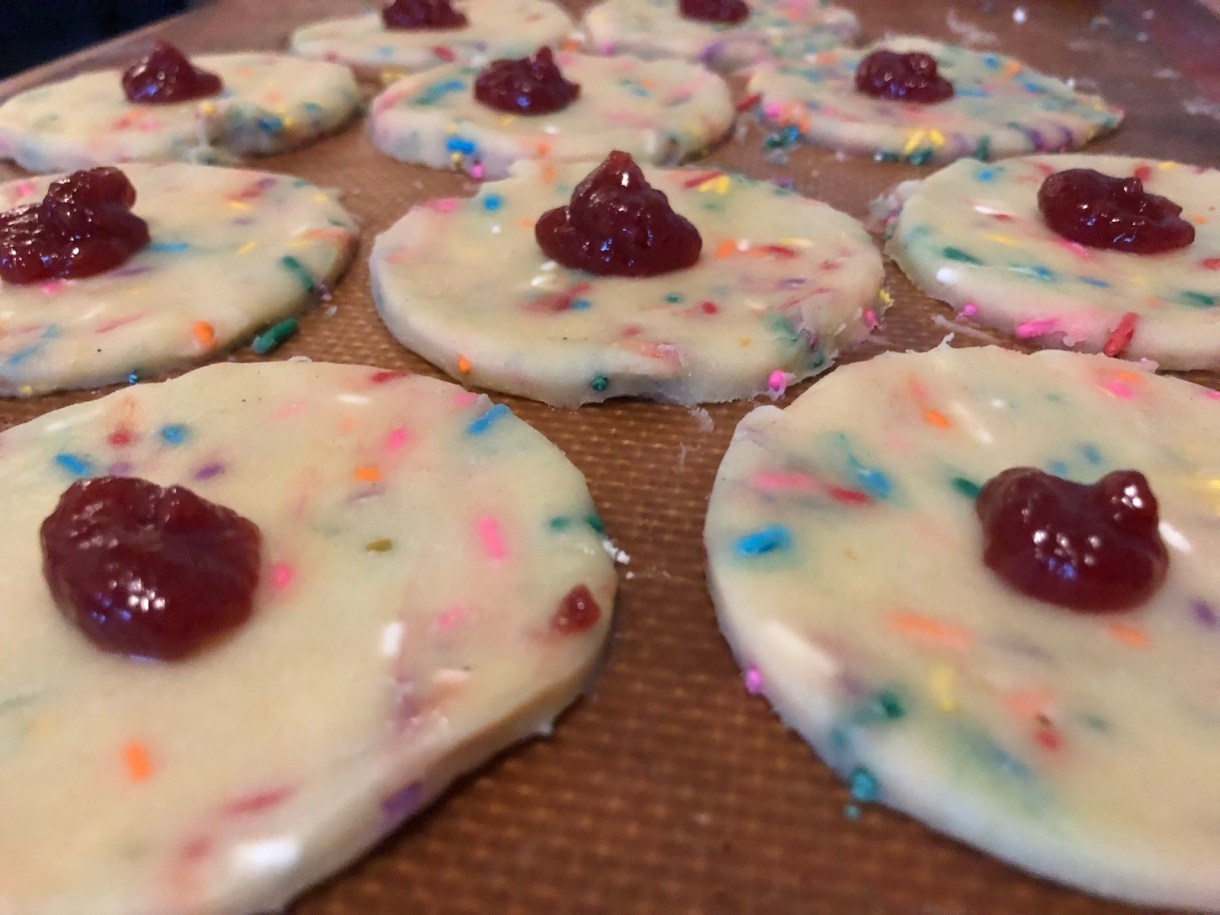 4. Place a marzipan triangle on top of the jam.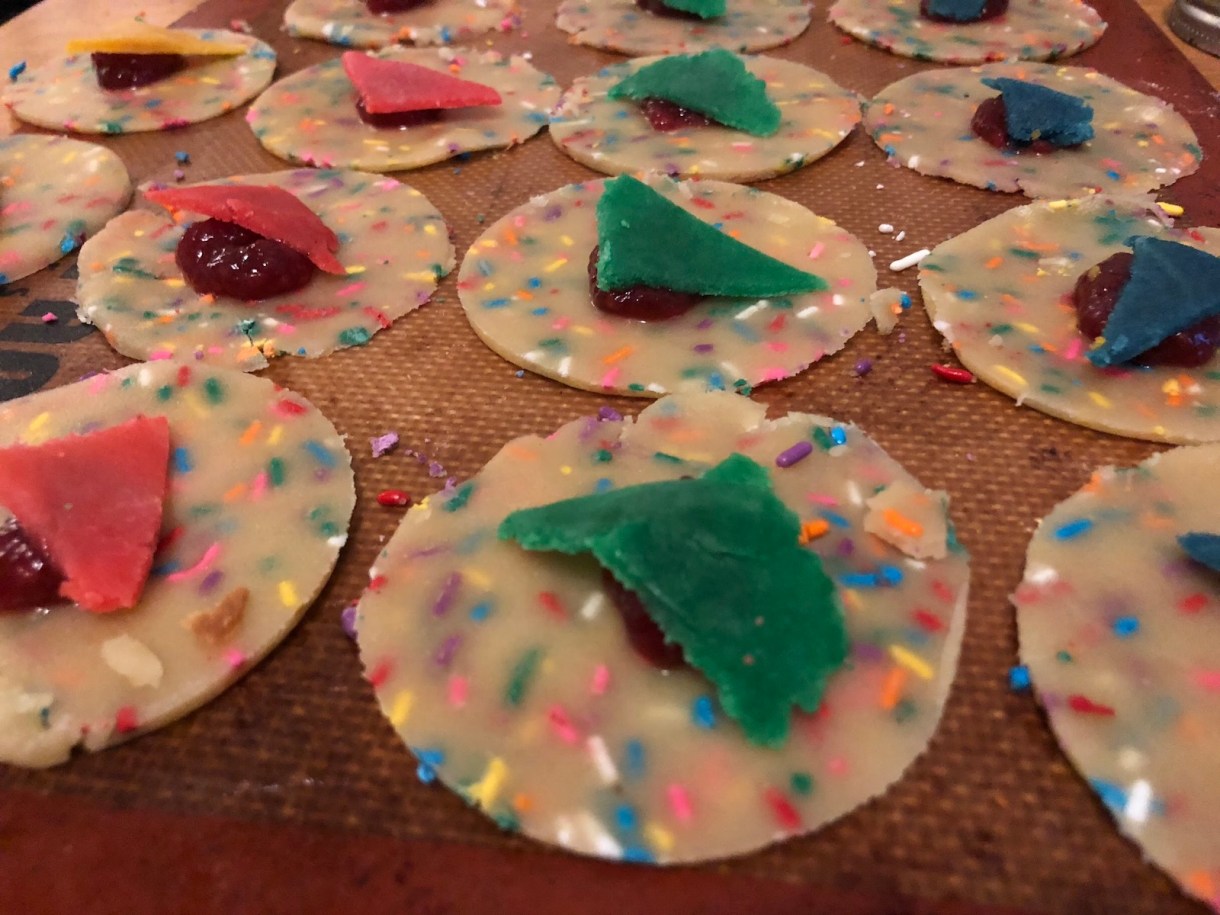 5. Fold the circle into a triangle, one side at a time – I swear it works. Try to fold around the shape of the triangle marzipan, but it's fine if that doesn't work out. Pinch the corners TIGHTLY – hamantaschen have a habit of unfurling, and they're much less fun when they're not in their traditional hat shape, although equally delicious. The filling should still be visible when you're done folding.
6. Optional: Pour some more sprinkles into the pocket formed for the filling.
7. Make sure oven has reached 350°F and bake for about 15 minutes.
8. Let cool, serve, and enjoy – or use as optional cat hat!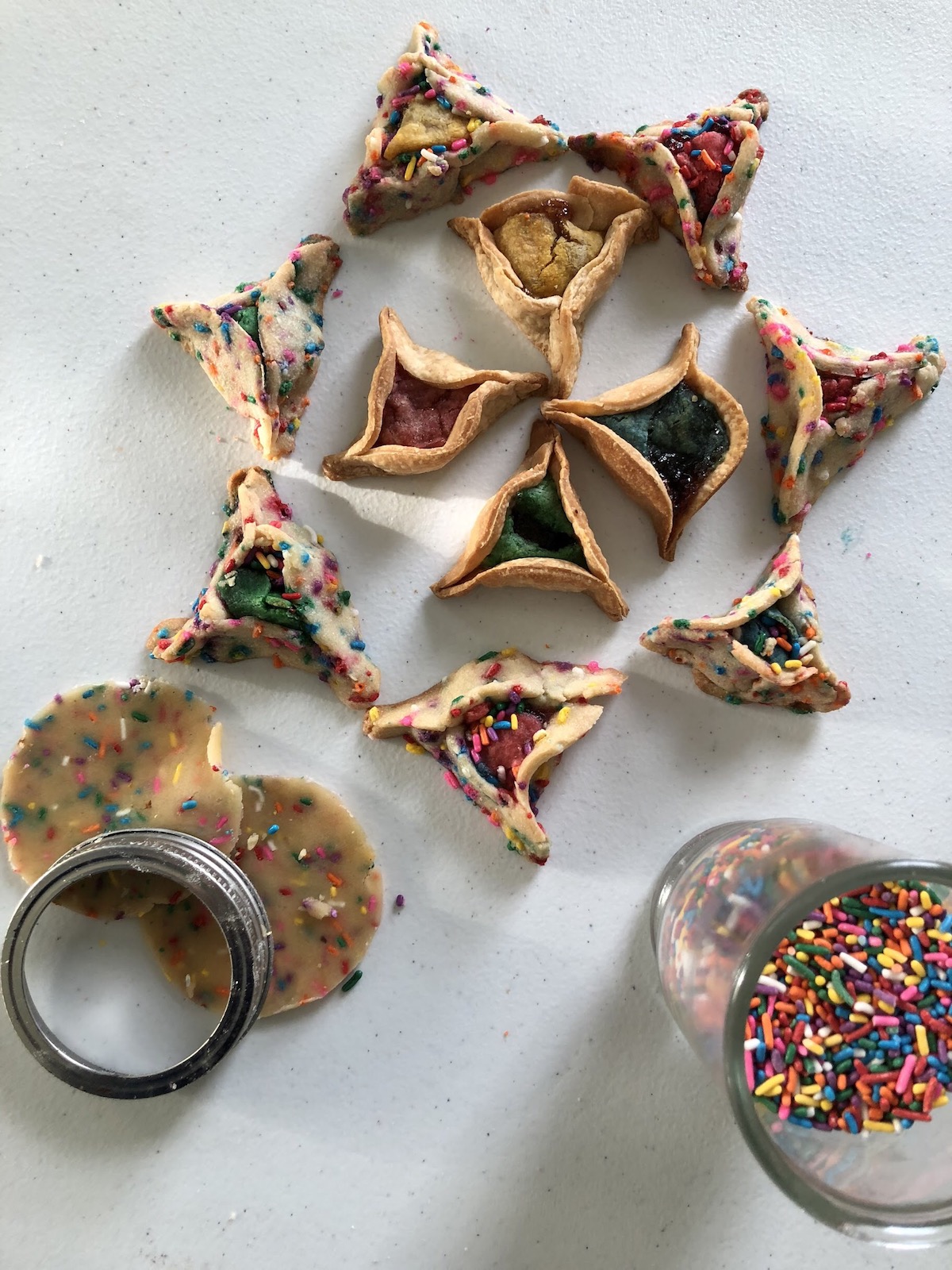 This year, Purim starts at sundown on Wednesday, March 20 and ends at sundown on Thursday, March 21.