After such a rich period of internal exploration and working to understand the mysteries of our subconscious, Aries season bursts forth with endless energy and a need for movement — and for many, this shift is a huge relief. We can stretch those limbs, take up space, shake off the cold winter water and prepare for spring's new growth. As we begin a new astrological cycle and shift into the first season of the zodiac, Aries brings positivity, confidence, and independence, a sense that anything is possible if we focus and give everything we have to achieving our goals. This is a time of new beginnings, new projects, new ambitions. And while it's tempting to leave that internal work behind, the lessons we've learned during dreamy, intuitive Pieces season are important to hold on to — they can help us find focus in our movement, stay anchored to those pieces of ourselves that are essential but often remain hidden.
Our card for this season is the Emperor, an archetype of power, focus, and discipline. With clarity of purpose and a deep need for consistency, the Emperor lays a strong foundation for the future, detailing intentions and creating a plan that will allow them the best possible chance for success. While some can experience discomfort with this particular brand of discipline and authority, these kinds of boundaries can create safety and protection for our more vulnerable emotions and ideas. When we set clear expectations for both others and ourselves, there's so much more space for exploration, communication, and creativity. The Emperor ensures that we gather all of the resources we need to build something powerful and lasting, making firm decisions and keeping us on track.
Many of the cards this month speak to the idea of direction: knowing what we want, where to find it, how to reach it. Some may experience a frustrating sense of stagnation, being trapped in their own ideas or feeling unsure about next steps. Others are ready to leave things behind, taking steps to craft a new reality or move through an important transition. With Aries being a fiery season of powerful movement and drive, be aware of the shifts you experience. This is a time of action and adventure, a chance to step away from what we know and take chances that have the potential to shake things up. Be open to new possibilities, listen to your intuition, and take care not to get carried away by the need to do everything at maximum speed. Aries may be determined and loves saying yes, but it's important to still remember what we are working towards.
In this season of Aries, keep the Emperor's focus and determination in mind as you read for your sun sign. Experienced tarot readers or astrologers can plug the cards I've drawn for their sun, moon, and rising signs into the spread below to create a custom reading for this season. If you know your placement for Mars, you can also add in that card for additional insight on what drives you, what you crave.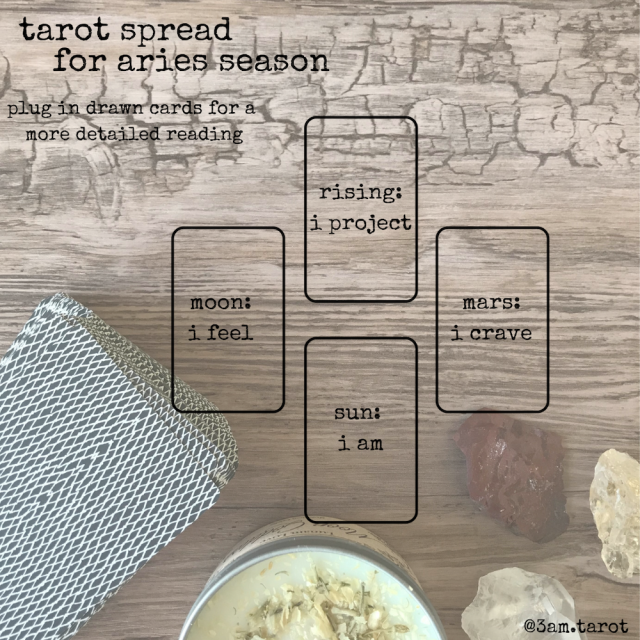 As always, I'm available for personal custom readings through my website. Most of my daily tarot readings and writings are posted on Instagram, and I'm hosting an in-depth minor arcana study challenge that is open to all levels — we're working through pentacles this month, and will begin swords in April.
---
Aries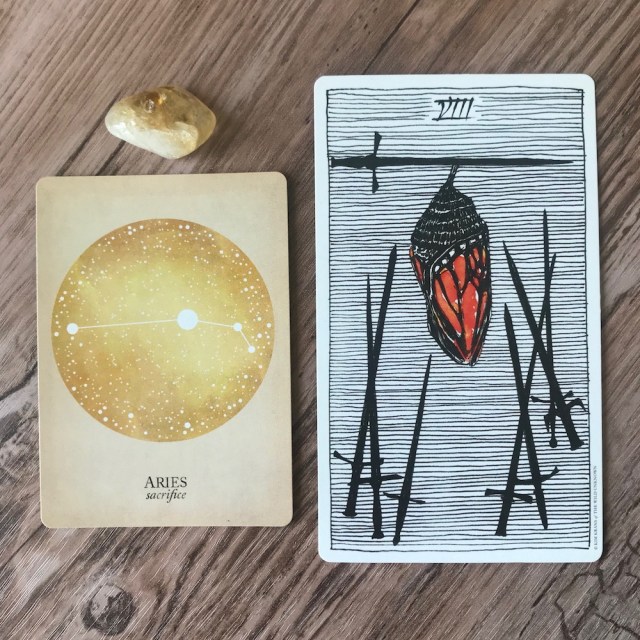 Eight of swords
Happy birthday, Aries! If Pisces season revealed some internal or personal challenges, you may be feeling a bit more fragile than usual, not rushing into the next project with your signature fire and confidence. Pay careful attention to the stories that you are telling yourself, to the perspectives and narratives that you are internalizing, and compare your emotional responses to the reality that you are in. This card often asks us to reconsider our perspective, and the cyclical thought processes that we may be caught in. Sometimes our minds can play tricks on us, or our outlook can limit our potential — be aware of what is influencing your choices.
It's likely that you have more options than you realize, but they're trapped in a sense of helplessness and self-restriction. Work to look outward, to be aware of your surroundings in full and not just the details you've been focused on. You are intensely powerful and independent, driven and full of passion — this is the time to set yourself free from negative patterns and move forward with confidence.
Taurus
Mother of cups
For you, Pisces season may have been a time of intense dreams and deep personal exploration, and you may find that those themes continue as you move into Aries season. This type of intense, emotional internal work is not always a comfortable place for you, but it's important that you listen to yourself, honor your responses, and find ways to channel your innate creativity and love of beauty. Your intuition may be particularly sensitive this season, letting you tap into the desires of those around you as well as your own cravings. Acknowledge those needs, rather than getting caught up in obligations and responsibilities — you are someone that finds intense pleasure in comfort, so prioritize caring for yourself. Focus on turning those dreams into reality, and let the fire of Aries season and its endless confidence inspire you to take a few chances. If you are willing to be vulnerable with your visions for the future and the deep emotions you carry, you may be surprised by the possibilities that manifest.
Gemini

Nine of swords
You may find yourself caught in some frustrating mental cycles this season, repeating fears or worries that have little basis in reality. Aries season's intense fire can pair with your own natural desire for constant motion, making it harder than usual for you to sit still or focus on details. If you find your thoughts beginning to spiral or becoming obsessive, take some space to breathe and ground yourself — this experience is temporary, and may reveal hidden truths that you've been working to hide from yourself. While this can be a painful or even frightening process, it is one that will pass, one that you can overcome.
Your natural gift for communication can be a significant asset during this time — you may find that talking through your concerns with someone you trust is the simplest way to stay grounded and find your center again. Creative pursuits or writing down thoughts when they spiral may also help you focus. Move gently and treat yourself with kindness, maintaining awareness of what is true and what is simply your mind playing tricks.
Cancer

The Empress
Aries season brings passion and movement, and the Empress invites manifestation and creation, so this may be a particularly enjoyable and creative time for you. Tap into your natural intuition and artistic nature to turn your visions and dreams from Pisces season into reality. Even if those ideas are not fully fleshed out, the Empress thrives in raw beauty, sometimes creating just for the sake of expression and joy. Let yourself experiment, trying out new mediums or processes, and take pleasure in the unknown or unfinished.
You may feel deeply connected to the physical world, inspired to artistic pursuits or exploration. Take satisfaction where you can find it, and work to nurture both yourself and those around you. Harness your own innate sensitivity and pay attention to your surroundings, even in moments of leisure — you never know what will spark inspiration or fuel your fire for the next big project.
Leo
Ace of wands
Combining the blazing fire of your own sign and this brilliant card, Aries season will be an intensely powerful time of movement, inspiration, and confidence for you. Don't shy away from your natural magnetism and ability to lead — your sense of motivation and creativity will be high, and your ability to manifest your vision will be dependent on the people you surround yourself with.
This card often feels like a big yes to whatever you are working towards, so let that energy inspire you to start something new, particularly in a season so open to new possibilities and journeys. With such an intense combination of energies, it may feel that you have more ideas than you know how to execute — make a record of what inspires you, and work to focus your efforts in one specific direction. Taking on too much will only end in frustration, but channeling your magic towards one particular idea or vision can bring unlimited potential.
Virgo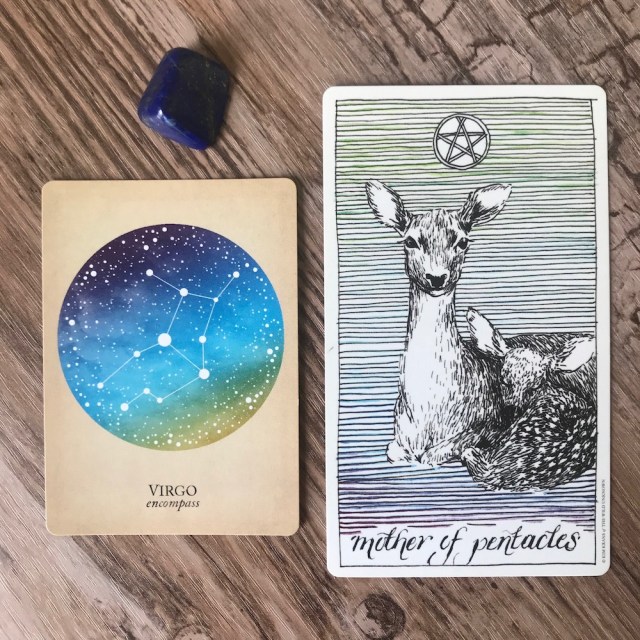 Mother of pentacles
Your natural abilities for organization and hard work will serve you well this season, combining your earth with Aries' fire to make you feel unstoppable. Focus your energy on the physical world as much as possible, prioritizing health, finances, and career goals. If you are in the middle of a particularly intense project, rely on your business skills and savvy to make decisive choices and rely on your instincts. Use your thriving sense of practicality and awareness of details to succeed, and don't be afraid to utilize the many resources at your disposal.
While you are one that is known for your systematic work ethic and desire for perfection, this is a season to spoil yourself a bit too — the element of earth is not just about discipline and structure, but also invites pleasure, comfort, and sensuality. Surround yourself with things that bring you joy, and above all, trust yourself. You already know what you need and exactly how to get it.
Libra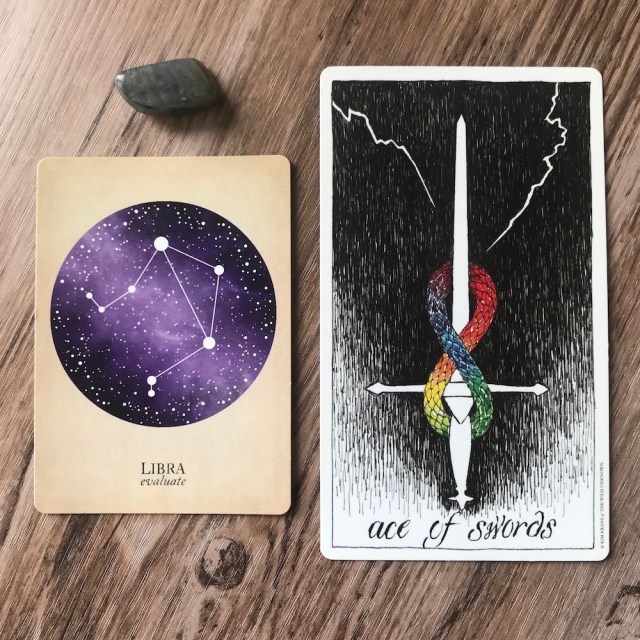 Ace of swords
This may be a season for uncovering truths, as you find yourself experiencing flashes of insight and a desire to look deeper into motivations, ideas, and opportunities. Whether it's an important message or a change in perspective, something new will shift the way you are approaching a project or long-term goal. While you are often someone that can see issues from multiple perspectives, this is a time when it's important to listen to your own voice and follow your instincts. There may be more that you need to uncover, either within yourself or externally — give yourself the time and space to process these developments. Once you are sure of your path forward, harness that Aries fire and let it guide you. The truths and insights you are discovering are the start of a new journey, so be open to opportunities and potential projects.
Scorpio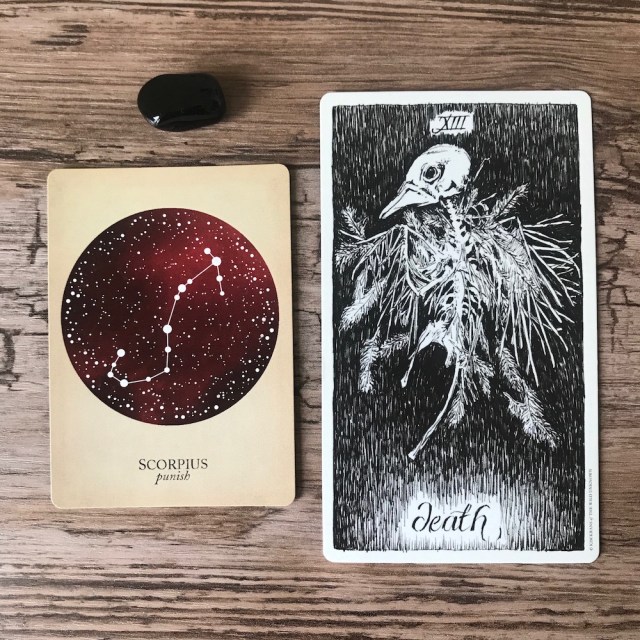 Death
Something that was once deeply important has been slowly fading from your life, and this season will be a time of finally letting go. Whether this experience is painful or a relief, this release will alter your movement going forward, and will force some necessary adjustments. Scorpio and Death are deeply connected, so this period of transition and release may feel both natural and anticipated. Be attentive to how you let go, and resist the urge to let the fire of Aries season rush you through this shift. Even when this kind of transition is expected, it is still a major change to your life and can adjust your goals and purpose moving forward. Be gentle as you move through this season, being attentive to your own needs and not rushing to the other side. You are exactly where you are supposed to be.
Sagittarius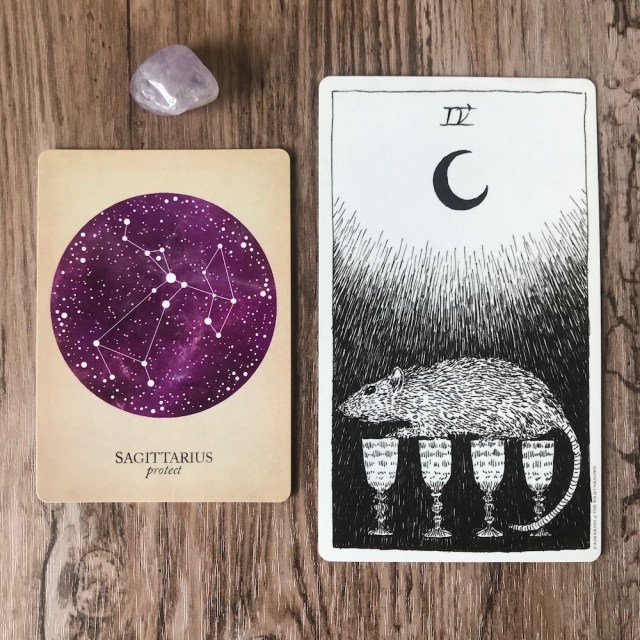 Four of cups
You can be naturally restless, always eager to explore and create, and the fire of Aries season may accelerate your sensation of boredom or stagnation. Rather than ignoring what you already have or taking your growth for granted, take some time to appreciate the relationships and connections in your life, perhaps viewing them from another perspective. Are you always spending time with others in the same ways, maintaining the same methods of communication or levels of intimacy? Consider finding new ways to connect with the important people in your life or different methods of exploring your own emotions — you may find ways to relate that help you see what you have in a new light.
It may be that you are craving a shift, and that the natural movement and independence of Aries inspires you to make some changes. Transitions can be both powerful and useful, but be sure that your motivations are well-considered and not based on fleeting emotion. If your choices feel selfish, reconsider your options.
Capricorn
The Chariot
With so much power and movement already in Aries season, the Chariot could cause your forward motion to feel out of control. Be very aware of the choices you make and the commitments you take, watching your deadlines and responsibilities closely. Your natural ability to juggle many tasks may make it tempting to take on too much, or rush to the finish line — make sure you are prioritizing what matters and not pushing yourself or others beyond limits. This combination could manifest in anxiety, a desire to be finished with your current project and to start the next big thing. Take care with your decisions, and try not to be too hasty about ending something or starting another cycle. Setting goals and achieving them is an important part of your life, but don't get so caught up in the endgame that you lose sight of what matters.
Aquarius
Five of wands
As this new cycle begins, you may find yourself feeling a bit scattered, unsure of which direction to move in. The path you've been following and the inspiration you've trusted may feel slightly out of reach, which can be a very frustrating sensation. Rather than pushing forward simply so that you can experience movement, take some time to remember past lessons and consider what is truly important for you. Although you tend to see things from a wider perspective, always looking ahead to the future, this is a time to ground your thoughts and connect to your everyday work.
If Pisces season revealed some challenging truths or new inspiration, take some time to reflect on what you've learned. Notes or journal entries could help you reconnect with your past reflections, and can help you get back on track. It's possible that the dreams and goals you found during the past few weeks will help you refocus on what you want to achieve in this current season.
Pisces
Mother of swords
After such a deep dive into emotions, dreams, and intuition, you may feel a need to create some new boundaries and protect your sensitive internal self. Guarding your secrets and hiding pieces away can be important for recovery, and may give you an opportunity to heal and process all that you have learned — but take care not to retreat so far that you damage the connections and relationships that you have built. This can be a beautiful time for you to turn those ideas and dreams into a tangible reality, so be attentive to those visions, and don't be afraid to nurture them. You may be known for your emotional depth, but rationality and logic in decisions could help you feel more secure in creation. A little structure and discipline could be just what you need to move forward.