Good news! I didn't die at the gym. I even made a friend. We bonded over our in-athleticism – always the last ones to finish a thing. At one point the trainer told the group to go run half a mile. My new friend and I got so far behind we lost the pack, got lost and ended up running closer to a mile. Silver lining though! By the time we got back the burpee part of the workout was over and we didn't have to do any.
This week on Autostraddle dot com was a good workout for our hearts and minds.
Rachel is on some pretty questionable mailing lists. Molly went to the beach and took pictures.
Lynsey has tips for sexting – a thing I will never do for fear of accidentally messaging my boss or my mom. But you do you.
Sinclair Sexsmith walks into a bar and… ponders finding your other half. Spoiler alert: it's like finding a lovely needle in a pile of lovely needles.
Stef takes our ears back to the local roller rink of our youths. Mine was called Skateland and it was run by a lady named Brenda who took requests for a quarter.
Also Baby T. Rex! And Comments!
---
On The Autostraddle Insider: Issue 22, April 2016:
The Mary Berry Award to Sally:

On Tegan and Sara's "Boyfriend" Video Was So Much Gayer In My Imagination:
The So Gay Award to Blackmar and queer girl:


On Faking It Episode 307: What Dreams Of Fake Lesbianism May Come:
The Delizioso Award to Rey and Kristana: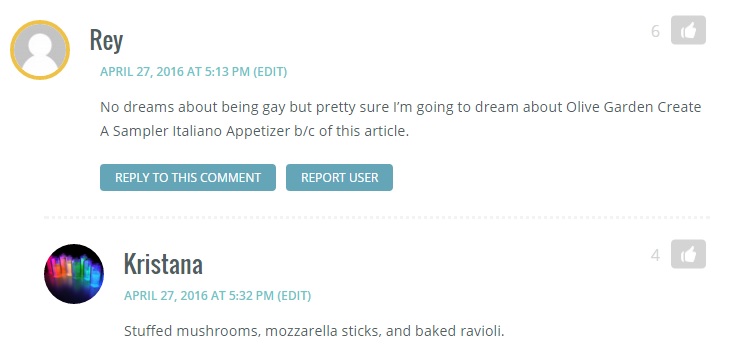 On Pop Culture Fix: The Lexa Pledge Hopes To Change Queer TV From The Inside:
The Dana Fairbanks Memorial Award to queer girl:

On No Filter: Lonely Ruby Rose Befriends A Skateboard:
The Team Soko Award to Blackmar:

On Sunday Funday Came Out as Non-Binary to President Obama On The Way To Mount Mitchell:
The Best Out Of Context Comment Award to Marianne and queer girl: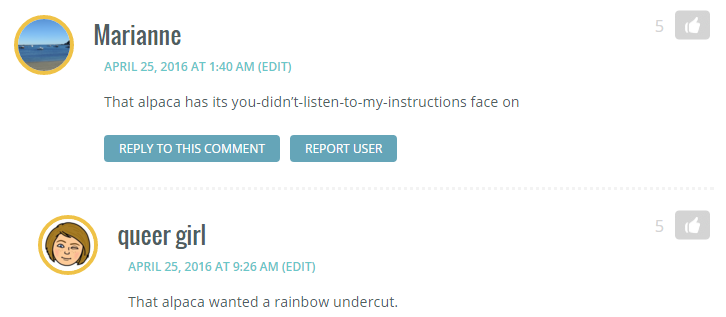 On NSFW Lesbosexy Sunday Will Eat You Like An Edible Arrangement:
I Swear, the Dog Did It Award to Kate:
---
See a clever, hilarious or thought provoking comment around this website-ship? Email it to me at: bren [at] autostraddle [dot] com!