My inbox isn't as bad as most media people's probably are; most of it is relevant to my job and not annoying! Pleasant, even! And as far as the useless stuff in there most of it is my own fault, because I ambitiously signed up for a newsletter I never actually read or bought a single concealer one single time from drugstore.com and now they email me every other day. Some of it, however, is a real head-scratcher. How did I get subscribed to these lists? Is it better, purer in some way, to never know? Do I dare disturb the universe?
Materials Research Society
I am actually very fond of these press releases, I think because the subject is so wholly removed from anything I do or care about, ever. It's sort of like how you can fall asleep to a podcast about bookbinding as long as you have no interest in bookbinding; it's like white noise. I generally actually open these and read them for that reason; it's like a palate cleanser between emails I have to actually do something with. I still have no idea what materials research is, and I hope I never find out and thusly sully the purity of my enjoyment of it with actual understanding.

Science On Our Side
Gmail shows that I started receiving these right around Thanksgiving of 2014. Why that date? Is it significant in some way? I will never know. I am not really sure what these are about; something about neuroscience but they also use a lot of words like "liberation" and "healing," so your guess is as good as mine. All the subject lines end in exclamation points.
IDTechEx Research
These seem mostly focused on "wearable tech," something which it isn't unreasonable to send a press release about to an editor; magazines do write about Fitbits and their ilk fairly often. I, however, will almost definitely never do that unless they invent some wearable tech that plays the X Files theme every time you think you see something in your peripheral vision and then turn and there's nothing there. If there is a PR list for that item, please add me to it. Until then, I do not usually open the IDTechEx emails.

Mormon Girlz/Mormon Boyz
This is a porn company that specializes in, as the name suggests, Mormon-themed content which is segregated by gender. Their emails contain very large and high-resolution stills from their productions, which are totally uncensored and are extremely NSFW. Even the avatar photo associated with their PR email has exposed nipples. The only missive I have ever received from them that did not include explicit sexual content was a recent press release, which was about how they were discriminated against by not being allowed to march in Salt Lake City's pride parade. I guess they are gay/lesbian owned! That's neat!
EAA Chapter 437
I actually do sort of know how I got on this one; some sleuthing in the address section leads me to believe that there is a Richard Kincaid out there who is supposed to be getting these emails and you know what, maybe he is, because there are several variations on my email address included on there and maybe one of them is actually his. I don't know what EAA stands for or even where in the US they are located; I have gleaned that it is some kind of aviation society, and they have a newsletter and seemed to meet pretty regularly. Recently I got a more personal email sent to a smaller group of people asking if my wife "would like to help in the kitchen" for an upcoming event.

Chamber of Horrors NY
I get a lot of pressers about events, campaigns, appearances and more in New York, because every PR person assumes that everyone who works even close to media is based in NYC (I am not). The Chamber of Horrors stands out, however. I regularly receive updates about the Chamber of Horrors' new attractions, engagement with the local small business community, and holiday shows (did you think they were only open around Halloween? If so, you were incorrect). They are fairly effective press materials; if I ever find myself in Hauppauge, NY, I may check it out.
Smithsonian Channel Media Alerts
It's not unusual for TV channels to send scattershot press releases to media people across the board — I get a lot from Showtime, perhaps unsurprisingly — but I think I only know about the Smithsonian Channel from its media alerts, which is unique. Another thing that is unique is their programming; I still don't quite have a handle on the overarching themes of their content. Sometimes the emails come not from the official Smithsonian Channel Media Alert email address but from someone named Josh Gross, which is delightful because it appears in my inbox as "Gross, Josh."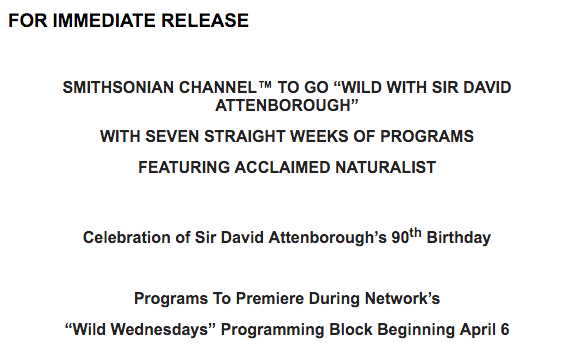 Iowa Daily Democrat
I'm on a lot of vaguely Dem/liberal/progressive mailing lists, very few of which I remember ever signing up for, but this is the only one that comes specifically from a state where I have never lived, and am not sure I've even visited. There isn't even a tangential connection. I only know two people who have lived in Iowa. They're not even from there originally. The emails' fine print says "You are receiving this email because you signed up for our daily newsletter, you have had direct contact with someone related to The Iowa Daily Democrat, or you were part of Jack Hatch for Governor's contact list." None of these things are true of me, as far as I know.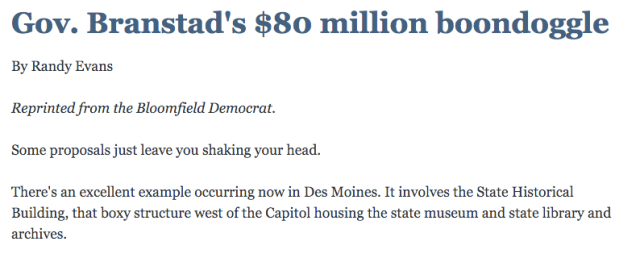 Expert Tips
As of February, this PR firm occasionally emails me offering varying "experts" who can provide prefab articles on hot topics like matcha tea or online tax services. It's nice, really! I don't anticipate ever needing this service, but it's comforting to know they're out there: there are experts, and they have tips. I can even look past the fact that my name is misspelled in every email even though my full first name is spelled out in my email address.