Feature image via shutterstock.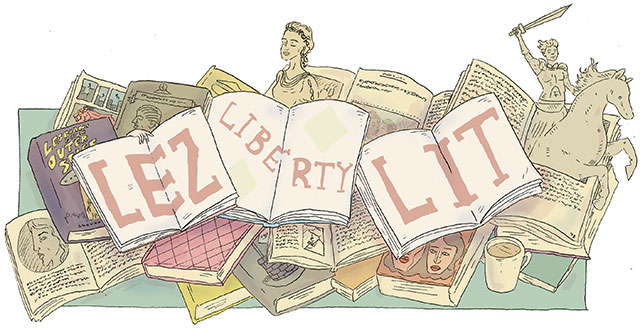 Things About Queer Books (And Other Books Relevant To Your Interests)
At the Los Angeles Review of Books, SJ Sindu writes about Jeanette Winterson, mental health challenges, queerness and more:
"I consumed her work and let it fill me up. It wasn't just that I saw myself in her stories. It wasn't just that her characters were queer. It wasn't just that they were hemmed in by religion and ideology. It was that her writing transcends all of these details. The aesthetics of her voice are somehow unique and, at the same time, adaptable. She breaks the boundaries of form, twists and shapes the conventions of genre into art. Her cadence, her rhythm — they pulled me outside of my skin so that I was yet again more than the quicksand in my stomach."
"As a woman in Saudi Arabia, as a girl there, you have two options: You either lose your mind or you become a feminist. So I kind of lost my mind, and then I became a feminist."
Copy editing is dead I guess. (Though professional copy editor Mary Norris would disagree.) Also, stop correcting these grammar mistakes.
(Re)watch Lemonade, then read these books.
In the New Yorker, Hilton Als writes about Maggie Nelson.
There's an all-romance bookstore.
Some really silly books make it into libraries, and sometimes people who set policies try to get rid of them to make room for other books and other people don't like it, and on:
"Public libraries serve practical purposes, but they also symbolize our collective access to information, so it's understandable that many Berkeley residents reacted strongly to seeing books discarded. What's more, Scott's critics ultimately contended that he had not been forthcoming about how many books were being removed, or about his process for deciding which books would go. Still, it's standard practice—and often a necessity—to remove books from library collections. Librarians call it "weeding," and the choice of words is important: a library that "hemorrhages" books loses its lifeblood; a librarian who "weeds" is helping the collection thrive. The key question, for librarians who prefer to avoid scandal, is which books are weeds."
In private life, it's also hard to get rid of books. At LitHub, Summer Brennan writes about KonMari-ing her library, minimalism, and the beauty of unread books:
"Kondo argues emphatically and in bolded text that the right time to read a book is when it first comes into your possession. But throwing out every unread book on your bookshelf just because you're not reading it right now makes about as much sense as throwing away all the perfectly good food in your refrigerator and pantry just because you don't plan on eating it for your next meal. Only you can gauge your appetite.

"A book can wait a thousand years unread until the right reader comes along," said the critic George Steiner, and that's true. The good ones are incantations, summoning spells. They are a spark, a balm, a letter from home. They contain demons, gods in a box. They are tiny rectangles with the whole universe packed in. We read books that describe magical portals when really it is the books themselves that are the rabbit hole, the wardrobe, the doorway between worlds. Books, like people, are bigger on the inside. It is by this dimension of imaginative relativity that Hogwarts, Middle Earth, Earthsea, Dickens's London, Hemingway's Paris, Didion's anxious California and the mind of Helen Oyeyemi, reclining like a sphinx between her pages in quiet and glittering sleep, all fit inside my tiny apartment, and inside me."
Which of these classic teen books have you read or never even heard of?
Roman fonts are neat.
Like when infographics make decisions for you? What Shakespeare play should you read? Also, six hot takes on Shakespeare, and 25 authors on his birthday.
The 2016 Pulitzer winners have been announced.
Casey the Canadian Lesbrarian reviewed Amber Dawn's poetry collection Where the World Ends and My Body Begins, calling it "a welcome change from the sea of free verse that you usually find written by today's poets."
A new literary prize will award $50,000 to an unpublished work with a woman main protagonist.
We need diverse books, but we also need better language about them:
""Diverse' isn't half as bad as 'multicultural,' which is like saying if it isn't white, it's an undecipherable mass of otherness that we won't even bother to [give] actual cultural identities because they fit so neatly outside our main shelves,' says Sonali Dev, author of, most recently, the novel The Bollywood Bride. 'Then again,' she adds, 'maybe 'diverse' is worse because it clumps not just different cultures together but throws different sexualities and everything that's not straight and white into the sidelined mix, too. At least we have labels now, and that means we exist. A foot wedged firmly in the door, and all that.'"
At Autostraddle, Mey wrote about the Eisner-nominated comics you should check out and also ChaosLife. Maree wrote about Oscar of Between.
Book Things To Do In Person
4 May, New York: Lambda Literary Award finalists will read at the Leslie-Lohman Museum of Gay and Lesbian Art (26 Wooster St.), 6:30 p.m.
10 May, New York: Queering Sexual Violence Anthology release and reading at Bluestockings Bookstore & Cafe (172 Allen St.), 7 p.m.
Know of a queer event with literary merit? Send it to us! The Liberty Lit is bi-weekly.
---
Books! They are really great. You just won't believe how great they are. You may think that the Internet's great, but that's just peanuts compared to books. In Lez Liberty Lit, we talk about queer books and literary shit that's happening that you should probably care about.
The name "Liberty Lit" was inspired by the short-lived literary journal produced by Angela Chase at Liberty High School in 1994.