Hello Mountain-queers!
We're all safely back down the mountain by now I guess. I'm gonna be real. The only thing the real world has over Mt. Feelings is the ability to use as much toilet paper as one wants. I'm sparing no squares these days. I DID miss two things from everyday life while at 8,000 feet… my wife and my Autostraddle.
This week Heather Hogan was on fire, ranking ghosts and trolling guys on airplanes.
True story: I learned about Snapchat less than two weeks ago at LAX with Abby. I'm still not sure I get it, but Ali goes a long way in getting us all there.
Riese found out what fake scientists from the '50s thought about femmes.
The local radio station of my youth played a game called "Poetry or Country Music?" Carolyn took things to the next level with a sex toy or craft beer quiz.
Orange Is the New Black comes out in a week! There's some stuff we've already found out. Spoiler alert!
Erin, in true Erin fashion, watched Better Than Chocolate for you.
Also new people! And Comments!
---
On 10 Times These Fake Sociologists Marveled That Lesbian Femmes Exist:
The Fan Fiction Award to queer girl: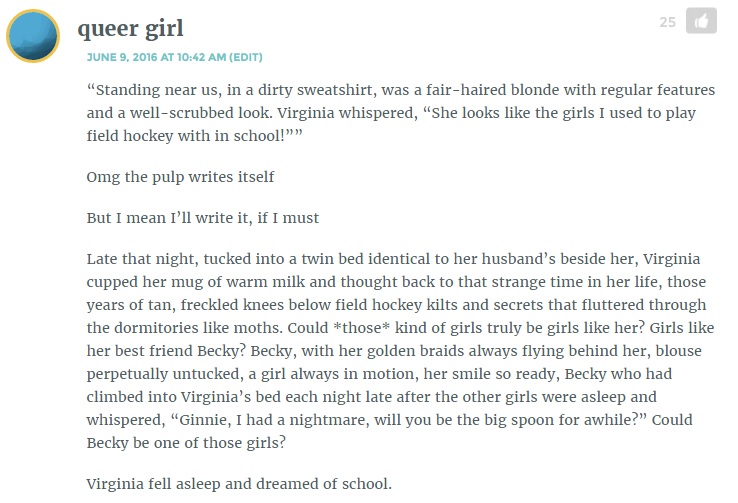 On Boob(s On Your) Tube: Look At These Bisexual Badasses on "Orphan Black" and "Wynonna Earp":
The Winter's Not The Only Thing Coming Award to Liz:

On I Watched Lesbian Classic 'Better Than Chocolate' for the First Time and Now I'm a Broken Person:
The Life Choices Award to Emma:

The Desert Hearts Award to Emily:
On An Ode to Heather Hogan's In-Flight "Carol" Breakdown:
The Oral History Award to Karly:
The Actual Award to Jenn:

The Heather Hogan Appreciation Award Award to Ashley:
---
See a clever, hilarious or thought provoking comment around this website-ship? Email it to me at: bren [at] autostraddle [dot] com!