Last October, we put out a call for new staff writers and we received over 550 applications just teeming with talent. There were so many qualified queermos, it was difficult picking a handful of writers to join the team. We think these new staff writers make excellent additions to our team and we're excited to properly introduce them to you today! You might have already noticed their wonderful writing and are already in love with them.
Here are the new staff writers making your days brighter with hard-hitting journalism, hilarious articles, TV criticism, sex advice, introspective personal essays and moving writing!
---
ALAINA, Staff Writer
tumblr / tweeter / instagram / cat's instagram
Alaina is a 20-something working on a PhD in Performance as Public Practice. They are a mom to three cats, they listen to a lot of NPR and musicals, and they spend a lot of time on Pinterest lusting over studio apartments. They are actively trying to build A Brand on twitter  @alainamonts. One day, they will be First Lady of the United States.
Interesting Facts:
I have three cats because I had two cats of different sexes and didn't get them spayed and neutered early enough. Oops!
I have an abnormally large optic nerve in my left eye.
I'm the music director of an all female a cappella group
---
ERIN, Staff Writer
Erin's a writer, Georgia native, and back in the American south after all these years. Interests include screenwriting, film, wine, your dog, my dog, and also important things. Her mom called her dancing as a young ballerina "breathtaking", and had she known this as a child her whole life as she now knows it would have been different.
Interesting Facts:
My bangs have been in the in-between phase for 2 years now.
I have a 10 year old lab/great dane mix named Cooper that I love but ruins my life in special ways.
I'm a miranda.
---
AISHA, Staff Writer
Aisha writes essays about art, race and film from Tucson, Arizona. Her work has appeared or can soon be found in Ecotone, The Offing, Sierra Nevada Review, Ninth Letter, The Southern Review, Michigan Quarterly Review, Essay Daily and Guernica, where she serves as a contributing editor. Her book, The Fluency of Light: Coming of Age in a Theater of Black and White, was published by University of Iowa Press in 2013.
Interesting Facts:
I drink water when I'm anxious.
When they come on, I cannot not sing "Landslide" or tracks from The Bodyguard.
When I daydream about having a new tattoo I'm always at the airport.
---
KAYLA, Staff Writer
Kayla Kumari Upadhyaya is a Chicago-based writer, television critic, and comedian who spends most of her time over-analyzing queer subtext on television, singing "Take Me Or Leave Me" in public places, and assembling cheese platters. She has a cat named after Piper Halliwell from Charmed, and her go-to karaoke song is "Everywhere" by Michelle Branch. Her writing can also be found at The A.V. Club and The Hollywood Reporter, and she wrote the webseries Sidetrack. You can catch her screaming in all-caps about Kalinda Sharma, Jennifer Lopez, and oysters on Twitter and Instagram.
Interesting Facts:
In retrospect, I'm pretty sure the movie Spy Kids made me realize I'm gay.
I love hot dogs more than any human being should love hot dogs.
My idea of the perfect date would be to watch all of the Fast & Furious movies on a boat while eating lobster.
---
MAREE, Staff Writer
Maree lives in Berlin and is usually carrying some sort of Tupperware product on her person. She's written for Marie Claire, The Rumpus, and Teen Vogue, but still has not fulfilled her lifelong dream of seeing a real blue-footed booby. You can find her on Instagram, Twitter and probably the dance floor.
Interesting Facts:
I can wiggle one of my ears. Yup, only one.
My parents met in Antarctica.
I like the number five so much I got it tattooed on my body.
---
ISABEL, Staff Writer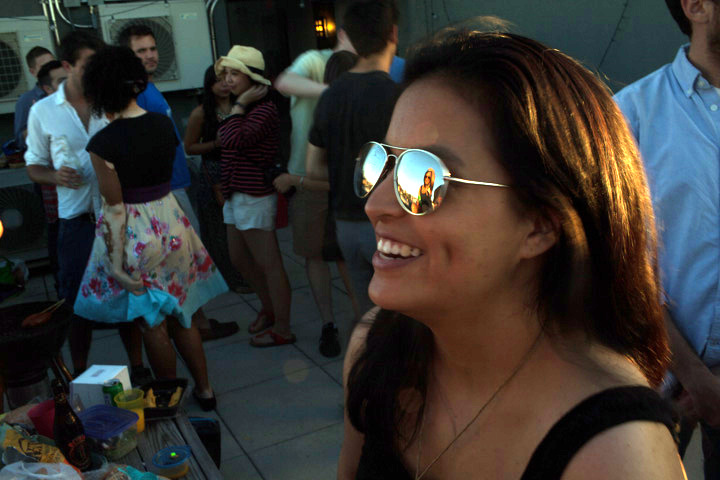 Isabel is a Mexico City native and current Brooklyn dweller, stands about 5-feet tall and gets really mad when her girlfriend stores the olive oil on a high shelf. She's a documentary filmmaker by day and expert quesadilla architect by night. She runs a small production company with her brother and has worked with Paper Magazine, A&E, History Channel, Bon Appetit and The New York Times. You can find some short, dry sentences on her Twitter and her fauxtography on Instagram. She's a mediocre bowler.
Interesting Facts:
I always sneeze twice in a row
I absolutely CANNOT do a cartwheel
I met Julia Stiles once and she told me I had tiny feet.