Hello Fellow Humans!
Right now I'm hunkered down in my in-law's house because Hurricane Matthew has chased me away from my own couch and snacks. I hope that you are in your own home with your own pillows and your own television shows on your own DVR and are not being forced to watch reruns of Toddlers and Tiaras, unless you are super into Toddlers and Tiaras. You do you.
So much love this week on Autostraddle dot com. Carrie Brownstein and Abbi Jacobson are a thang. Samira Wiley and Lauren Morelli are engay-ged.
Molly took SO many pictures this week. First at a drag king show and then at Queer Fashion Week in Oakland, CA.
Mey has a rundown of all the trans women in your favorite comics.
Also Queer Horoscopes! And Comments!
---
On Pop Culture Fix: Lesbian Movie "Disobediencewp_postsTo Star Two Actresses Named Rachel, What Next World?:
The Mean Girls Award to Alice & Caitlin:
On Samira Wiley and Lauren Morelli Got Engaged, Love Is Occasionally Not A Lie:
The This Is The Way That We Live Award to Juliette: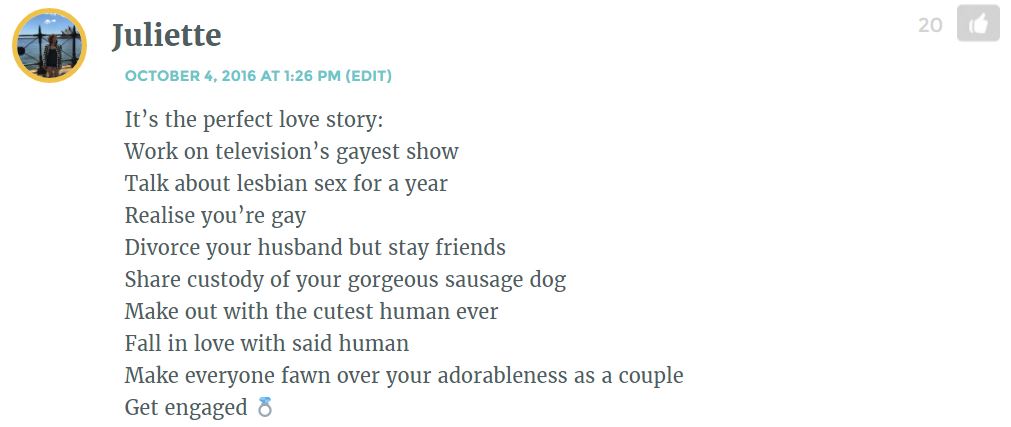 On Sunday Funday is Engayged to a Princess:
The Adorableness Award to Siona:

On The Autostraddle Insider: Issue 27, September 2016:
The Notebook Award to Lucy Hallowell:



The Welcome Home Award to Suzy:

The Idea Factory Award to sketchyblondes:
---
See a clever, hilarious or thought provoking comment around this website-ship? Email it to me at: bren [at] autostraddle [dot] com!